This ultra-creamy rice pudding gets a flavor boost from arborio rice cooked in black tea, all topped with a dollop of sweetened condensed milk. Recipe adapted from A Common Table.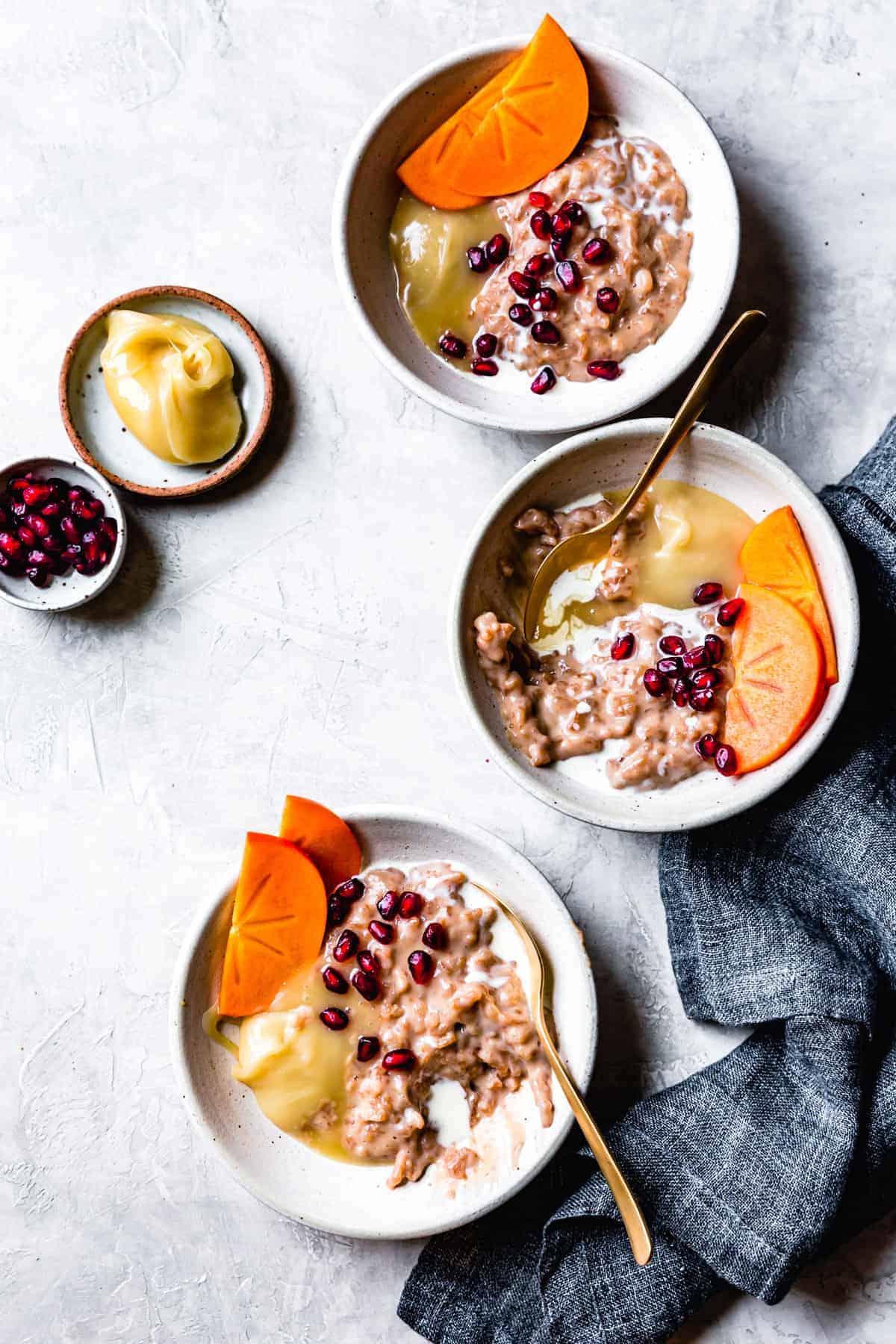 In case you hadn't noticed, I have a major soft spot for spoonable desserts. Puddings, more puddings, flans, fools, haupia, pots de creme, crème brûlée – anything soft and creamy and eaten with a spoon. I didn't think it was possible for me to love rice pudding any more than I already do. But this recipe combines one of my favorite flavors – strong black tea – with the creamiest rice pudding recipe I've ever made. I'm hooked.
A Common Table: 80 Recipes and Stories from My Shared Cultures
This rice pudding recipe hales from A Common Table, the debut cookbook from Cynthia of Two Red Bowls. Cynthia has gifted us with a collection of recipes inspired by her Chinese and Southern US roots blended with influence from her Korean in-laws. The result: Asian twists on comforting American classics. Think miso potato salad, sesame skillet cornbread, kimchi quesadillas, gochujang eggs in purgatory, and peanut butter mochi cake.
In addition to 80 cozy recipes, A Common Table is filled with Cynthia's rich prose and stunning photos. While there are many gluten- and meat-containing recipes, there are also some recipes that fit a gluten-free vegetarian diet or could be easily adapted to. Some that I have my eye on:
Friday Night Kimchi Fried Rice
Spicy Kimchi Noodle Soup
Buttermilk Mochi Pancakes
Korean Cheesy Corn
Easy Braised Kabocha Squash
And I'll be making this rice pudding on the regular!
Creamy Rice Pudding
The key to fabulously creamy rice pudding is to cook the rice in water first, then simmer it with milk until it thickens into a spoonable pudding. But Cynthia uses the ingenious technique of cooking the rice in brewed black tea. This infuses the rice with the floral, earthy notes of tea, adding shades of bitter tannins to keep the pudding from becoming cloying. It also adds a beautiful amber hue to the rice. Be sure to use a starchy short-grain rice such as arborio for the absolute creamiest rice pudding.
Inspired by Hong Kong-style milk tea, Cynthia adds a dollop of caramely sweetened condensed milk to the finished dish. I had some sweetened condensed coconut milk left over from making this chocolate pudding recipe (see? I can't get enough pudding!) It has an especially delicate flavor and consistency that is perfectly pitched with the floral tea and rice.
Grab the last of the fuyu persimmons and whip up a batch of this delicious milk tea rice pudding. And pick up a copy of A Common Table to ogle Cynthia's beautiful photos and recipes while you're at it. If classic rice pudding is more your style, see the recipe headnote for an old-fashioned rice pudding variation. I'm also keen to try this recipe with jasmine tea in place of black. I'll report back when I do.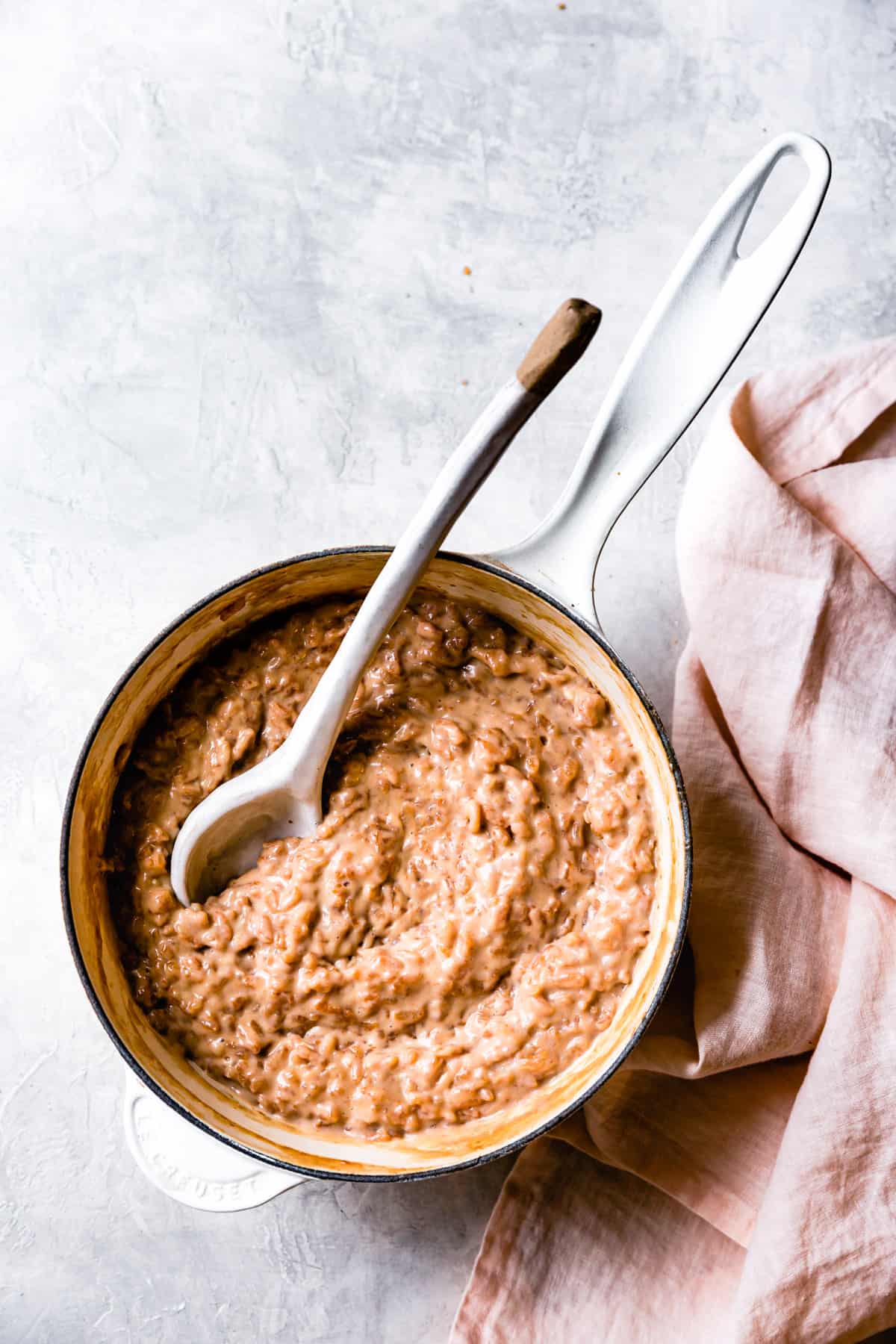 After More Pudding?
*Bojon appétit! For more Bojon Gourmet in your life, follow along on Instagram,  Facebook, or Pinterest, purchase my gluten-free cookbook Alternative Baker, or subscribe to receive new posts via email. And if you make this milk tea rice pudding, I'd love to see. Tag your Instagram snaps @The_Bojon_Gourmet  and  #bojongourmet.*
Milk Tea Rice Pudding
Print Recipe
Pin Recipe
Ultra-creamy and not too sweet, this rice pudding gets a flavor boost from rice cooked in black tea, all topped with a dollop of sweetened condensed milk. 
Ingredients
2/3

cup

uncooked short- or medium-grain white rice (such as arborio)

(135 g)

2

cups

brewed strong black tea (such as Ceylon, Keemun, or English Breakfast; use 4 teabags)

(475 ml)

1 3/4

cups

whole milk (more if needed, divided use)

(415 ml)

1/3

cup

organic granulated sugar

(65 g)

1/4

teaspoon

fine sea salt

1

large egg

1

tablespoon

unsalted butter

1/2

cup

sweetened condensed milk or sweetened condensed coconut milk, to taste

(120 ml)

seasonal fruit for serving (optional)
Instructions
In a medium saucepan, combine the rice and tea. Place over medium heat and bring to a simmer. Reduce the heat to medium-low and cook, covered, until the rice is nearly done, about 20 minutes. Add 1 1/2 cups milk and all of the sugar and salt. Continue to cook, stirring occasionally, until thick and creamy, 15-20 more minutes. Add additional milk if the pudding becomes too thick.

In a small bowl, whisk together the remaining 1/4 cup milk with the egg. Add 1/4 cup of the hot rice mixture to the bowl and whisk again (this keeps the egg from scrambling when added to the hot pudding).

Stir the egg mixture into the pot and continue to cook, stirring constantly, until it thickens to your liking, about 2 more minutes. Stir in the butter.

Serve the pudding warm or cold with a spoonful of sweetened condensed milk and fruit if you like.
Notes
Adapted from A Common Table.
To make this into a classic rice pudding, cook the rice in water instead of brewed tea and add 1 teaspoon vanilla extract and 1/2 teaspoon cinnamon along with the butter.
Nutritional values are based on one of four servings.
Nutrition
Calories:
347
kcal
Carbohydrates:
49
g
Protein:
8
g
Fat:
14
g
Saturated Fat:
10
g
Cholesterol:
59
mg
Sodium:
215
mg
Potassium:
287
mg
Fiber:
1
g
Sugar:
22
g
Vitamin A:
320
IU
Vitamin C:
0.2
mg
Calcium:
132
mg
Iron:
2.5
mg