Gluten-free madeleines get big flavor from brown butter, vanilla, and almond flour. They may look fancy, but they're actually super simple to make in under an hour.
Enjoy them dusted with powdered sugar, dipped in chocolate, or flavored with lemon zest and coated in a lemony glaze. Thanks to Bob's Red Mill for sponsoring this post! All opinions are my own.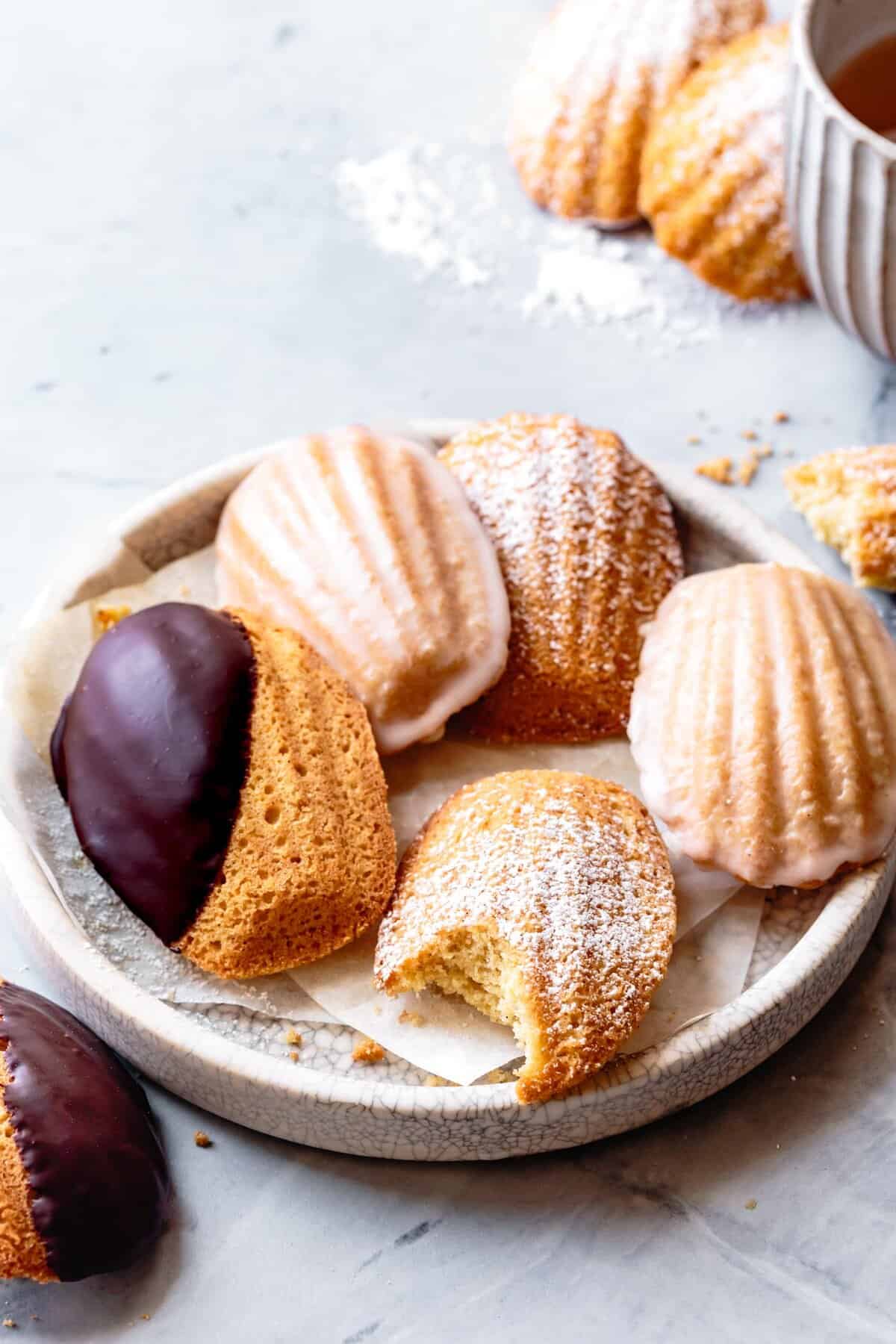 When I shared a clip of behind-the-scenes GF madeleine making the other day, my friend commented, "Those are hard to make!" I used to feel the same way. But the truth is – madeleines are actually incredibly easy to make! At least, this almond flour madeleine recipe is.
Just heat the butter until it turns golden and smells nutty, whisk together the ingredients (simple ones that you likely already have in your pantry), butter your madeleine pan, scoop the dough in, and bake!
Between your fragrant kitchen and the fancy cookies you just made, you'll feel like you just stepped into a posh Parisian patisserie.
These GF madeleines bake up with crispy edges and tender middles redolent with vanilla bean brown butter (more on this below!) They're dreamy served warm from the oven dusted with powdered sugar alongside a cup of tea or coffee. But I've also included a couple of favorite variations: gluten-free lemon madeleines and chocolate-dipped madeleines.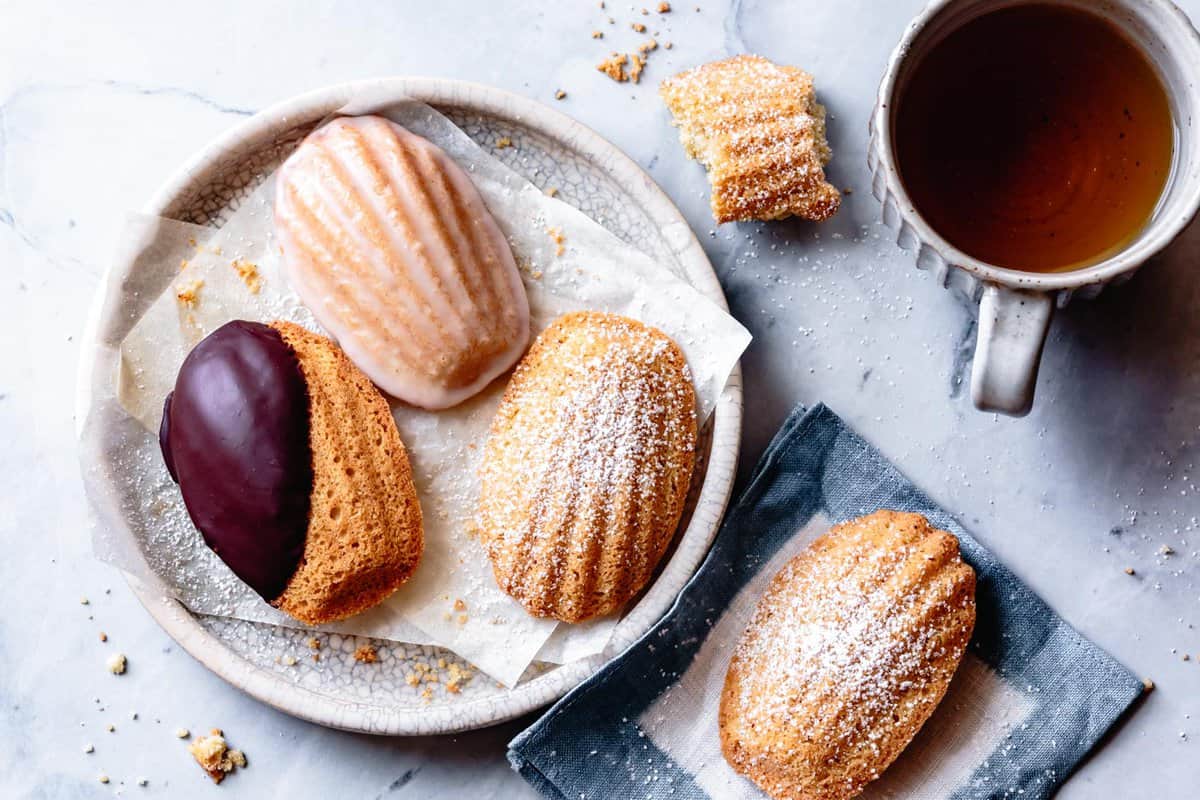 Almond Flour Madeleines
I've adapted this recipe from the one in my cookbook Alternative Baker. That recipe uses tangerine zest and juice to make them pop with flavor, as well as almond and millet flours, which both pair nicely with citrus.
I wanted to share a more classic GF madeleine recipe here on TBG, so I tweaked the flours to complement the flavors of brown butter and vanilla, keeping the almond flour, and using earthier oat flour in place of millet.
You know I'm a big fan of blanched almond flour in gluten-free baking. The protein structure, fine grind, and delicate flavor make cakes floofy, tart crust tender, scones pillowy, and crepes lacy.
I've streamlined the method to make these almond flour madeleines quicker and easier to get in and out of the oven and into your face, no dough chilling required now. And as a bonus, the new version bakes up with little humps, the hallmark of "good madeleines" by French standards.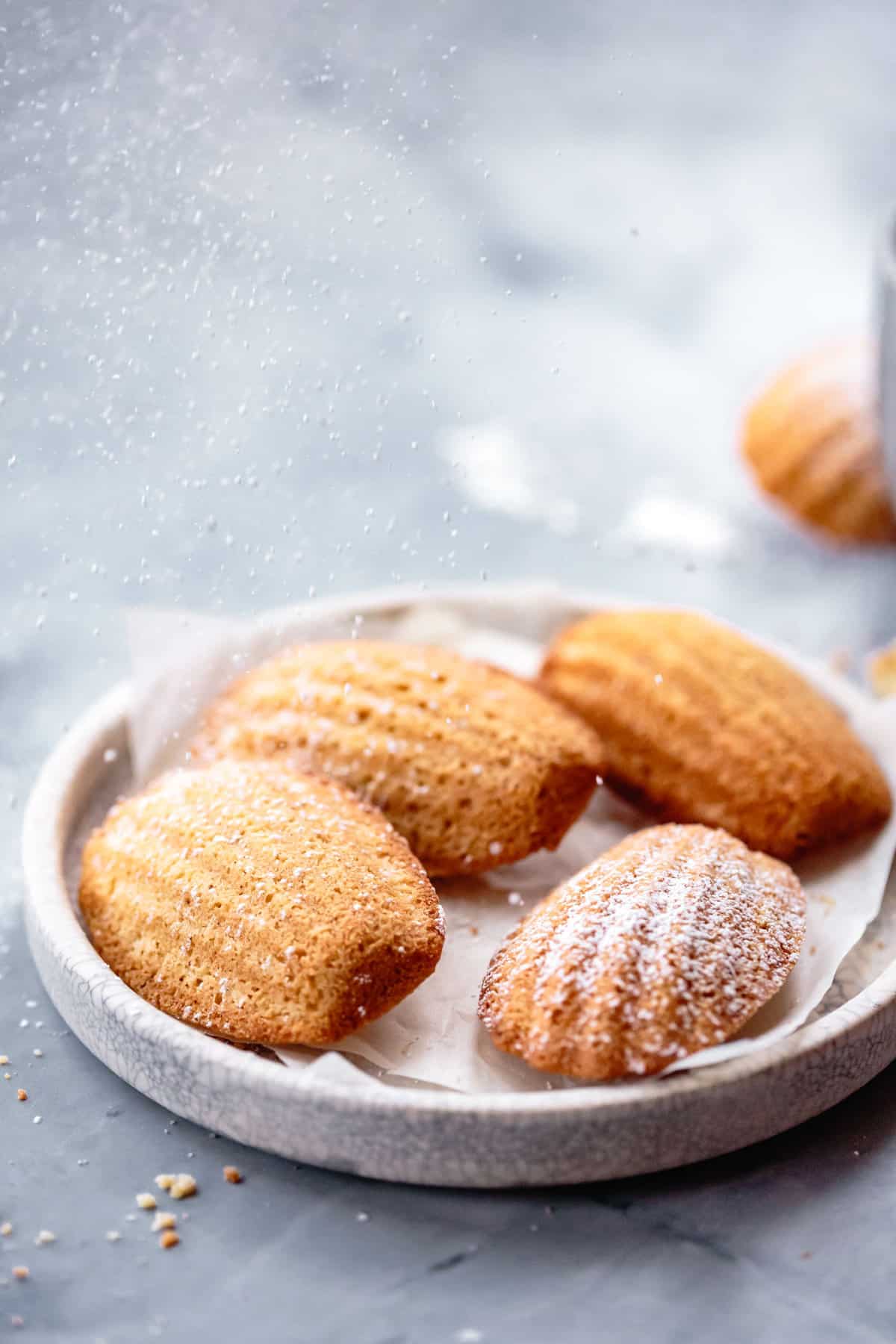 Brown Butter = Madeleine Bliss
The key to madeleines' flavor is brown butter. Cooked until golden and caramelized, with a little vanilla bean if you have some on hand, brown butter adds big flavor and a lovely vibrant hue.
I love brown butter in all kinds of recipes including:
Here it really makes the madeleines sing with cozy caramel notes that pair with delicate almond and vanilla. These flavors go especially well with chocolate for chocolate-dipped madeleines. Or try the lemon variation, which adds fresh, zippy flavor that smacks of the most divine lemon bars.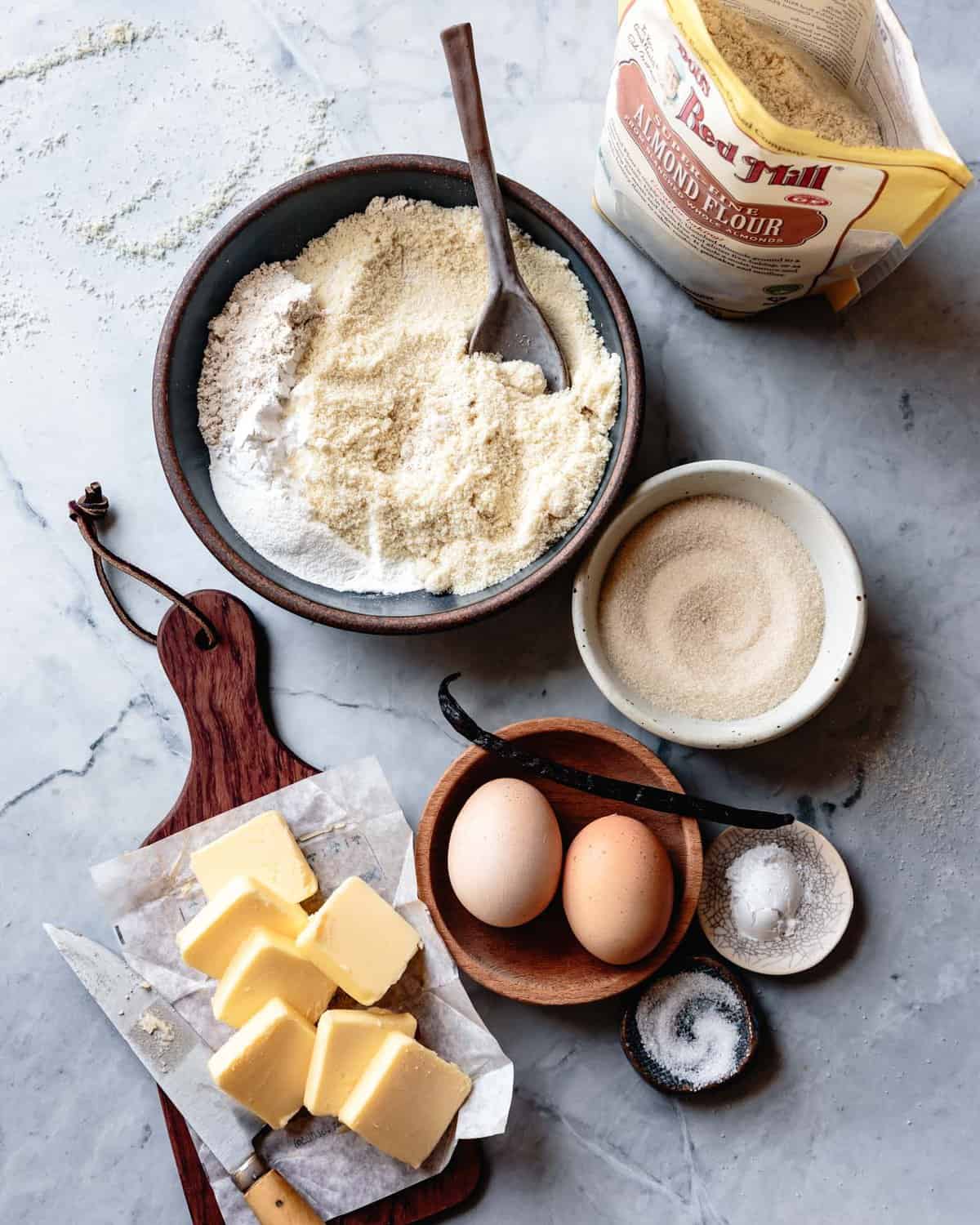 Ingredients & Substitution Suggestions
These gluten-free madeleines use just a handful of ingredients that you probably already have on hand:
Butter, cooked until golden, moistens the dough and gives these cookies big buttery flavor. I find that European-style butter with a butterfat content of 82% or higher works the best for browning. Straus, Kerrygold, and Vermont Creamery are all great choices! For dairy-free, use a good-quality vegan butter such as Miyoko's – I *think* it will work for browning too!
Sugar gently sweetens the cookies. I used organic granulated sugar which has a golden hue, but any granulated sweetener should work. For refined sugar-free, sub coconut sugar or maple sugar by weight.
Vanilla bean cooked with the butter adds rich, floral flavor. This is the place to splurge on a real vanilla bean! I like to order them online in bulk since they're much more affordable than getting one at the grocery store. But if you don't have any on hand, sub vanilla paste or extract added with the eggs.
Eggs fluff up the batter and bake these into little pillows that fall somewhere between cake and cookies.
Baking powder leavens the dough, and salt sharpens the flavor.
Flours for GF Madeleines
A trio of gluten-free flours from Bob's Red Mill, plus tapioca starch, gives these madeleines the most dreamy texture:
How to Make Gluten-Free Madeleines
This recipe is super simple to make! Here are step-by-step photos to help make your foolproof madeleine dreams come true: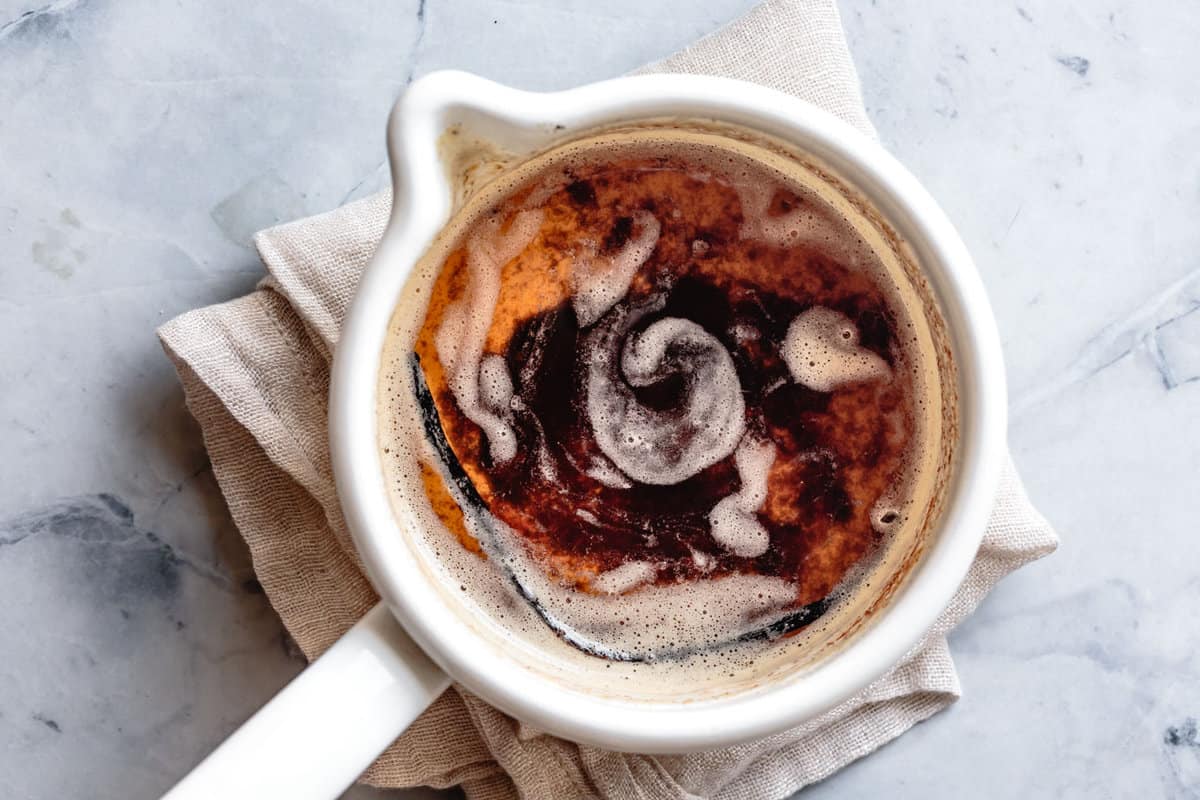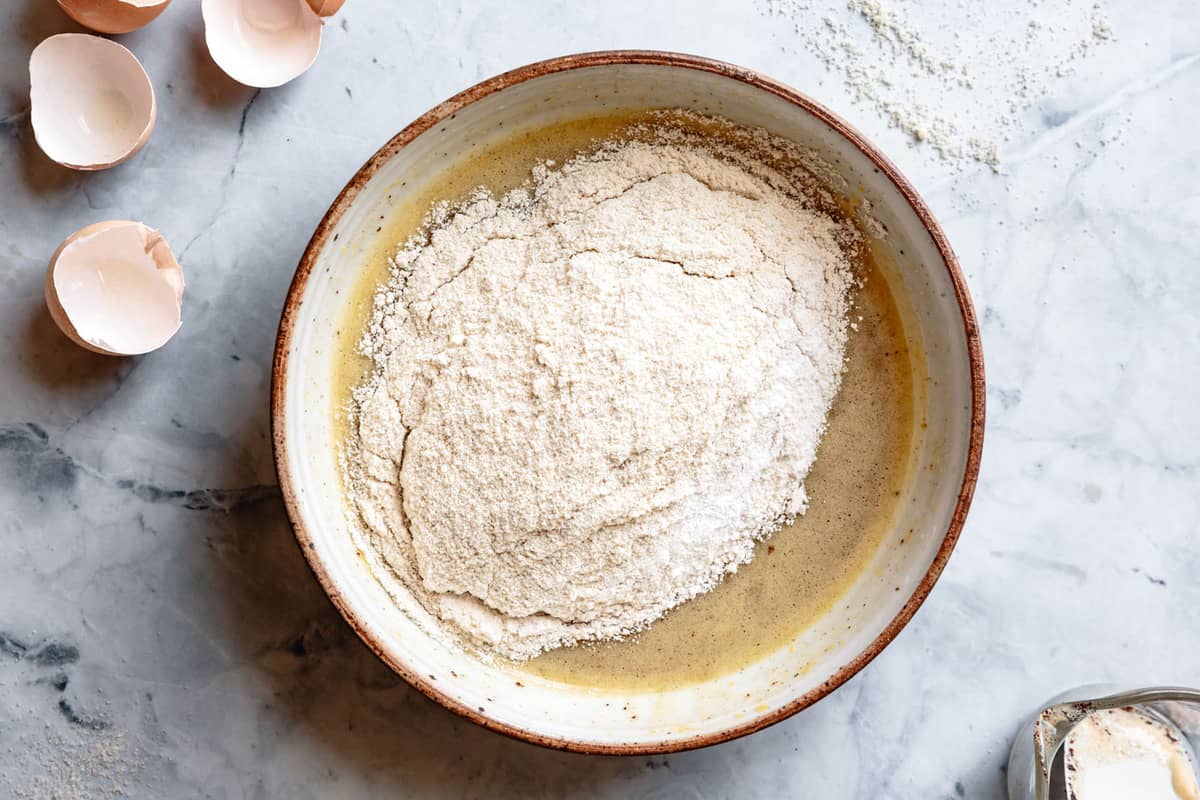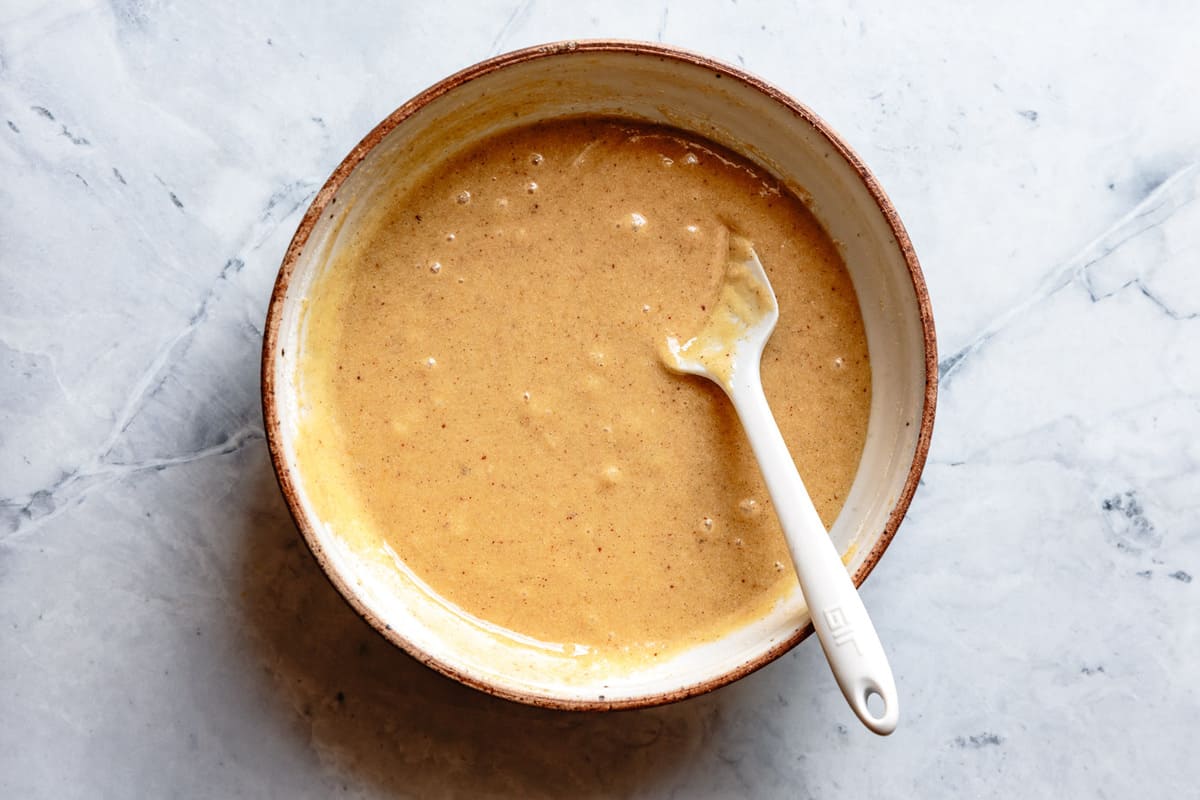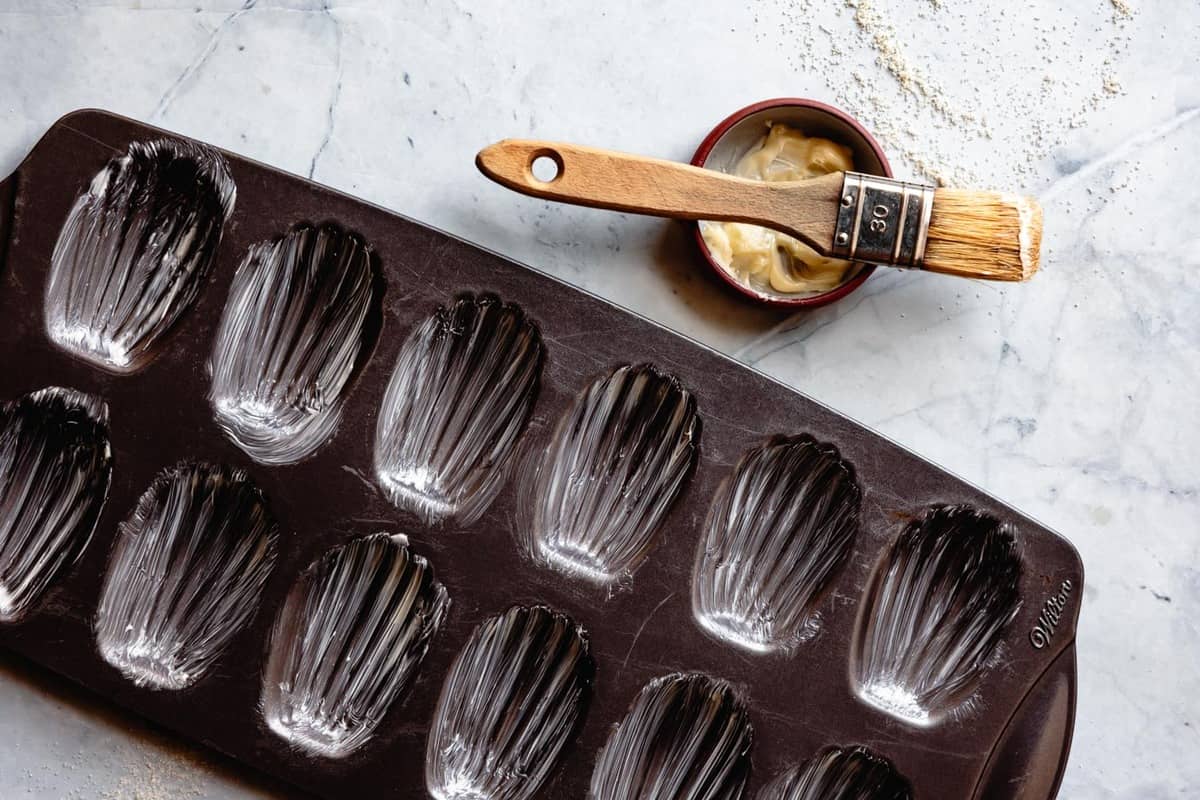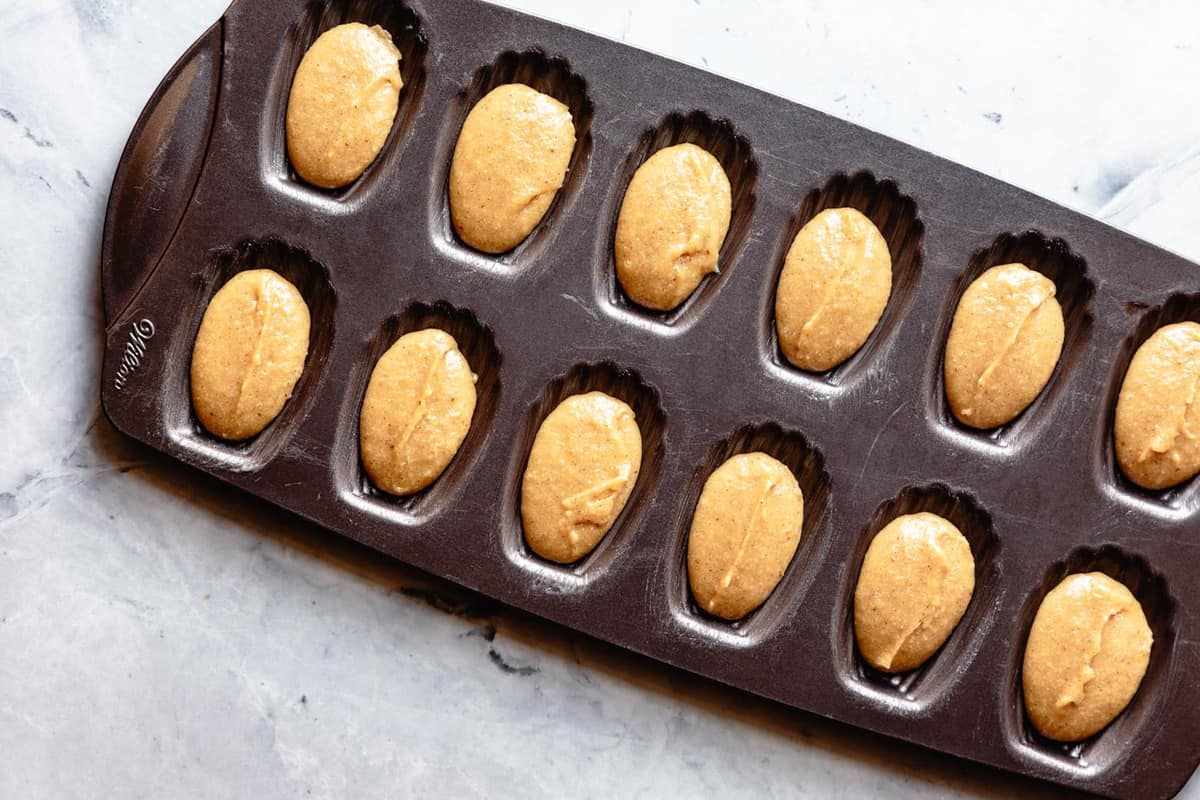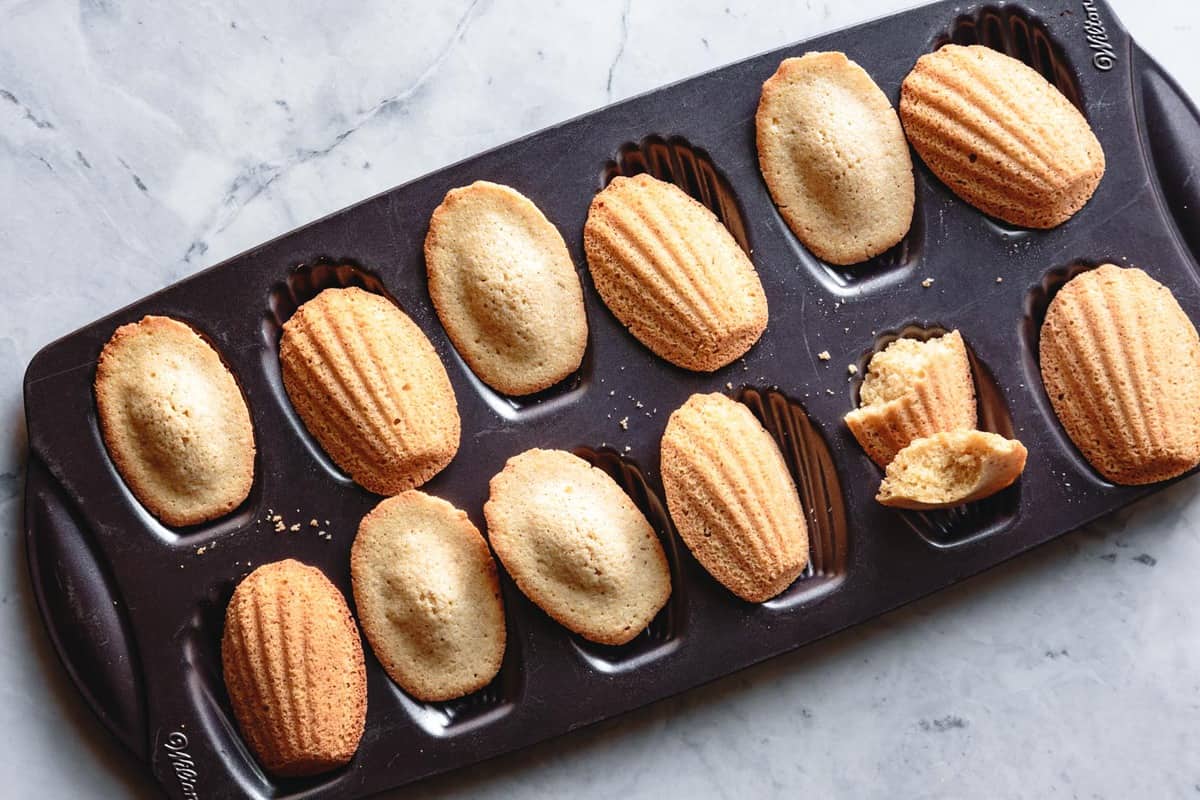 Gluten-Free Lemon Madeleines
This version reminds me of my favorite lemon tart. Add bright citrus notes to the batter by rubbing lemon zest into the sugar before you add the eggs. Then make a simple glaze with lemon juice and powdered sugar to dip the cooled madeleines in. The glaze locks in moisture, keeping these extra tender.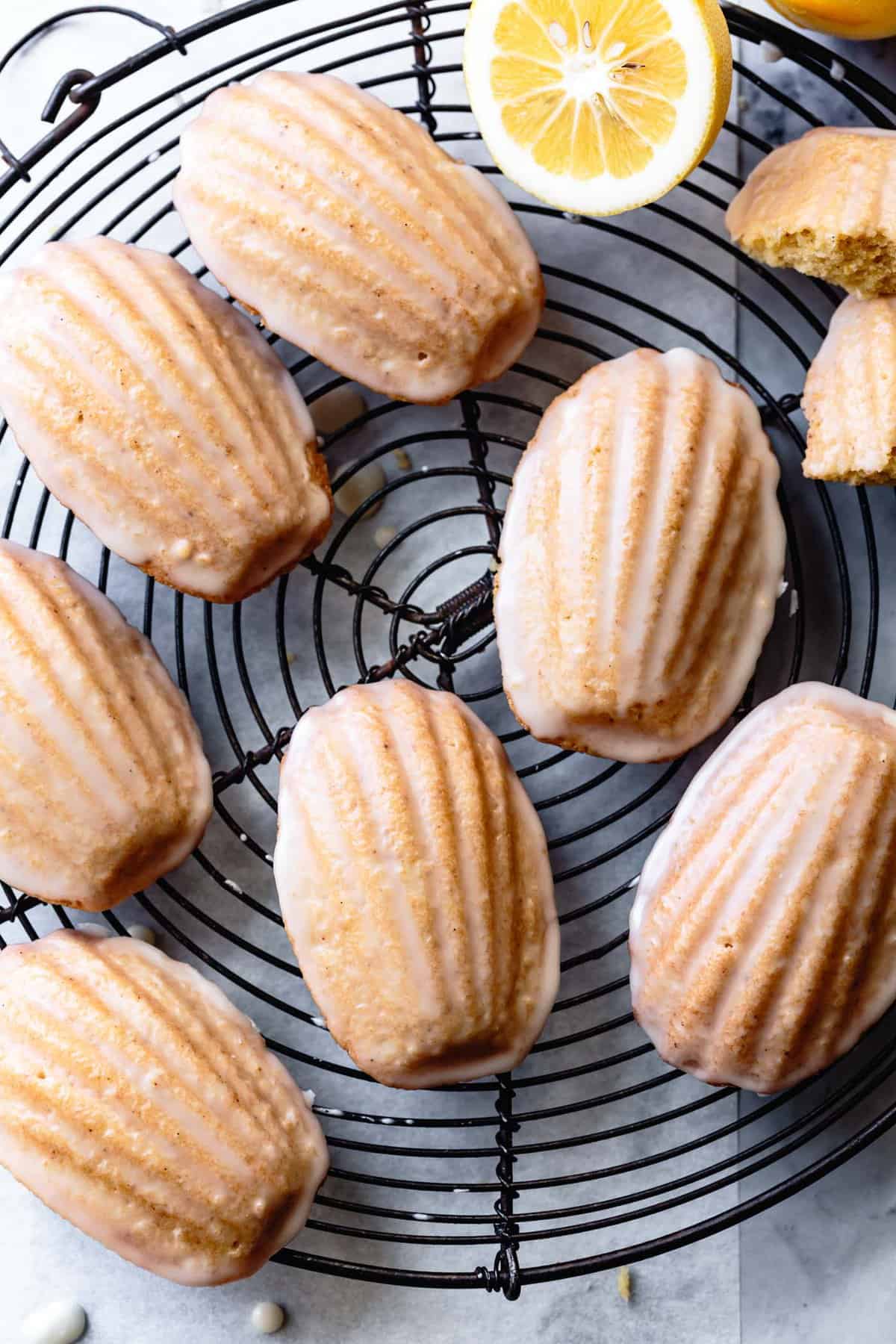 Chocolate-Dipped Madeleines
Chocolate pairs beautifully with brown butter, vanilla, and almond. Melt some bittersweet chocolate and dip half of each madeleine into the chocolate. You can temper the chocolate if you'd like to keep the chocolate smooth and snappy (see the method here).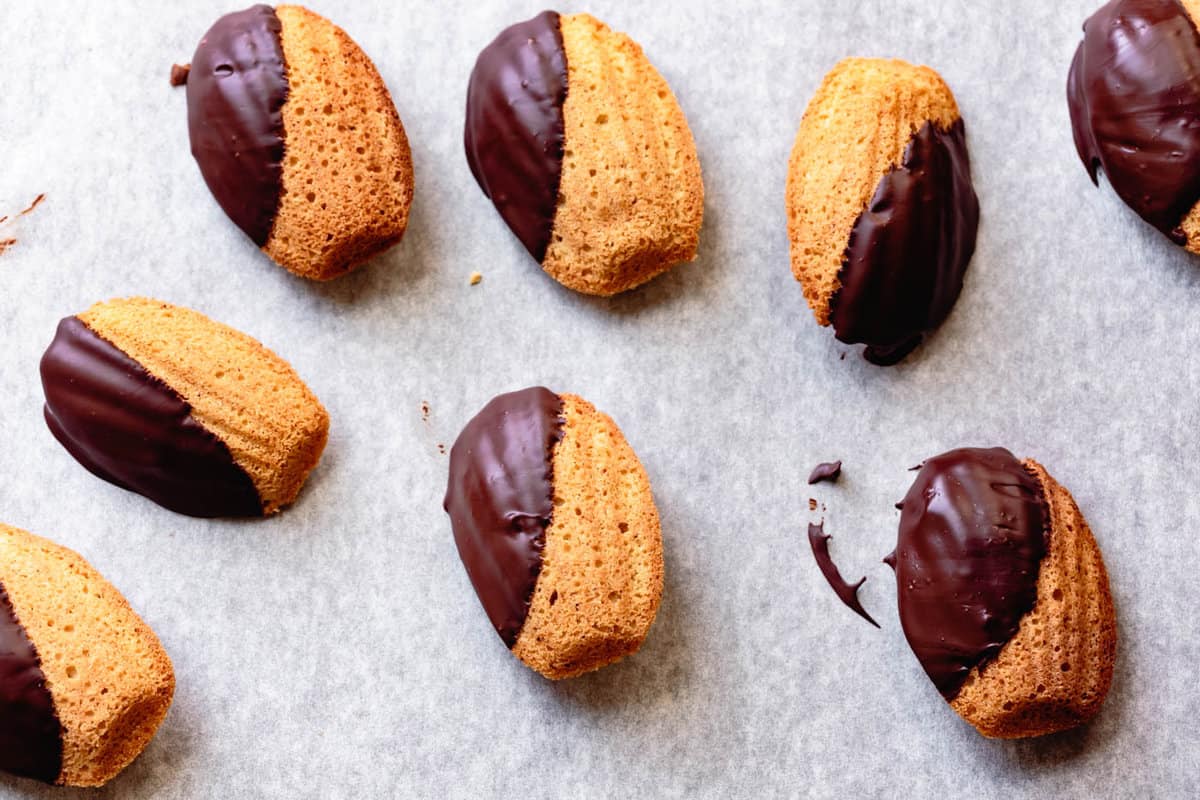 Gluten-Free Madeleines for Everyone
These GF madeleines are easy to make and even easier to eat! In fact, the hardest thing about this recipe is just getting your hands on a madeleine pan.
These are free of gluten and can be made without dairy, nuts, or refined sugar. Full of butterscotch notes from brown butter, flecks of vanilla bean, and the subtle flavor of almonds, they're just the thing to serve up with tea or coffee, or to pack in a cookie box for gift-giving.
I hope you love them as much as I love sharing the recipe!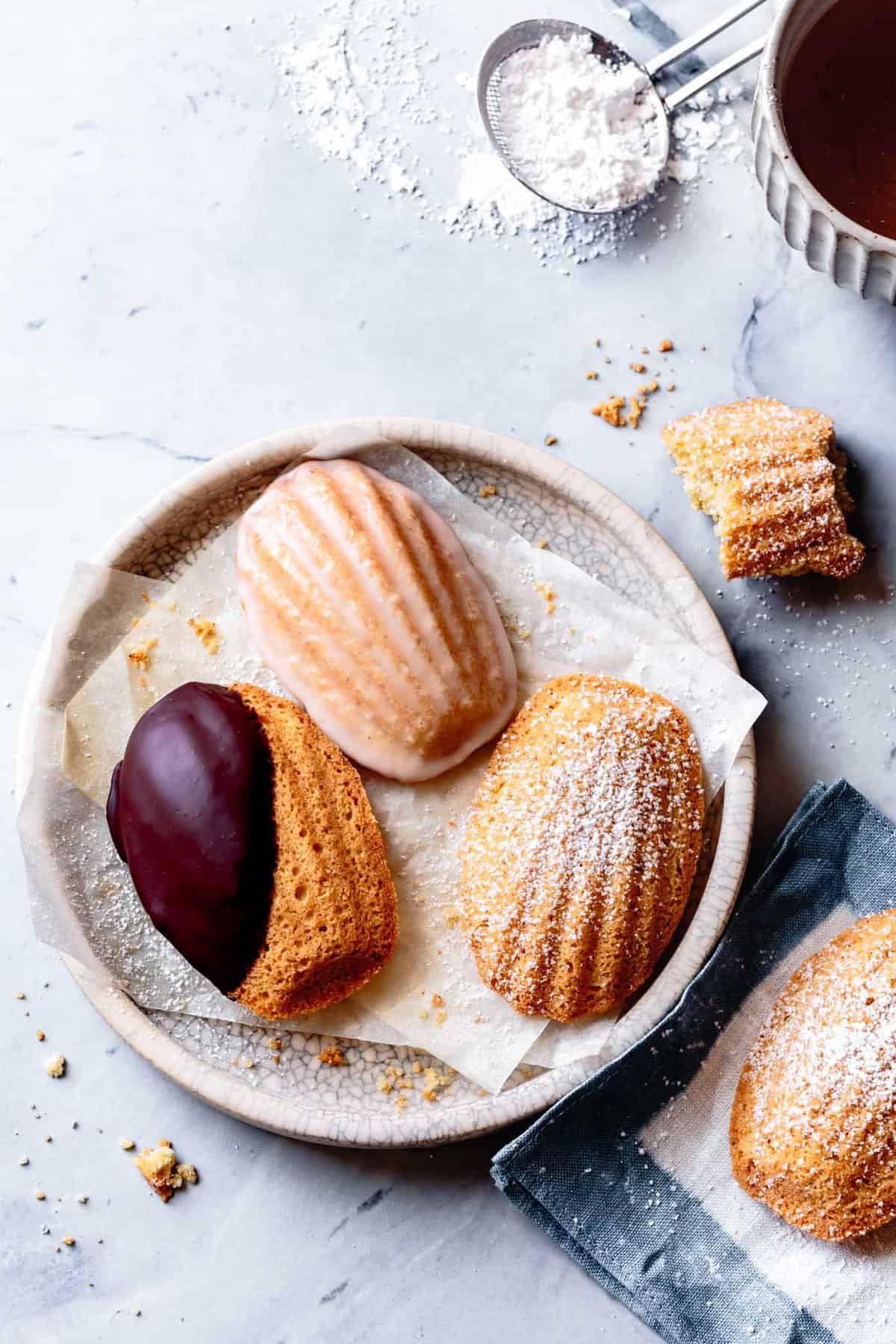 *Bojon appétit! For more Bojon Gourmet in your life, follow along on Instagram, Facebook, or Pinterest, purchase my gluten-free cookbook Alternative Baker, or subscribe to receive new posts via email. And if you make this gluten-free madeleine recipe, I'd love to know. Leave a comment and rating below, and tag your Instagram snaps @The_Bojon_Gourmet and #bojongourmet.*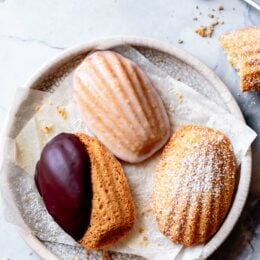 Gluten-Free Madeleines
Print Recipe
Pin Recipe
Gluten-free madeleines get big flavor from brown butter, vanilla, and almond flour. They may look fancy, but they're actually super simple to make in under an hour. Enjoy them dusted with powdered sugar, dipped in chocolate, or flavored with lemon zest and glazed.
Ingredients
10

tablespoons

(140 g) unsalted butter (82% butterfat or higher), plus 1–2 tablespoons very soft butter or ghee for the pan

½

vanilla bean, split lengthwise and scraped*

1

tablespoon

(7 g) Bob's Red Mill tapioca flour*****

¾

teaspoon

baking powder

¼

teaspoon

fine sea salt

¼

cup

plus 2 tablespoons (75 g) organic granulated sugar******

2

large eggs

powdered sugar, for dusting
Instructions
Position a rack in the upper third of the oven and preheat to 375ºF (190ºC). Use a pastry brush to coat the molds of a madeleine pan generously with the soft butter or ghee, making sure to get into all the crevices so they don't stick.

In a small, heavy-bottomed saucepan, melt the 10 tablespoons butter with the vanilla pod and scrapings over medium heat, swirling occasionally. After 3–5 minutes, the butter will foam up, then turn golden and smell nutty with deep brown specks on the bottom of the pot. Watch it closely at this point so it doesn't burn, reducing the heat if need be. When the butter has browned, pour it into a heatproof container to stop the cooking and let it cool slightly, 10-20 minutes.

In a medium bowl, sift together the almond, oat, sweet rice, and tapioca flours with the baking powder and salt.

Place the sugar in a large bowl and whisk in the eggs one at a time until combined. Whisk in the butter until smooth, then stir in the dry ingredients to form a thick batter.

Fill the molds three-quarters full with the batter. You can use a scant scoop from a #40 spring-loaded scoop, or a teaspoon, or a piping bag fitted with a large, plain tip. If the batter has firmed up or been chilled, use moistened fingers to flatten out the batter.

Bake the madeleines until the edges are golden and the humps are just shy of springing back to the touch, 6-8 minutes. They'll finish cooking from residual heat. Let cool slightly, then carefully loosen from their molds (a small offset spatula can help) and place, pretty side up, on a rack to cool. When the madeleine pan has cooled, wipe it clean and repeat the buttering/battering/baking process to make the rest of the cookies.

Serve warm, dusted with a little powdered sugar, or let cool completely and dip half of each cookie in tempered chocolate.
Notes
This is the madeleine pan I used. The cavities measure 2x3 inches.
I use Bob's Red Mill flours here. See below for substitution suggestions for the individual flours. If you prefer, you can use any all-purpose gluten-free flour blend in place of some or all of the flours by weight.
*Vanilla bean: Can sub

½ teaspoon vanilla extract or paste added with the eggs
**Almond flour: Can sub by weight almond meal, hazelnut flour, or millet, sorghum, or tiger nut flour for nut-free
***Oat flour: Can sub by weight buckwheat, teff, or chestnut flour
****Sweet rice flour: Can sub by weight GF all-purpose flour such as Bob's Red Mill or cassava flour
*****Tapioca flour: Can sub by weight arrowroot or corn starch
******Sugar: Can sub by weight maple sugar or coconut sugar
Lemon Madeleines: Meyer lemons are especially lovely here! Rub the finely grated zest from 1 large or two small lemons into the sugar before adding the eggs. Make a glaze by whisking together 1 cup (110 g) powdered sugar, sifted, and 2-3 tablespoons lemon juice until a dippable glaze forms. Dip the tops of the madeleines in the glaze, letting excess glaze drip off, then place on a wire rack until dry.
Chocolate-Dipped Madeleines: Melt 6 ounces bittersweet chocolate in a heat-proof bowl set over a pot of barely steaming water. If you like, you can temper the chocolate (see method here.) Dip half of each madeleine in the melted chocolate.
Do-Ahead Options:
The brown butter can be made ahead and refrigerated for up to 1 week.
The batter can also be made up to 1 week ahead and chilled.
To bake madeleines from chilled dough, scoop into the pans and use moistened fingers to flatten the batter in the pan.
Extra madeleines can be frozen for up to 1 month. Rewarm in a 350º oven or toaster oven until heated through.
Leftover madeleines can become madeleine shortcake by topping reheated madeleines with a dollop of whipped cream and berries macerated in a little sugar or honey. Yum!