This perky quinoa cucumber salad gets crunch from cucumber and radish marinated in kicky lemon garlic vinaigrette and a fresh bouquet of dill and mint, all topped with briny feta. An easy, nourishing vegetarian lunch or side dish.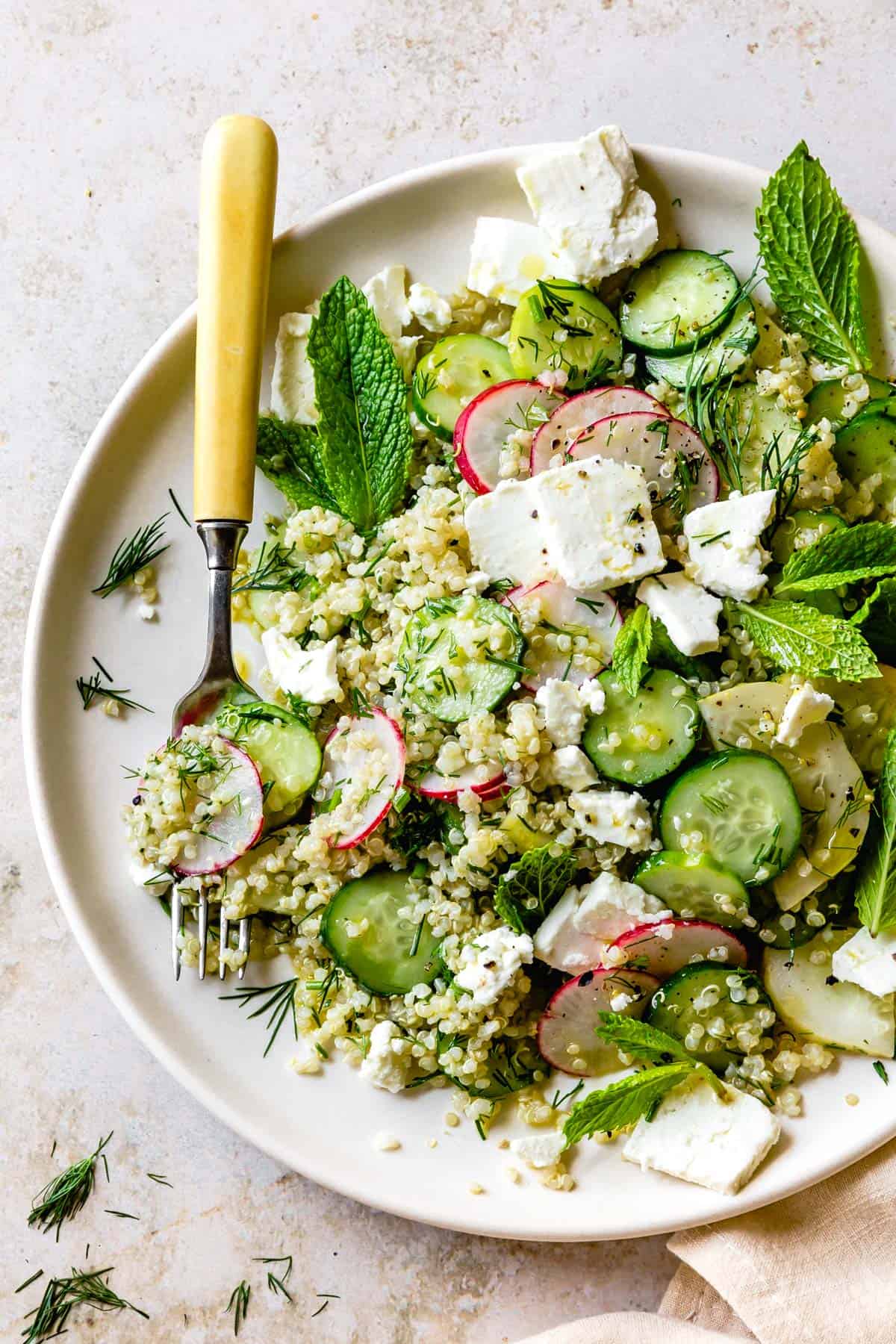 This quinoa cucumber salad is a riff on a favorite farro salad I shared here back in 2013. I don't eat glutenous farro anymore but I've been craving the flavors of cool cucumbers and thinly sliced radish against chewy grains and loads of fresh herbs. Quinoa to the rescue!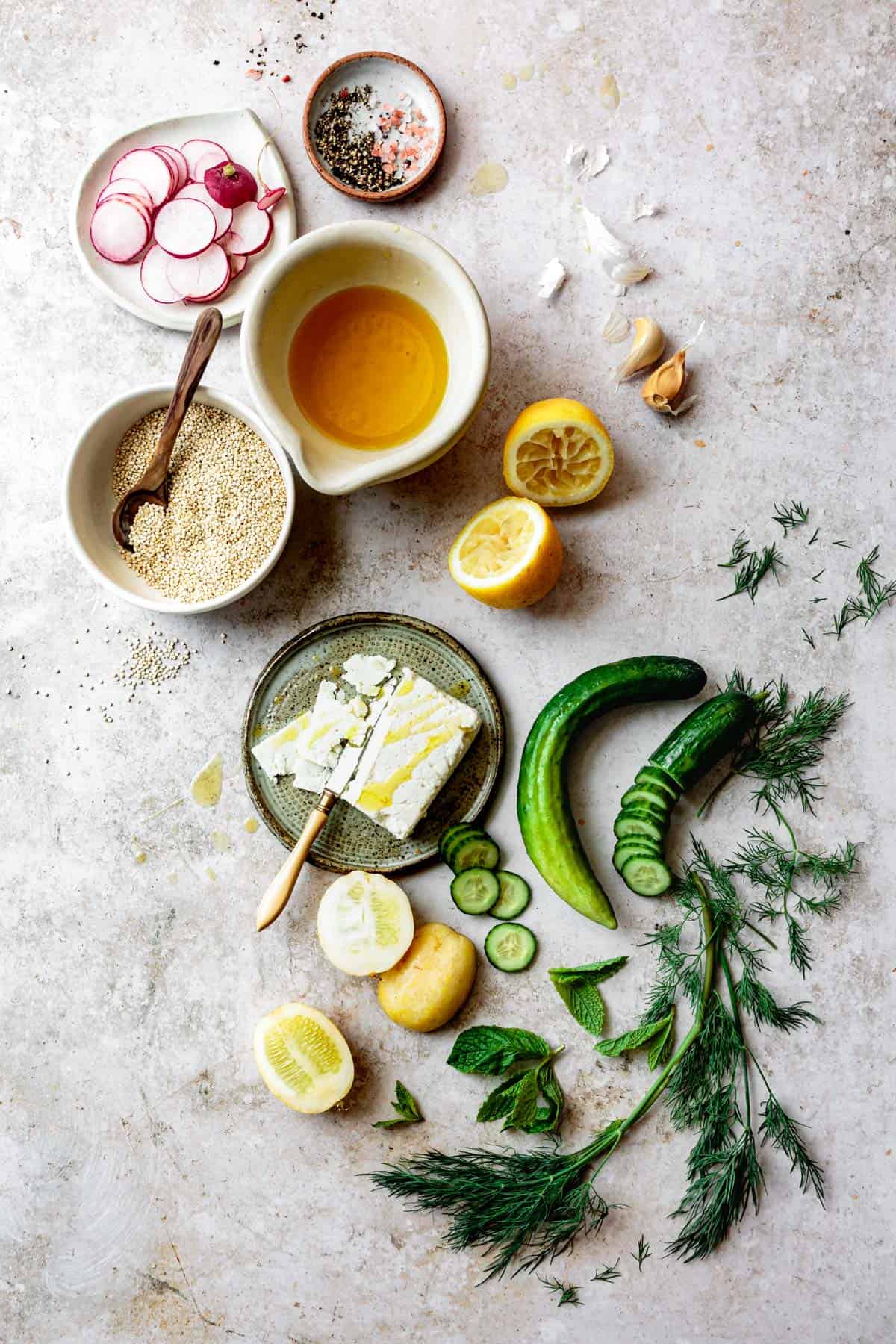 Summer Quinoa Salad
Jay and I spent a week at a sweet AirBNB in Marin County earlier this month while we got some work done on our SF apartment. We loved getting a break from the busyness and noise of San Francisco at a converted pool house in San Anselmo. We spent our days swimming and lounging by the pool, taking short hikes around Marin, and exploring all the good GF eats Marin had to offer. We brought a vat of quinoa cucumber salad with us and dolled it up with sliced heirloom tomatoes. Cool, fresh, and nourishing, it was just the thing to devour for our lunch every day.
Cucumbers aren't always the first thing one thinks of when it comes to summer produce but I get especially excited when I see fun varieties at my co-op in July and August. There are rotund, pale yellow lemon cucumbers, curly striped middle eastern varieties, and thin skinned asian types. There are tiny adorable cucamelons that look like miniature watermelons. My cousin in Humboldt grows a type called dragon's egg, which are pale yellow and oblong – pretty much the best cucs I've ever tasted. Any cucumber variety with thin, mild skin and crispy insides will work here.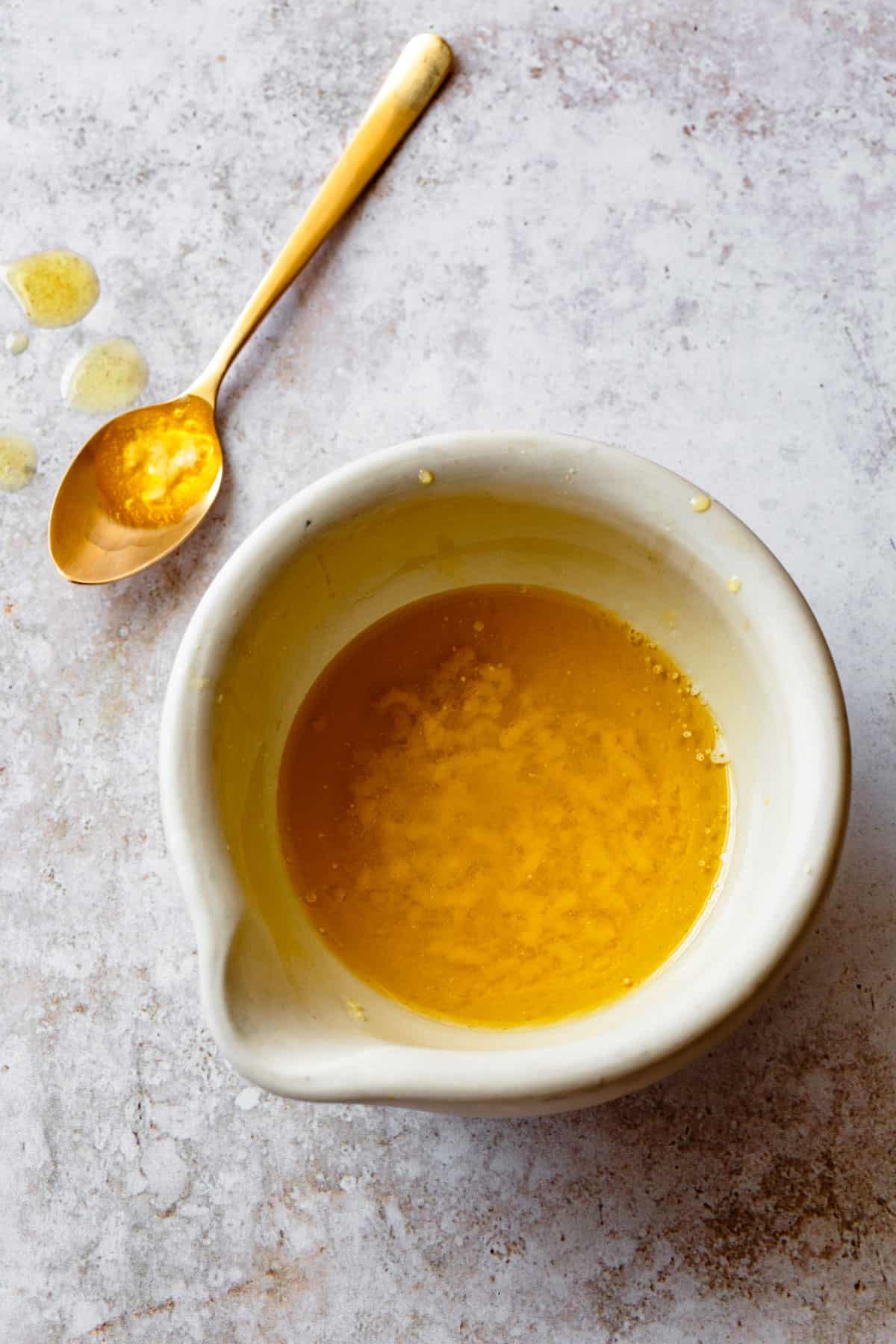 How to Make Quinoa Cucumber Salad
The first step to making any quinoa salad or dish is soaking the quinoa. This is because Quinoa has saponins hanging out on the surface of every grain and these compounds make quinoa taste bitter and soapy if not thoroughly washed away. I like to place my quinoa in a very fine mesh strainer set in a bowl, and soak in cool water for 5 or 10 minutes. Next, rinse your quinoa until the water runs clear. Drain well, then steam in a covered saucepan as you would rice. It cooks in about 15 minutes; much faster than most whole grains!
Make a quick dressing with garlic, olive oil, lemon, and vinegar, and thinly slice radishes and cucumbers. Once your quinoa is cooked and cooled, toss everything together with a mess of fresh herbs. Top with feta, more olive oil, and enjoy!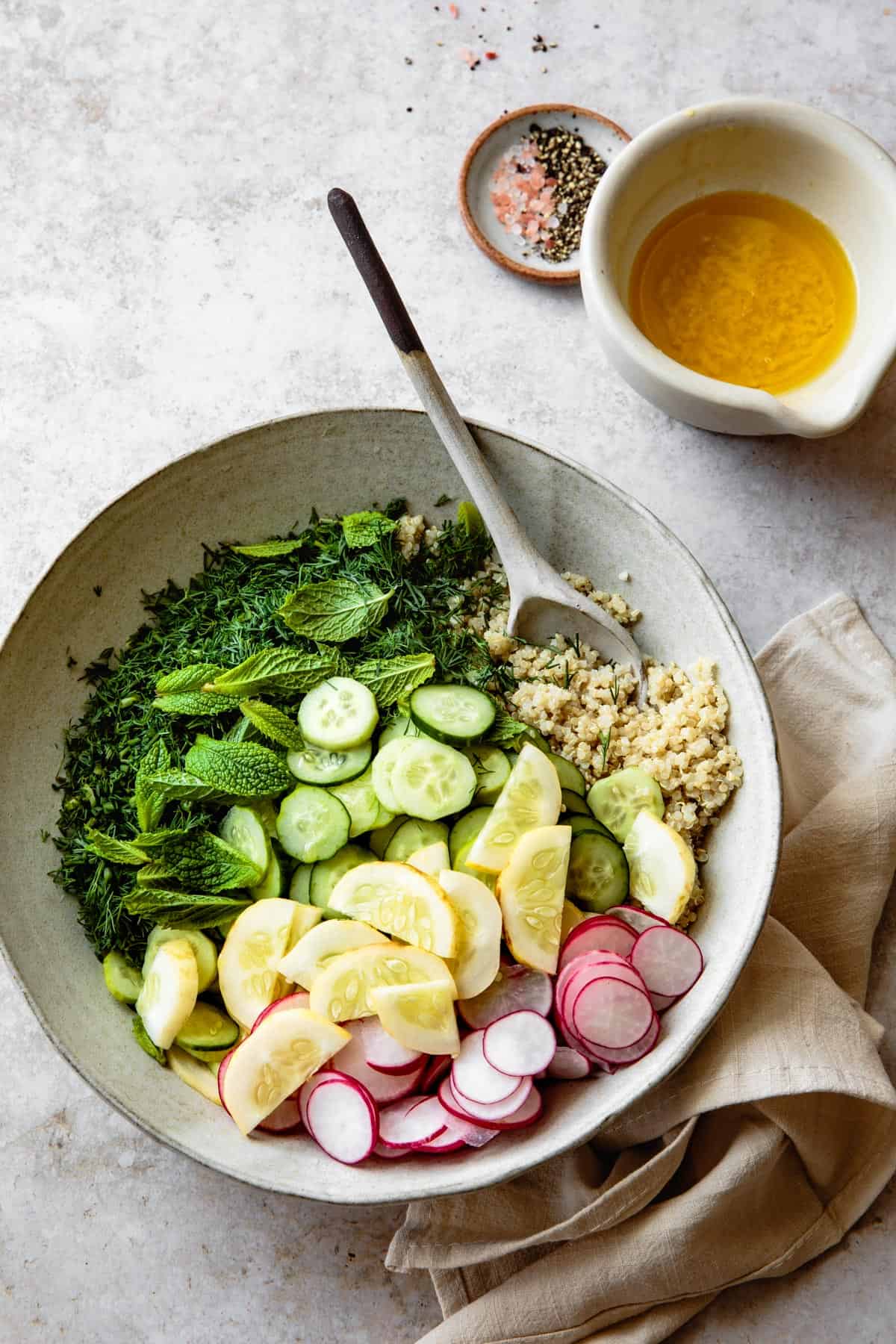 Quinoa Cucumber Salad Variations
I love the fresh flavors of this salad, which gets a tzaziki vibe from cucumber, dill, and a splash of white wine vinegar. But it takes well to other ingredients too, such as:
kalamata olives
chickpeas
halved cherry tomatoes, or chopped early girls or heirlooms
pickled red onion or shallot
Italian parsley
Is Quinoa Salad Gluten-Free?
It most certainly is! Quinoa doesn't contain gluten, making it an ideal stand-in for the farro I used to use in this salad. If gluten isn't an issue for you, give the original version a try – it's delicious in its own rite.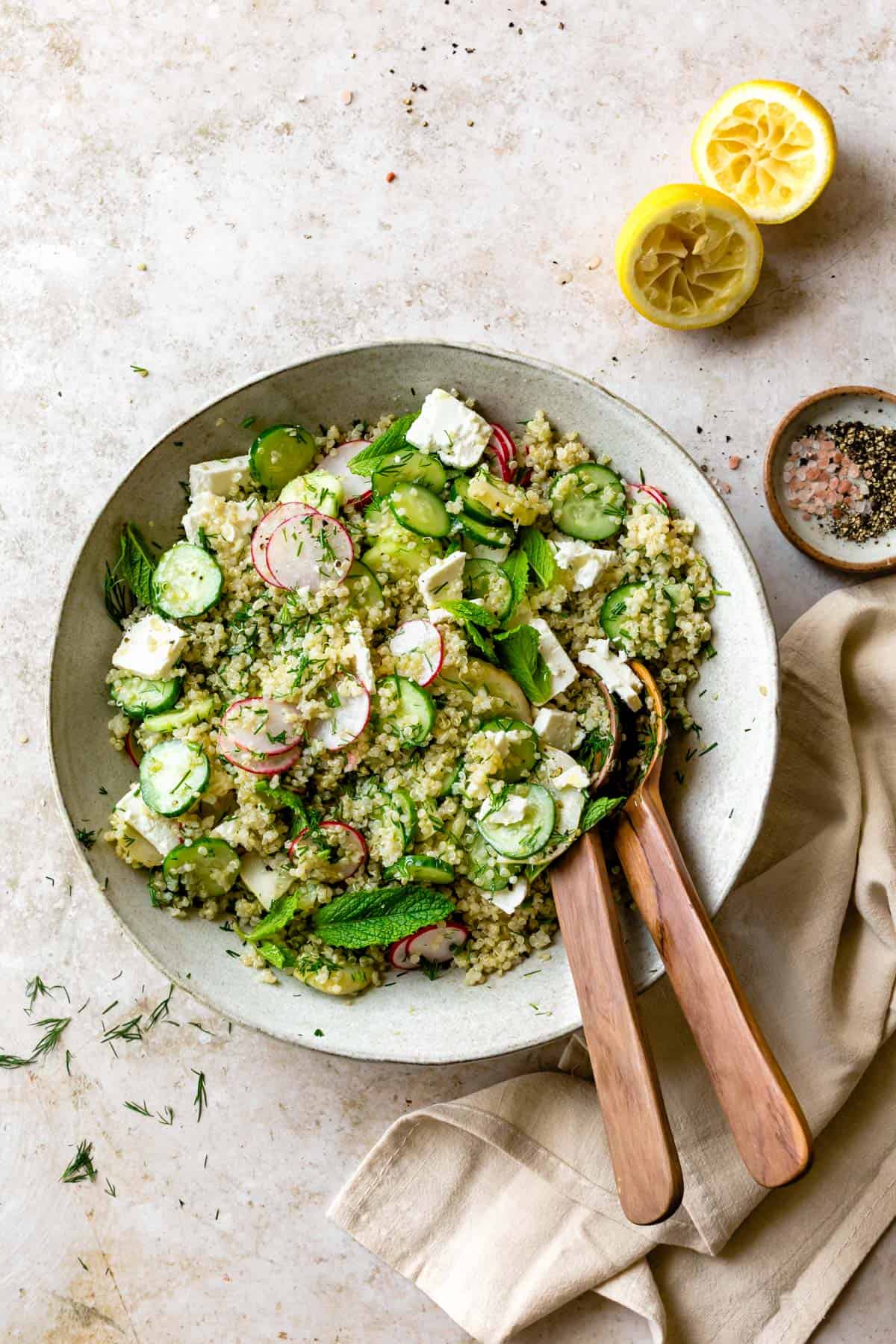 Is Quinoa Salad Healthy?
Quite! Quinoa is an easy to digest pseudo-grain that's higher in protein than most grains. Combine that with loads of phytonutrients and fiber from fresh veggies, olive oil full of good fats, and more protein from feta cheese, this salad makes a highly nutritious main dish. Fingers crossed it counteracted the massive amounts of clafoutis and coffee cake I ate that same week!
Looking for more quinoa & quinoa salad recipes? Try these:
More hearty & healthy vegetarian mains:
*Bojon appétit! For more Bojon Gourmet in your life, follow along on Instagram, Facebook, or Pinterest, purchase my gluten-free cookbook Alternative Baker, or subscribe to receive new posts via email. And if you make this quinoa cucumber salad, I'd love to see. Tag your Instagram snaps @The_Bojon_Gourmet and #bojongourmet.*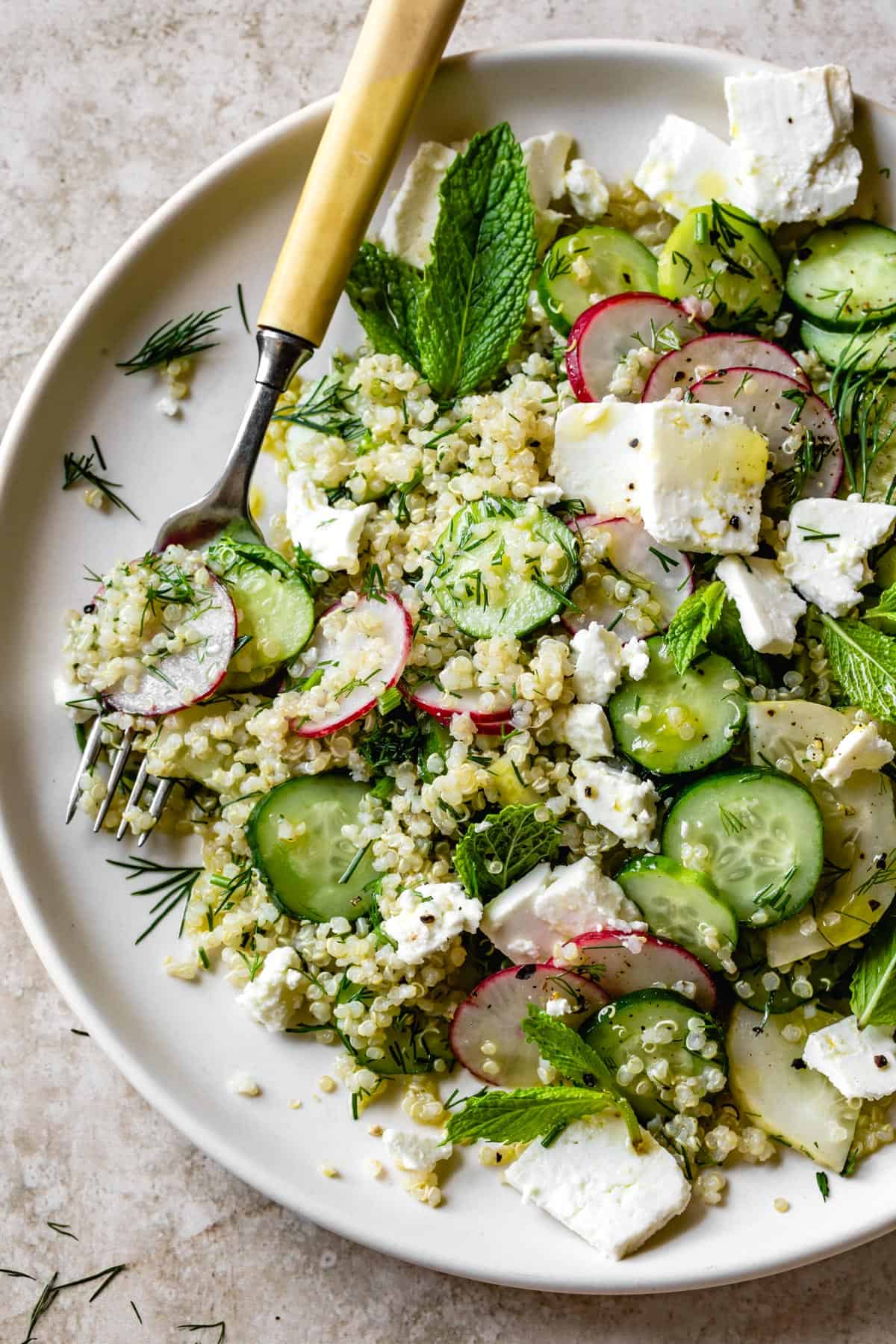 Quinoa Cucumber Salad with Feta, Dill & Mint
Print Recipe
Pin Recipe
This hearty vegetarian salad can double as a main dish. It gets a tzaziki vibe from cucumbers and dill combined with crunchy radish, kicky lemon garlic vinaigrette, fresh mint and feta. Easy and nourishing.
Ingredients
1

cup

(185 g) uncooked white quinoa

1 ½

cups

(350 ml) filtered water (plus more as needed)

fine sea or kosher salt as needed

2

large garlic cloves, peeled and put through a press or minced

¼

cup

(60 ml) flavorful olive oil, plus extra for drizzling

3

tablespoons

(45 ml) fresh, strained lemon juice

1

tablespoon

(15 ml) champagne or white wine vinegar

¼

teaspoon

freshly ground black pepper

2-3

medium-sized cucumbers

1

small bunch radishes

¼

cup

chopped mint leaves (more to taste)

¼

cup

chopped dill (more to taste)

4

ounces

(110 g) feta (I like French sheep feta), sliced or crumbled (or vegan feta such as Violife brand)

flaky salt
Instructions
Place the quinoa in a very fine mesh strainer and place the strainer in a bowl. Fill the bowl with enough cool water to cover the quinoa and soak for 5-10 minutes, swishing the quinoa occasionally with your fingers. Rinse until the water runs clear and drain well.

Place the rinsed quinoa in a large saucepan with the 1 ½ cups water and ½ teaspoon salt. Bring the quinoa to a simmer, then cover and reduce the heat to low. Cook until all the water is absorbed and the quinoa is tender with a hint of bite, about 15 minutes. If the quinoa isn't yet cooked by the time the water is absorbed, sprinkle with a splash of water and continue cooking.

Let stand 5 minutes, then fluff gently with a fork. Transfer to a large bowl and let cool to room temperature, or cover and chill for up to 3 days.

In a small measuring pitcher, whisk together the pressed garlic, olive oil, lemon juice, vinegar, ¼ teaspoon salt, and the pepper. Taste, adding more salt if you feel the dressing needs it. Set aside.

If your cucumbers are wider than an inch or so across, cut them in half lengthwise. Slice the cucumbers into 1/8″ thick rounds or half moons and add to the quinoa. Trim the radishes and slice them thinly. Add to the quinoa.

Pour the dressing over the salad and toss well. Toss in the mint and dill and taste, adding more lemon, vinegar, salt, or pepper if you feel the salad needs it. The flavors will become more subtle as the salad sits. Scatter the feta over the top.

Serve the salad topped with an extra drizzle of super flavorful olive oil and a big pinch of flaky salt. It's best eaten within an hour or two, while the mint is fresh and green, but leftovers can be refrigerated for 1 or 2 days. As the salad sits, the quinoa will absorb flavor and moisture, so you'll want to taste it again before serving, adding more of the vinaigrette components to boost the flavors if needed.
Nutrition
Calories:
378
kcal
Carbohydrates:
34
g
Protein:
11
g
Fat:
22
g
Saturated Fat:
6
g
Cholesterol:
25
mg
Sodium:
403
mg
Potassium:
510
mg
Fiber:
4
g
Sugar:
4
g
Vitamin A:
574
IU
Vitamin C:
13
mg
Calcium:
199
mg
Iron:
3
mg