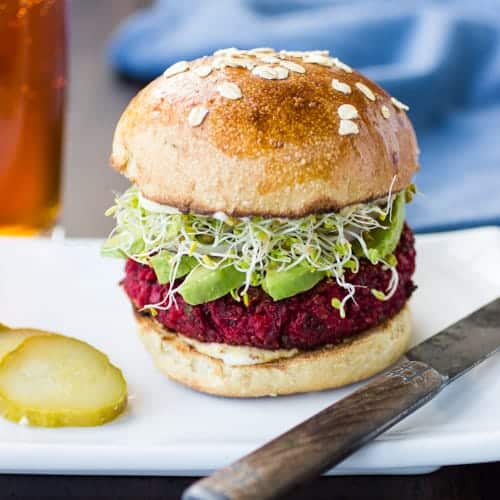 One of the oddest foods I've ever seen was a frozen vegan product designed to look and taste like salmon, complete with a headless-fish shape and scaly "skin." It contained a laundry list of hard to pronounce ingredients, and made me realize that just because something was vegan truly didn't mean that it was healthy.
Being the type of person who gets more excited over side dishes than traditional main courses (case in point: I ordered pasta with a side of mashed potatoes at a nice restaurant when I was 10, to my family's chagrin), I can't imagine missing fish enough to eat the aforementioned Franken-soy product, or fowl enough to indulge in Tofurky. Similarly, I think that veggie burgers should stop trying to taste like beef, and that if you miss them that much, perhaps your body is begging you to indulge in a real (grass-fed, organic) burger for a good reason.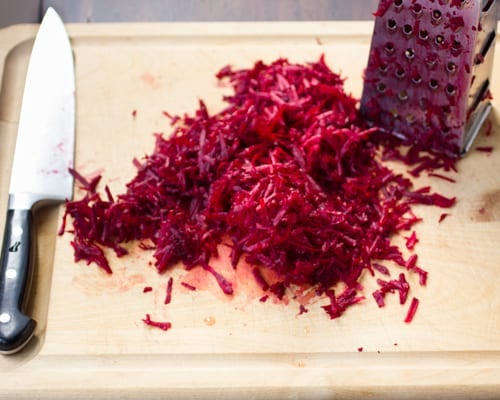 I see burgers more as a vehicle for melted cheese, tangy mustard, gooey avocado, and a crusty, chewy bun. (And I will fight you for that pickle.)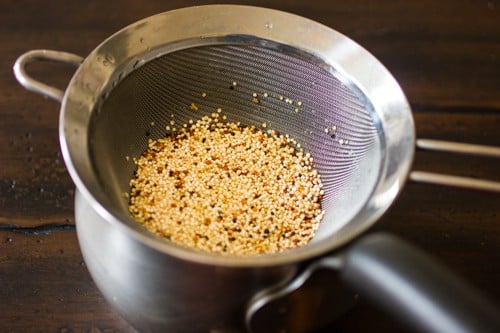 If you are currently or have ever been vegetarian, I don't need to tell you that many veggie burgers are godawful. Unless you find one out at a good vegetarian restaurant, you are usually facing a pasty, brown hocky puck of a thing, sometimes deep fried to compensate for insipid flavor and flaccid texture. Putting the bready thing into a bun often seems redundant.
I based this formula loosely on a recipe from The Kitchn that was in turn inspired by a well-loved burger from Ohio's Northstar Cafe. I used quinoa in place of the brown rice, and chickpeas instead of the black beans, just because I liked the idea of those ingredients all hanging out together with sauteed beets. A small amount of egg and quick oats gently bind the burgers as they sear in the pan, and they get a bright flavor boost from lemon zest and juice and fresh parsley. They're moist and delicate enough that sandwiching one between a Honey Oat Beer Bun doesn't seem terribly like a big starch fest (not that I would mind one of those, clearly).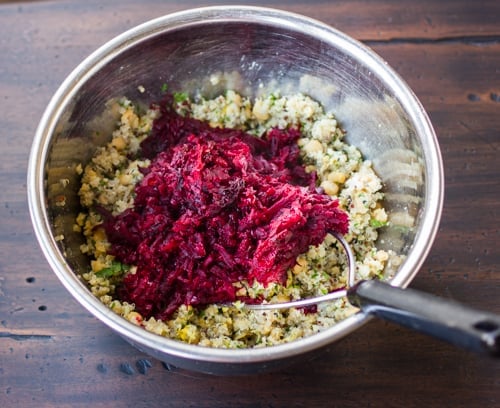 Though they benefit from a generous slathering of mustard, mayo, avocado, red onion and sprouts, they would also work well served as croquettes with a dollop of minted yogurt, or cooked into felafel-sized patties and nestled in a warm pita pocket with lemon tahini dressing and shredded romaine.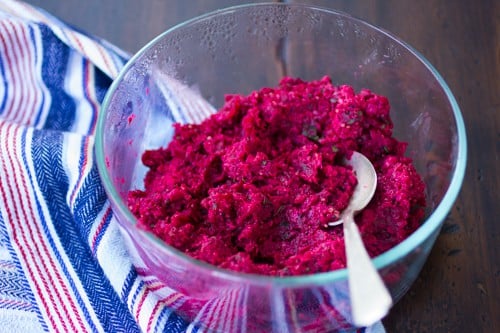 You do need to cook chickpeas, quinoa, and the vegetables separately, but these components can all be made ahead (and you can use canned beans in a pinch). The burger mixture itself keeps well in the fridge, affording you burgers for days.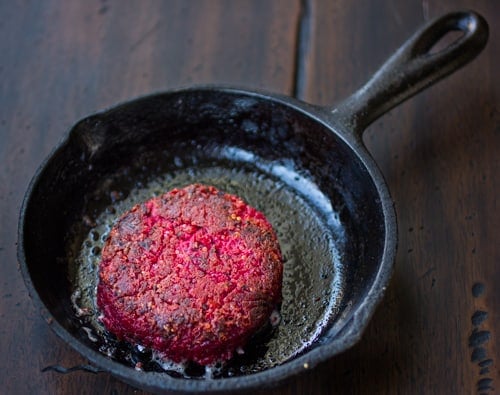 My favorite thing about these burgers is that although they look like rare beef, they actually taste like vegetables.
Happy meals:
Quinoa, Kale and Sweet Potato Salad
Curried Carrot Soup with Ginger and Coconut Milk
Sweet Potato, Chard and Black Bean Enchiladas
Quinoa, Beet and Chickpea Burgers
Adapted loosely from The Kitchn
If you don't have 8 hours to soak your beans, you can cover them in boiling water and let them sit for 1-2 hours, or just cook them from dried; they will take a bit longer to cook. I like to cook my own beans, as directed below, but you can certainly use canned or jarred ones if your prefer. The half cup of dried beans that I cooked yielded 1 1/4 cups of cooked beans, but you can throw the whole can in, which should contain about 1 1/2 cups. In that case, you won't need the bay leaf.
As I mention above, the quinoa, chickpeas and vegetables can all be cooked a day or two ahead of time. The burger mixture keeps well for several days in the fridge for on-demand burgers. Serve these with Honey Oat Beer Buns.
Update 11/13/13: A few commenters have reported that their burgers aren't holding together well. Until I can get to the bottom of this, I would recommend weighing your beets – they should be 10 ounces in all. If you've weighed your beets and the mixture still won't stick, try adding an extra egg and/or more quick oats.
Makes 6 full-sized burgers, or 12ish sliders (mini-burgers)
The burger mixture:
1/2 cup dried chickpeas (garbanzo beans), soaked 8 hours or overnight (or one 14 ounce can of cooked chickpeas, drained and rinsed)
1 bay leaf
1/2 cup raw quinoa (white or multi)
salt
3 medium-sized red beets (about 10 ounces)
1 tablespoon olive oil
1 medium yellow onion, finely diced
2 cloves garlic, minced
2 tablespoons cider vinegar
2-4 tablespoons finely chopped parsley
zest from 1/2 a medium lemon
juice of 1 medium lemon
1 large egg
1/2 cup quick (baby) oats
For serving:
several tablespoons of light olive oil, for frying the burgers
6 buns (such as Honey Oat Beer Buns), halved and toasted
mustard, mayonnaise, avocado, thinly sliced red onion, sprouts
Cook the beans:
Drain the soaked chickpeas and place them in a medium saucepan with the bay leaf. Cover with 3 inches of water, bring to a boil, then reduce the heat and simmer, partially covered, until the beans are almost tender. At this point, add 1/2 teaspoon of salt to the pot. Continue cooking until the beans are very tender. This can take anywhere from 30 minutes to over an hour total, depending on the size and age of the beans. Add water to the pan as needed. When the beans are done, let them cool in their water until needed. If you like, you can slip the loose skins off the beans, though this isn't necessary.
Cook the quinoa:
Place the quinoa in a very fine mesh strainer, place the strainer in a bowl or measuring cup, and fill with water to cover the quinoa. Let soak 5-10 minutes, swishing occasionally, to rinse off the bitter coating. The water will turn a beige-yellow. Drain the quinoa well, discard the soaking water, and place the quinoa in a small saucepan with 1 cup of water and 1/4 teaspoon salt. Bring the mixture to a boil, immediately reduce the heat to very low, cover the pot, and let the quinoa steam until tender and all the water is absorbed, 15-20 minutes. Remove from the heat and let sit, covered, until ready to use.
Cook the veg:
Peel the beets with a potato peeler, then grate them on the large holes of a box grater. The beets will spray, so wear an apron and have your work area clear of things you don't want covered in tiny red specks. Heat the oil in a wide saute pan (that has a lid that you will use later) over medium heat. When it shimmers, add the onion and cook, stirring occasionally, until tender, 5-10 minutes. Add the garlic, the grated beets, and a big pinch of salt. Give it a stir, then cover the pan and let the mixture cook, stirring occasionally, until the beet is tender, 5 minutes or so. Remove from the heat and deglaze by adding the vinegar and stirring up any good stuff that is stuck to the bottom of the pan.
Make the burgers:
In a large bowl, combine the cooked chickpeas, quinoa and beet mixture and mash with a potato masher to break up the beans slightly – the mixture should still be fairly chunky. Stir in the parsley, lemon zest and juice, egg, oats, and 1/4 teaspoon salt until combined.
Cook the burgers:
Divide the mixture into 6 equal portions (a large spring-loaded scoop works well) and shape into 1″ thick rounds. Coat the bottom of a wide skillet with oil and heat over a medium flame until the oil shimmers. Carefully add the burger patties. Cook until the first side is golden, 2-3 minutes, then flip and cook on the second side until it is golden and the burger is cooked through, 2-3 minutes, reducing the heat if the burger is browning too quickly.
Serve the burgers on toasted buns slathered in any toppings you like.