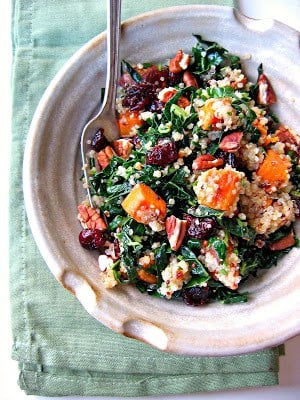 When I was quite young, my grandmother took me out to lunch at an LA diner. As she ordered, the waitress asked if she would like a "super salad" with her entree. I imagined a giant salad, sporting a cape and tights, flying to our table in order to rescue a drowning steak or abused mashed potato.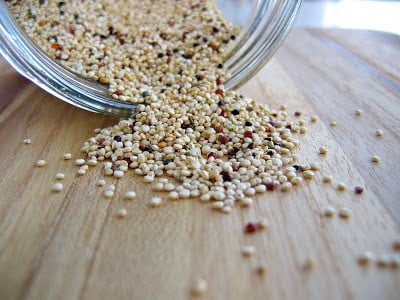 But I never got to meet this salad, because my grandma replied, "I'll have the soup."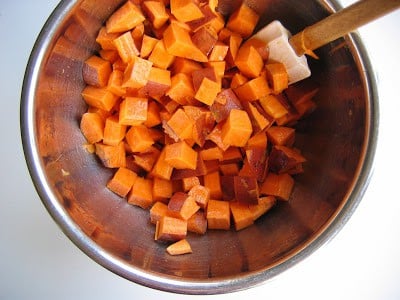 If there were an election for a super salad (and wouldn't that be much more fun than the actual upcoming election?) I would nominate this guy. He's full of good-for-you ingredients: iron-rich kale, protein-packed quinoa, creamy roasted sweet potatoes, sweet-tart dried cranberries, omega-full nuts, extra-virgin olive oil and lemon juice. He's gluten-free and vegan. He is equally delicious warm, chilled, or at room temperature. He may not be well-traveled, but he does travel well – to work, a picnic, a potluck.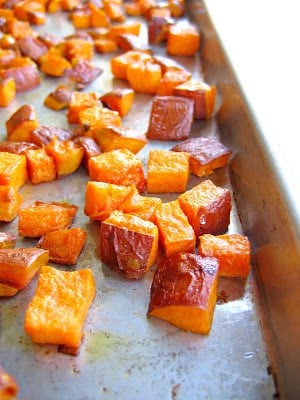 I find the clean, straightforward flavors of this salad a welcome relief after the spicyboozybuttery holidaze; we've had it three times in the past couple of weeks. Toasty cumin and crunchy pecans contrast tart lemon juice, creamy sweet potatoes, and chewy dried cranberries. Multi-colored quinoa ends up a mix of tender white grains and red and black flecks that pop in your mouth. A brief soak and thorough rinse rid the quinoa of any bitterness, leaving feather-light grains with nutty-sweet flavor.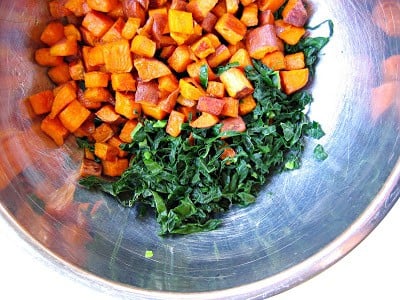 Not only is this salad superb for you, it tastes super good, too.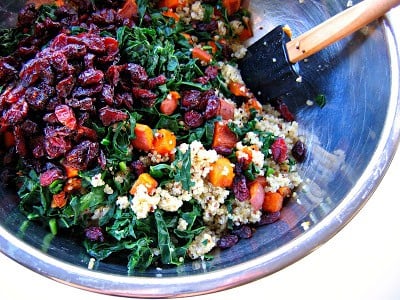 Happy 2012.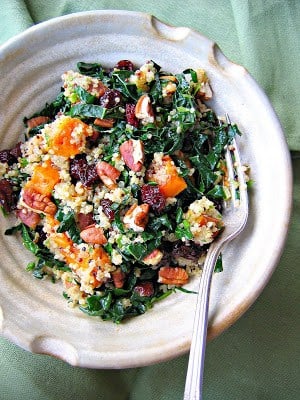 Super salad:
White Bean, Kale, and Farro Soup
Creamy Sesame Soba Noodle Salad
Crispy Sesame Kale Chips
One year ago:
Spiced Sweet Potato Oven Fries
Two years ago:
Quinoa, Kale and Sweet Potato Salad
I love the way multi-colored quinoa ends up mostly tender, with flecks of red and black grains that retain a bit of crunch when cooked. And it looks pretty, too. If you can't find any, use any color quinoa you like (red and black quinoa may need extra water and cooking time to soften). This salad is equally good warm, room temperature, or chilled. It keeps for up to 3 days in the fridge, though I find the flavors to be brightest when the salad is warm and freshly made. Fromage-philes will enjoy a bit of goat cheese crumbled over the warm version, or feta when it's chilled.
Makes about 6 meal-sized servings
2 medium-large sweet potatoes (1 1/2 pounds, jewel), scrubbed, cut into 1″ chunks
5 tablespoons extra-virgin olive oil, divided use
sea salt
1 cup quinoa (preferably multi-colored)
1 large bunch kale (preferably black/dino kale)
1 tablespoon cumin seed
juice of 1 lemon (or more, to taste)
freshly ground black pepper
1/2 cup parsley, finely chopped
2/3 cup dried cranberries
2/3 cup toasted pecans, broken up or coarsely chopped
Position a rack in the center of the oven and preheat to 400º.
Toss the sweet potatoes in a large bowl with 2 tablespoons of the olive oil and 1/4 teaspoon of salt. Spread evenly on a sheet pan and roast until soft and golden, about 40 minutes, flipping the potatoes once halfway through cooking. Remove and let cool slightly (or completely).
Meanwhile, place the quinoa in a fine mesh sieve set over a bowl or large measuring cup. Fill the bowl with water to cover the quinoa and soak for 5-10 minutes. Remove from the soaking water and rinse thoroughly with cool water. Drain well. Place the soaked, rinsed and drained quinoa in a medium saucepan and add 1 1/2 cups water and 1/2 teaspoon sea salt. Bring the quinoa to a simmer, then cover with a lid and reduce the heat to low to maintain a gentle simmer. Let the quinoa steam until the water is gone and the white quinoa is tender (the red and black quinoa will retain more crunch). Remove from the heat, leave the lid on and let steam 10 minutes. Fluff with a fork.
Meanwhile, remove the ribs from the kale with a sharp paring knife. Stack 3 or 4 leaves on top of one another, roll them up the long way, and slice crosswise very thinly. Repeat with the remaining kale leaves. Place the leaves in a colander and set in the sink. Bring a large tea kettle of water to a boil, and pour the boiling water all over the kale to wilt it. Rinse the kale with cool water to stop the cooking. Squeeze dry and place in a very large bowl.
Toast the cumin seed in a small skillet over a medium flame, shaking frequently, until fragrant, about 1 minute. Let cool, then grind in a mortar and pestle or spice grinder.
Add the sweet potato cubes and quinoa to the kale, then add the cranberries, toasted and ground cumin, remaining 3 tablespoons olive oil, 1/4 teaspoon salt, and juice of 1 lemon and gently toss to combine. Add the pecans and parsley just before serving.
The salad can be eaten warm, at room temperature, or chilled for a day or two. When chilled, the flavors get muted, so you may want to add an extra squeeze of lemon juice and a bit of salt and/or pepper to bring up the flavors.