This protein-packed vegetarian Cobb salad is loaded with marinated grilled tofu, smoky coconut flake bacon, California avocados, tomatoes, romaine, hard boiled eggs, cheese crumbles, and a creamy mustard vinaigrette. Thanks to the California Avocado Commission for sponsoring this post!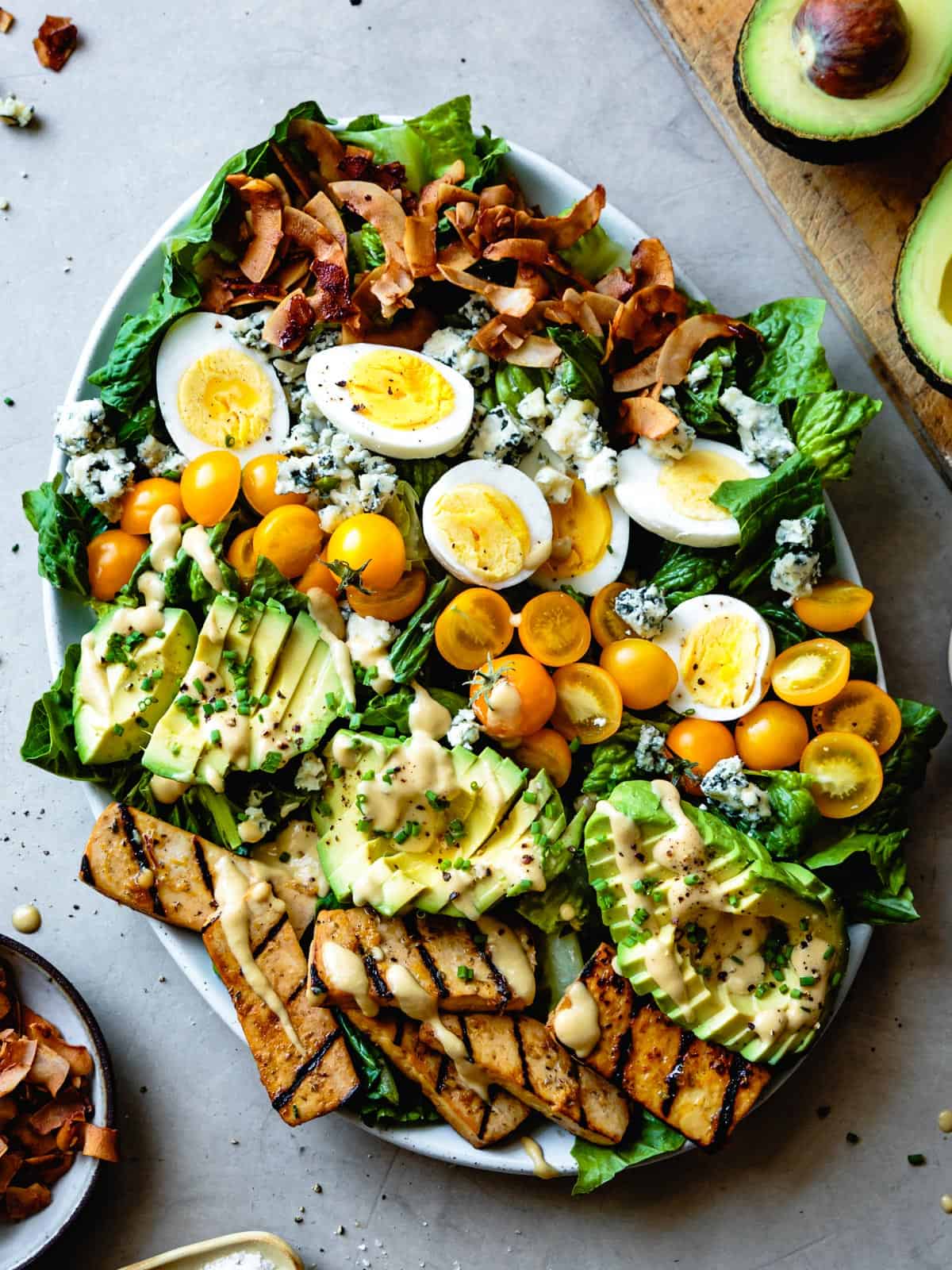 Last year, Sarah and I had the pleasure of styling a Cobb salad for The New York Times. The recipe was by Alison Roman and featured the classic Cobb combo of chicken, bacon, romaine, hard boiled eggs, avocado, tomatoes, blue cheese, and a mustard vinaigrette. I've been dreaming of making a vegetarian version ever since, and I'm so excited to share it with you today!
How Cobb Salad Became a Classic
The Cobb salad originated at the Hollywood Brown Derby restaurant in the 1930's. One origin story goes that the restaurant's owner, Robert Howard Cobb, threw a bunch of leftovers together one midnight after dinner service. I've worked in restaurant kitchens in garde manger a.k.a. salads and cold appetizers, so this story resonates. Many of my shifts ended with me crouched over a bowl of odds and ends hungrily devouring its contents, salad dressing clinging to my arms and hair, feet and back aching.
Cobb salad is a bit of hodgepodge, but a delicious one at that.
How to Make Cobb Salad Vegetarian
In place of chicken, I soak slabs of firm tofu in a kicky marinade flavored with lemon, garlic, olive oil, tamari, maple syrup, and oregano, then sear it on a grill (or in a grill pan). The grilled tofu makes a delicious component in this salad, and it works well in other dishes too.
In place of bacon, I use my favorite four-ingredient coconut bacon. The recipe comes together in under an hour and it packs a crispy, smoky punch.
Next I add the classic cobb salad stylings:
chopped romaine lettuce
cherry tomatoes
hard boiled eggs
crumbled blue cheese (goat cheese can be substituted if you prefer)
snipped chives
and...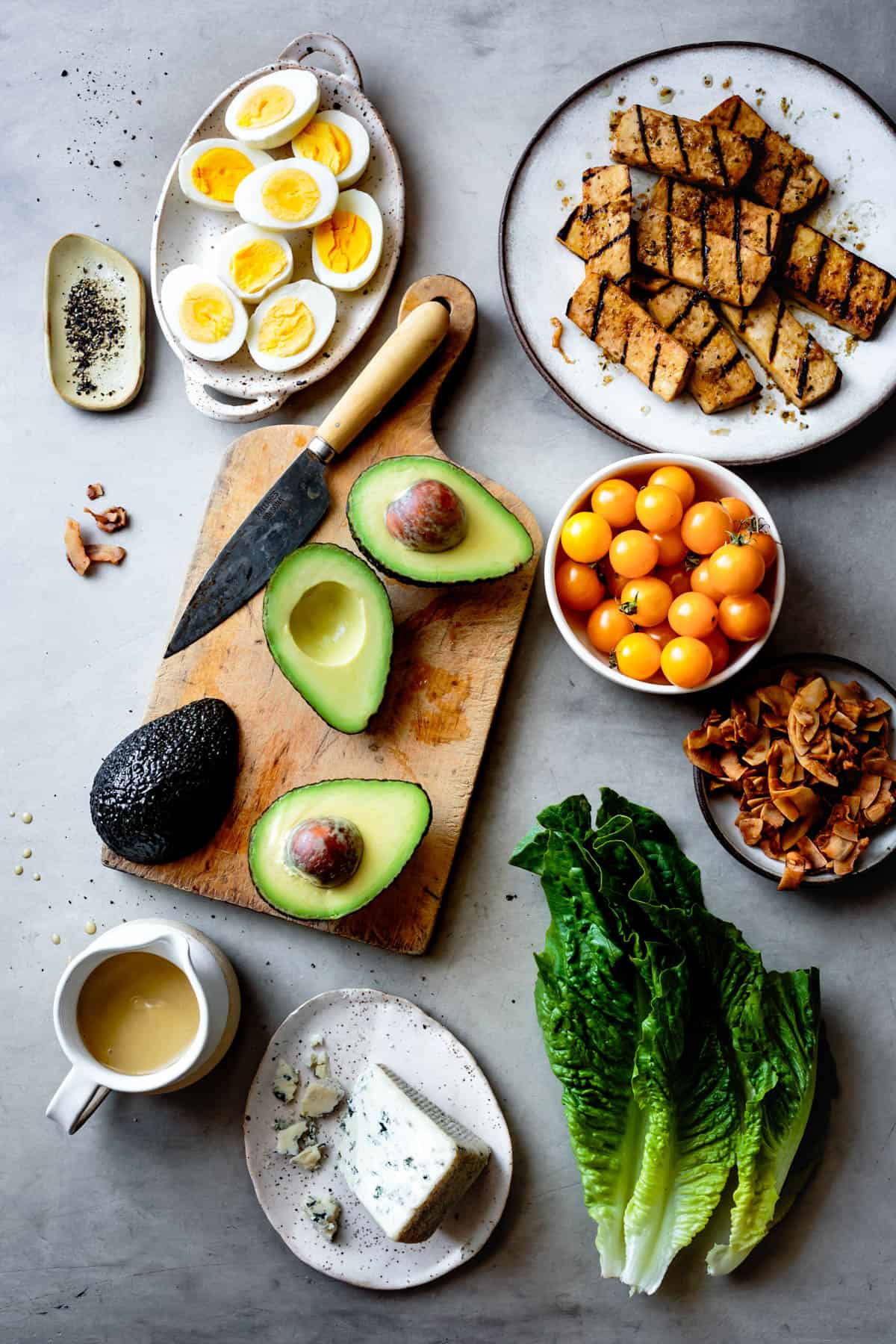 California Avocados
When local California avocados come into season during the spring and summer, we eat them every day. These beauties boast especially dense, rich fruit. There's nothing quite like cutting into one and finding a perfectly yellow-green interior ready to nom. Here they add a rich and creamy component to this vegetarian cobb salad, packing plenty of nourishing fats to keep you satisfied.
Creamy Mustard Vinaigrette
Classic cobb salad uses a loose dressing of olive oil, vinegar, mustard, and shallots. I like to throw mine in a small blender where it emulsifies into a luscious, creamy dressing. But you can simply combine the ingredients in a jar and shake if you prefer.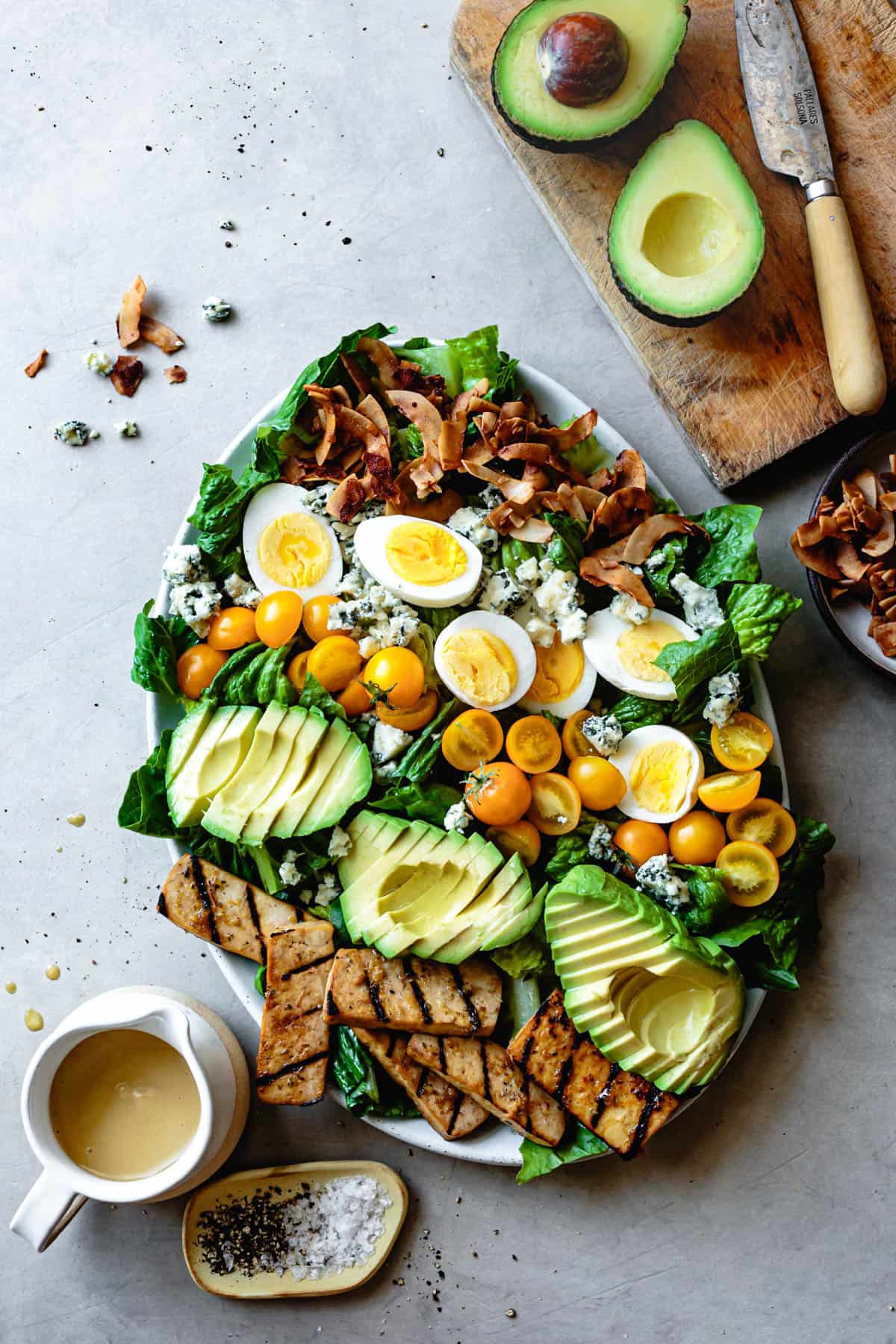 A Protein-Packed Vegetarian Salad
As a carb-loving (mostly) vegetarian, I'm always thinking about how to incorporate protein into my daily meals. Salads like this make it easy. Here you get a boost from tofu, eggs, and cheese, plus lots of healthy fats from coconut bacon, avocado, and olive oil vinaigrette.
A Pretty Platter Salad
Layer the ingredients on a platter if you want to be fancy, and drizzle the dressing over the top when you're ready to serve. Alternatively, cut the components into smaller pieces and toss everything together in a large salad bowl if you prefer. This vegetarian cobb salad makes three or four servings, though two very hungry people could finish it.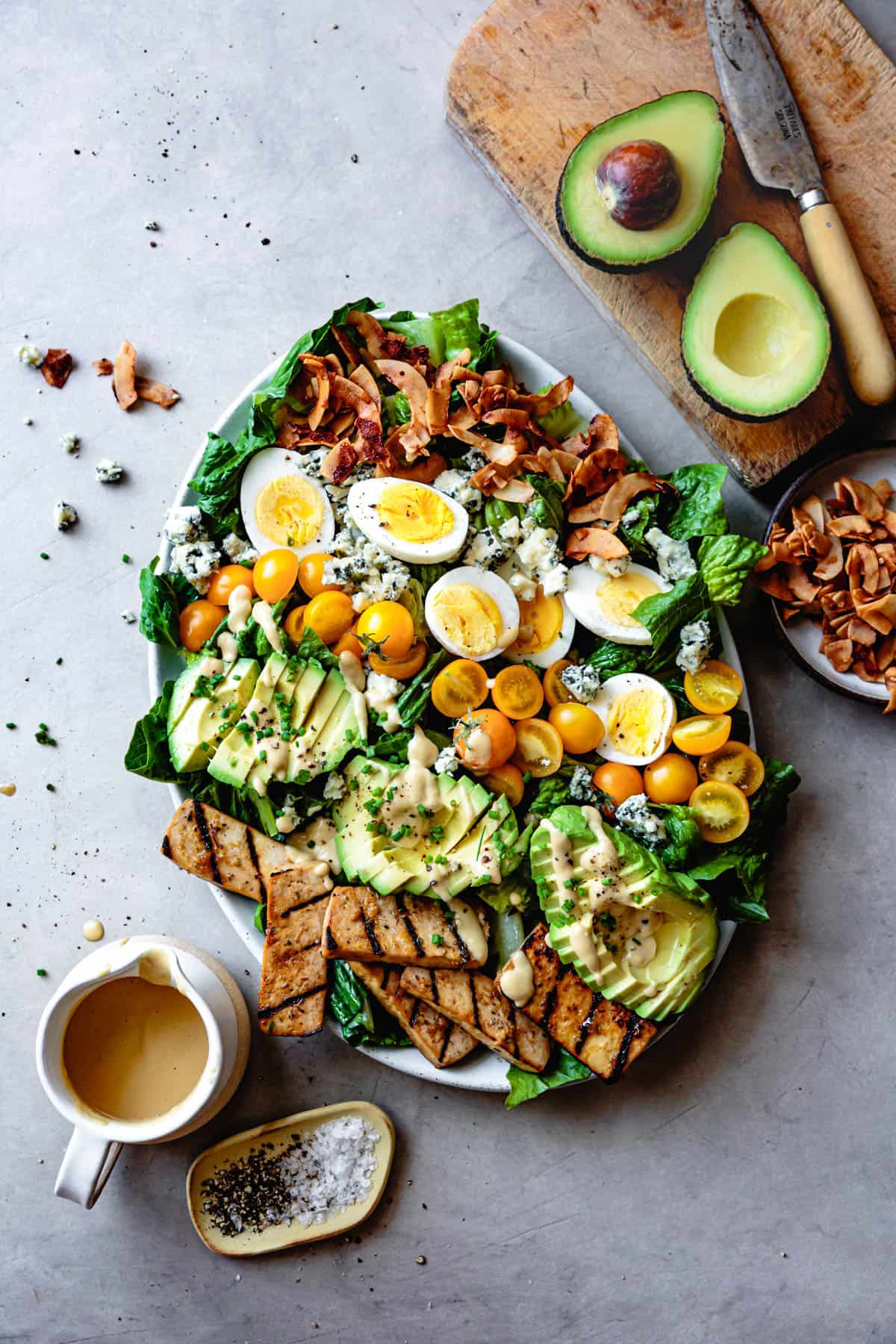 My Favorite Vegetarian Cobb Salad Recipe
Bite into this vegetarian cobb salad and you'll be met with crisp lettuce, creamy dressing, meaty tofu, smoky coconut bacon, luscious avocado, tangy tomatoes, pungent blue cheese and chives, and rich eggs. Serve this up for a hearty main dish for lunch or dinner, or feed a crowd as a side dish.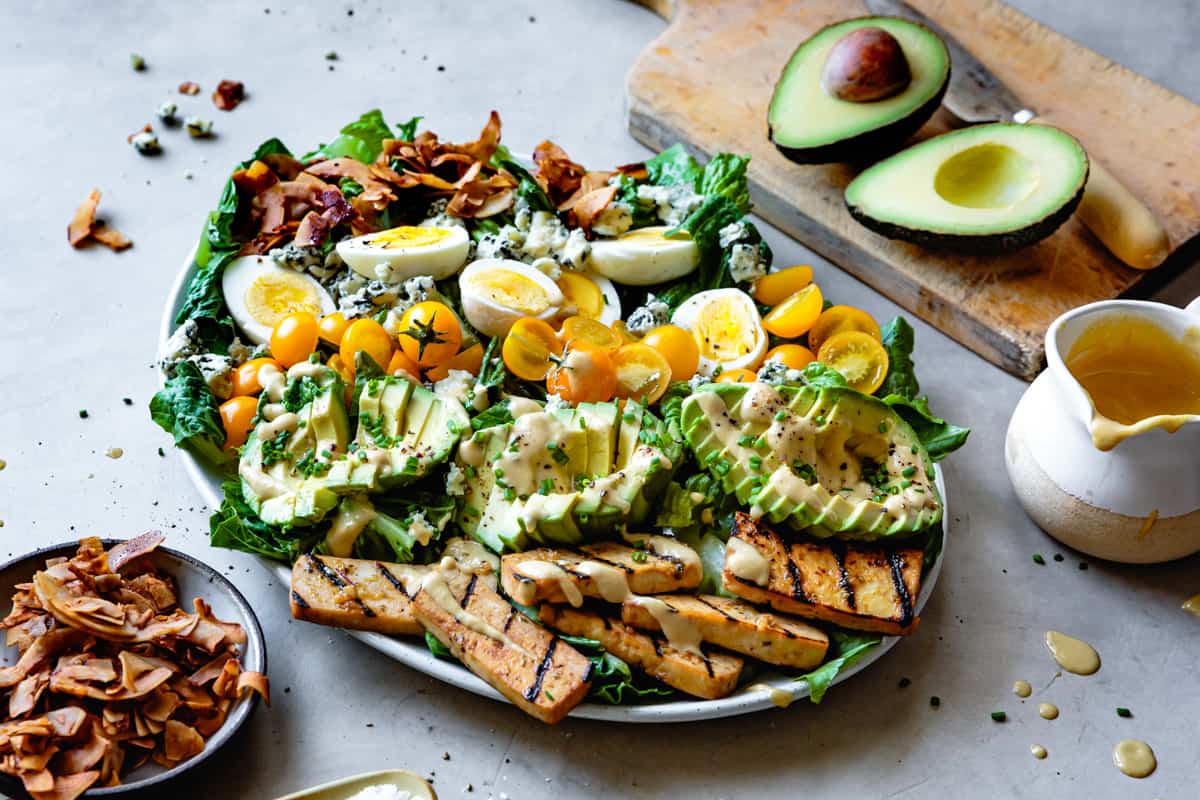 *Bojon appétit! For more Bojon Gourmet in your life, follow along on Instagram, Facebook, or Pinterest, purchase my gluten-free cookbook Alternative Baker, or subscribe to receive new posts via email. And if you make this vegetarian cobb salad, I'd love to see. Tag your Instagram snaps @The_Bojon_Gourmet and #bojongourmet.*
Vegetarian Cobb Salad
Print Recipe
Pin Recipe
This protein-packed vegetarian Cobb salad is loaded with marinated grilled tofu, smoky coconut bacon, avocados, tomatoes, romaine, hard boiled eggs, cheese crumbles, and a creamy mustard vinaigrette. Prepare the tofu and coconut bacon before beginning the recipe; they can both be made up to several days ahead.
Ingredients
Dressing:
2

tablespoons

diced shallot

¼

cup

(60 ml) red-wine vinegar

1

tablespoon

+ 1 teaspoon Dijon mustard

½

teaspoon

fine sea or kosher salt

¼

teaspoon

finely ground black pepper

¼

cup

+ 2 tablespoons (90 ml) mild extra-virgin olive oil (or a blend of olive oil and sunflower oil)
Salad:
1

recipe

Grilled Tofu

1

cup

Coconut Bacon

4

large eggs

1

head romaine lettuce, washed and torn into bite-sized pieces or coarsely chopped

1

cup

cherry tomatoes, stemmed and halved

2

large California avocados, firm-ripe, peeled, pitted, and sliced

2

ounces

blue cheese or goat cheese, crumbled

2

tablespoons

finely chopped chives

Flaky salt and coarsely ground black pepper
Instructions
Make the dressing:
Combine the shallot, vinegar, mustard, salt, pepper, and olive oil in a small blender.

Blend until smooth and thick.

Taste and adjust the seasoning if you feel it needs more salt or olive oil.
Make the salad:
Place the eggs in a small saucepan, cover with 1 inch of water, and bring to a rolling boil over medium-high heat. Remove the pot from the heat, cover, and let sit 7 minutes. Drain the eggs, fill the pot with ice and cool water, and let sit 10 minutes. Peel the eggs and cut into halves or slices.

Toss the lettuce with some of the dressing to coat, then arrange on a platter or serving bowl.

Top with the coconut bacon, eggs, tomatoes, avocados, and grilled tofu.

Sprinkle the cheese and chives over the salad, drizzle with more dressing, flaky salt, and pepper, and serve.
Notes
Nutritional values are based on one of four large servings.
Nutrition
Calories:
515
kcal
Carbohydrates:
12
g
Protein:
11
g
Fat:
37
g
Saturated Fat:
7
g
Cholesterol:
174
mg
Sodium:
607
mg
Potassium:
700
mg
Fiber:
7
g
Sugar:
2
g
Vitamin A:
1350
IU
Vitamin C:
20.1
mg
Calcium:
116
mg
Iron:
1.8
mg