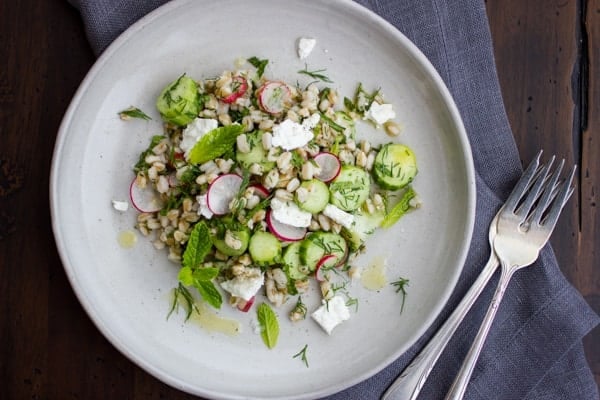 Once I discovered tzatziki in college (alla Trader Joe's), I practically lived off the stuff. The combination of crispy cucumbers, garlic, dill and mint suspended in a thick sour cream-like mixture rendered me powerless against eating it with a spoon, straight from the container. (Hardly my worst vice at that time, but still…that stuff is rich.)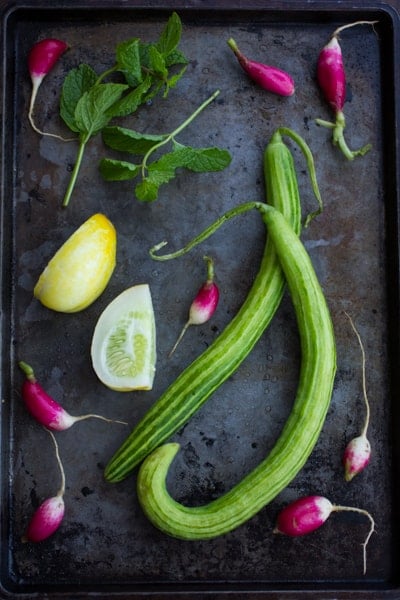 Tzatziki is still one of my favorite summertime snacks. Thanks to a recipe in Deborah Madison's Vegetarian Cooking for Everyone, I'm no longer beholden to Trader Joe's, but rather to the produce section at our co-op which boasts half a dozen different varieties of cucumbers come August.
There are lemon cucumbers, which resemble their namesake citrus in size, color and shape. There are Mediterranean varieties with thin skins, tiny seeds and dense flesh. There are long English cucs and tiny pickling cucs. But my favorite kind of all are the painted serpents with their gaudy stripes and slender curves that resist confinement in a plastic bag, flopping out onto the conveyor belt like spring-loaded snakes in a can of peanut brittle. One produce worker calls them "Dr. Seussian." They are the variety I use when I make tzatziki, which is so rich and delicious, I still want to just eat it with a spoon.
Which is why I made this salad, inspired by one I enjoyed at Pizzetta 211 a few months ago. Cool grains of farro were tossed with large chunks of cucumber and dressed with a ton of very flavorful olive oil. I liked it so much that I scribbled down those ingredients that I could figure out in a tiny notebook.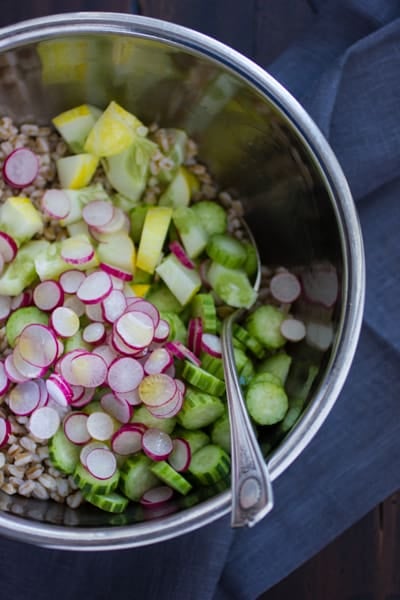 When our wonderful cat-sitter left us a bag of farro (thank you, Bex!), I decided to try my hand at making a Pizzetta-like farro salad. So I looked around for my notebook…and couldn't find it. I Googled (for the recipe, not my notebook), but got nothing. Their menu changes weekly, so the salad is long gone, and I have no recollection as to what was in it other than farro, cucumbers and olive oil.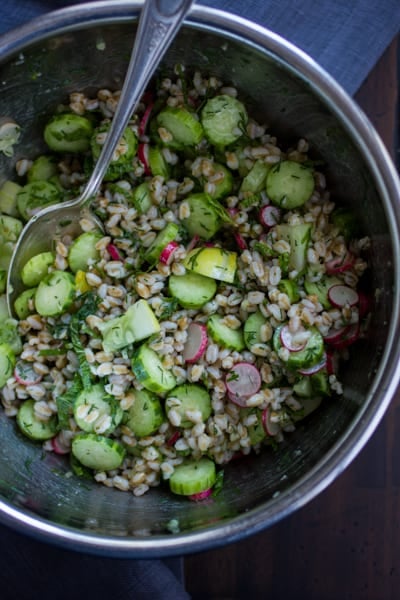 Luckily, you don't really need a recipe to make a salad, just a set of tastebuds. I added radishes for color and crunch (as well as a Lily Pulitzer pink-on-green effect), and I channeled Deborah Madison's tzatziki with crushed garlic, lemon juice, white wine vinegar, mint, and dill. I added feta, the ultimate salad cheese, to the top. I found that Bulgarian sheep feta is just right here, as it has a softer texture than cow's milk feta, but a more assertive tang than French sheep feta. (I had to taste them all to determine this – I did it for you.)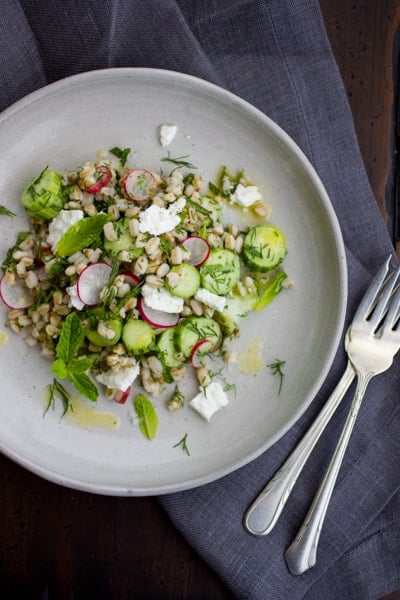 My first bite was eye-opening, and I couldn't wait to inhale this plate when I was done taking its picture. The chew of the farro plays against the crunch of the vegetables. Bright herbs liven up earthy grains. The dill, cucumber and white wine vinegar taste familiar; I think they make the pickle area of my brain light up. The mint and feta place it firmly in the Mediterranean camp. The whole effect is cooling and fresh, and every bit as addictive as tzatziki itself.
Best of all, you can eat it with a spoon straight from the bowl and not have to worry about the freshman fifteen.
Summery salads:
Green, Yellow and Romano Bean Salad with Sweet Corn and Feta
Melon with Lime, Feta and Mint
Orzo and Roasted Tomato Salad with Basil Vinaigrette
One year ago:
Plum, Rhubarb, and Raspberry Cardamom Crisp
Two years ago:
Zucchini, Corn and Chèvre-Stuffed Squash Blossoms
Three years ago:
Chocolate Rosemary Pots de Crème
Farro and Cucumber Salad with Feta, Dill and Mint
If you soak your farro in cool water for 3 hours or up to overnight, it will cook more quickly and evenly. This is a fun place to showcase different varieties of cucumber; I used 2 painted serpents and 1 lemon cucumber. The best ones for this salad are ones with thin skin, dense flesh, and tiny seeds. English and Mediterranean varieties should all work well. Taste the skin before you cut them, and peel it away if it tastes bitter or tough. If your cucs have large seeds, you'll want to scrape them out; they will release liquid that could make the salad watery.
I like this salad when freshly made. The mint will turn brown after an hour or two, so if you decide to make the salad ahead, add the mint at the last minute. I bet roasted beets and/or carrots would make a nice replacement for
cucumbers if you find yourself in need of a cool grain salad in the fall
or winter.
Serves 4 as a light meal, 6 as an appetizer or side dish
1 cup farro (I use semi-pearled)
sea or kosher salt
2-3 medium-sized cucumbers (see headnote)
1 small bunch radishes
2 medium garlic cloves, peeled and pressed (or minced)
1/4 cup good olive oil, plus extra for drizzling
2-4 tablespoons fresh lemon juice (to taste)
2-3 teaspoons white wine vinegar (to taste)
black pepper
1/4 cup chopped mint leaves
1/4 cup chopped dill
2-4 ounces feta (I used Bulgarian sheep feta), sliced or crumbled
flaky salt
Bring a large saucepan of salted water to a boil. Drain the farro if you soaked it, and add it to the boiling water. Cook until the farro is tender but not falling apart, 30-45 minutes. Drain the farro, rinse with cool water, and drain again. Place the farro in a large bowl and set aside. (The farro can be cooked 1-2 days in advance and refrigerated.)
Slice the cucumbers into either 1/8″ thick slices if skinny, or cut into 1″ square chunks if fatter. Trim the radishes and slice them thinly. Add the cucumbers and radishes to the farro. Add the garlic, olive oil, the smaller amounts of lemon juice and vinegar, and a few pinches of salt and pepper. Toss well. Toss in the mint and dill and taste, adding more lemon, vinegar, salt or pepper if you feel the salad needs it. Scatter as much feta as you like over the top of the salad.
Serve within an hour or two, while the mint is fresh and green. As the salad sits, the farro will absorb flavor and moisture, so you'll want to taste it again before serving, adding more of the vinaigrette components if you feel the salad needs it.
When you serve the salad, top each plate or bowl with a few drops of olive oil, a few flecks of flaky salt, a dusting of black pepper, and a few small mint leaves.