These ultra-nourishing brown rice veggie bowls get loads of fall flavor from roasted delicata squash, zippy kale salad, crispy marinated tofu, and a pour of creamy miso butter. Naturally vegetarian and gluten-free.
One of my favorite spots in San Francisco to grab a meal or share a pot of tea is Samovar Tea Lounge. Since they first opened over a decade ago, I've pretty much ordered the same thing: the Japanese tea service. It comes with a pot of toasty gen mai cha tea and a "roll your own maki bowl" of brown rice, kale salad, seasonal veggies, nori strips, and your choice of protein – marinated tofu, hot smoked salmon, or duck.
Sadly for us, our favorite location in the Castro closed its doors last year, so when we crave our Samovar fix, we have to brave the tourists at the Yerba Buena location. Oddly enough, it never before occurred to me to make this dish myself at home, which is silly since it's so simple. But this past week, I opened a copy of my favorite new cookbook Alternative Vegan, written and beautifully photographed by my dear friend Marie, and a colorful bento box reminiscent of Samovar's stared back at me. (More on Marie's lovely book soon!)
Awash in delicata squash smothered in miso butter, I steamed up some rice, tossed kale with rice vinegar and sesame oil, fried up a batch of Emma's crispy tofu, threw an egg on top, and called it lunch. I've posted the squash recipe separately since it's so good on its own, but I wanted to also share the recipe for these brown rice veggie bowls since the components pair so nicely together. There's slightly chewy short grain brown rice seasoned with a bit of nori. There's creamy roasted squash bathed in kicky miso butter. There's crunchy sesame-seasoned kale and a soft cooked egg for extra protein.
Perhaps best of all, there's crazy flavorful tofu, marinated, dredged in cornstarch, and pan-fried until golden, a crunchy crust giving way to vibrantly flavored middles. Emma's ingenious method of tofu cookery ensures an addictively crispy coating with ingredients you likely already have on hand. Her tofu also rocks these golden curry-kissed noodles – highly recommended! Once you've tried this recipe, you'll never want to eat tofu prepared another way again.
Keep the components of these brown rice veggie bowls separate, bento box style, or toss them all together – either way, you'll have a super nourishing lunch, the sort that makes it easy to be vegetarian and still feel healthfully sated.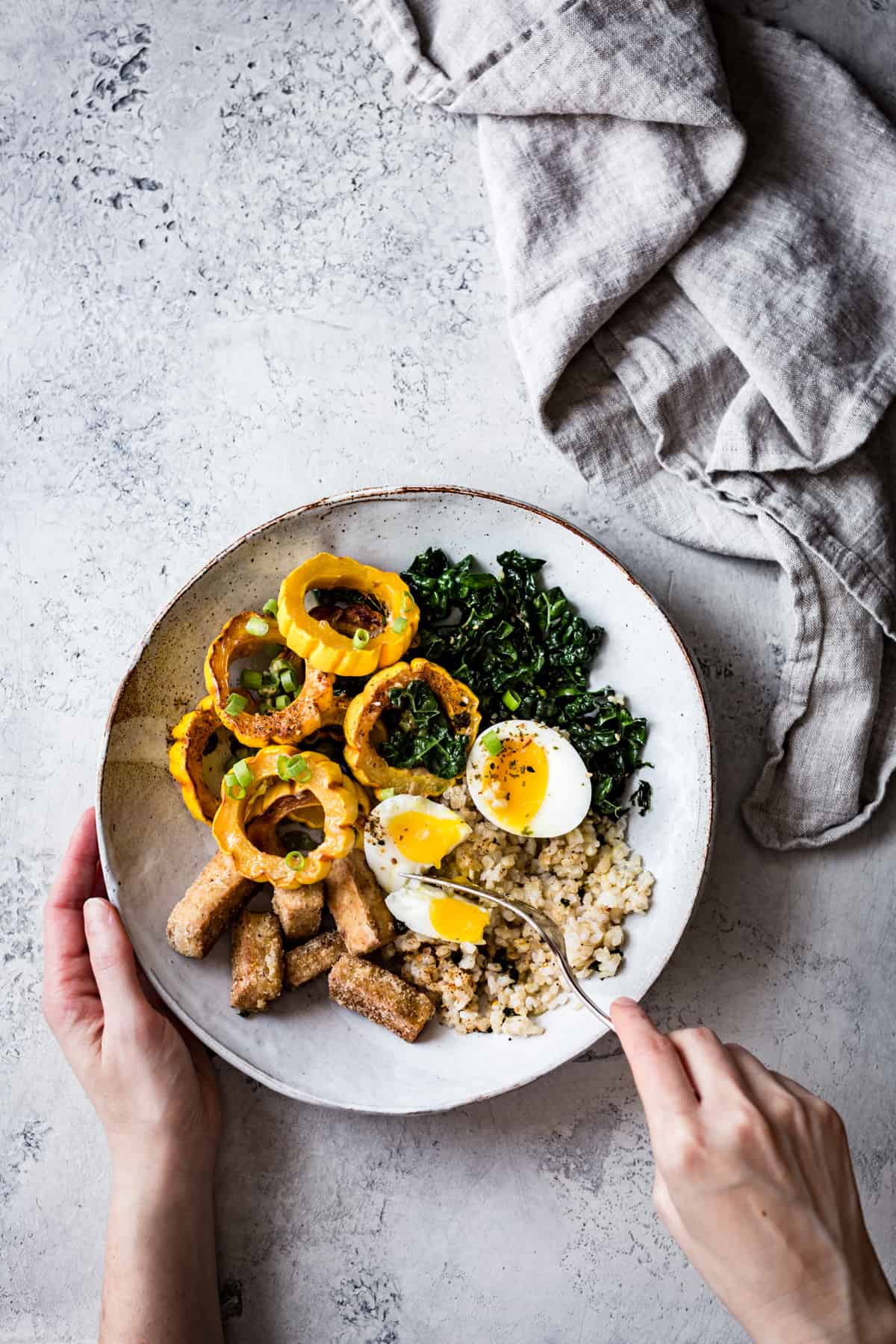 More Rice Recipes:
*Thanks for reading! For more Bojon Gourmet in your life, follow along on Instagram, Facebook, or Pinterest, purchase my gluten-free cookbook Alternative Baker, or subscribe to receive new posts via email. And if you make these fall brown rice veggie bowls, I'd love to see! Tag your Instagram snaps @The_Bojon_Gourmet and #bojongourmet.*
Fall Brown Rice Veggie Bowls with Crispy Tofu, Roasted Squash, and Miso Butter
Print Recipe
Pin Recipe
These ultra-nourishing brown rice veggie bowls get loads of fall flavor from roasted delicata squash, zippy kale salad, crispy marinated tofu, and a pour of creamy miso butter. Naturally vegetarian and gluten-free.
Servings:
4
main dish servings
Ingredients
Tofu Marinade:
1/3

cup

(80 ml) rice vinegar

¼

cup

(60 ml) tamari

2

tablespoons

(30 ml) vegetable oil, such as sunflower or grapeseed

1-2

teaspoons

(more or less, to your taste) Vietnamese chili garlic sauce or Sriracha

1

teaspoon

granulated garlic

1

pound

firm or extra firm tofu
Crispy Coating:
½

cup

(60 g) cornstarch

1 1/2

teaspoons

granulated garlic

1 1/2

teaspoons

fine sea salt

1

teaspoon

mild chili powder

2-4

tablespoons

(30-60 ml) vegetable oil, such as sunflower or grapeseed
Bowls:
1

recipe roasted delicata squash with miso butter, warm, plus extra miso butter for drizzling

1

cup

short grain brown rice (covered in cool water and soaked 15-30 minutes)

salt, as needed

4

large eggs

1

bunch kale, stems removed and discarded, leaves sliced thinly

2-3

teaspoons

rice vinegar

2

teaspoons

toasted sesame oil

sesame seeds, nori flakes, and togarashi for sprinkling
Instructions
At least 1 hour and up to 1 day ahead, marinate the tofu:
In a large, shallow bowl or baking dish, stir together the rice vinegar, tamari, chili sauce and granulated garlic. Press the tofu firmly between a double layer of paper towels to extract the water and cut into bite-sized pieces (I like rectangles roughly the size of my thumb). Toss the tofu in the marinade and place in a single layer if possible. Refrigerate for at least 1 hour and preferably 3 - 4 or up to overnight, tossing occasionally.

To make the tofu coating, whisk together the cornstarch, granulated garlic, salt, and chili powder in a shallow bowl.
While the tofu marinates, prepare the bowls:
Begin roasting the delicata squash and making the miso butter if you haven't already. Meanwhile, drain the soaked brown rice and place in a medium, lidded saucepan with 1 ¾ cup water and a scant ½ teaspoon fine sea or kosher salt. Bring to a simmer, cover, and reduce to a bare simmer until the rice is tender and has absorbed all the liquid, 30-45 minutes. Test the rice, adding more water if you'd like it more tender. When the rice is cooked to your liking, let it sit, covered, 10 more minutes. Fluff with a fork.

While the rice cooks, place a small saucepan filled with water over high heat and bring to a rapid boil. Add the eggs one at a time. Boil the eggs until done to your liking: 5 minutes for very runny yolks (shown here – a bit runny for my taste TBH!), 6 minutes for soft yolks, and 7 minutes for custardy yolks. Drain the eggs and fill the pot with cool water to stop the cooking. Peel the eggs and rinse them clean (you may want to cut into a tester first to make sure it's cooked to your liking) and reserve.

In a medium bowl, toss together the kale with the smaller amounts of vinegar and sesame oil, adding a few pinches of salt. Taste, adding more of any ingredients that you like. Chill until needed.

Next, fry the tofu. Drain the tofu well through a strainer and into a bowl. Place a third of the tofu in the bowl with the cornstarch mixture, and toss to coat. Heat 2 tablespoons of the oil in a wide skillet set over a medium flame until it shimmers. Carefully add the tofu in a single layer, shaking off excess coating. Cook until golden on the first side, 1-2 minutes, then turn each piece and cook on each side until golden, about a minute. Scoop the tofu onto a plate lined with two layers of paper towels to drain. Repeat with the remaining tofu, adding more oil to the pan as needed.

To assemble the bowls, divide the rice among four large, shallow bowls and top with the roasted squash, crispy tofu, a pile of kale, and the egg. Drizzle the bowl with a bit of miso butter and top with sesame seeds, nori flakes, and togarashi. Serve warm or at room temperature.

The bowl components can be refrigerated airtight for up to several days. For the best leftovers experience, heat the rice and squash in an oven, toaster oven, or microwave until warm. Reheat the tofu in a small skillet set over medium heat to crisp it up, then assemble the bowls.
Notes
These Bento box inspired bowls have a few different components, though all are easy to prepare.
You can marinate the tofu and make the kale salad a day ahead, and the squash and rice can be made a day or three ahead as well. If you're making this all at once, give yourself a couple of hours to marinate the tofu, steam the brown rice, and roast the squash.
The combination of tender squash bathed in miso butter, crispy marinated tofu that smacks of fried chicken, chewy brown rice, and kicky kale is magic, but do feel free to swap ingredients as you like. Thinly sliced cucumber would be lovely in the summer months; roasted or steamed asparagus or broccoli could stand in for the squash; quinoa or wild rice can take the place of brown; and cabbage could stand in for the kale.
Nutritional values are based on one of four servings.
Nutrition
Calories:
620
kcal
Carbohydrates:
81
g
Protein:
23
g
Fat:
24
g
Saturated Fat:
14
g
Cholesterol:
164
mg
Sodium:
1885
mg
Potassium:
1270
mg
Fiber:
6
g
Sugar:
6
g
Vitamin A:
24065
IU
Vitamin C:
85.1
mg
Calcium:
225
mg
Iron:
5.4
mg
More Winter Squash Recipes: