This vegan coconut curry noodle soup combines a creamy, spiced golden broth with loads of veggies, crispy tofu, and oodles of noodles. A nourishing one-dish meal that's naturally gluten-free, vegetarian, and made with easy to find ingredients. Updated; originally published on 1/28/12.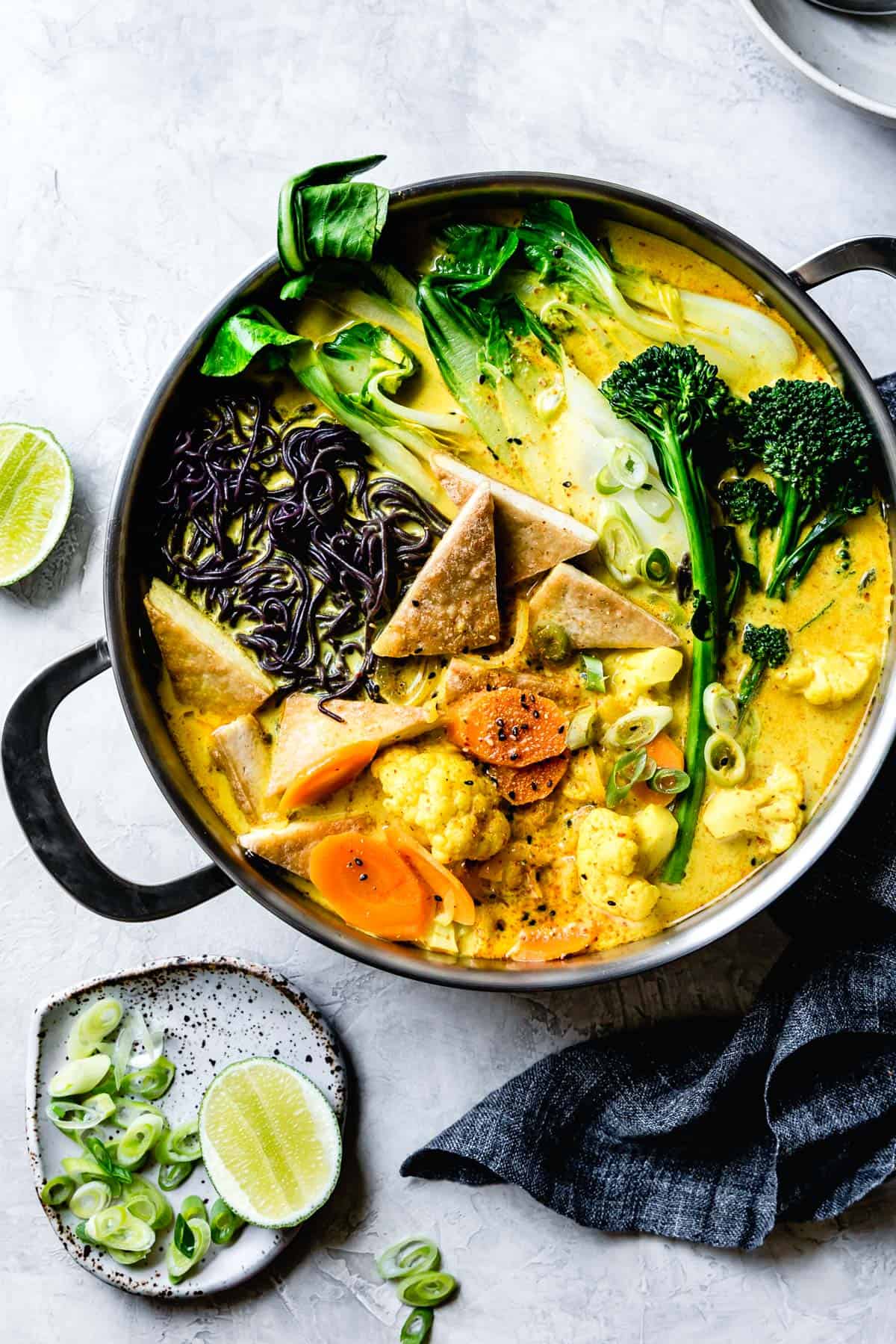 TBG turns 10 this year (!!!) and in preparation for celebration, I've been doing a bit of KonMari-style tidying up. Taking new photos of some of my favorite dishes from the first few years of this space and sprucing up the posts feels just as lovely as strategically folding my shirt drawer. And it will hopefully make the posts as easy to find as my favorite tees too!
This vegan coconut curry noodle soup recipe is one such example. The base comes from Heidi Swanson's Super Natural Cooking and I was drawn to it initially after having a similar soup at a restaurant in Oakland. After reveling in a steaming bowl of fragrant coconut milk broth teeming with vibrant vegetables and slippery noodles, I knew I would either have to re-create the recipe or begin spending more time in the East Bay. (Like, every night.)
The coconut curry noodle soup that dreams are made of
Heidi's 'slurp and slop bowl of noodles' delivered: a messy bowl of spiced broth, stained yellow with turmeric and red curry paste, creamy from light and full-fat coconut milks, tangy from a squeeze of lime. I added a mess of vegetables to make this a one-dish meal. The ample vegetables cook right in the broth until crisp-tender, and noodles added to the bowl just before serving stay chewy-soft. Pieces of crispy tofu soak up the flavorful broth. The curried broth is light and nourishing all at once, leaving you satisfied yet energized. I've made this dish many times since I first shared the recipe in 2012!
Colorful Vegetables
While my favorite version uses carrots, broccolini, bok choy and cauliflower (which turns bright gold from the turmeric), I once also made a tasty version with bok choy, romanesco and baby turnips – pesky vegetables from our CSA that I previously never knew how to use.
You could easily vary this coconut curry noodle soup through the seasons. Springtime could feature english peas or snap peas, fava beans, and baby turnips. Summer could make use of zucchini, corn, and sweet peppers. And fall could showcase kabocha squash, mushrooms, and dark leafy greens.
Vegan Yellow Curry Broth
This vegan coconut curry broth is complex in flavor, not unlike laksa, but it's made with easy-to-find (in the US at least) ingredients. Red thai curry paste is the most exotic ingredient in here, and it's stocked in the Asian foods aisle of most US grocery stores. The red curry flavors a golden broth enhanced with sauteed onion and garlic, vegetable bouillon, and turmeric. A touch of sugar adds Thai-style sweetness, coconut milk makes it rich and creamy, and a dash of tamari lends umami. A bit of lime juice at the end sharpens the flavors.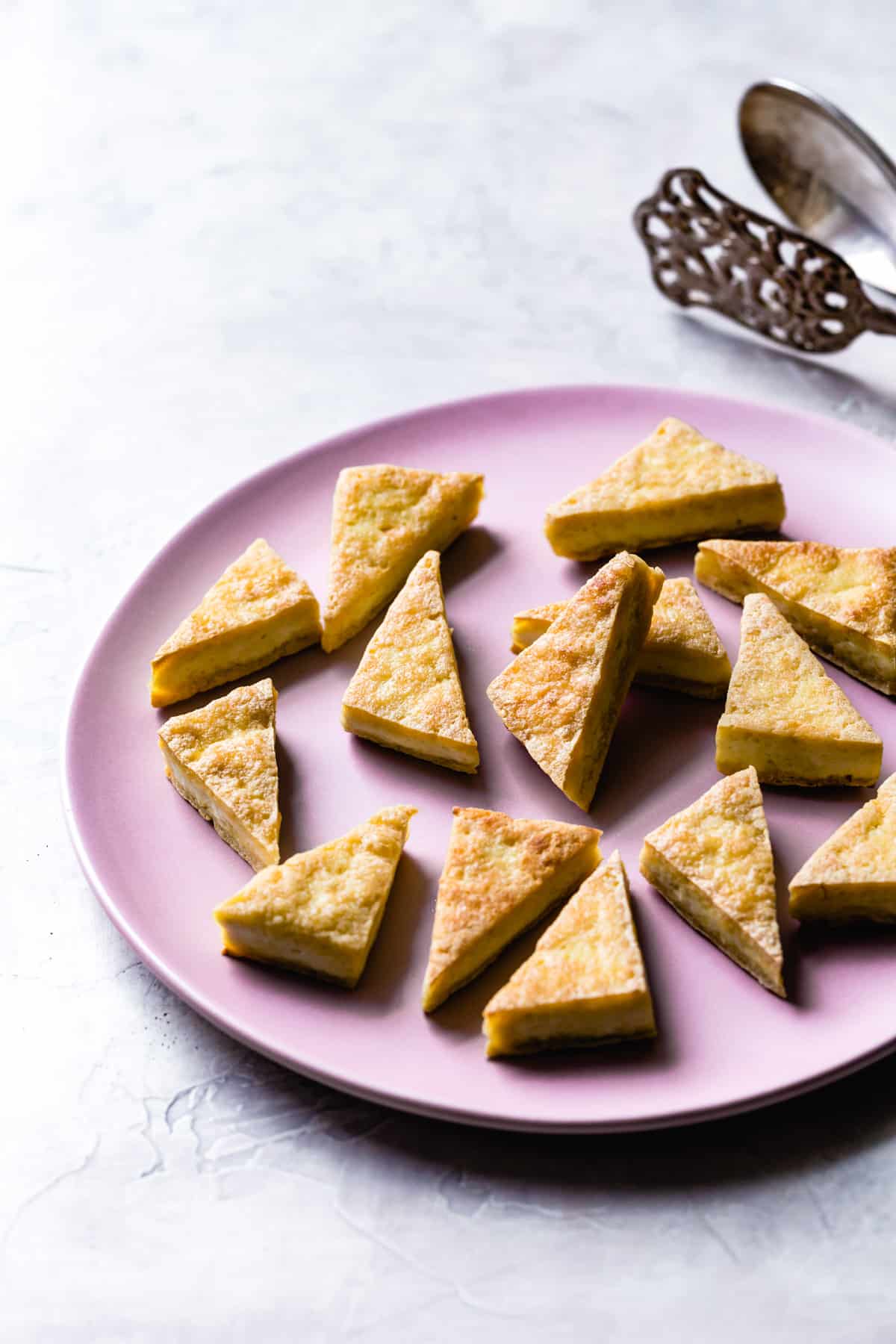 Crispy Tofu
Firm tofu needs nothing more than to be cut up and pan fried in oil until the edges get bubbly and golden. When mixed into the soup, the tofu absorbs the flavor of the broth while staying firm. But if you want to skip a step, just add the raw tofu cubes to the curry toward the end and simmer it for a few minutes until flavorful and tender.
Tips for the most beautiful mixed vegetable noodle curry
You can cook all of the vegetables right in the broth if you like. Otherwise for maximum color (shown here), drop the bok choy and broccolini into a pot of boiling water, cook until bright green and crisp tender, then rinse with cool water to stop the cooking. Add these to the soup when you're serving it.
Here I used black rice ramen noodles, which I cook until slightly underdone and place directly into the serving bowls. I've learned the hard way that if you add the noodles to the pot, they quickly overcook and disintegrate. If you're planning on leftovers, store the noodles separately in the fridge as well. Use any noodles you like the taste of. Flat, wide rice noodles, vermicelli, or fresh egg noodles all work well.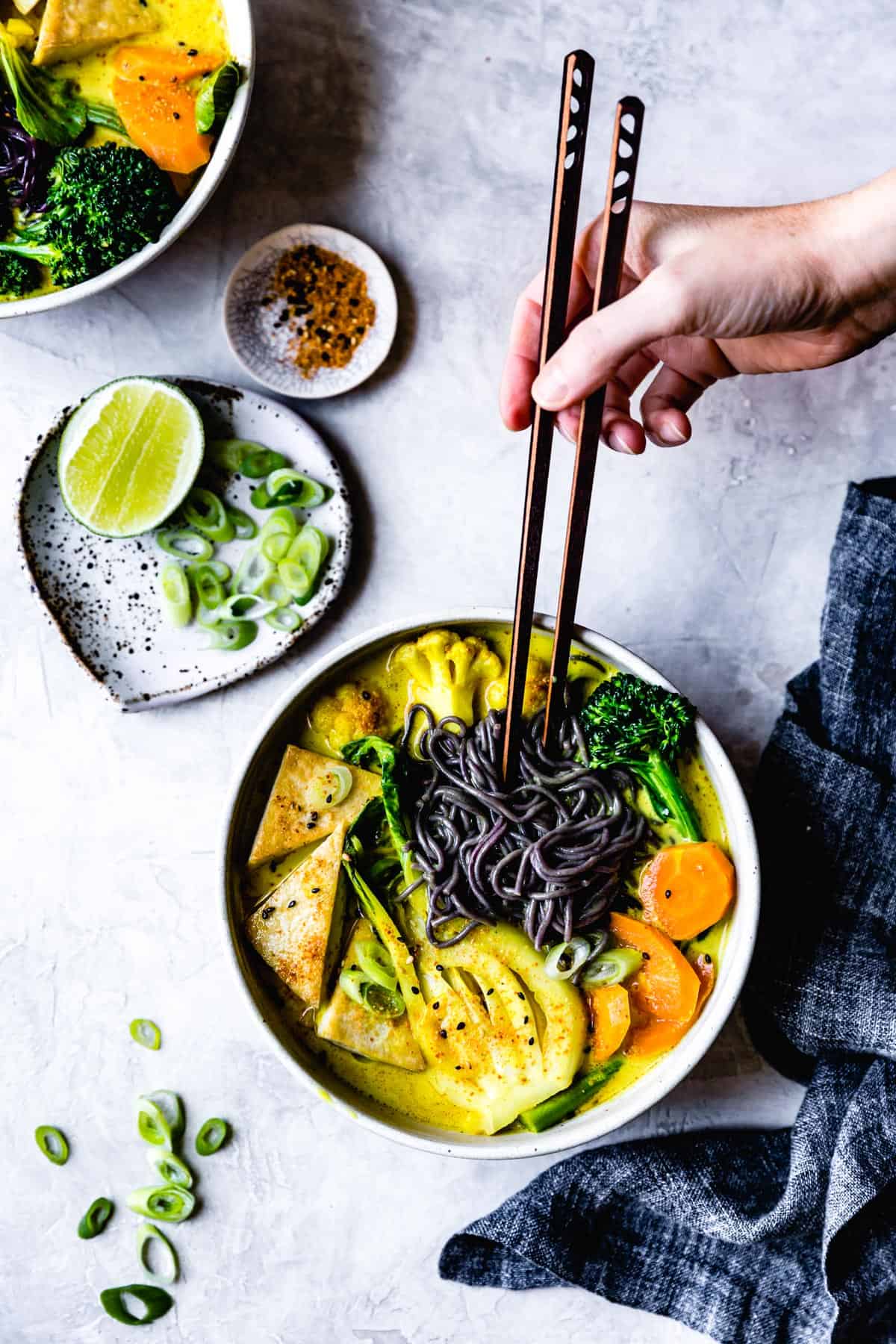 If you have a case of the winter blahs and find yourself pining for the vibrant colors of spring and summer, the bright flavors in this lively curry may assuage your longing. Cozy up with a pot of this vegan coconut curry noodle soup and it'll warm you up from tops to botts.
Hungry for more vegetable curry? Try these:
Looking for more noodles? Try these:
Thanks to my friend Lisa Lin for inspiring these photos with her beautiful soup and curry images!
*Bojon appétit! For more Bojon Gourmet in your life, follow along on Instagram, Facebook, or Pinterest, purchase my gluten-free cookbook Alternative Baker, or subscribe to receive new posts via email. And if you make this citrus fruit salad, I'd love to see. Tag your Instagram snaps @The_Bojon_Gourmet and #bojongourmet.*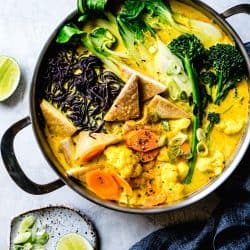 Winter Vegetable Curry with Rice Noodles + Crispy Tofu
Print Recipe
Pin Recipe
This vegan coconut curry noodle soup has a creamy, spiced golden broth, loads of veggies, and oodles of noodles. A nourishing one-dish meal that's naturally gluten-free, vegetarian, and vegan, plus it's made with easy to find ingredients. Thai Kitchen curry paste is usually fairly mild, but spice levels will differ, so taste yours to determine how much spice you want in your curry, adding more or less to taste. This recipe is adapted loosely from Super Natural Cooking.
Ingredients
Broth:
2

tablespoons

extra-virgin coconut oil or sunflower oil

1

large yellow onion, peeled, halved and thinly sliced

4

cloves

garlic, peeled and finely chopped

1

tablespoon

plus 1 teaspoon Thai red curry paste

1

(13.5 ounce) can light coconut milk

1

(13.5 ounce) can regular coconut milk

4-5

cups

mild vegetable stock (I use 2 cubes vegetable bouillon and 4-5 cups water)

1

tablespoon

plus 1 teaspoon ground turmeric

2

tablespoons

sugar

tamari or soy sauce to taste
Vegetables:
8

ounces

carrots, scrubbed and thinly sliced on the diagonal

8

ounces

cauliflower, in bite-sized florets

8

ounces

broccolini (left whole) or broccoli florets (in bite-sized florets)

8

ounces

small baby bok choy, halved lengthwise and cleaned
Tofu:
12

ounces

firm or extra-firm tofu, cut into 1-inch cubes or triangles

2

tablespoons

vegetable oil such as sunflower
For serving:
lime wedges

8

ounces

rice noodles (such as black rice ramen noodles)

a bit of vegetable oil for tossing the noodles (such as sunflower)

slivered scallions or cilantro

Sriracha or togarashi, for extra heat (optional)
Instructions
In a large wok, dutch oven, or soup pot, warm the oil over medium heat. Add the onion and garlic, and cook, stirring occasionally, for a few minutes until translucent and softened.

Add the curry paste and cook for a few more minutes, stirring constantly, until fragrant.

Add the coconut milks, stock, turmeric and sugar.

Add the carrots and cauliflower.

You can optionally add the broccolini and bok choy now too. Or to keep their color vibrant, cook them separately in boiling water and remove when bright green and crisp tender. Rinse with cool water to stop the cooking.

Increase the heat to bring the curry to a simmer, then lower the heat to maintain a simmer and cook until the vegetables are crisp-tender, about 10 minutes.

Taste, adding as much tamari as you need to make the broth salty to your taste.

Heat the remaining 2 tablespoons oil in a wide skillet over medium heat (preferably nonstick) until it shimmers. Add the tofu in a single layer and cook until golden on the bottom, 2-4 minutes. Flip each piece and cook on a second side until golden. Alternatively, add the raw tofu to the curry when it's nearly done, and cook for 2-3 minutes until flavorful and tender.

Cook the noodles according to the package instructions, drain, rinse with cool water to prevent sticking, and toss with a bit of vegetable oil.

To serve, place a nest of noodles in a bowl and top with the veggies and broth, tofu, a good squeeze of lime, and a sprinkling of scallions or cilantro.

Serve with extra lime wedges and Sriracha, if desired, and both chopsticks and soup spoons for easy eating.
Notes
If storing this soup for later, keep the noodles apart from the rest of the curry so that they don't disintegrate.
Nutritional values are based on one of eight servings.
Nutrition
Calories:
392
kcal
Carbohydrates:
42
g
Protein:
8
g
Fat:
22
g
Saturated Fat:
16
g
Sodium:
688
mg
Potassium:
484
mg
Fiber:
3
g
Sugar:
8
g
Vitamin A:
7065
IU
Vitamin C:
59.8
mg
Calcium:
105
mg
Iron:
3.5
mg