Tender, buttery, and loaded with brown sugar streusel, this rhubarb coffee cake is an easy way to use up spring's bounty. Try this recipe with any seasonal fruit: berries, peaches, sour cherries, plums, or apricots. See this recipe for a gluten-free and/or dairy-free coffee cake variation.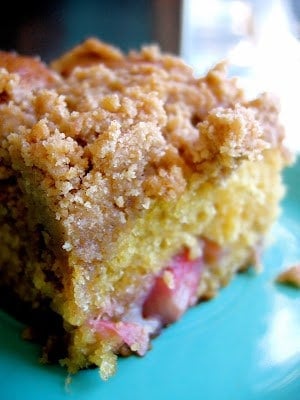 Synchronicity is a funny thing. Like the time I got into a friend's car to find him playing Tom Jobim's Aquas do Março, a classic Brazilian bossa nova song I'd been, unbeknownst to him, obsessing over for the past month.

Or the summer I ran into my high school art history teacher in a tiny church in a little-known French town which we had studied in his class.

Or a few weeks ago when a friend messaged me that she was bringing rhubarb coffee cake to a potluck when I'd spent the day looking for just the right recipe. Her coffee cake was nothing short of spectacular; my only complaint was that there wasn't ten times more! The piece I devoured at said potluck, huddled outside in the cold so as to hoard it all to myself, only made me hunger for more.

So I set out to make a rhubarb coffee cake – one that I wouldn't have to share (without having to huddle outside, but rather lounge in my cozy apartment on the couch/ in the bath/ on the kitchen counter). I sat down with a stack of coffee cake recipes that I'd made over the years, muddled them together, and ended up with something which I was torn between wanting to hoard and conversely wished to run up to strangers shouting, 'I made this!' and shove a piece in their mouth. (I did a bit of both.)
Crafting My Best Rhubarb Coffee Cake Recipe
Like most things food-related, I have some preconceived notions about coffee cake. My ideal coffee cake combines a buttery yellow cake with chunks of meltingly tender fruit and plenty of salty, crisp streusel in every bite.

The fruit should melt into the cake, which should bubble up through the streusel. The cake should be rich, but not so buttery as to be heavy or leave a greasy mouthfeel. It should be moist, but not so wet that it takes hours to bake (I've been there.)

It should be delicate enough to crumble under the pressure of a fork, yet sturdy enough to travel well. It should be tall enough to cut into generous cubes. It should not be so sweet as to dissuade you from making it breakfast, but decadent enough that you wouldn't feel cheated having it for dessert, preferably with a warm beverage either way.

This coffeecake is all those things and more; I even witnessed if not a converting of than at least a tolerating by former rhubarb haters and some of the pickiest eaters I know. (After taking several bites: 'Why did you tell me there were vegetables in here? Now you've ruined it.' Takes another bite. Takes another. Finishes piece. Accepts offer of another.)

This rhubarb coffee cake recipe is mainly adapted from Martha Stewart's Sour Cherry coffeecake. I doubled the streusel, and used yogurt and a bit of half and half (which I almost always have in the house) in place of the sour cream (which I rarely have around) which gave it a pleasantly light texture. I baked it in a 9" square pan rather than a tube pan, omitted the glaze, and used chunks of rosy red rhubarb tossed with sugar in place of the cherries.
Coffee Cake All Year Round
It is quite a straightforward recipe, with easy-to-remember quantities. I'm looking forward to trying it with other fruits throughout the seasons, such as berries, peaches, sour cherries, ripe pears (with cardamom), plums, or apricots. You could add sliced almonds or chopped, toasted pecans to the topping if you're a nut lover.
Looking for more rhubarb recipes? Try these:
More Coffee Cake Recipes:
*Bojon appétit! For more Bojon Gourmet in your life, follow along on Instagram, Facebook, or Pinterest, purchase my gluten-free cookbook Alternative Baker, or subscribe to receive new posts via email. And if you make this rhubarb coffee cake recipe, I'd love to know. Leave a comment and rating below, and tag your Instagram snaps @The_Bojon_Gourmet and #bojongourmet.*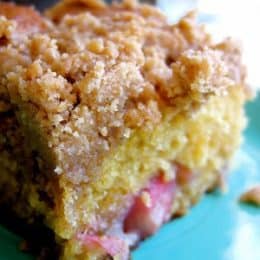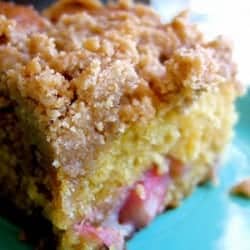 Rhubarb Streusel Coffee Cake
Print Recipe
Pin Recipe
With a moist, tender crumb, salty streusel, and tangy bites of rhubarb, you won't be able to resist this easy and delicious coffee cake. Spring on a plate!
Servings:
16
2" squares (one 9x9" cake)
Ingredients
Streusel:
1

cup

plus 2 tablespoons all purpose flour

1/3

cup

brown sugar

1/2

teaspoon

cinnamon

1/2

teaspoon

salt

3/4

stick

butter, softened but cool

(6 tablespoons)
Cake:
1

stick

butter, softened, plus a bit more for the pan

1

cup

brown sugar

2

large eggs

1

teaspoon

vanilla extract

2

cups

flour

1

teaspoon

baking soda

1

teaspoon

baking powder

1

teaspoon

salt

3/4

cup

yogurt

1/4

cup

half and half (light cream) or whole milk

3-4

large stalks rhubarb, in 1/2" slices (2 1/2 cups or 250 g)

1

tablespoon

sugar
Instructions
For the streusel:
Combine the flour, sugar, cinnamon and salt in a medium bowl, or the bowl of a stand mixer. Add the butter, and work with your fingers or paddle on low until the mixture begins to clump together. Set aside at room temperature.
For the cake:
Position a rack in the center of the oven and preheat to 350º. Grease a 9 x 9 x 2" square pan generously with butter.

In the bowl of a stand mixer fitted with the paddle (or a bowl with a wooden spoon if you are badass) cream the butter and sugar together on medium until light and fluffy, 3 - 4 minutes, scraping down the sides of the bowl as necessary. Add the eggs one at a time, beating until combined after each, then stir in the vanilla.

While the wets are doing their thing, sift the dries into a medium bowl. Toss the rhubarb with the tablespoon of sugar and set aside. Stir together the yogurt and half and half.

With the mixer on low, alternate adding the dries and the dairy in three parts, beginning and ending with the dries and mixing until just combined after each addition. Give the batter a fold with a rubber spatula to make sure it is homogenous.

Spread a little more than half the batter in the bottom of the pan. Sprinkle the rhubarb evenly over the top. Cover with the rest of the batter, and sprinkle with the streusel, squeezing into almond sized clumps if necessary.

Bake the coffeecake for 50-60 minutes until it is golden brown, beginning to pull away from the sides, springs back to the touch, and passes the toothpick test. Let cool for about 1 hour. Cut into 16 squares.

The coffeecake is best the day it's baked when the streusel is crisp, but will keep for several days at room temperature, or in the fridge for up to a week (but I would warm it up in a toaster oven before eating).
Notes
If you forget to soften your butter ahead of time, no worries: cut it into small pieces and let it sit out while you get your other ingredients in place. If your butter is still chilly, you can make the streusel in a stand mixer with the paddle for ease, and warm the butter for the cake by placing the bowl over your oven while it preheats.
For the dairy portion of the cake, I used a combination of yogurt and half and half, which I usually have around. I love the light texture I ended up with, but suspect the cake would work with buttermilk, milk, sour cream or any combination thereof.
For a gluten-free and/or dairy-free variation, see this coffee cake recipe, swapping in rhubarb for the berries as directed.
Nutritional values are based on one of sixteen squares.
Nutrition
Calories:
275
kcal
Carbohydrates:
39
g
Protein:
4
g
Fat:
11
g
Saturated Fat:
7
g
Cholesterol:
49
mg
Sodium:
396
mg
Potassium:
213
mg
Fiber:
1
g
Sugar:
19
g
Vitamin A:
400
IU
Vitamin C:
3.1
mg
Calcium:
86
mg
Iron:
1.4
mg