Today's recipe, a chilled noodle salad tossed with vegetables, crispy tofu, and a creamy sesame dressing, is a wedding of two culinary obsessions: peanut sauce and soba noodles.

I fell in love with peanut sauce my freshman year at UCSC when the boys in the dorm nextdoor, a super-senior named Mike and his New Orleans sidekick, Jimmy, took us girls to Charlie Hong Kong, an awesome order-at-the-counter spot boasting ginormous bowls of affordable, healthy, Asian-inspired munchies perfect for starving students. An order of Spicy Dan's Peanut Delight is enough for two meals, and you can add your choice of toppings ranging from tofu to steak.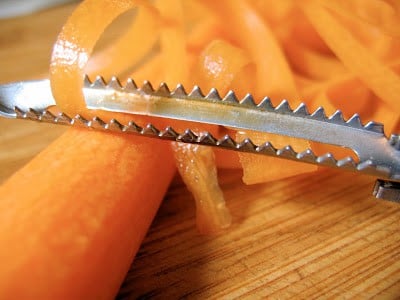 When I moved to SF, I missed Spicy Dan's like nobody's business. I even considered getting a job at CHK for a day in order to pilfer the recipe. Instead, I tried several recipes in my own kitchen until I hit on something just right. I happened upon this recipe in an unlikely place: Once Upon a Tart, a gem of a book written by two friendly-sounding fellows who run a New York cafe.
Here I give a simplified version made with a bowl and whisk rather than a food processor, and almond butter, amino acids, and lime juice instead of peanut butter, tamari and vinegar. Make a double or triple batch and keep it in your fridge to be spooned over brown rice and steamed veggies, such as bok choy, greens, broccoli, and/or carrots, for your own peanut delight.

As for the second obsession, I have always loved the nutty-cinnamony flavor of buckwheat in crepes and cereal, and even a toasted buckwheat tea, which I once tried at Medicine. There was nothing medicinal-tasting about it, though buckwheat is high in the amino acid l-lysine, which miraculously ousts canker sores. (Hm, I wonder how toasted buckwheat ice cream would be? Update: it's delicious!)

I first became addicted to chilled soba noodles after trying Medicine's refreshing yet filling hijiki-soba salad. I then began making Heidi Swanson's Otsu from Super Natural Cooking. But it wasn't until I paired the cold noodles with this creamy dressing that I found true happiness. It's especially perfect on a hot day, when you're craving something substantial yet cool and refreshing, healthy but indulgent.

If you are gluten intolerant, you are in luck. Despite buckwheat's (mis)name, it is actually the gluten-free seed of an herb plant native to Russia. Soba noodles made with 100% buckwheat flour are still delicious, though a bit more delicate and strong-tasting than the buckwheat/wheat ones pictured here.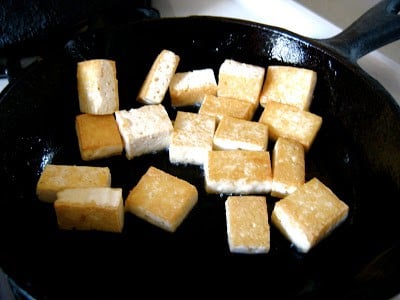 I like to make a large batch of this salad for several reasons:
1) It keeps well in the fridge, and tastes even better the second and third day after it has been made.
2) It makes an excellent, instant one-dish lunch or dinner.
3) There never seems to be enough of it, I never tire of it, and I like to share it.
4) It's crowd pleaser-ish, great to take to potlucks, or on a road trip.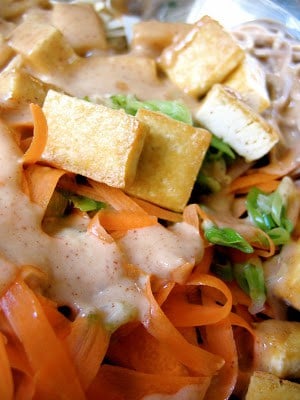 You can of course vary the veg with the seasons. Other nice additions are:
cucumber slices
zucchini, sauteed
bell peppers, julienned
shiitake mushrooms, sauteed with a bit of mirin and tamari
peas: snow, snap or pod
edamame or fava beans
hijiki or other sea veg
slivered asparagus
daikon radish, shaved
bean sprouts
toasted peanuts, almonds or cashews
More noodle recipes:
More Buckwheat Recipes:
*Bojon appétit! For more Bojon Gourmet in your life, follow along on Instagram, Facebook, or Pinterest, purchase my gluten-free cookbook Alternative Baker, or subscribe to receive new posts via email. And if you make this creamy sesame soba noodle recipe, I'd love to know. Leave a comment and rating below, and tag your Instagram snaps @The_Bojon_Gourmet and #bojongourmet.*
Creamy Sesame Soba Noodles
Print Recipe
Pin Recipe
Cool noodles packed with Asian-inspired flavors. If you can't find gluten-free soba noodles, brown rice spaghetti makes a great substitute.
Ingredients
Noodles and veg:
8

ounces

soba noodles, cooked, rinsed in cold water, and well-drained

2

medium carrots, peeled then shaved into long strands with a vegetable peeler

1/2

small cabbage, shredded finely

(about 3 cups)

2

tablespoons

sesame seeds (any color or a combination)

1-2

tablespoons

vegetable oil

6-8

ounces

extra firm tofu, in 1" chunks

6

scallions, slivered on the diagonal

1/2

cup

chopped cilantro
Creamy sesame-almond dressing:
2

tablespoons

smooth almond (or peanut, or cashew) butter

1

tablespoon

tahini

2

tablespoons

Bragg's amino acids (or tamari/soy sauce)

2

tablespoons

toasted sesame oil

1/2

-inch knob of fresh ginger, finely grated

(about 1 teaspoon)

2

teaspoons

maple syrup or honey

2

tablespoons

lime juice

(more if needed to taste)
Instructions
Noodles and veg:
Combine the noodles, carrots and cabbage in a very large bowl. In a medium skillet, toast the sesame seeds over medium heat, shaking occasionally, until toasty, 2 minutes. Remove to a small bowl. In the same skillet, heat 1 tablespoon of the oil over medium-high heat until it shimmers. Add the tofu in a single layer, and fry on one side until golden, about 5 minutes. Turn and fry on the second side. Remove from the skillet and add to the bowl of noodles. Add more oil to the skillet if necessary, and add the scallions. Saute one minute, just to take away the bite, and add to the noodles. Toss in the dressing, below, then the cilantro and sesame seeds. Serve right away, or chill for an hour to bring out the flavors.

The salad will keep in the fridge for up to 3 days.
Creamy sesame-almond dressing:
Whisk everything together. The dressing will keep for up to a week in the fridge.
Notes
If you don't have tahini in the house, you can use an extra tablespoon of nut butter instead. Or go nut-free and use all tahini.
This is extra special served with my friend Emma's crispy tofu in place of the simple pan-fried tofu I've shared here.
For the veggies, feel free to substitute wilted kale for the cabbage and thinly sliced cucumber for the carrot. Radishes make a nice addition too.
Carrot Cashew Sauce
This is a fun variation! Use cashew butter in place of almond, and add 2 medium carrots, peeled and chopped, to the sauce. Blend in a high-speed blender until smooth, adding a little warm water if needed to thin the sauce. Toss with warm noodles (such as Korean sweet potato noodles) and roasted veggies (such as matchstick carrots and asparagus or broccoli). Serve with roasted salmon or tofu for protein.
Nutritional values are based on one of four servings.
Nutrition
Calories:
482
kcal
Carbohydrates:
62
g
Protein:
18
g
Fat:
21
g
Saturated Fat:
5
g
Sodium:
1001
mg
Potassium:
608
mg
Fiber:
6
g
Sugar:
9
g
Vitamin A:
5520
IU
Vitamin C:
49.5
mg
Calcium:
213
mg
Iron:
4.2
mg