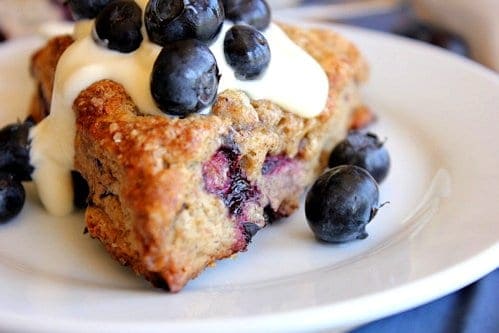 "I don't like scones – they're too dry."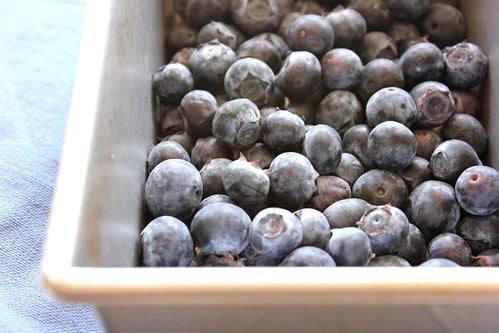 This is what a co-worker (who happened to be the boss's son) said to me several years ago when I proffered him a freshly baked scone (which happened to be apricot-sage).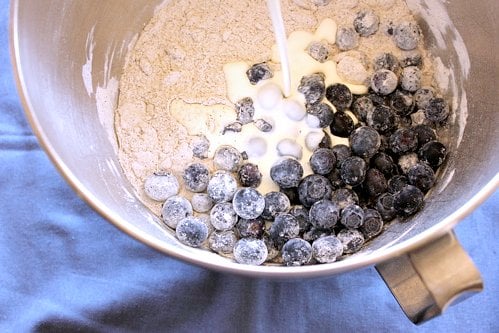 I took offense that he assumed my scones to be as bready and cardboard-like as the mass produced ones we sold to customers. But I kept my thoughts to myself while continuing to restock coffee beans.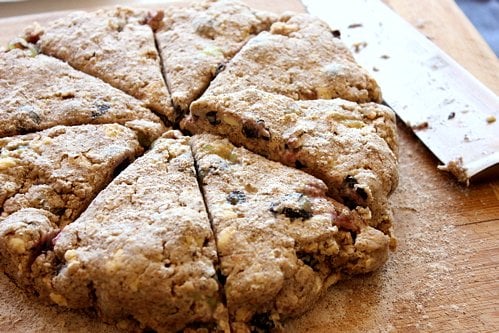 My manager (who was not related to the boss or his son) rolled her eyes and devoured one.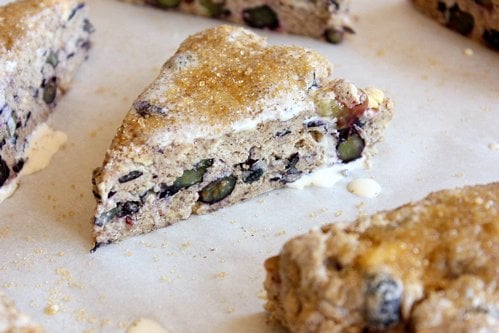 Made with butter, heavy cream and loads of fresh berries, I would dare anyone to declare these blueberry buckwheat scones "dry." Minimal mixing leaves pebbles of butter which release steam in the heat of the oven, creating craggy tenderness. A hot oven ensures that the crusts brown while interiors stay damp and the berries turn to jammy, indigo pockets.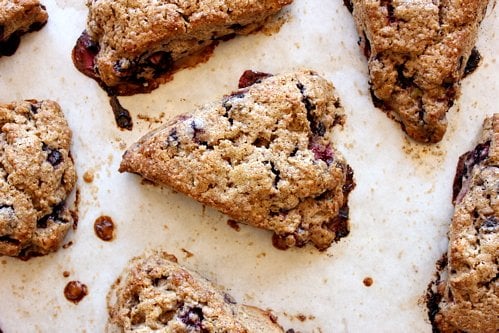 Blueberries are finally both affordable and deliciously sweet, and we've been enjoying them for breakfasts with yogurt and granola on warm mornings, and baked into these crumbly scones when the fog rolls in. They would be superb with huckleberries or small, wild blueberries when in season, both of which contain more flavor and less water than their cultivated counterparts.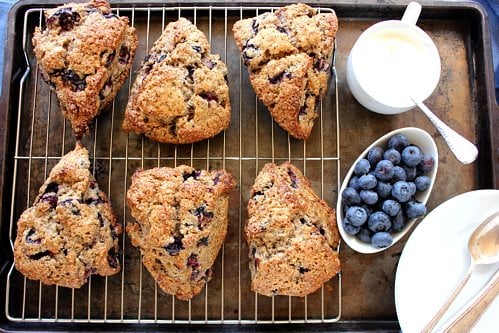 I make no secret of my love affair with buckwheat flour, and here it does triple duty: it imparts an earthy flavor of nuts and spice, festoons the dough with black flecks and healthfulness, and its lack of gluten keeps the scones extra-tender.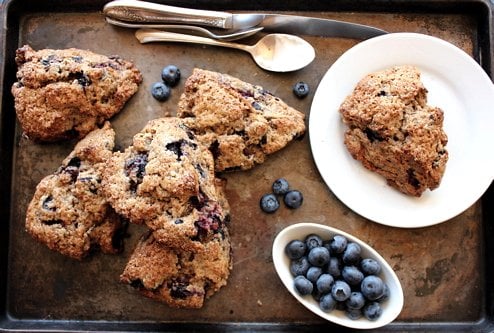 I use maple sugar as the sweetener, which creates a rich backdrop against which the berries and buckwheat shine.The flavors blend beautifully, adding depth and intrigue to a grown-up breakfast pastry that reminisces of cakey childhood muffins and pancakes. These are austerely sweetened, the crunchy sugar top a welcome addition. One leaves you satisfied by your breakfast, but not overly-so.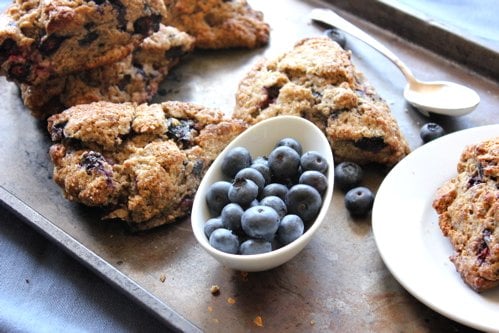 If you're still concerned with dryness, serve the scones warm, dabbed with crème fraîche and more berries. If you live in a sweltering part of the world, my heart goes out to you in a big way from our currently glacial micro-climate. Keep these in mind for when you can bear to turn on the oven again! Meanwhile, I've got a refreshing beverage ripe forposting before I leave for the scorching Sierras next week.
Getting the blues:
Lemon Huckleberry Tea Cake
Berry-Peach Oven Pancake
Sweet Corn Grits with Berries and Honey
Buck up:
(Gluten-Free) Banana Buckwheat Pancakes
(Gluten-Free) Hazelnut Buckwheat Brown Butter Cake
Buckwheat Chocolate Chip Cookies
Maple Blueberry Buckwheat Scones
This recipe also works beautifully with wild blueberries or huckleberries, which are smaller and less liquid. If you lack maple sugar, you can substitute white or brown sugar, or mix 1/4 cup maple syrup with 1 cup of heavy cream. The scones keep well for several days; re-heated in a toaster oven, they taste freshly baked. Serve them warm with crème fraîche and extra blueberries.
Makes 8 medium scones
1 1/2 cups blueberries (or huckleberries), fresh or frozen
1 1/4 cups plus 2 tablespoons all-purpose flour
3/4 cup buckwheat flour
1/4 cup maple sugar
1 tablespoon baking powder
1/2 teaspoon salt
5 tablespoons cold, unsalted butter, in 1/2″ pieces
about 1 1/4 cups heavy cream
about 1 tablespoon coarse sugar, for sprinkling
If using fresh berries, rinse and dry them, then place them in a loaf pan or pie plate in a single layer and freeze until firm, about 20 minutes.
Meanwhile, in a large bowl (or the bowl of a stand mixer fitted with the paddle), combine the flours, sugar, baking powder and salt. Add the butter, and work in with your fingertips or a pastry blender (or mix on low) until the butter has broken down into tiny bits with some larger, pea-sized chunks remaining.
Use a rubber spatula to gently stir in the frozen berries. Begin drizzling in the cream, tossing gently with the spatula (or a plastic bench scraper or your hands), adding cream directly to the dry bits, until the dough will hold together and no floury bits remain.
Gently press the dough into a ball and place on a surface dusted lightly with buckwheat flour. Pat the dough into a 6″ round that is 1 1/4″ high. Cut the dough into 8 wedges.Place the scones evenly apart on a baking sheet lined with parchment paper.Freeze until firm, about 45 minutes. (At this point, you can wrap and freeze the scones to bake off later.)
Meanwhile, position a rack in the upper-center of the oven and preheat to 425ºF.
Remove the scones from the freezer, brush with cream and sprinkle with the coarse sugar.
Bake the scones until they are golden-brown, 20-25 minutes. Remove immediately from the pan to prevent blueberry goo-induced stickage. Let cool until warm as the scones are still cooking from residual heat. Serve warm with crème fraîche and extra berries.
The scones will keep for up to 3 days at room temperature. For most delectable results, re-heat in an oven or toaster oven before serving.