These buckwheat banana muffins have a tender crumb that sings with the earthy flavors of buckwheat flour, bittersweet chocolate chunks, toasted nuts, and cacao nibs. Gluten-free and whole-grain. Up your banana bread ante with these buckwheat muffins!
Miffed by Muffins
My friend Kelly has impeccable taste. She's always well-dressed, knows the best wines and cheeses, drives a cool car, and owns the most beautifully designed house.
There's only one area in which we disagree, and that area is muffins.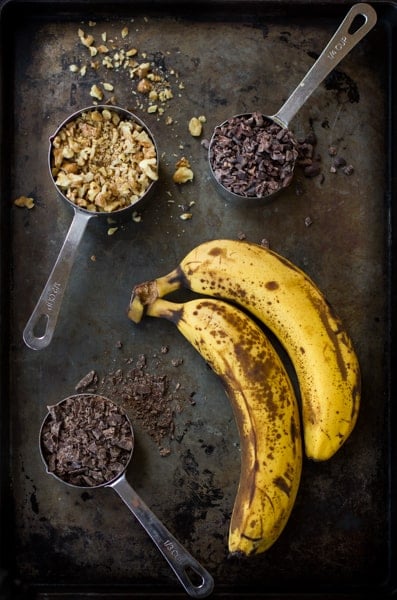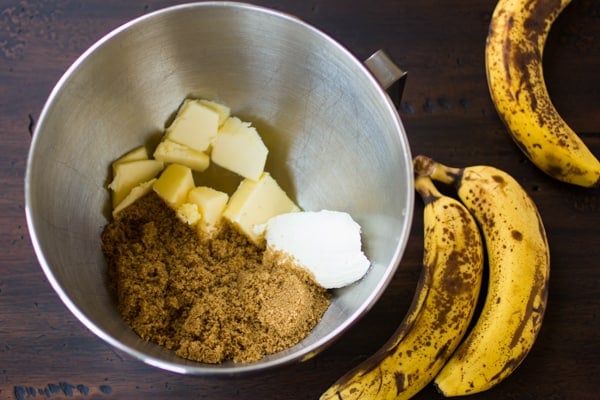 Kelly and I met at Petite Patisserie, an organic, sister-owned French-style bakery on Potrero Hill that closed its doors several years ago. At work one day, Kelly confided that the main reason she applied to Petite Patisserie was that they didn't sell muffins. When she said the word "muffins," her face twisted into a mask of pure disgust, and she spat the word out as though she were tasting something extremely vile. Like a dry muffin.
I, on the other hand, love a good muffin. I would have much preferred baking a tray of hearty and paper-lined muffins to the bite-sized upside-down cakes that took hours to prepare at Petite Patisserie, stuck horribly to their non-stick silicone pans, and tasted cottony and sweet. But I do feel similar antipathy towards most cupcakes, which we also didn't make at Petite Patisserie (except by special order).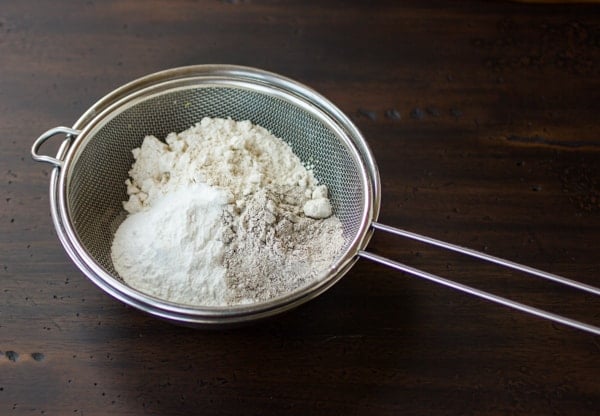 Muffins vs. Cake
One thing I'm sure of is that muffins should be different from cake. (And definitely different from cupcakes.) They should be dense and nourishing, flavorful, and full of good-for-you things like whole grains, fruit and nuts; more like a quick bread than a fluffy pastry in need of buttercream. These buckwheat banana muffins are just that.
They're packed with nutty buckwheat flour, mashed bananas, chocolate flecks, and crunchy walnuts. I like to add cacao nibs, which I love with buckwheat, but it's fine to omit them if you don't have any on hand.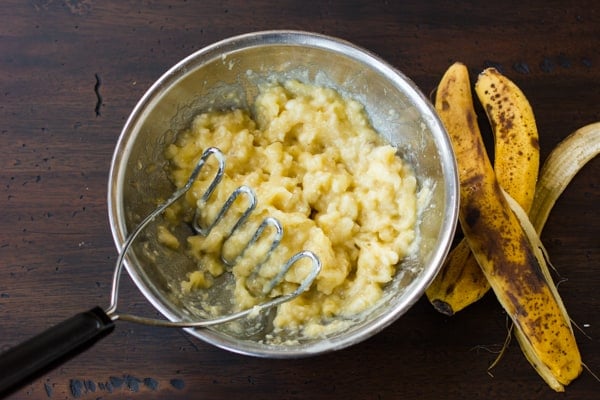 I initially made a batch of these buckwheat banana muffins in order to use up some over-ripe bananas, inspired by a heavenly banana cream cheese muffin that a (non-muffin-hating) friend brought to a party. I liked them so much that I immediately bought more bananas, which I proceeded to guard like a watchdog until they were bright yellow with black speckles, and ready for baking. I've made many batches since.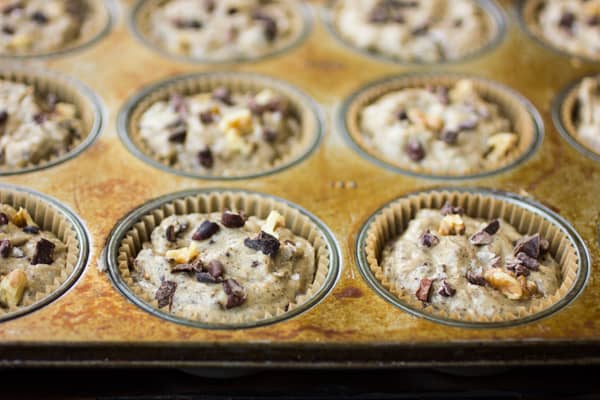 I adapted the recipe from this Cream Cheese Banana Nut Bread, though I ended up altering nearly every ingredient to make it work with the gluten-free ingredients. I upped the eggs and leavening, reduced the sugar, and added chopped chocolate, as per Jay's request. He was hovering around the kitchen going, "Oh boy, are you gonna put chocolate in those? Chocolate banana nut muffins are my favorite!" He's no muffin-hater.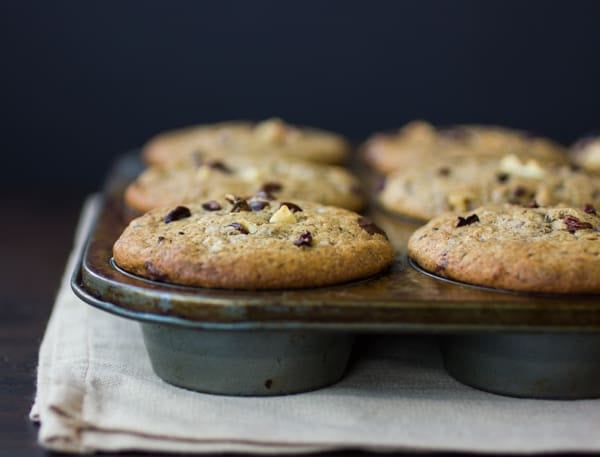 Alternative Flours for Gluten-Free Banana Muffins
These muffins are undetectably gluten-free, thanks to a trio of flours. Sweet rice flour helps the muffins hold together. Oat flour adds fluffiness. And high protein buckwheat flour creates a sturdy crumb. The oat and buckwheat flours lend big flavor as well as nutritional value. Another secret ingredient – cream cheese – stealthily adds rich moisture and tang, giving the muffins structure. No gums or starches needed here.
When warm from the oven, these gluten free banana muffins are light and fluffy. As they cool, they settle into moist and tender little breads. I like them best somewhere in between, when the flavors have melded but the chocolate is still soft.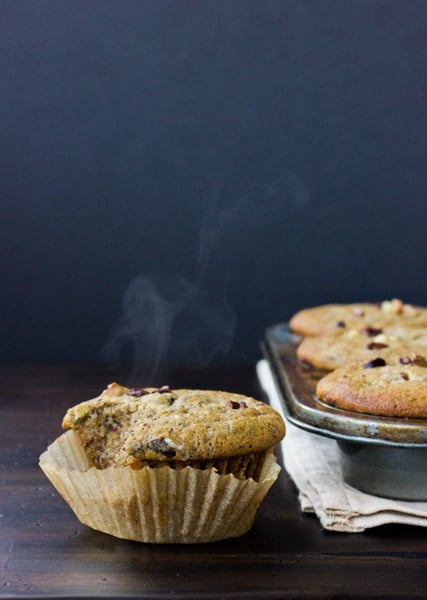 These are judiciously sweetened and hearty enough for a quick breakfast or afternoon snack. The earthy buckwheat, bitter cacao nibs, and dark chocolate all contrast beautifully with sweet banana. Their flavor is downright sophisticated. So much so that I wouldn't hesitate to serve a batch to even the most stalwart, muffin-hating guests.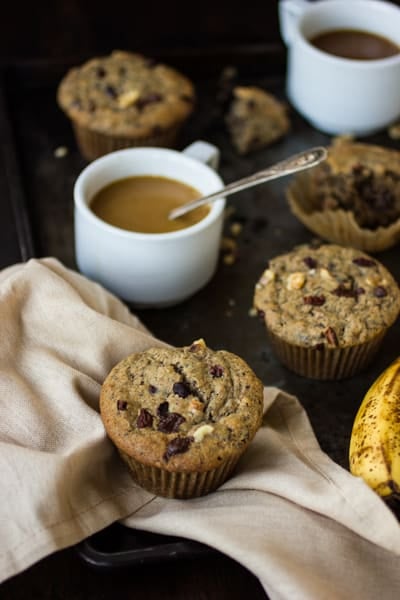 Though if you want to be safe, bake the batter in a loaf pan instead and call it gluten free banana bread.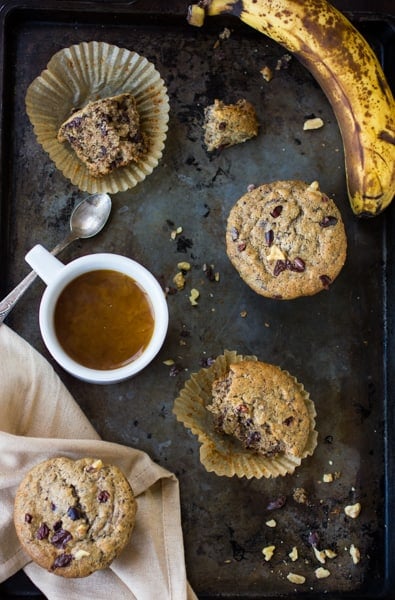 *Bojon appétit! For more Bojon Gourmet in your life, follow along on Instagram, Facebook, or Pinterest, purchase my gluten-free cookbook Alternative Baker, or subscribe to receive new posts via email. And if you make these buckwheat banana muffins, I'd love to see. Tag your Instagram snaps @The_Bojon_Gourmet and #bojongourmet.*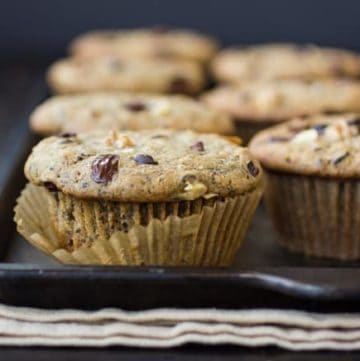 Gluten Free Banana Muffins with Chocolate & Buckwheat Flour
Print Recipe
Pin Recipe
These gluten free banana muffins have a tender crumb that sings with the earthy flavors of buckwheat flour, bittersweet chocolate chunks, toasted nuts, and cacao nibs. Up your banana bread ante with these beauties!
Ingredients
3/4

cup

oat flour

(3 ounces)

1/2

cup

sweet white rice flour

(2 3/4 ounces)

1/4

cup

buckwheat flour (or teff flour)

(1 1/4 ounces)

1

teaspoon

baking powder

1/2

teaspoon

baking soda

1/4

teaspoon

fine sea salt

3

ounces

unsalted butter, softened to room temperature

(6 tablespoons)

4

ounces

cream cheese, softened to room temperature (or plain yogurt or Greek yogurt, added with the banana)

3/4

cup

light brown sugar

(4 1/2 ounces)

2

large eggs, at room temperature

1

teaspoon

vanilla extract

1

cup

(8 ounces out of peel) mashed, very ripe banana (from 2-3 large bananas)

1/2

cup

chopped toasted walnuts or pecans, plus extra for the tops

(2 ounces)

1/2

cup

fairly finely chopped bittersweet chocolate (70% cacao mass), plus extra for the tops

(3 ounces)

2

tablespoons

cacao nibs, plus extra for the tops (optional)

flaky salt, for the tops
Instructions
Position a rack in the center of the oven and preheat to 350º. Line a standard 12 cup muffin tin with paper liners and set aside.

Sift together the flours, baking powder and soda, and salt into a medium bowl and set aside.

In the bowl of a stand mixer fitted with the paddle attachment, cream together the butter, cream cheese and sugar on medium speed until smooth, 3 minutes. Beat in the eggs one at a time, scraping down the sides of the bowl as necessary, then add the vanilla and mashed banana. Stir in the flour mixture with the mixer on low, then stir in the nuts, chocolate and cacao nibs until just combined. Use a rubber spatula to give the batter a turn to make sure it is homogeneous.

Divide the batter evenly among the muffin cups, filling them to the tops. Top each with a few pieces of walnut, chocolate and cacao nibs and a few flecks of flaky salt.

Bake the muffins until a toothpick inserted into the center of one comes out mostly clean with a few moist crumbs, about 25 minutes, rotating the muffins after 15 minutes to ensure even baking. Remove from the oven and let cool for at least 10 minutes before devouring.

The muffins will keep at room temperature in an airtight container for 3 or 4 days. Rewarm them in an oven or toaster oven for tastiest results.
Notes
I recommend using naturally sticky sweet rice flour (such as Mochiko brand); look for it in the baking or Asian section of your grocer. If gluten isn't an issue for you, try using white and whole wheat flours in place of the oat and rice if you like. If gluten is a problem, be sure to use certified gluten-free oat flour.
I like these muffins best when they've cooled for fifteen minutes, but the chocolate is still soft, but they'll keep for a few days at room temperature. I recommend "refreshing" leftovers in a warm oven or toaster oven.
Ounce measurements are by weight.
Nutritional values are based on one of twelve muffins.
Nutrition
Calories:
302
kcal
Carbohydrates:
34
g
Protein:
5
g
Fat:
17
g
Saturated Fat:
8
g
Cholesterol:
53
mg
Sodium:
142
mg
Potassium:
230
mg
Fiber:
2
g
Sugar:
18
g
Vitamin A:
350
IU
Vitamin C:
1.1
mg
Calcium:
55
mg
Iron:
1.4
mg