Buckwheat flour adds big flavor to these buckwheat chocolate chip cookies. Looking for a gluten-free vegan version? Try these GF vegan chocolate chip cookies made with almond butter, maple, and oats for tons of flavor!
Like most things, 'buckwheat' sounds much better in French, where it's known as 'blé noir.' This translates to 'black grain,' which sounds less poetic than 'blé noir' as well, though possibly less misleading than 'buckwheat,' since it isn't actually in the wheat family at all, but rather the gluten-free seed of a plant native to Asia.
Oddly, triangular buckwheat groats themselves aren't black at all, but rather a pretty ecru with hints of pastel green. But when ground, the flour becomes a charcoal-flecked brownish-grey.
Despite my love of buckwheat crepes and soba noodles, I never would have thought to bake the tasty flour into sweet confections until Heidi at 101 Cookbooks posted some nibby buckwheat butter cookies, a recipe from Alice Medrich's stunner of a book Pure Dessert.
I made the cookies right away and was knocked off my feet by how well the flavors and textures went together: the gluten-free buckwheat created a meltingly delicate cookie dotted with crunchy, bittersweet nibs. I couldn't stop eating them. (I've also shared a buckwheat snowball cookie recipe with similar flavors!)
Buckwheat's unique flavor reminds me of toasted hazelnuts and cinnamon tempered by an oat-like softness. Since all of those flavors go so well with chocolate, I decided to try baking buckwheat flour into my favorite cookie of all, the illustrious chocolate chip.
Appropriately, I based my recipe on Alice Medrich's classic chocolate chip cookies from her new cookie book. I love that this recipe uses melted butter, so the dough comes together in a snap. I made a few different batches, tinkering with the amount of buckwheat flour I subbed in for the all-purpose (I added some whole spelt, too), and taking the sugar down a notch.
Alice says to let the dough rest for 1 hour and up to overnight, but the cookies turn out fine even when baked right away. She also recommends baking the cookies on unlined baking sheets, which did make for slightly thicker cookies, as the edges of the dough stick, preventing the cookies from spreading more. But when I went to scrape the sticky cookies off the sheet pan, I decided this was a deal breaker, and I had perfectly delectable results even using the dastardly parchment.
It's been a long time since I put actual chocolate chips in my cookies; it seems that, for now, higher quality chocolate comes in bars (or if you're lucky, wafers in the bulk section of your awesome co-op). Chopping your own chocolate gets you large chunks mixed with smaller shards, which lend a rustic look. Hold back a few, and stick them on top of the unbaked dough balls if you like; then everyone will know what's hiding inside.
I used to be a purist when it came to chocolate chip cookies, but now, thanks to Jay peering over my shoulder and asking, 'Are you gonna put nuts in those?' so many times, I've come to appreciate the chunkier texture and hint of toasty bitterness they lend, especially against the flavor of the buckwheat. Following Alice's lead, I threw in some cacao nibs, as well, for added bite.
Like any chocolate chip cookie, these are at their peak when just firm enough to lift one off the baking sheet, when the edges are crisp, the centers gooey-soft, and the chocolate molten; preferably, with a cold and creamy chaser.
Heaven, in any language.
More cookie recipes:
More Buckwheat Recipes:
*Bojon appétit! For more Bojon Gourmet in your life, follow along on Instagram, Facebook, or Pinterest, purchase my gluten-free cookbook Alternative Baker, or subscribe to receive new posts via email. And if you make this buckwheat chocolate chip cookie recipe, I'd love to know. Leave a comment and rating below, and tag your Instagram snaps @The_Bojon_Gourmet and #bojongourmet.*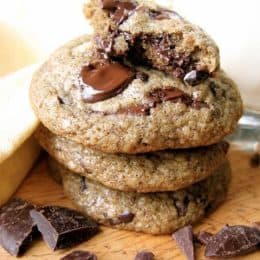 Buckwheat Chocolate Chip Cookies
Print Recipe
Pin Recipe
Shake up your chocolate chip cookies with the addition of toasty buckwheat flour for delicious depth of flavor and a nutritious boost.
Servings:
24
2 1/2-inch cookies
Ingredients
4

ounces

unsalted butter, melted and kept warm

(1 stick)

1/2

cup

plus 2 tablespoons buckwheat flour

(3 ounces)

1/4

cup

all-purpose flour

(1 1/4 ounces)

1/4

cup

whole spelt (or whole wheat pastry) flour

(1 ounce)

1/2

teaspoon

baking soda

1/2

teaspoon

sea or kosher salt

1/4

cup

plus 2 tablespoons packed light brown sugar

(2 3/4 ounces)

1/4

cup

granulated sugar

(1 3/4 ounces)

1

egg

3/4

teaspoon

vanilla extract

1

cup

coarsely chopped bittersweet chocolate (60 - 70% cacao mass)

(5 ounces)

1/2

cup

walnuts toasted, cooled, skins rubbed off, and broken up or coarsely chopped (optional)

2

tablespoons

cacao nibs (optional)
Instructions
Position two racks in the upper and lower thirds of the oven and preheat to 375º. Line two baking sheets with parchment paper.

In a medium bowl, whisk together the flours, baking soda and salt.

Combine the sugars in a large bowl, then stir in the warm, melted butter. Whisk in the egg and vanilla extract.

Stir the dry ingredients into the butter mixture until almost combined, then stir in the chocolate chunks, nuts and nibs to distribute evenly.

You can either bake the cookies immediately, or cover the dough and let it rest for up to 2 hours at room temperature, or overnight in the fridge, bringing the dough back to room temperature before scooping. In either case, scoop rounded tablespoons of dough (I use a #40 spring-loaded ice cream scoop) and place them on the parchment-lined baking sheets 3" apart.

Bake the cookies until the edges are just set and the centers are puffed and soft (but not wet), rotating the pans front to back and top to bottom after 5 minutes, for a total time of around 8 or 9 minutes (the baking time will vary with the size of your cookies, natch).

Let the cookies cool on the pans (or slide the parchment, cookies and all, onto cooling racks to stop the baking if you took yours a bit too far). Like most drop cookies, these are at their peak when they are just cool enough to lift off of the baking sheet. The cookies will keep in an airtight container for several days at room temperature, however.
Notes
Adapted from Alice Medrich's Chocolate Chip Cookie recipe, from Chewy, Gooey, Crispy, Crunchy, Melt-in-Your-Mouth Cookies.
Feel free to double this recipe if you are a real cookie monster; this is a rather small batch as far as batches of cookies go. Baking the cookies right away results in thinner cookies that spread more, while resting the dough (for up to 2 hours at room temp, or in the fridge overnight) will make thicker, chewier cookies. The dough can be scooped and refrigerated for up to a week, or frozen for a month or two; you will then be mere minutes away from gooey, freshly-baked cookies whenever you get a hankering.
Update: for a gluten-free version, a reader makes these with 100% buckwheat flour, a pinch of xanthan gum, and a handful of rolled oats.
Nutritional values are based on one of twenty four cookies.
Nutrition
Calories:
133
kcal
Carbohydrates:
12
g
Protein:
1
g
Fat:
8
g
Saturated Fat:
4
g
Cholesterol:
18
mg
Sodium:
73
mg
Potassium:
69
mg
Fiber:
1
g
Sugar:
7
g
Vitamin A:
135
IU
Calcium:
12
mg
Iron:
0.8
mg