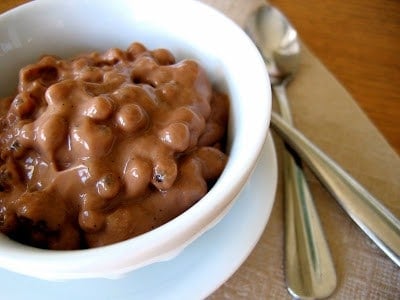 I have been thinking about vegan chocolate tapioca pudding for the past 5 years. This usually occurs in the bathroom. Before you jump to any disturbing conclusions, please let me explain.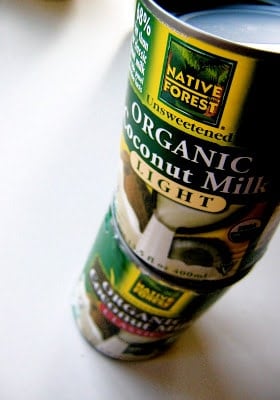 Jay keeps q-tips in a plastic half-pint container which fits handily in the space under the medicine cabinet. This container happens to have held, many years ago, before my living with Jay was even a twinkle in either of our eyes, vegan chocolate tapioca pudding from the Staff of Life in Santa Cruz. I know this because of the faded, yellowing label on the lid of the container, which taunts me daily.

Sadly, though I often wish for the contrary, the contents of said container never vary: always I am greeted, post shower, with convenient and sanitary, though inedible, q-tips, rather than a bowl of cool, luscious, chocolate infused tapioca.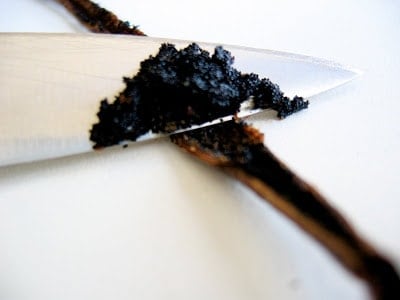 I decided to put a stop to this madness, and just make the darn tapioca already. I've used Heidi Swanson's kick-ass recipe several times, which gets everything just right, including the ball-to-pudding ratio, sweetness, and reduced soaking time. I'd been planning to make a chocolate version, and wondered whether the egg yolks called for were truly necessary (they aren't) and whether coconut and soy milk could be subbed in order to satiate my many lactose-intolerant friends (they can).

This recipe is gluten, dairy, egg, and (almost) sugar-free, but tastes voluptuously rich, creamy and decadent. The chocolate covers up that tell-tale vegan flavor which comes from the soy milk; no one would ever guess this wasn't made with gobs of cream and sugar.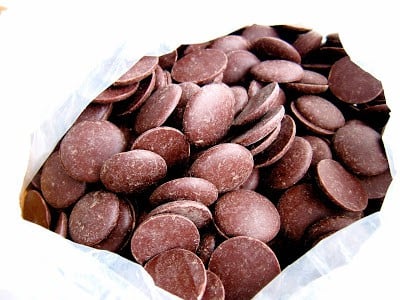 Unlike revenge, this pudding is best served slightly warm, when it has the texture of soft-serve chocolate ice cream and the flavors really pop; cold it is firmer; still chewily addictive any time of day (yes, even for breakfast). You may want to make a double batch, as this pudding disappears quicker than you may like, especially after all that stirring.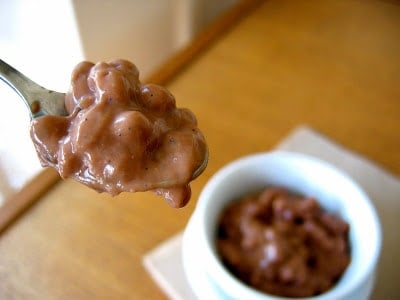 Very Vegan:
(Raw) Chocolate Pudding
Chocolate Hippy Crispy Treats
Vanilla Maple Almond Milk (and a smoothie)
(Vegan!) Chocolate Coconut Milk Tapioca Pudding
Makes about 1 quart, or 6-8 servings. (Seriously, make a double batch.)
2 cups (16 ounces) rice/soymilk blend, or other fake or real milk
1/3 cup small pearl tapioca balls
1 (13.5 ounce) can coconut milk, whole or light
1/3 cup agave nectar, maple syrup, or a combination
1/4 teaspoon salt
1/2 vanilla bean, split lengthwise and scraped
1/2 cup 70% chocolate wafers, chips or chunks (or more, to taste)
In a medium, heavy-bottomed saucepan, combine the tapioca balls and fake milk. Soak for at least 30 minutes (or up to overnight in the fridge).
Add the coconut milk, agave nectar, salt, and the vanilla bean pod and scrapings. Place over medium heat and, stirring constantly, bring to a bare simmer. Don't let the mixture boil, or it could curdle. Reduce the heat to low and cook, stirring and scraping the bottom of the pot constantly with a heatproof spatula, until the mixture thickens, 45 minutes to 1 hour. The pudding should be roughly the texture of gravy, with the tender tapioca balls suspended in the mixture rather than sinking to the bottom.
Remove from the heat, and stir in the chocolate. The mixture will continue to thicken as it cools. Serve slightly warm, at room temperature, or chilled. Store in the fridge.