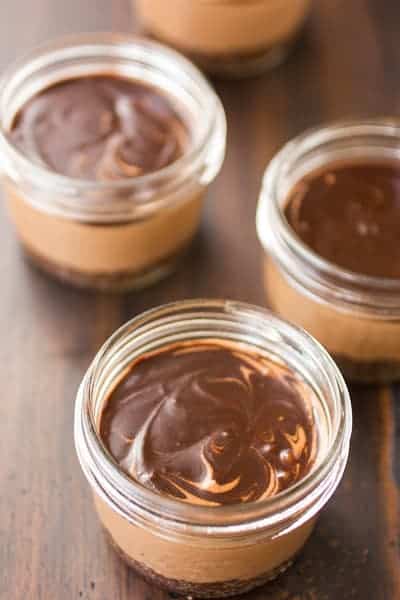 Offer someone a slice of raw cheesecake and they will probably look at you funny, envisioning slimy custard and salmonella-infested eggs. But if that person has experienced Cafe Gratitude's raw, nut-based cheesecakes, well, then they will love you forever.
Our local Cafe Gratitude (the organic, vegan, raw foodist Mecca) has closed and has been replaced, ironically, with a restaurant that specializes in grilled cheese sandwiches. While I don't miss the annoying question of the day or having to order off the menu using an affirmation, I do miss Gratitude's desserts. The things Pastry Chef Tiziana can do with nuts boggles the mind. (And I hope you don't take that the wrong way.)
Though I own a copy of her cookbook, Sweet Gratitude, I'm usually put off from making her recipes due to the difficult ingredients they call for. Homemade almond milk requires 8 hours of soaking, then a whole lot of blending and squeezing. Irish moss, a gelling agent, also requires soaking and blending, and was only ever available for sale at Cafe Gratitude. Many of the recipes call for lecithin to help them emulsify, an ingredient that would require an extra trip to the store for most folks. Then there's the fresh coconut meat; even if you can find a young coconut, it's always kind of scary (not to mention messy) to hack it open with a chef's knife.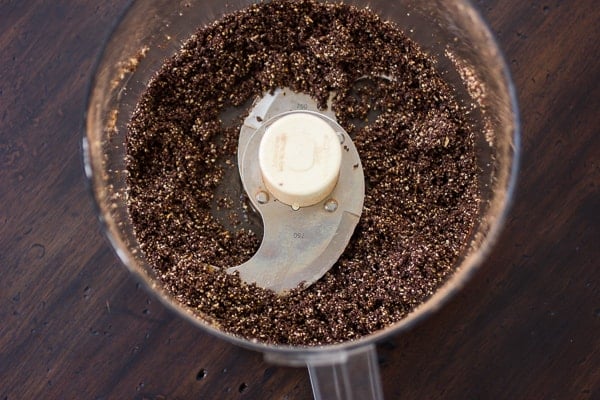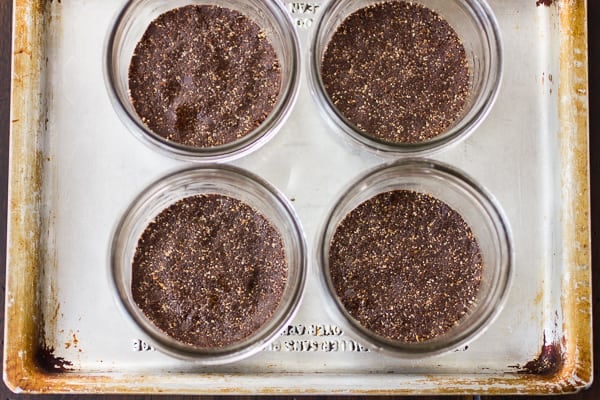 So when I saw this recipe on the beautiful blog Comfy Belly, I couldn't get it out of my head. It was free of refined sugar, grains, gluten, dairy, and eggs. It contained no tricky ingredients (save for almond milk and raw cacao powder, which could be substituted with water and cocoa powder, respectively), and it was sweetened with maple syrup rather than the controversial agave that a lot of raw desserts use. I couldn't stop thinking about it.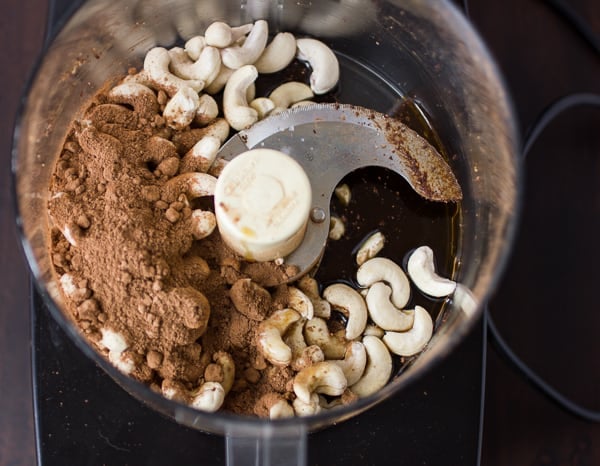 The recipe consists of three components: a crust made from ground nuts, cacao powder and maple syrup; a creamy center made from blended, soaked cashews, cacao powder and coconut oil; and a dense ganache of cacao powder, coconut oil and maple syrup to decorate the top. The entire recipe can be made in a food processor and one small bowl, and it's fun, and kind of magical, to see the way the ingredients transform into each layer.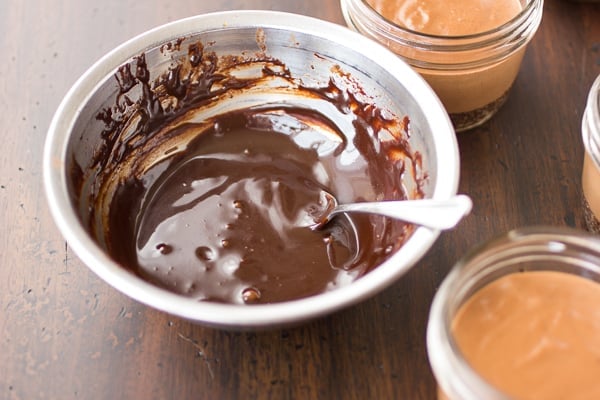 I tweaked the filling just a bit, to make it a touch more delicate. I also toast the nuts for the crust, as I like the warm flavor and crisp texture it gives them. This cheesecake is rich and creamy, just sweet enough, and has a big chocolate flavor with hints of nuts and coconut. Coconut oil is the magic ingredient that solidifies the filling when chilled, but still melts in your mouth. It contrasts beautifully with the crispy, toasted almond crust, and the swirl of truffle-like ganache on top.
I halved the original recipe and form it in four half-pint mason jars (though half of one is actually a more appropriate serving size, so if you can find 3 to 4-ounce jars, those are ideal). I've made them three times in the last week, and am addicted to taking after-meal bites throughout the day. Thankfully, the jars make them easy to give away, too…hence the reason I have to keep making them – they disappear too quickly.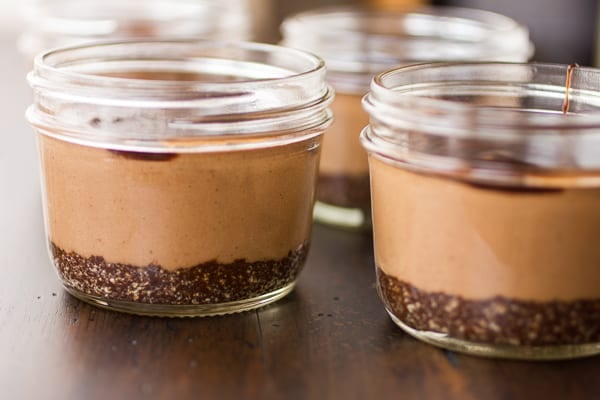 I'm thrilled to have this recipe in my pocket for all the dairy- and gluten-free eaters in my life, and I'm excited to get my mitts on a copy of Erica's new sugar-, grain-, and gluten-free cookbook.
Many, many thanks to Erica of Comfy Belly for this fantastic recipe, and to Cafe Gratitude for teaching me the wonder of raw cheesecake.
Update 1/27/14: I doubled the recipe and made this in a 9″ springform pan. It took a long time to set, so I ended up putting it in the freezer for a couple of hours before cutting and serving it. This is what it looked like:
Thanks for reading! For more Bojon Gourmet in your life, follow along on Facebook, Instagram, Pinterest, Bloglovin', or Twitter, subscribe to receive new posts via email, or become a sponsor.
Choco-love:
Vegan Chocolate Chile Coconut Milk Truffles
Vegan Chocolate Coconut Milk Tapioca Pudding
Raw, Vegan Chocolate Pudding
One year ago:
Cheddar, Beer and Chive Gougères
Two years ago:
Chocolate Mint Chip Ice Cream
Lemon Mascarpone Tart
Pistachio Chocolate Torte
Three years ago:
(Raw, Vegan) Chocolate Pudding
Rhubarb Chèvre Galettes
Lemon Balm Crème Fraîche Ice Cream
(Mostly) Raw, Vegan Chocolate Cheesecake
Adapted from Comfy Belly
To make a full-sized cheesecake, double the recipe and form it in an 8 or 9″ springform pan; it will take longer to set, so I recommend putting it in the freezer until firm enough to slice (let slices sit at room temperature until softened, 15-30 minutes, before serving). Do allow 4-12 hours for soaking the cashews, and four or more hours for the finished cheesecakes to set up in the fridge or freezer. If you can make them a day in advance, do, as it gives the flavors a chance to meld. If you don't have raw cacao powder, substitute unsweetened cocoa powder. One reader reported making this with coconut nectar with good results. See the original post for more substitutions, including nut-free options.
All ounce measurements here are by weight.
Makes 4 hefty or 8 dainty servings (four 1-cup mason jars or eight half-cup jars)
Crust:
3/4 cup (3 ounces) sliced or whole almonds (optionally toasted and cooled)
3 tablespoons (3/4 ounce) raw cacao powder
1/8 teaspoon fine sea salt
1 1/2 tablespoons (1 ounce) maple syrup
Filling:
1 cup plus 2 tablespoons (5 1/2 ounces) raw cashews, soaked in cool water for 4-12 hours
1/4 cup (2 1/2 ounces) maple syrup
seeds scraped from 1/2 a vanilla bean (or 1/2 teaspoon vanilla extract)
1/8 teaspoon fine sea salt
3 tablespoons (3/4 ounce) raw cacao powder
2 teaspoons (1/4 ounce) strained lemon juice
1/4 cup plus 2 tablespoons (3 ounces) water
1/4 cup plus 2 tablespoons (3 ounces) melted extra-virgin coconut oil
Ganache topping:
2 tablespoons (1 ounce) extra-virgin coconut oil
2 tablespoons (1 1/4 ounces) maple syrup
2 tablespoons (1/2 ounce) raw cacao powder
1/2 teaspoon vanilla extract
Make the crust:
Have four 1-cup wide-mouth mason jars (or eight half-cup jars) at the ready.
Finely grind the almonds, cacao powder and salt in a food processor. Drizzle the maple syrup over the mixture, then process until the mixture begins to clump together. (No need to wash the food processor, just scrape it out.) Divide the crust crumbs evenly among the jars, and use your fingers or a flat-bottomed drinking glass to press it flat. Set aside.
Make the filling:
Drain the cashews, rinse them well, and drain again. Place the cashews, maple syrup, vanilla bean seeds, salt, cacao powder, and lemon juice in the now-empty food processor, and process to a paste, scraping down the sides and bottom of the bowl occasionally. With the motor running, drizzle in the water. Blend well until very smooth, a couple of minutes, stopping to scrape the sides and bottom of the bowl occasionally. With the motor running, drizzle in the melted coconut oil, and blend until combined. It should be the consistency of softened ice cream.
Divide the filling evenly among the jars and set aside.
Make the ganache:
In a small, heat-proof, metal bowl, combine the coconut oil, maple syrup, cacao powder and vanilla extract. Place the bowl over a small saucepan of gently simmering water, and whisk until the oil is melted and the ganache is smooth and glossy.
Drop spoonfuls of ganache over the cheesecakes, and use a toothpick to swirl the two together. Cover the cheesecakes and chill until firm, 3-4 hours. (If you're in a hurry, you can try chilling them in the freezer, as per the original recipe. If making one large cheesecake, it may take longer than 4 hours in the refrigerator to solidify.)
Store the cheesecakes in the refrigerator. The flavor improves after a day, and the cheesecakes will probably keep for up to a week.