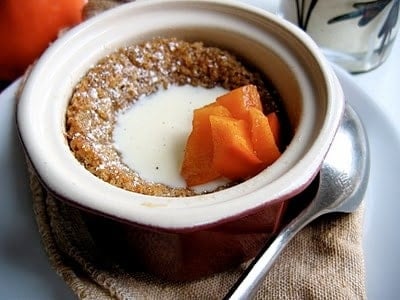 Many people I know (including myself) have at some point been traumatized by persimmons. Heart-shaped hachiyas must be eaten when squishy-ripe and the flesh reaches an almost liquid consistency, lest the tannins cause your tongue and teeth to feel like the inside of a fur-lined trapper hat; hence the persimmon's dubious reputation. When ripe, however, hachiya flesh turns to an unctuous gelée, with a sweet, delicate flavor.

(Squat fuyus, on the other hand, don't traumatize as they lack the mouth-puckering tannins, and can be eaten when crisp, like an apple.)

By now, I've eaten and baked with enough ambrosially ripe hachiyas to (almost!) blot out the memory of that first, fuzzy-feeling bite. But that doesn't mean I'm not still susceptible to persimmon trauma of other sorts.

In Corralitos, a tiny town outside of Santa Cruz where Jay's folks live, and home of the infamous Meat Market and Sausage Company, persimmon trees make a glorious sight come December. Naked of leaves, laden with glowing orange orbs, they put any Christmas tree to shame with their stunning, minimalist decor. Perhaps because persimmons are the last fruit to disappear before a long, stark winter of citrus and pomes, I get a little psycho about them. Driving through Corralitos, I alternate staring longingly out the car window as we drive through town, nose pressed against the glass, and cursing the greedy tree owners, selfishly hoarding their persimmons while I go without. Then I shed a tear or two knowing that no matter how many store-bought hachiyas I have ripening on my windowsill, I may never have a grand persimmon tree (or five) in my backyard, laden with fruit, begging to be picked. Time is running out, and I want them all to stave off the deprivation of winter's dearth.

One year, sensing my wallowing, Gunars, Jay's mom's Latvian partner and sourdough waffle master, took me on a little walk. We spotted the tell-tale orange lanterns in a neighbor's backyard, and knocked at their door. No answer. Giddy with anticipation, we crept around the back, shopping bags in hand, ready for the plunder, but we came to an abrupt halt upon seeing the trees up close: they were laden with apples; rotting apples that, from a distance, oddly mimicked persimmons to a tee.

This year, however, Gunars devised a clever plan. He took us on a drive around town, with me doing the usual forlorn staring, nose-pressing and fist-shaking. Then he casually pulled up to a house with a yard filled with dozens of fruit-laden persimmon trees. After the usual rush of jealousy, I looked to the driveway. To my elation, there stood a wheelbarrow brimming with persimmons, a glass jar, and a handwritten sign that read, 'Persimmons, 4 for $1.' I greedily stuffed the jar full of cash and loaded up a bag, dreaming of the puddings and cakes that I would bake with their ripe flesh.

Jay's mom first introduced me to persimmon pudding, which she makes almost every year for Christmas dessert. The color of dark chocolate and full of robust spices, brown sugar, nuts and dried fruit, served with a dollop of whipped cream, it makes a sating finish to any winter meal. When I decided to make my own pudding, I tried some different recipes, including a lighter (in color and flavor) one from Chez Panisse Fruit. This one used white sugar, which left the color more orangey-brown, and only a bit of cinnamon and vanilla for flavor, which let the subtle taste of the persimmon shine through a bit more. I decided to tweak the recipe this time, warming the dairy (I used half and half) to help the puddings cook faster. The warm cream prompted me to steep it with vanilla bean and a cinnamon stick, and I baked the puddings in individual ramekins for faster cooking and pretty presentation. I topped the warm puddings with a pour of cold crème anglaise and some pieces of diced fuyu, enjoying the variety of textures, temperatures and flavors going on: warm, rich custards; cold, thick cream; fresh, bright persimmons.

Aside from eating the ripe flesh straight from the hachiya, or slicing up fuyus to eat like an apple, here are some more ideas for persimmon pursuits:
spoon hachiya puree around a panna cotta, and top with tiny chunks of fuyus
persimmon fool: fold hachiya puree into some lightly sweetened whipped cream or greek yogurt
persimmon parfait: layer persimmon puree and diced fuyus with a vanilla pastry cream and whipped cream, or add some boozy-syrup-soaked cake bits for a persimmon trifle
try making persimmon pancakes; serve with extra hachiya puree or diced fuyus
persimmon pie, similar to pumpkin, is a wintertime staple in some parts of the world, as are persimmon cookies
use the chunky hachiya pulp in place of jam in a jam tart or jam crumble squares, with or without some sliced fuyus, as well
fuyus can be diced and folded into any muffin batter, or sliced and sauteed with butter, maple syrup and a pinch of cinnamon to top oatmeal or pancakes, or sub them for the pears in this oven pancake

Wherever you find your persimmons, be it at a farmer's market, grocery store, or brimming from your abundant backyard tree (or someone else's), I hope that you'll bring me some. Er, I mean, I hope that you avoid persimmon trauma by letting them ripen fully, and that you wow your loved ones with some tasty puddings for dessert. Though be warned: after one bite, you may be tempted to hoard them all to yourself.
Pudding it to you:
Pumpkin Flan
Chocolate Rosemary Pots De Crème
Chocolate Coconut Milk Tapioca
One year ago:
Sourdough Pizza with Chanterelles, Shallots and Chèvre
Persimmon Pudding
Serves 6
Adapted loosely from Chez Panisse Fruit (recipe also found in Chez Panisse Desserts)
Persimmons can take a week or more to ripen, so plan ahead if you wish make this for a special occasion; they should feel 'like water balloons ready to burst' in the words of David Lebovitz. To make the persimmon puree, slice the ripe hachiyas in half, scoop out the flesh, squeezing any extra goop from the skins, and work through a strainer or food mill to smooth. The puree can be stored in the refrigerator for up to several days, or frozen for several months. Place ripe persimmons that you're not ready to use in the fridge to stop the ripening process while you wait for the others to catch up, if necessary.
If you don't have individual ramekins, bake this pudding in one large (2 quart) gratin dish. The freshly diced fuyus beautifully complement the rich pudding and perfumed crème anglaise; lacking fuyus, make a little extra hachiya puree (say, 6 tablespoons) and spoon it over the fallen puddings with the anglaise.
3/4 cup persimmon puree, from about 3 medium dead-ripe hachiya persimmons (see headnote)
3/4 cup half and half (or 1/2 cup whole milk and 1/4 heavy cream)
1/2 vanilla bean, split and scraped
1 cinnamon stick (3″)
4 tablespoons unsalted butter, melted
2 eggs
1/4 cup plus 2 tablespoons sugar, plus sugar for coating the ramekins
1 tablespoon brandy or whiskey
1/2 cup plus 2 tablespoons all-purpose flour
1/2 teaspoon baking powder
1/4 teaspoon baking soda
1/8 teaspoon salt
For serving:
creme anglaise (recipe below)
2 fuyu persimmons, diced
In a small pot, heat the half and half with the vanilla seeds and pod and the cinnamon stick until steaming, swirling occasionally. Cover and steep while you prepare the ramekins and pudding batter.
Position a rack in the center of the oven and preheat to 350º. Brush 6 six-ounce ramekins with some of the melted butter and coat with sugar. Set in a roasting pan for easy maneuvering.
In a large bowl, whisk together the eggs, sugar, brandy and persimmon puree. In a medium bowl, sift together the flour, baking powder, baking soda and salt, then whisk into the persimmon mixture until completely smooth. Remove the vanilla pod and cinnamon stick from the milk, squeezing any flavored milk out of them, then gradually whisk the warm milk into the persimmon mixture. Re-warm the butter if necessary, and whisk into the batter until combined.
Pour the batter into the prepared ramekins, filling them about 3/4 of the way full. Bake the puddings until puffed, deeply golden, and firmly wobbly when jiggled, about 40 minutes (they will rise above the rims like souffles.) Let cool for about 20 minutes; the puddings will fall. Serve warm or at room temperature, topped with a pour of creme anglaise and diced fuyu persimmon.
The puddings will keep, covered and refrigerated, for up to several days. Re-warm in a 300º oven for about 10 minutes before serving.
Crème Anglaise
Makes 1 generous cup, or 6 servings
1 cup half and half
1/4 vanilla bean, split and scraped
2 egg yolks
pinch salt
3 tablespoons sugar
In a small pot, heat the half and half with the vanilla until steaming, swirling occasionally. Cover and steep 20 minutes.
Place a fine mesh sieve over a metal bowl and set aside.
In a medium bowl, whisk together the yolks, salt and sugar until well combined. Reheat the milk until steaming, then dribble into the yolk mixture, whisking constantly. Pour the mixture back into the pan, and cook over medium-low heat, stirring constantly with a heat-proof spatula or wooden spoon, until the mixture reaches 175º and thickens to the consistency of heavy cream, 3 – 5 minutes.
Immediately pour the mixture through the strainer and into the bowl to stop the cooking. Place the bowl in an ice bath, stirring the custard occasionally, until well-chilled.
Store the creme anglaise in the refrigerator for up to 4 days.