Gluten-free olive oil cake gets a flavor boost from lemon zest and almond flour, keeping it grain-free and dairy-free to boot. This recipe takes an hour to make, start to finish, using just 10 easy-to-find ingredients. Enjoy this incredibly moist, tender, springy cake on its own, or serve it up with whipped cream and fresh spring berries.
Also, a farewell to someone special.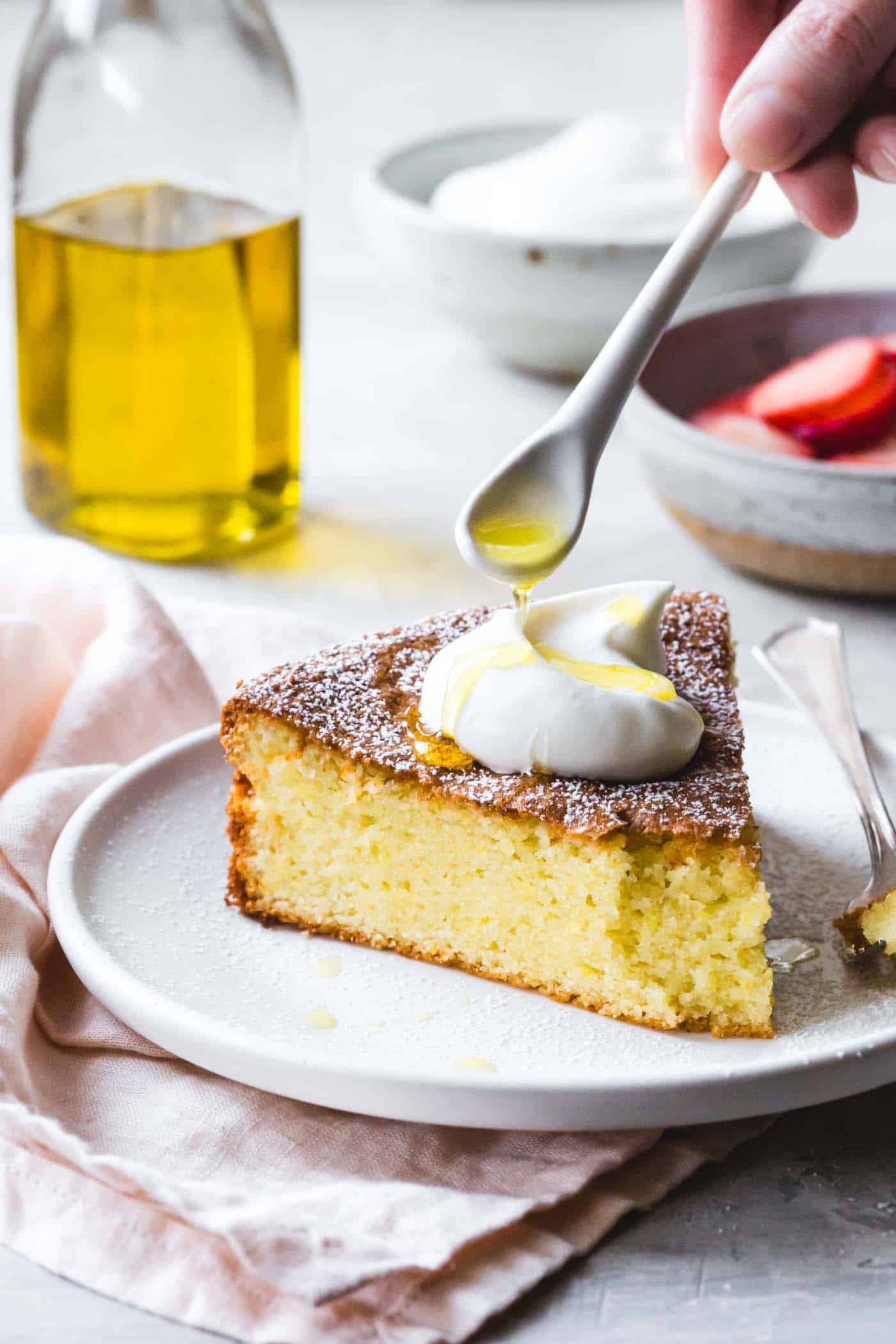 Note from Alanna: I first shared this recipe in the spring of 2020, which was one of the darkest times in my life (and I know I'm not alone!) Our beloved cat Catamus was unexpectedly diagnosed with fatal cancer the same day that the pandemic lockdown began. We spent the next two months spoiling Catamus to the best of our abilities. I shared this post as an ode to all his quirks that made us love him.
I've learned over the years that not only was Catamus well-loved, but so was this cake recipe. It's the most-made recipe on TBG to date.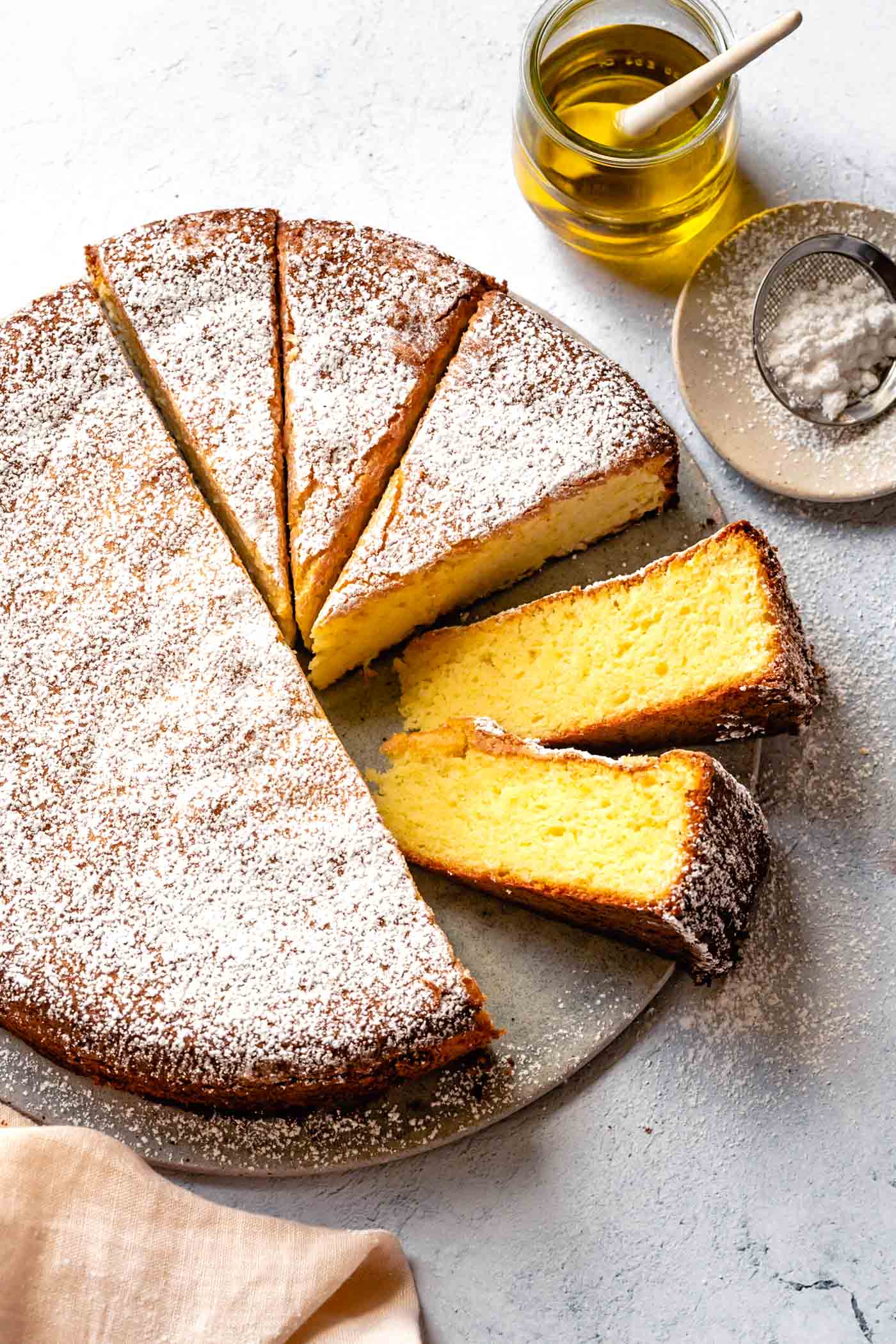 I've added in some process photos and a video below, and you can read all about our sweet kitty following the recipe instructions. Otherwise, feel free to skip to the recipe card. You can find more gluten-free cake recipes here, or read more about baking with almond flour and other GF flours in my gluten-free flour guide.
I'm so touched by how many of you have made and loved this recipe, and even more so by the kind notes in the comments below about your own beloved feline friends. I still tear up when I read them. Thank you dear friends, from the bottom of my heart.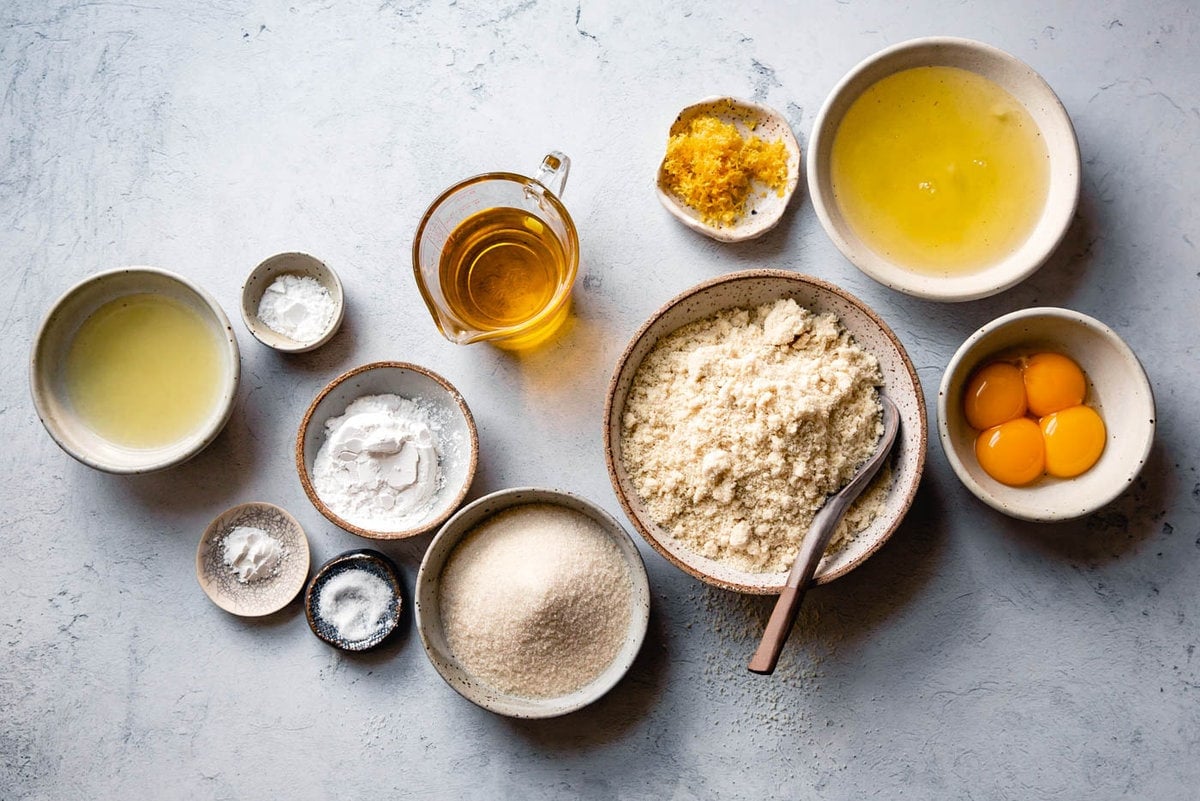 Ingredients and Substitution Suggestions
This super-moist and flavorful cake comes together with just 10 easy-to-find ingredients.
Almond flour makes up the bulk of the cake, resulting in a super moist and tender texture. I prefer blanched almond flour for the light color, but unblanched almond meal will work too. I made this recipe using Bob's Red Mill blanched almond flour.
Tapioca flour makes the cake extra springy and fluffy.
Olive oil moistens the cake and adds big flavor. Don't be afraid to use a super-flavorful extra-virgin olive oil here. Or sub a neutral oil for a more classic almond flour cake.
Eggs help this cake hold together, adding moisture and structure. I wouldn't recommend making this cake without eggs since they are structurally important.
Sugar adds sweetness and moisture. I used organic granulated sugar but any white sugar will work. You can try subbing an unrefined granulated sugar such as maple sugar or coconut sugar by weight. However, these will change the flavor, and you'll still need to use granulated sugar to whip the egg whites.
Lemon zest and juice add tanginess and enhance the floral notes of the olive oil. Feel free to make this using other citrus such as tangerine, orange, grapefruit, or meyer lemon.
Baking powder adds lift, and cream of tartar helps stabilize the whipped egg whites.
Salt sharpens the flavor and a sprinkle of powdered sugar makes the cake look so pretty.
How to Make Gluten-Free Olive Oil Cake
This recipe makes a 9-inch cake which serves 8-10 people. It takes about an hour to make, start to finish, plus some cooling time post-baking. It keeps beautifully and can be made a day or two ahead of time.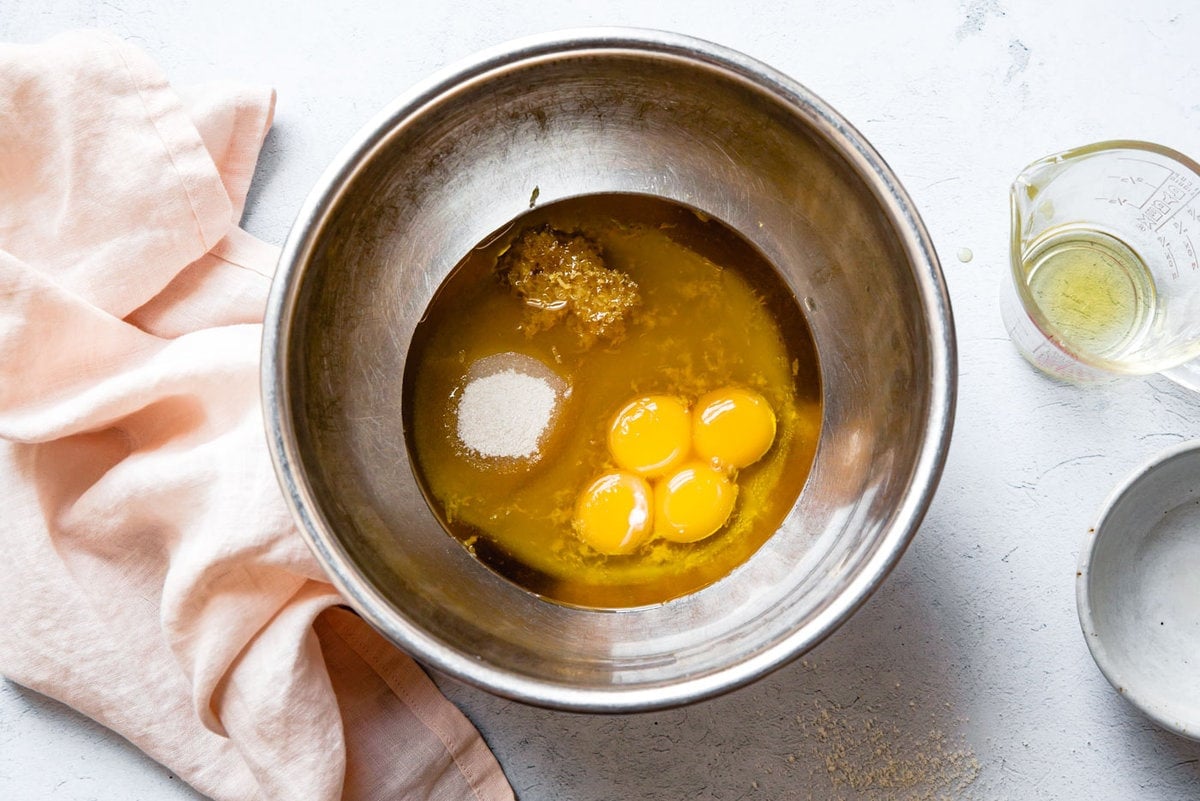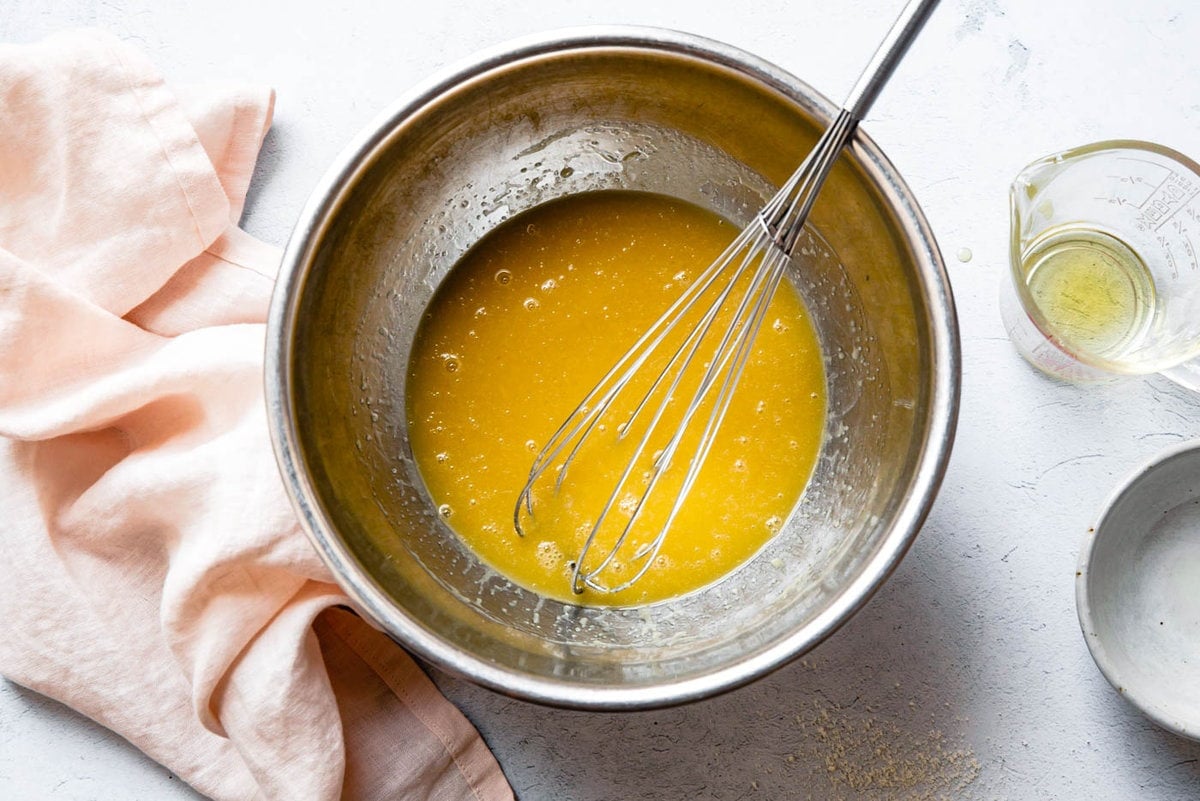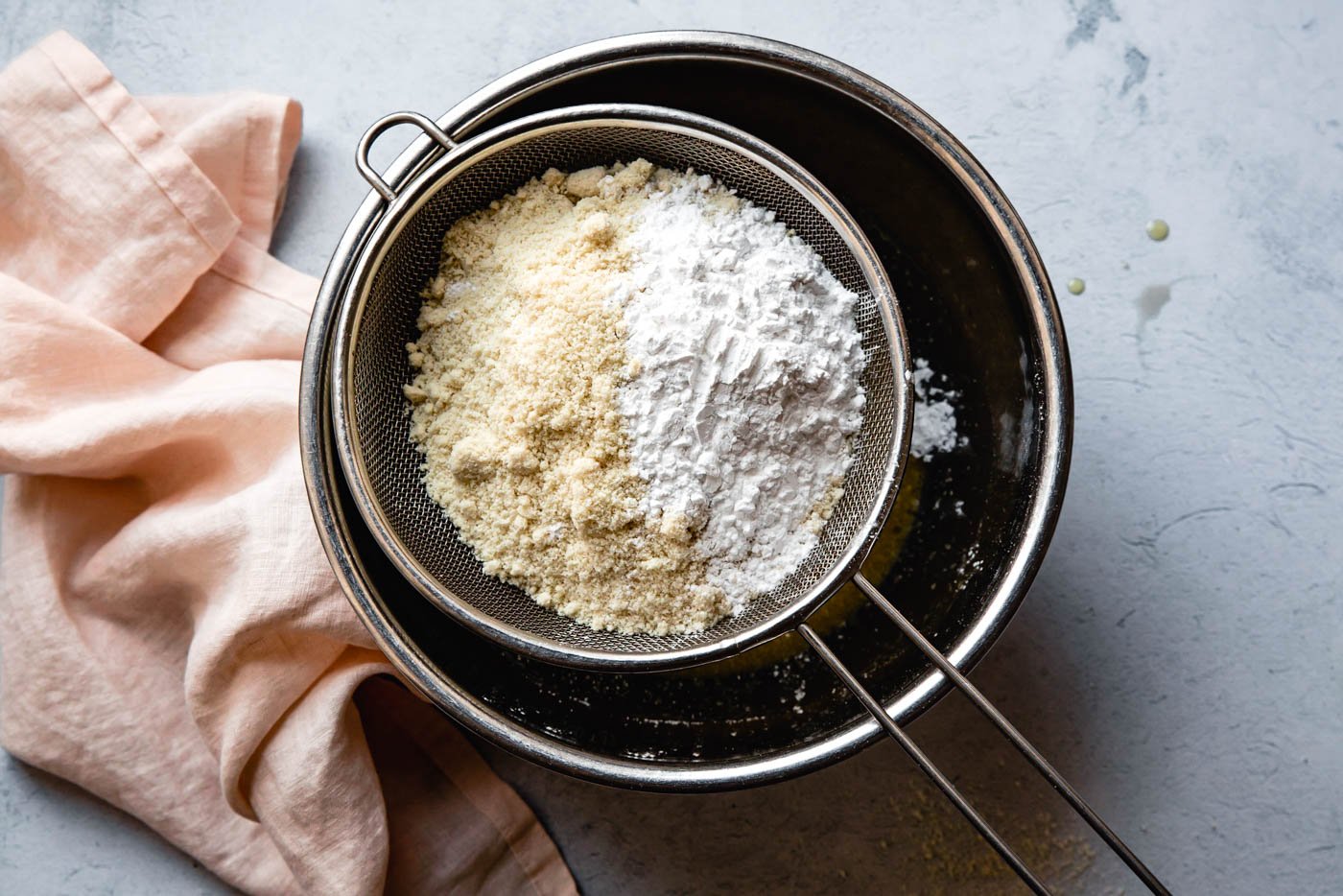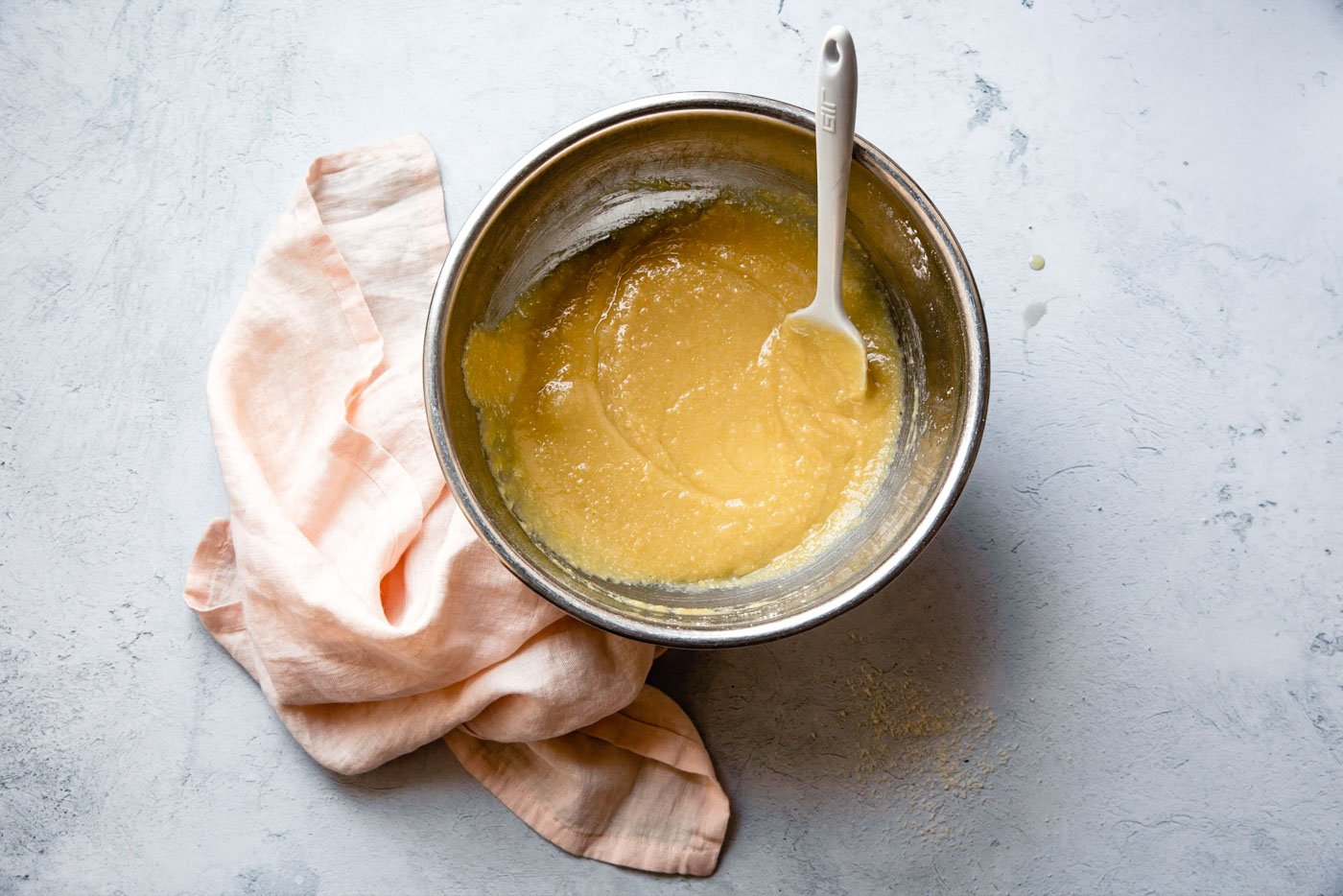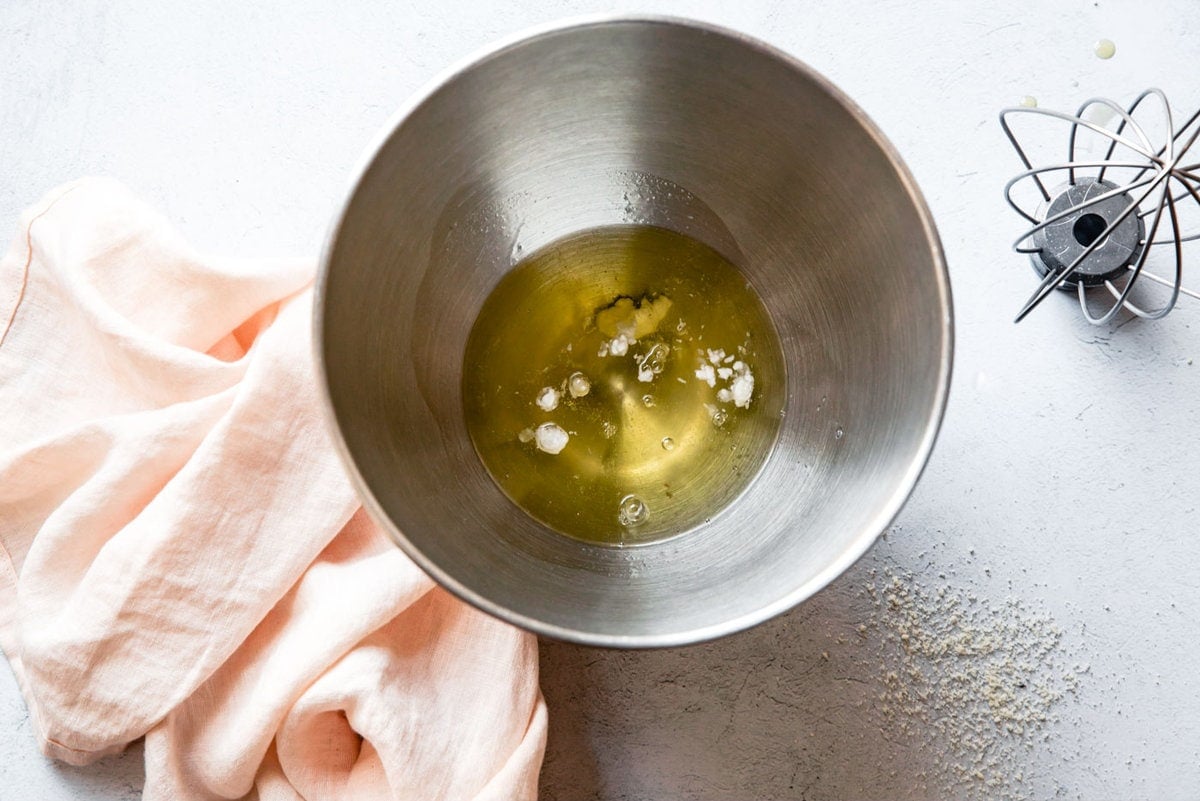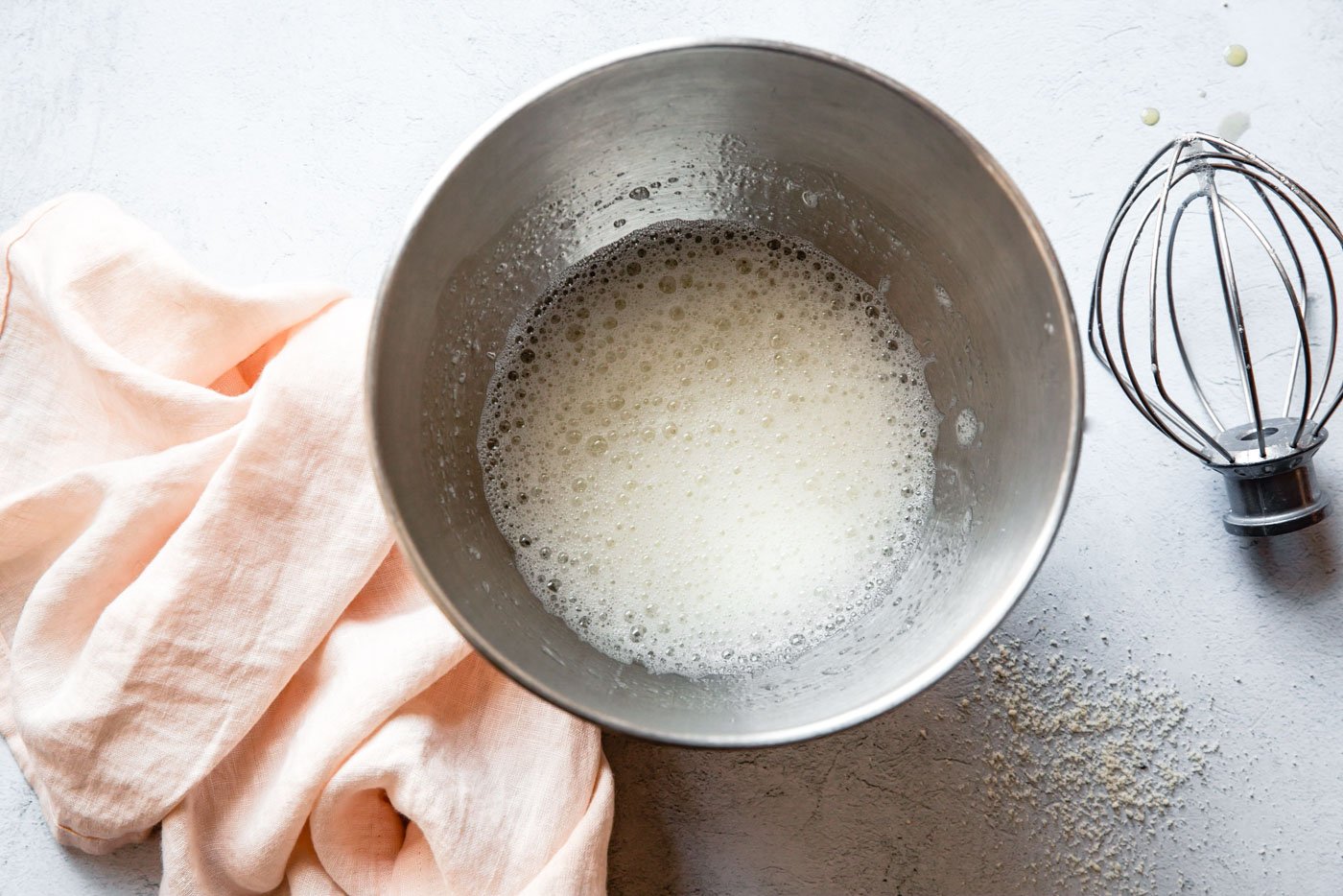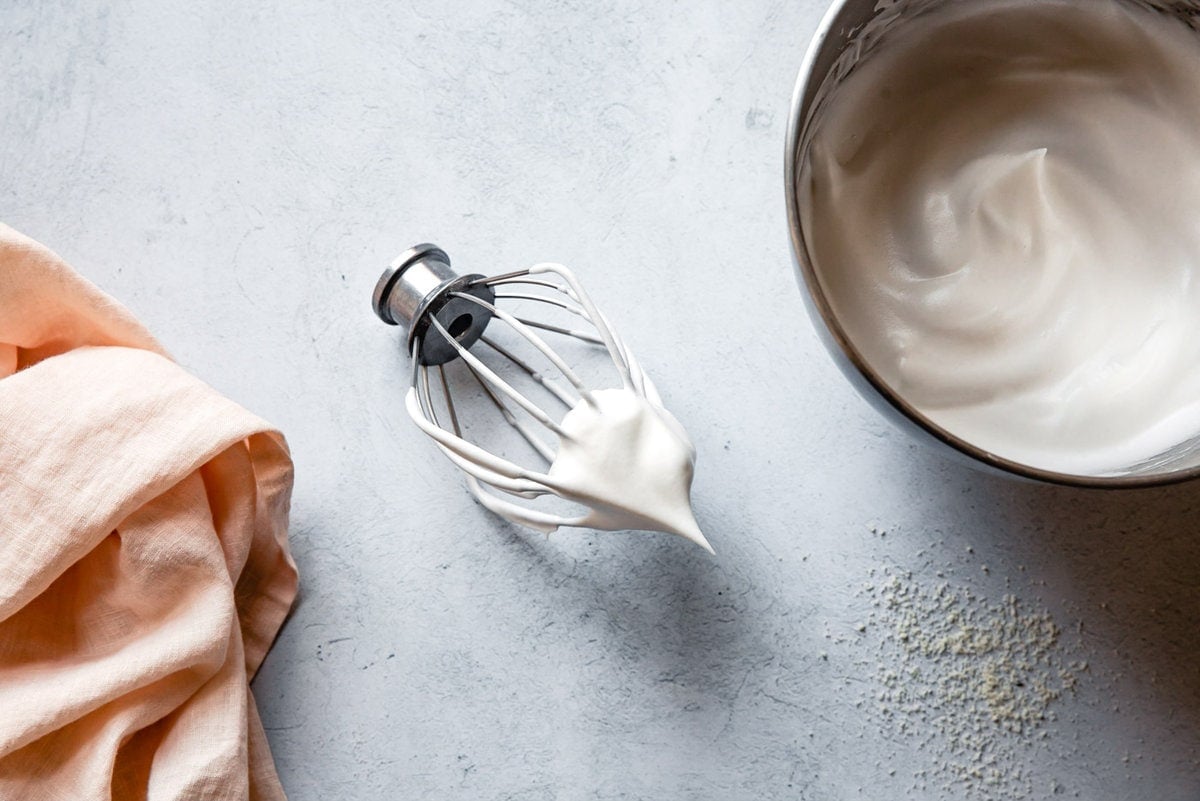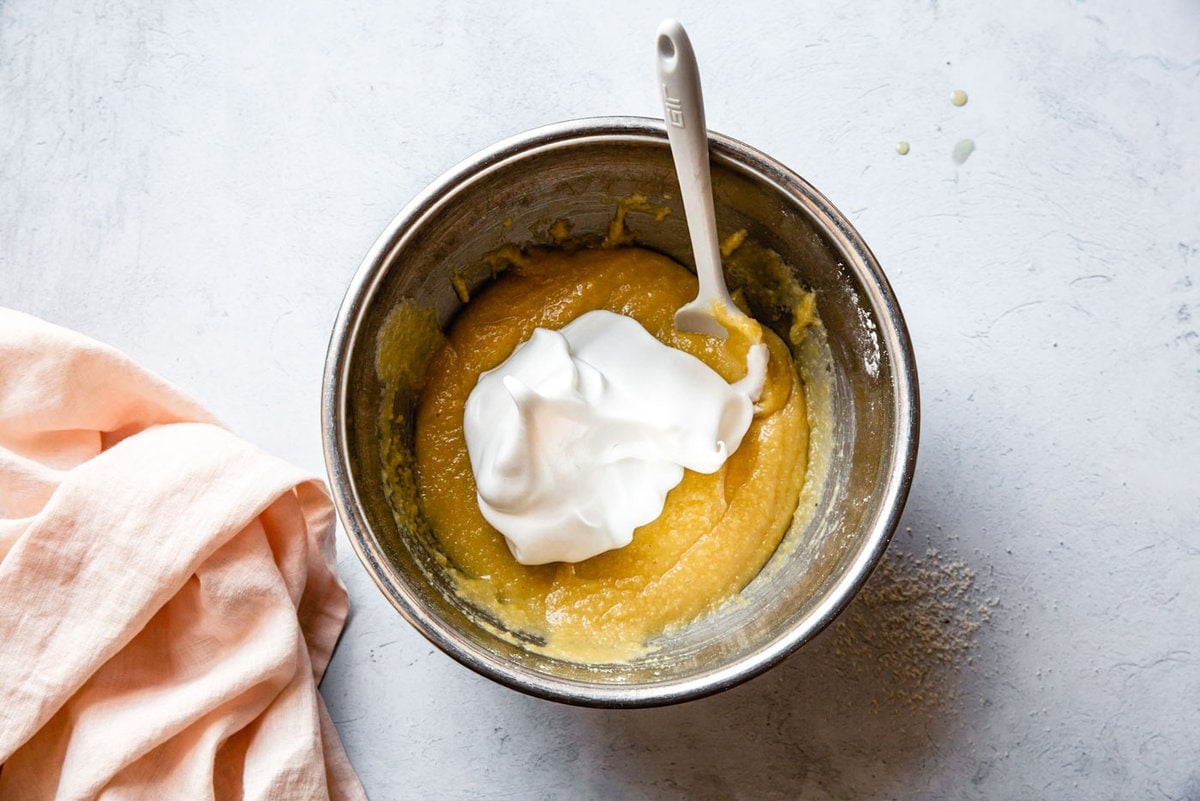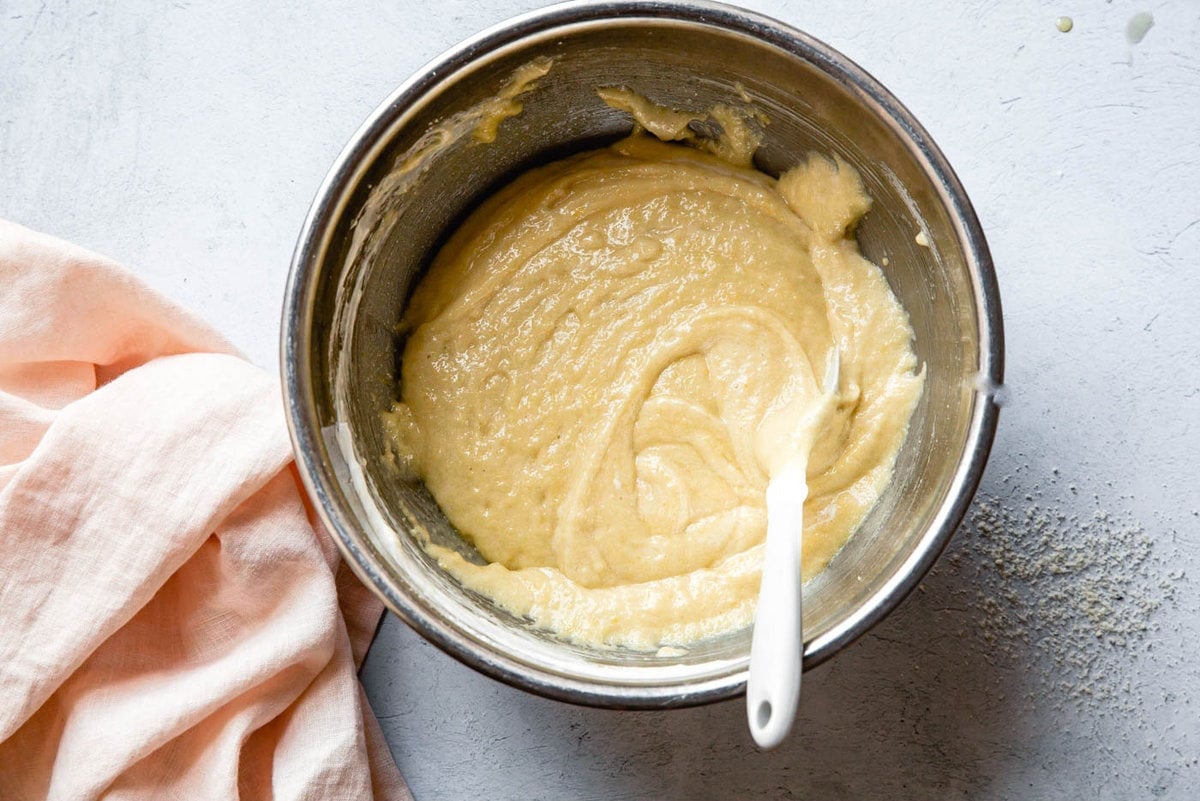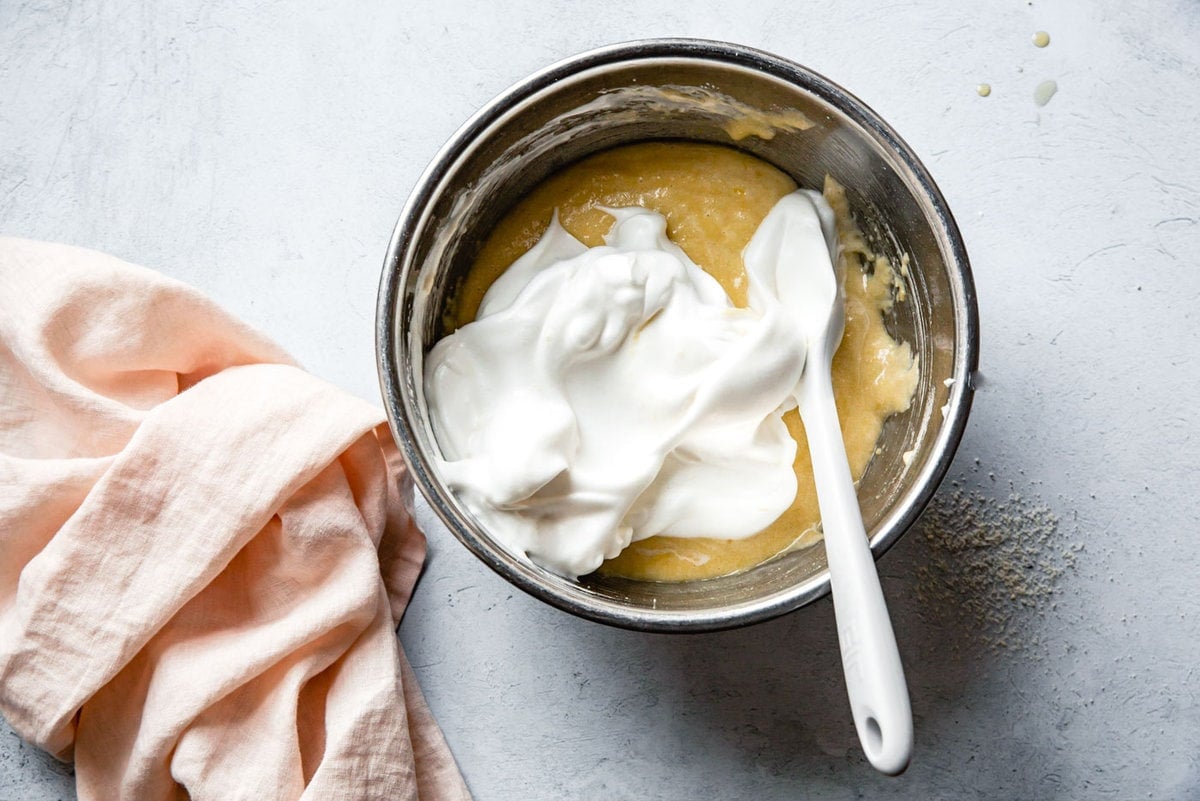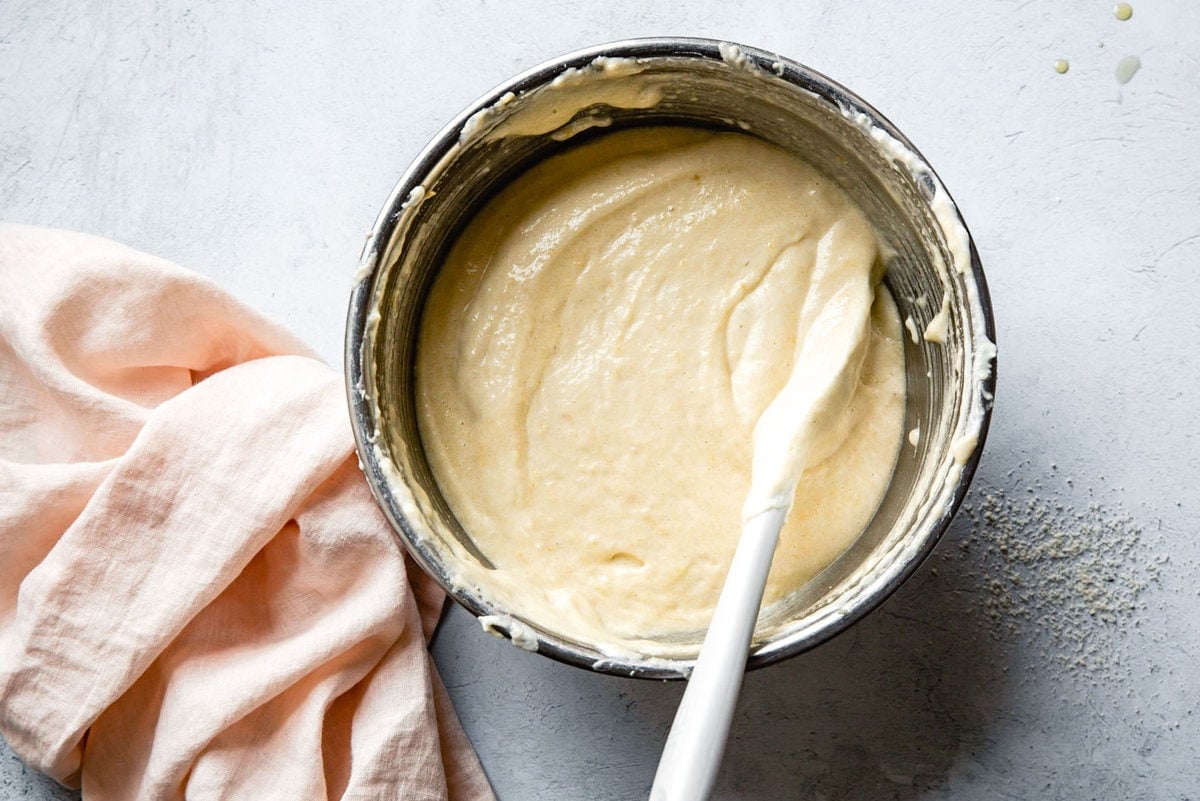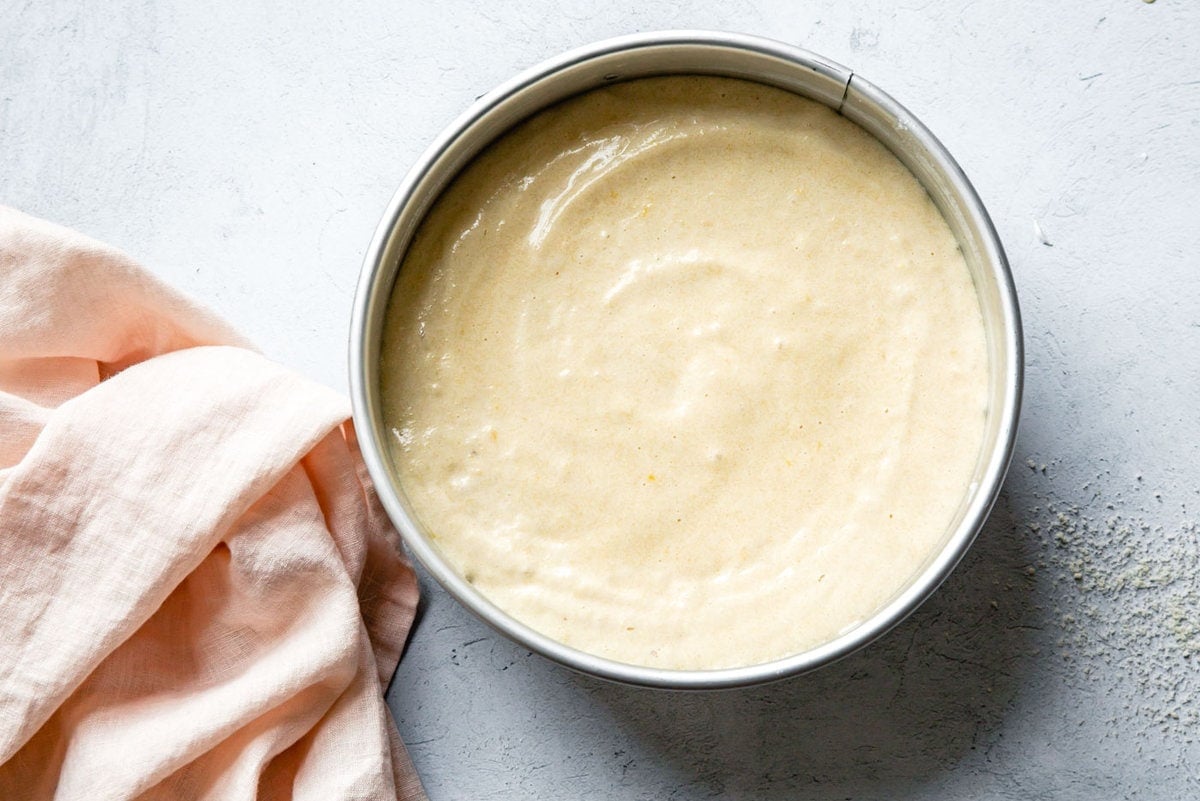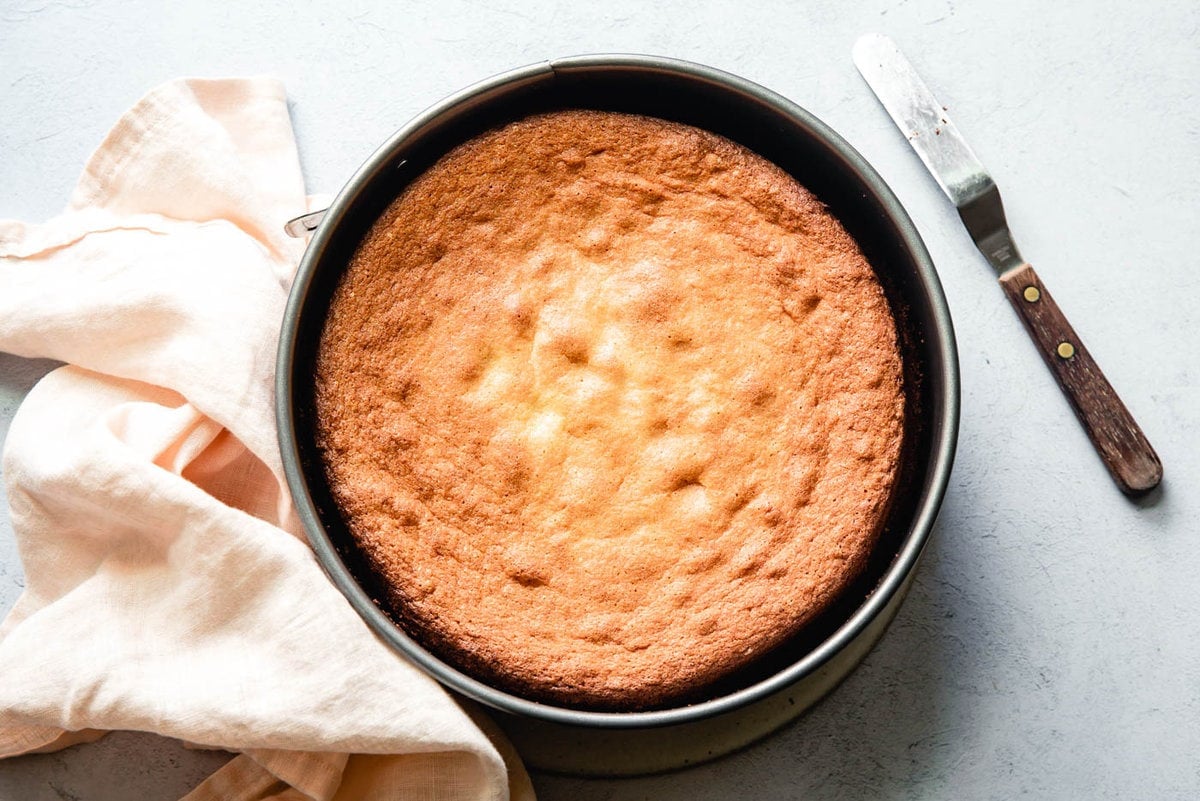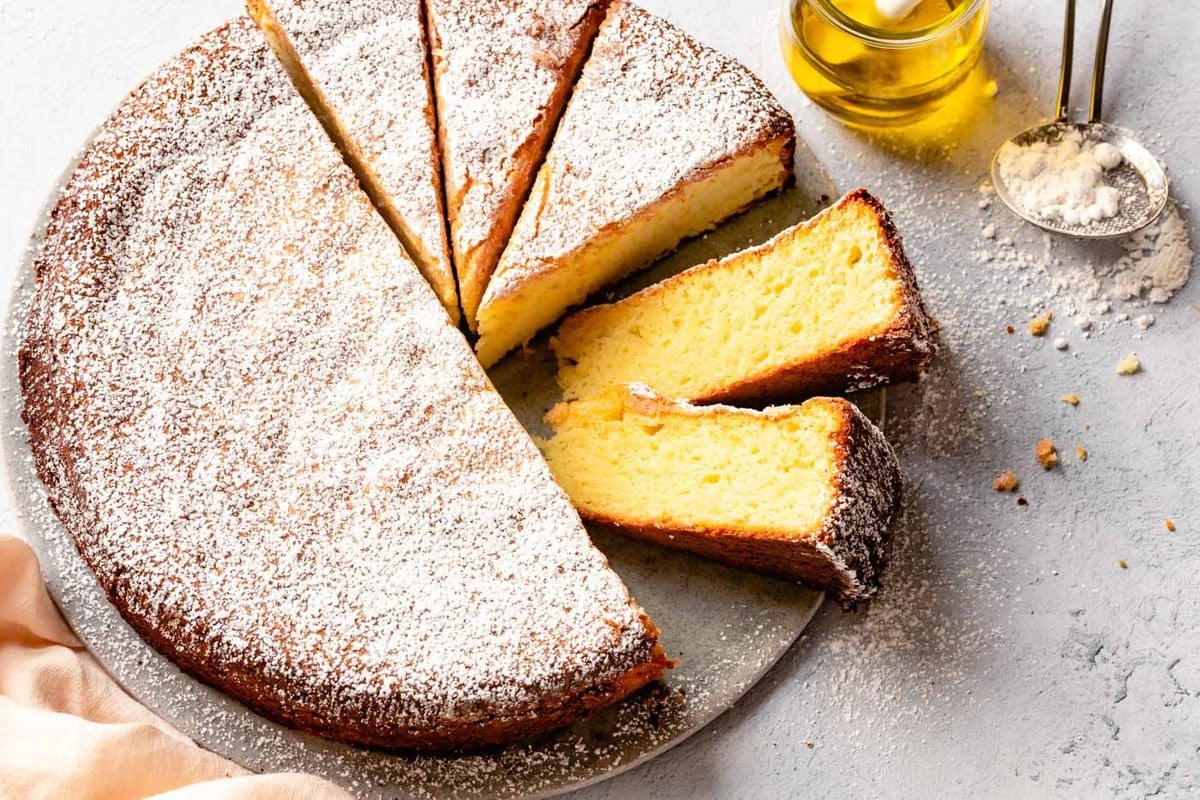 A Dainty Gentleman
Huge thanks to everyone for your love, support, and suggestions regarding our dear Catamus in my last post, which feels like ages ago now. We very sadly said goodbye to him on Friday, May 8th, when it became clear that his condition was worsening. We didn't want him to suffer needlessly anymore. Though we're heartbroken to have lost our darling boy, missing him terribly every minute of every day, we feel lucky to have so many caring friends and family members who have helped us through this time. Thank you for being among them.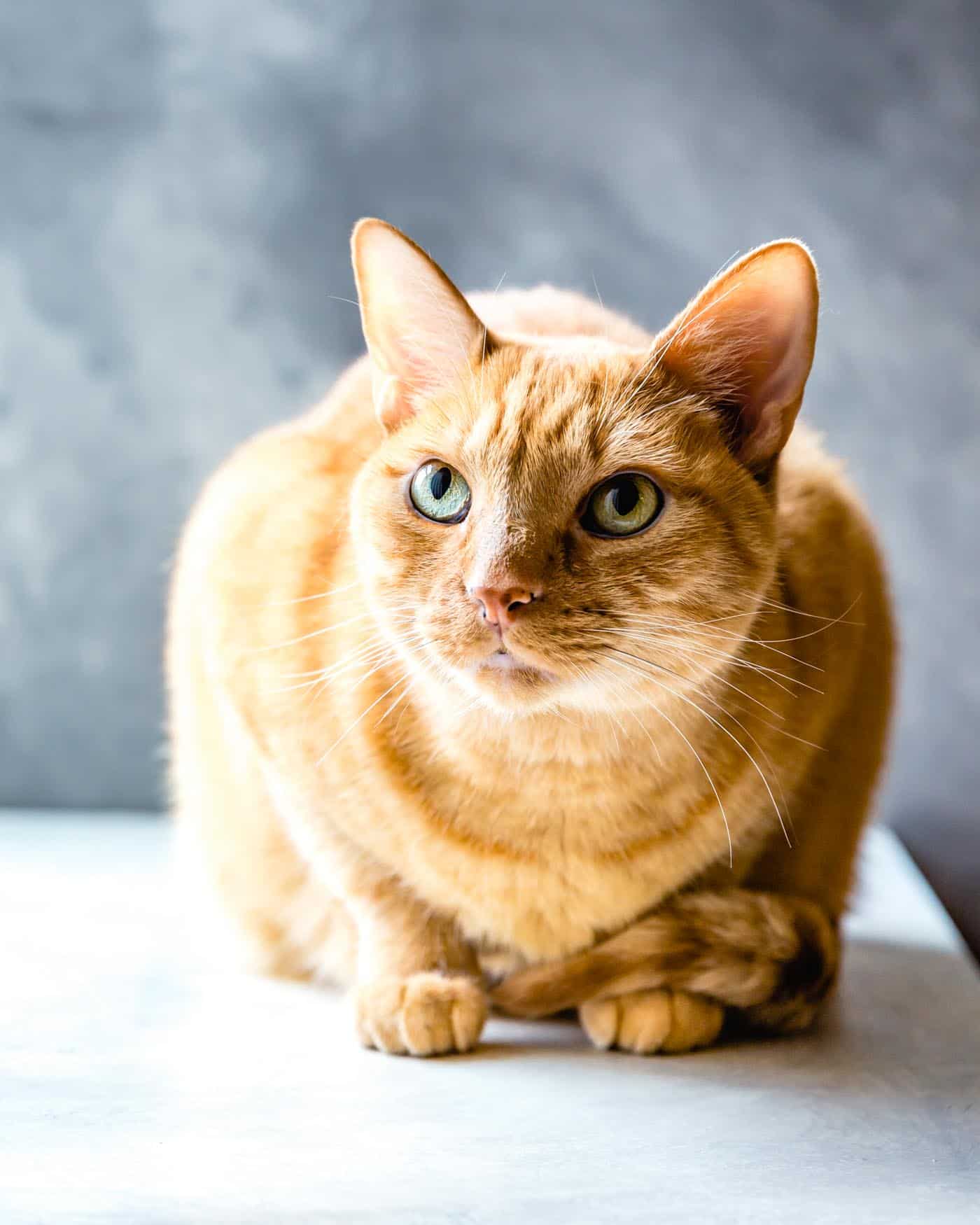 Catamus has been a huge part of TBG since the day we brought him home in February of 2011. We met this spry 2-year-old from Yolo County at the SPCA one wintry night. He charmed us by giving us head butts and showing us his belly, circling us as we sat in his area, and looking up at us with a pair of intense golden eyes as if to say "It's me! Take me home!" Looking into his expressive eyes was like looking into a human's. We fell hard for this quirky little person.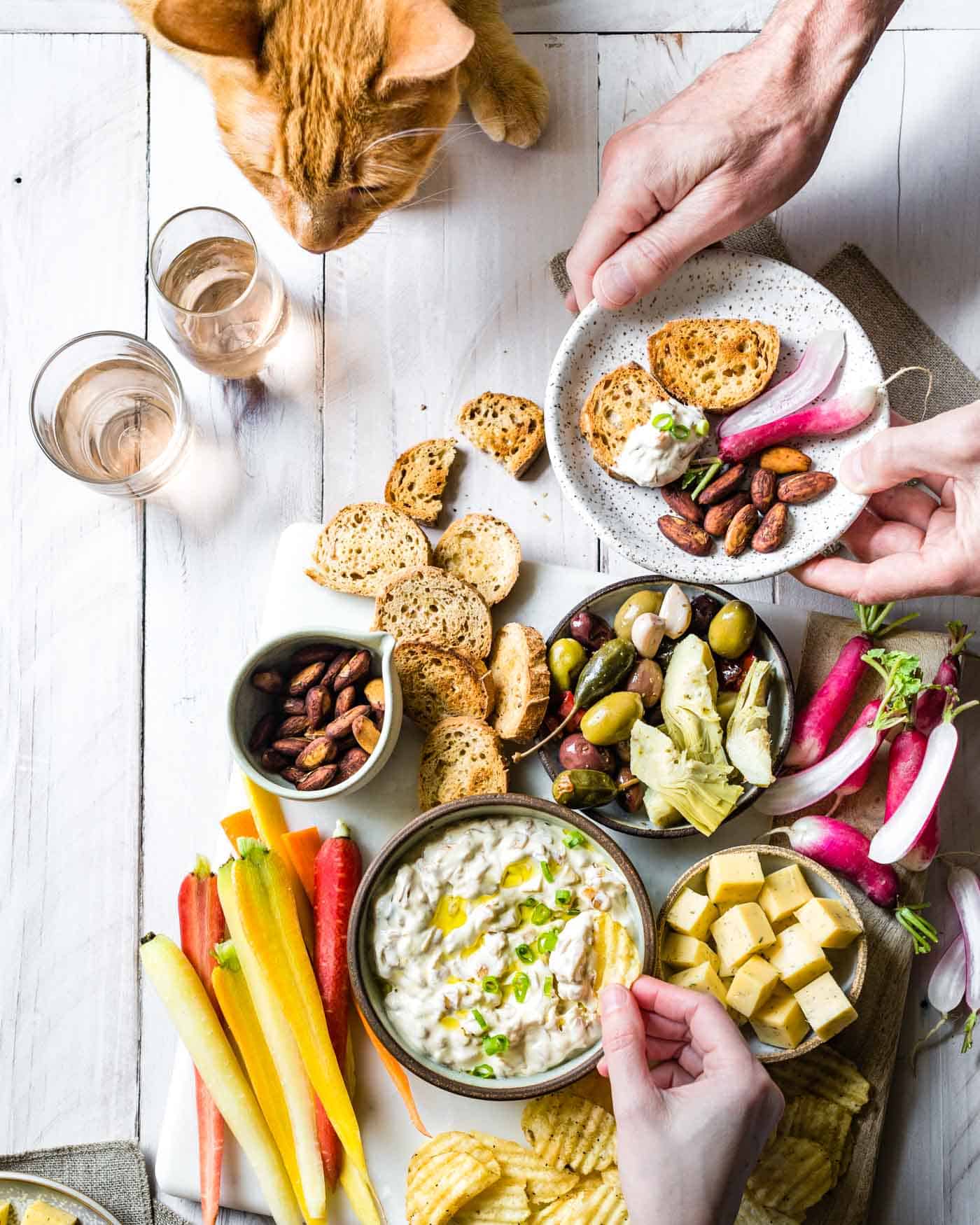 Jay and I both work from home, so Catamus was not only like a child to us over the years, but also a co-worker or purrrrsonal assistant.
Catamus would sit directly behind me in the kitchen as I cooked, swishing his tail underfoot, and getting incensed when I'd inevitably step on it. He would walk around my desk as I wrote, knocking things over with his long, curly tail, which seemed to have a mind of its own. He only wanted to sit on my lap when I was typing on my lap keyboard, which he would step on. And he would try to lick whatever I was shooting, often photobombing shots in the process.
As I wrote posts (and later, my coobbook) late at night, he would make biscuits on the back of the couch next to my desk before settling in for a snooze, lending moral support during those long hours.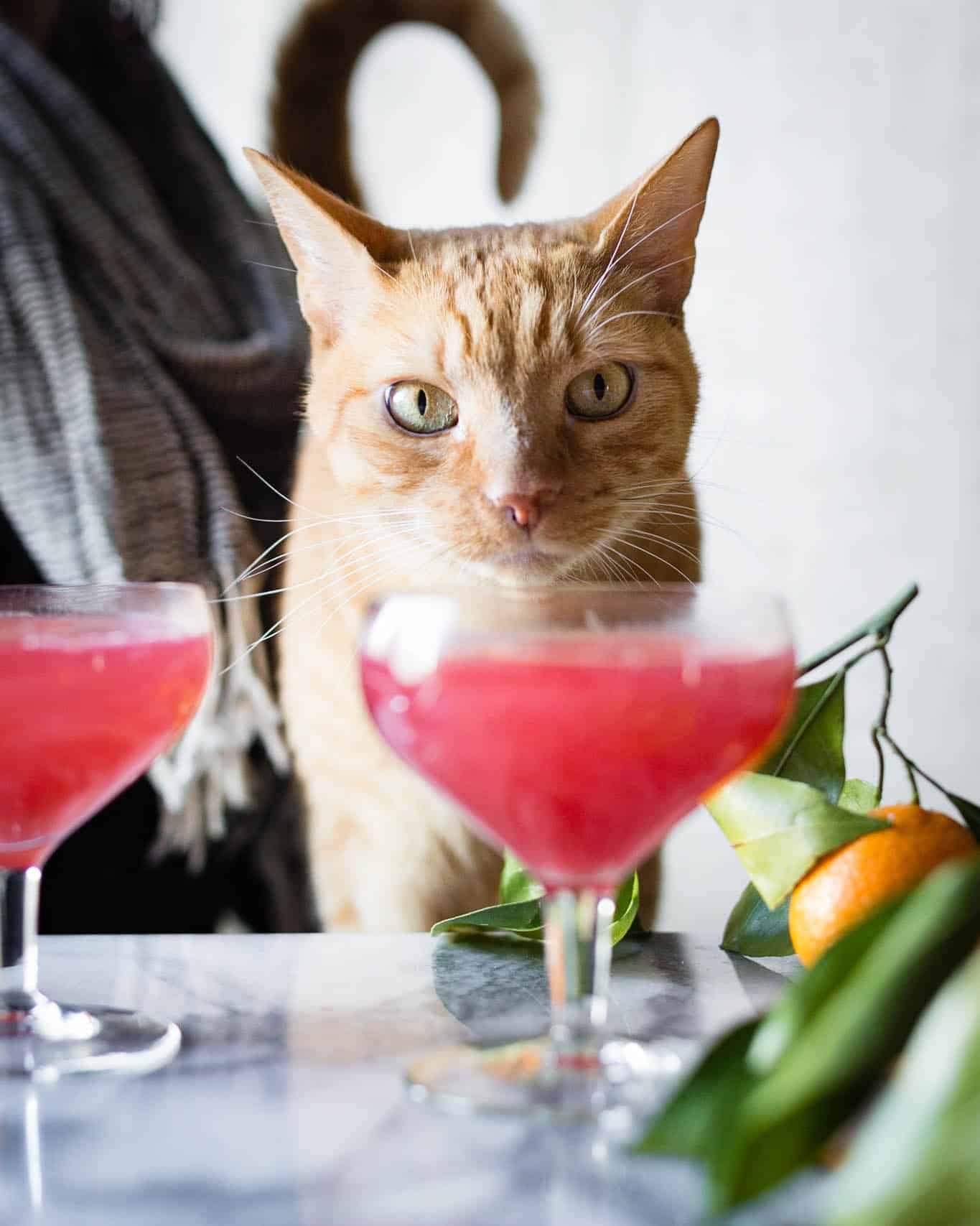 Catamus would sit at the table with us at mealtimes. We learned that he liked odd foods such as oatmeal, popcorn, roasted broccoli, feta cheese, and padron pepper stems. He had a special fondness for almonds in all forms, particularly almond butter and any recipes made with almond flour.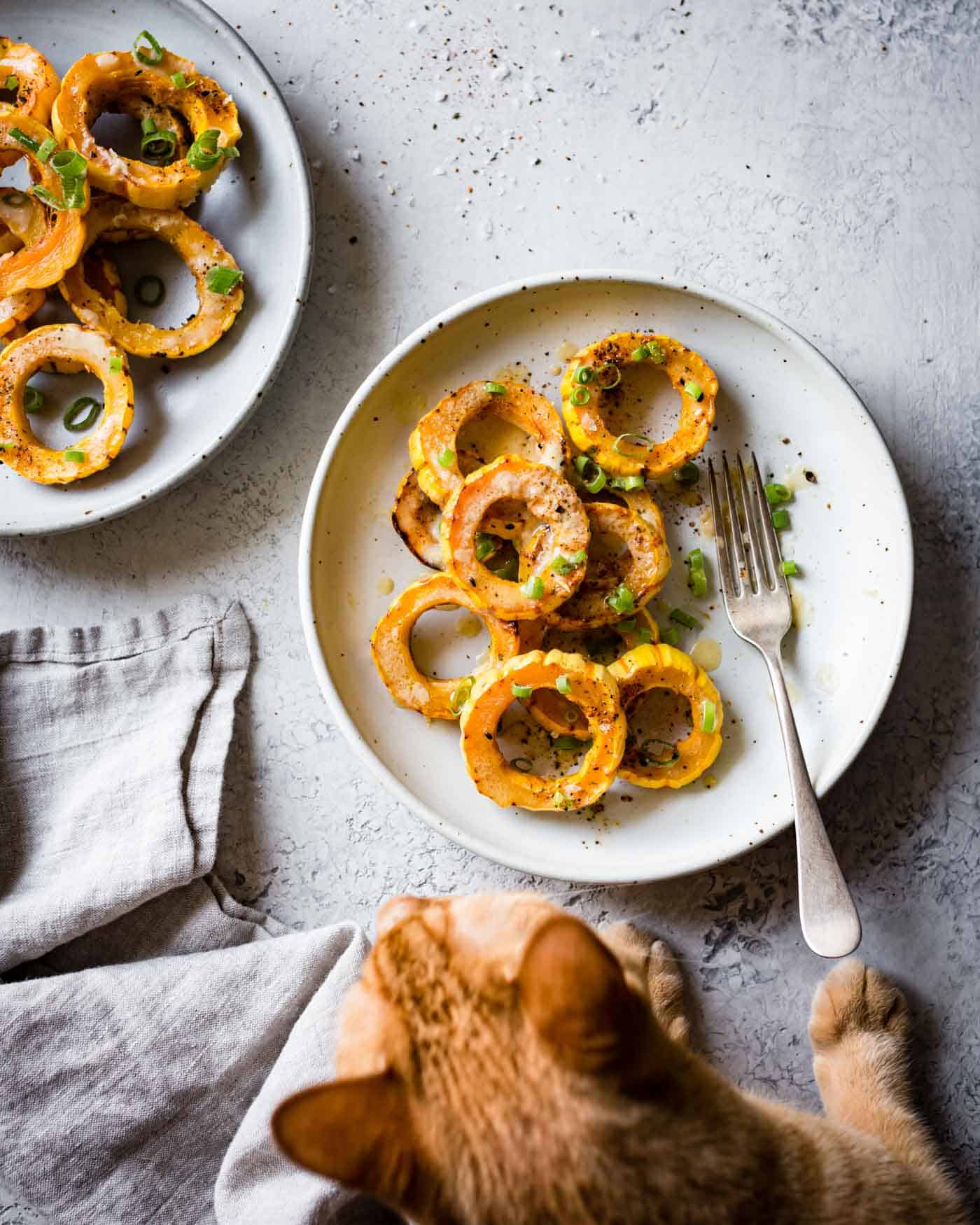 While developing this gluten-free olive oil cake for my Alternative Baking column in GFF Magazine in 2018, I left the cake to cool on the dining table. When I came back to remove the cooled cake from the pan, I noticed that there were ruts in the top of the cake. After some confusion, I realized that Catamus had quietly climbed onto the table and licked divots in the top of the cake when I wasn't looking. The slices shown in these photos were all I could salvage.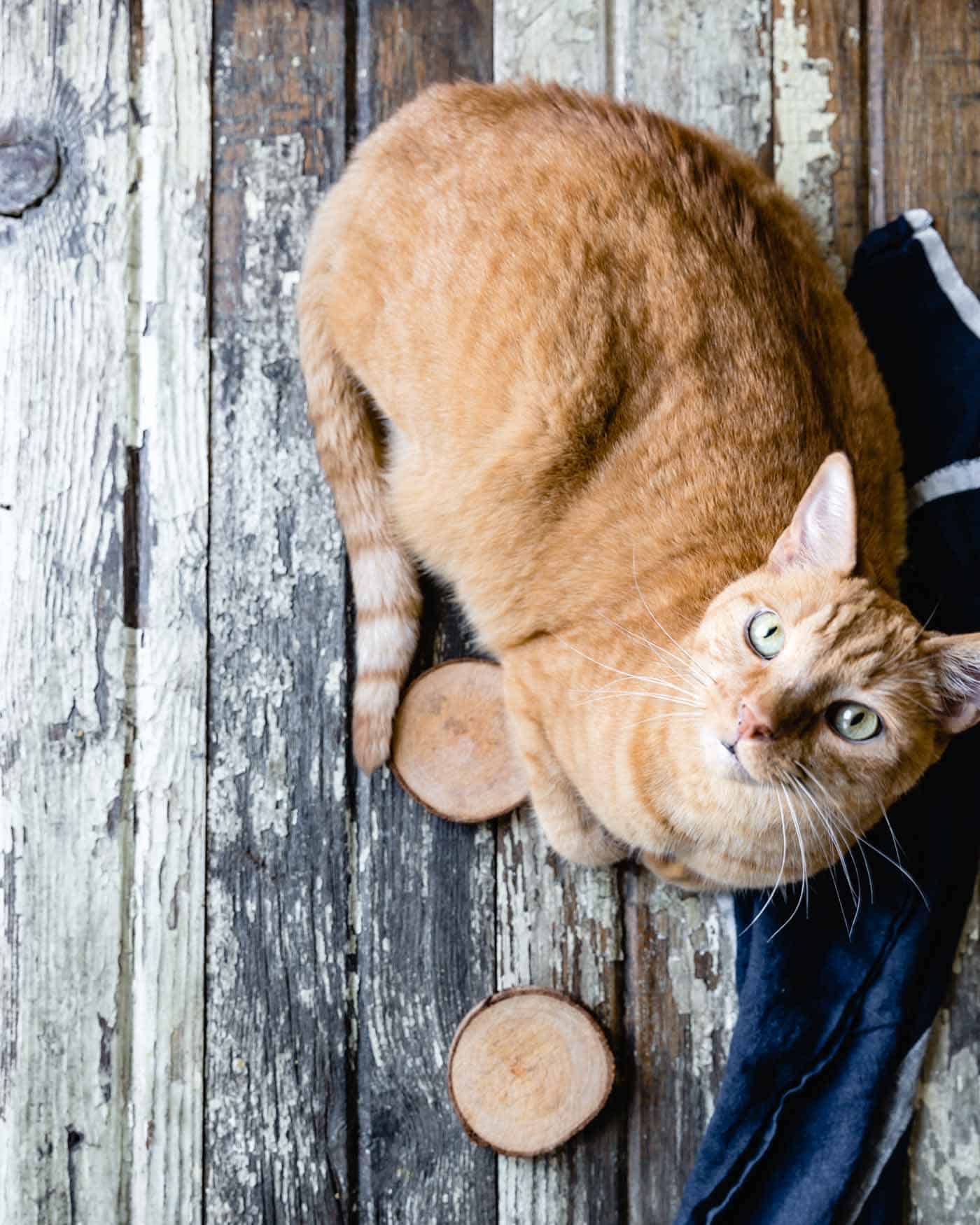 Catamus accrued many names and titles over the years including, in no particular order, Prince Catamus of Orange, Sir Catamus, Catumas (pronounced cuh-TOO-mus), Catamonious, Catamus J. Cat Esq., HRH (His Royal Highness), The Dainty Gentleman, Fluffy Pants, Catmandu, Catamus Toes, Sunny Cat, Red, Sleepy Redhead, Mr. C, Catty Longlegs, Cattigan O'Catamus, Catamister, Catamistery, and Big Handsome Man Cat. Heels, Heelzies, and Heelzabub were other silly nicknames I would sing to him whenever he entered a room.
Then there was the name he came with from the SPCA: Helios, the sun titan who drives the sun up each morning in a horse-drawn chariot.
Quite fitting.
Catamus knew his name(s) and would swish his long, thick tail whenever we'd say "cat." He didn't love pets or snuggles, but he enjoyed being shoved onto the ground and smacked really hard. Jay would play him like a drum in time to whatever music we had on. When he'd stop, Catamus would yowl for more. He apparently had a brother named Spanky who got adopted first. Clearly "liking it rough" ran in the family.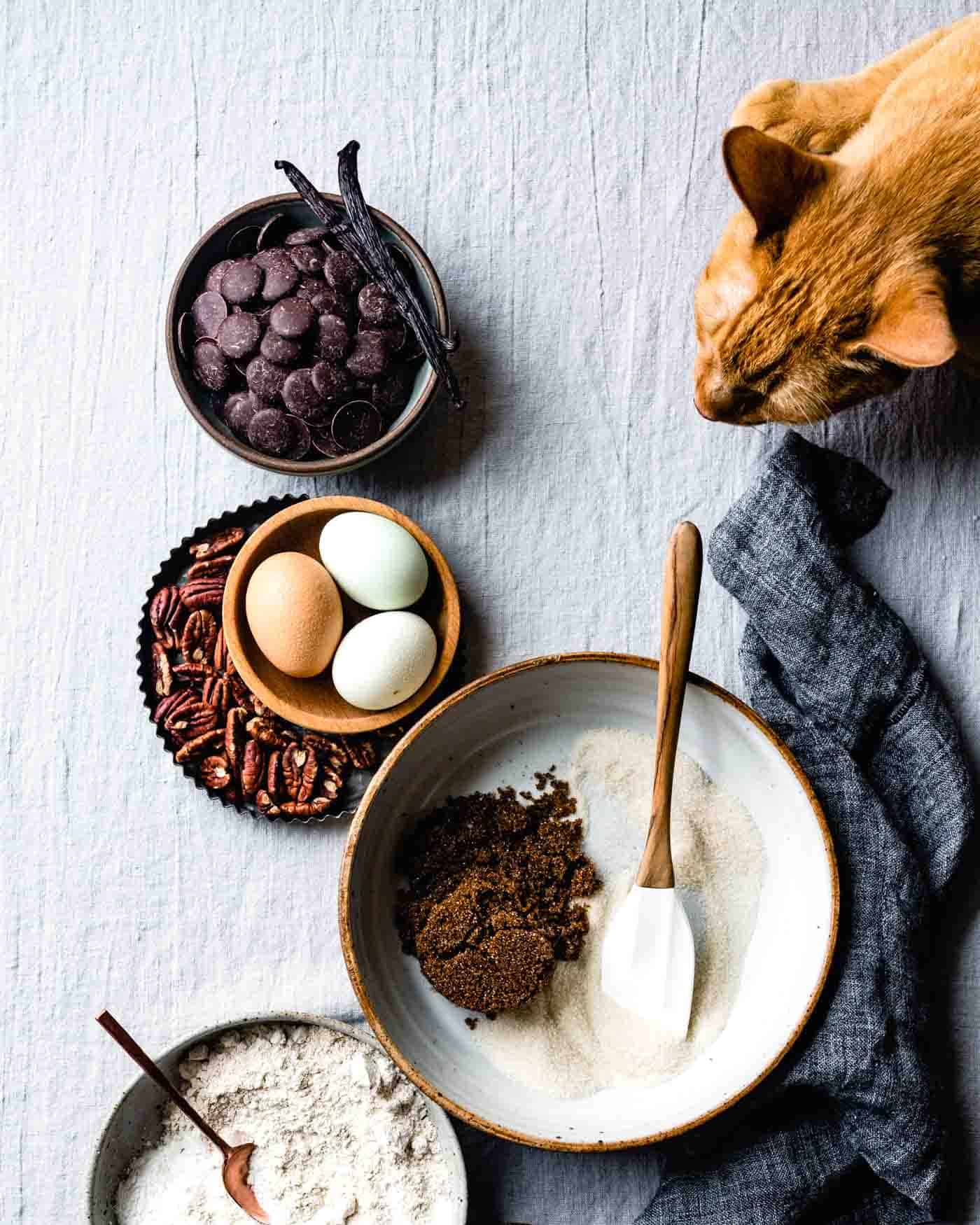 Without Catamus, our apartment feels hollow and strange. I keep expecting to see him when I walk into a room, and imagining that I hear his toes clicking on the hardwood floor, his tail thumping on the rug, his claws scratching his post (or the couch, or the upholstered chair). He was a ray of sunshine in our lives. I'm so grateful to have gotten to bask in his presence these nine years.
A dear friend of mine wrote, and this has become my mantra, "It's an honor to hurt so much. Because the grief is a measure of the love. And the love is a blessing. The love doesn't go away."
Indeed it does not.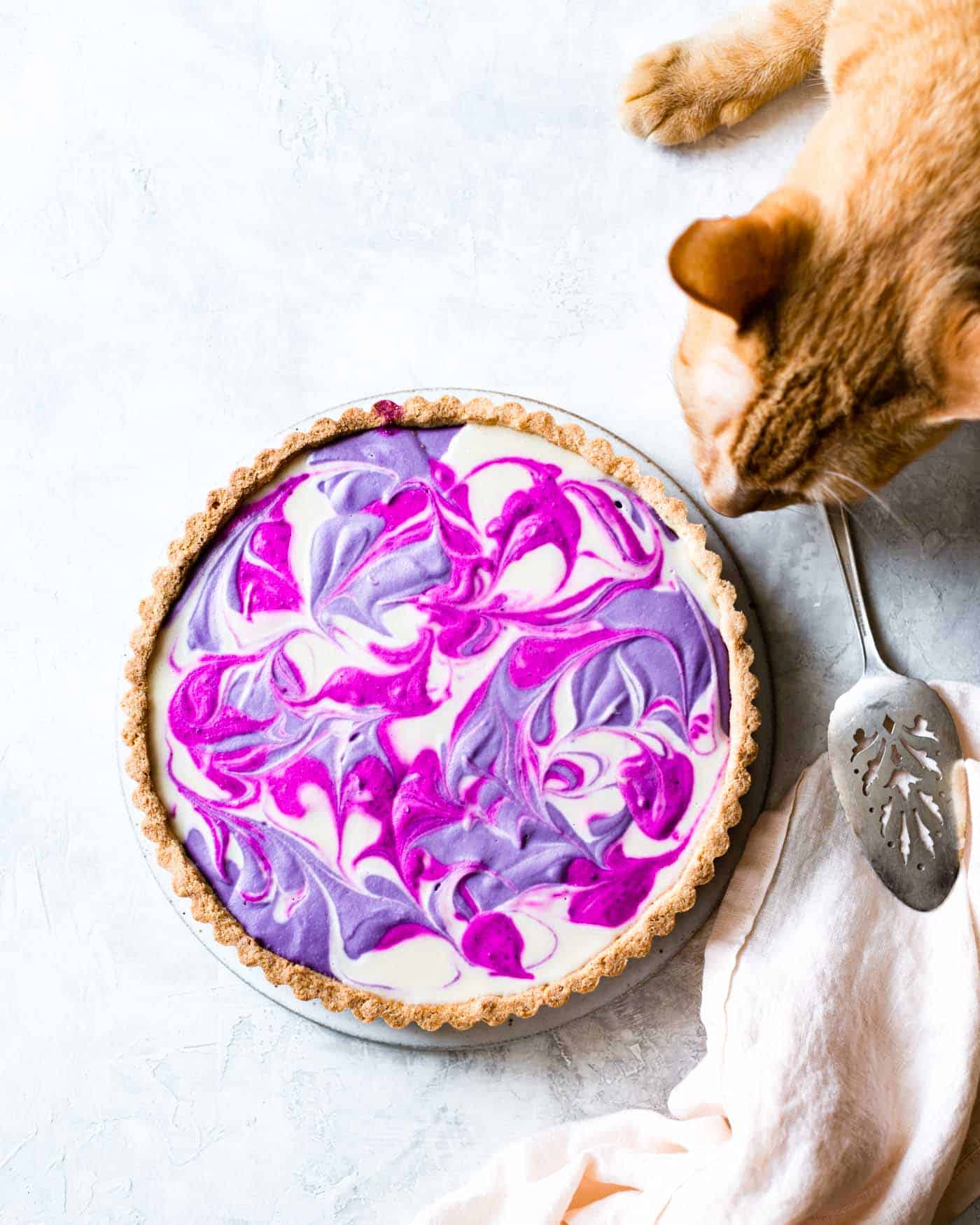 Gluten-Free Olive Oil Cake
This is a cake recipe fit for a king (or cat prince). It gets a light, springy texture from whipped egg whites, loads of moisture and fruity flavor from olive oil, and a meltingly tender texture from almond and tapioca flours. It's gluten-free, grain-free, and dairy-free.
It's plenty flavorful eaten plain, with a cup of tea or coffee. Or you can serve slices with any seasonal fruit: rhubarb compote or berries in the spring, plums or nectarines in the summer, fresh figs in the fall, or citrus supremes in the winter. It makes enough to share with a friend (animal or human) if you like.
If you whip one up, say a good word for our dear Catamus. We miss him terribly.
Have you lost a beloved animal friend? If you feel inspired to share, please do below. It's nice to connect around this kind of thing.
Bojon appétit! For more Bojon Gourmet in your life, follow along on Instagram, Facebook, or Pinterest, purchase my gluten-free cookbook Alternative Baker, or subscribe to receive new posts via email. And if you make this gluten-free olive oil almond flour cake recipe, I'd love to know. Leave a comment and rating below, and tag your Instagram snaps @The_Bojon_Gourmet and #bojongourmet.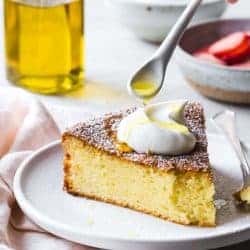 Gluten-Free Olive Oil Cake with Lemon & Almond Flour
Print Recipe
Pin Recipe
Gluten and dairy-laden cakes *wish* they could be as moist and tender as this Lemon Almond Olive Oil Cake, which gets loads of flavor from fruity olive oil and a meltingly tender crumb from nubby almond flour. Nibble slices plain with a cup of tea, or dress up wedges with sugared strawberries and a dollop of whipped cream or coconut cream. The cake can be made up to a few days ahead; it just gets better and better as it sits. Feel free to try this cake with other citrus zest and juice, such as Meyer lemon, tangerine, or blood orange. This recipe was originally published in GFF Magazine.
Ingredients
2

teaspoons

room temperature coconut oil, for the pan

½

cup

(105 g) flavorful extra-virgin olive oil

½

cup

(100g) + ¼ cup (50 g) organic granulated sugar (divided use)

finely grated zest of 1 medium lemon

¼

cup

(65 g) strained fresh lemon juice

4

large egg yolks

2

cups

(210 g) blanched almond flour

¼

cup

(30 g) tapioca flour

1

teaspoon

baking powder

½

teaspoon

salt

4

large egg whites

½

teaspoon

cream of tartar
Instructions
Position a rack in the lower third of your oven and preheat to 325ºF. Rub the bottom and sides of a 9-inch springform pan or cake pan with the coconut oil. Line the bottom of the pan with a round of parchment paper, and rub the parchment with coconut oil as well. If using a springform pan, place on a rimmed baking sheet to catch any drips.

In a large bowl, whisk together the olive oil, ½ cup (100 g) sugar, lemon zest and juice, and egg yolks to combine. Place a mesh strainer over the top and sift in the almond and tapioca flours, baking powder, and salt. Stir to combine.

Place the egg whites and cream of tartar in the clean bowl of a stand mixer fitted with the whip attachment (or use a large bowl and electric egg beater). Whip on medium-high speed until foamy, 30-60 seconds. With the mixer running, gradually sprinkle in the remaining ¼ cup (50 g) sugar, 20-30 seconds. Continue to whip until the egg whites are shiny and hold firm peaks when you lift the whip out and hold it upside-down, 2-4 minutes.

Use a large flexible silicone spatula to fold one-third of the whipped egg whites into the batter until just combined. Fold in the remaining egg whites until just combined and no streaks remain. Scrape the batter into the prepared pan and smooth the top.

Bake the cake until deep golden on top, beginning to pull away from the sides of the pan, and the top springs back when pressed lightly, 40-45 minutes. If the cake is darkening too quickly, tent the top with a piece of aluminum foil. Let the cake cool slightly, then loosen the edges with a small, offset spatula and release the sides if using a springform pan. Invert the cake onto the wire rack and peel away the parchment, then turn right side up and let cool completely. Dust with powdered sugar if using, cut into wedges, and serve with cream and berries if you like. The cake keeps well airtight at cool room temperature for 1 day or refrigerated for up to 4 days.
Nutrition
Calories:
411
kcal
Carbohydrates:
29
g
Protein:
9
g
Fat:
31
g
Saturated Fat:
5
g
Cholesterol:
98
mg
Sodium:
176
mg
Potassium:
124
mg
Fiber:
3
g
Sugar:
20
g
Vitamin A:
130
IU
Vitamin C:
3
mg
Calcium:
92
mg
Iron:
1
mg