A vegetarian take on the Southern favorite shrimp and grits, aka Shrooms and Grits! Creamy grits loaded with cheddar cheese support meaty king oyster, shiitake, and maitake mushrooms seasoned with tomatoes, peppers, and a splash of cream.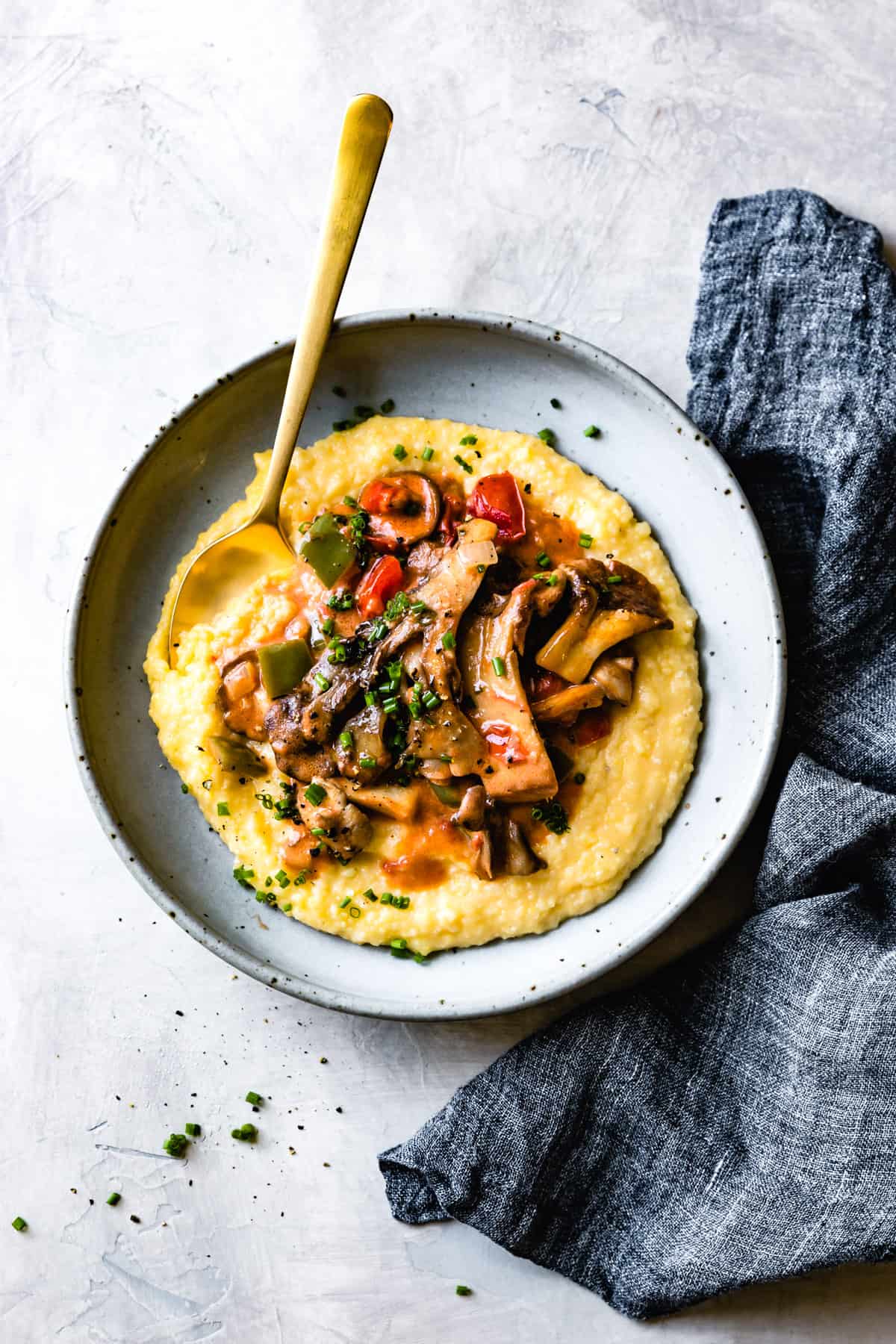 This pillow of creamy grits on which rest a mess of meaty mushrooms in buttery tomato sauce is winter comfort food at its best. I adapted this dish from a recipe that Sarah and I styled for The New York Times last year. I thought I'd died and gone to heaven when I slipped a spoonful of ultra cheesy, creamy grits and tomato-based sauce into my mouth. Since I'm mostly vegetarian these days, I vowed someday to try the recipe with seared mushrooms swapped in for the shrimp.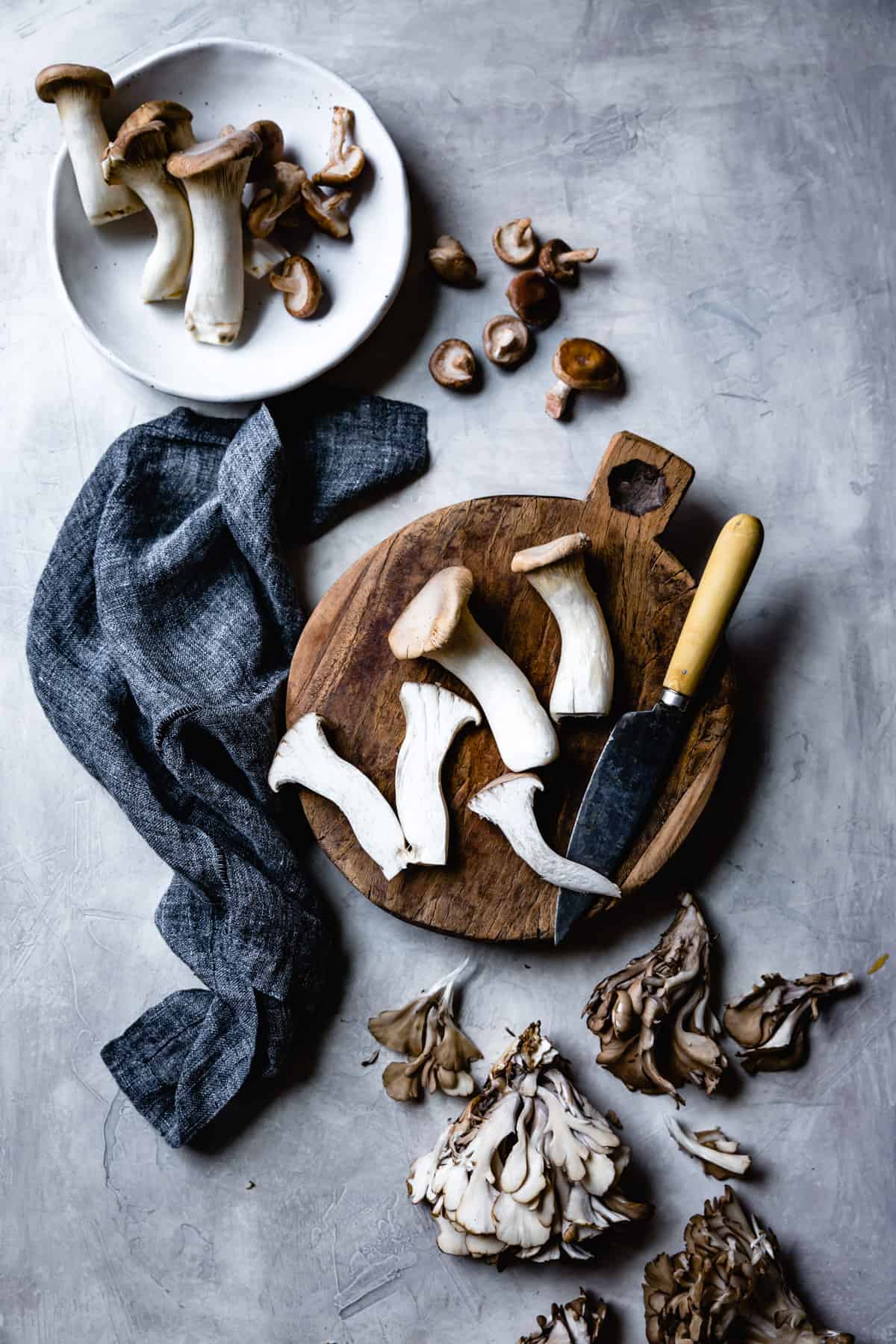 Vegetarian Shrimp and Grits = Shrooms and Grits!
The original NYT recipe gets 5 stars with 250 reviews for a good reason. The grits portion is dead simple to make and turns out creamy dreamy grits that you'll want to eat with a shovel. The shrimp portion comes together beautifully, shrimp suspended in a perfectly flavorful, silky sauce. The two together are simply sublime.
Aside from increasing the grits portion and ditching the shrimp in favor of seared mushrooms, I changed very little about the recipe. Cornstarch stands in for the wheat flour, and a smaller amount of Worcestershire was needed thanks to the already umami mushrooms.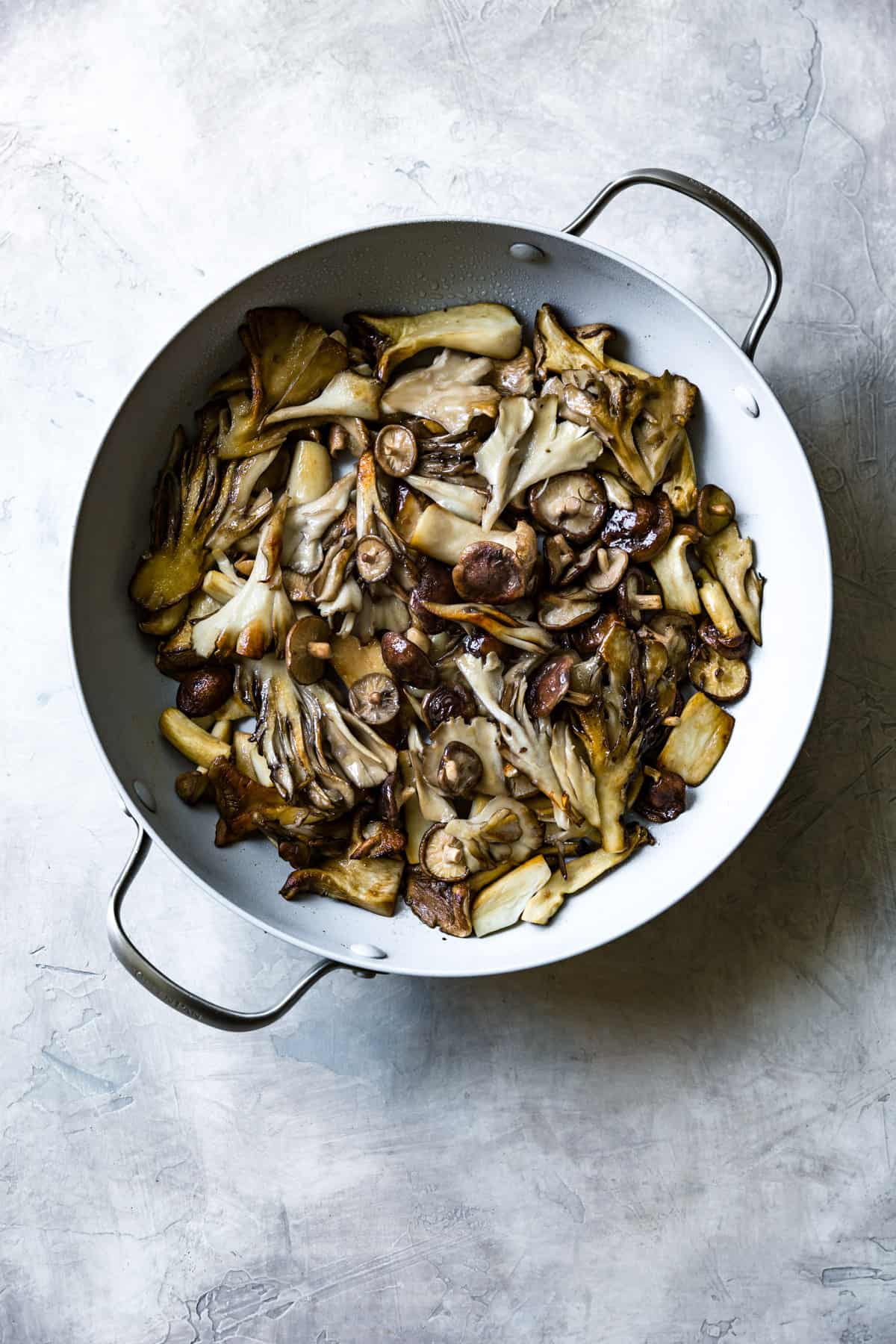 Maitake, Shiitake, and King Oyster Mushrooms
I've been trying to eat more mushrooms lately because they're such a good source of protein and minerals like iron and calcium. These can be hard to get enough of as a vegetarian, which is probably why I frequently crave mushrooms.
Exotic mushroom varieties are becoming more widely available. I've come to especially love maitake mushrooms (aka hen of the woods mushrooms) for their feathery nook-and-cranny texture, king oyster mushrooms for their clean flavor, and I've always preferred shiitakes to their spongier cousins button and cremini. Here, the succulent slices get seared in butter, then cooked in a creamy tomato sauce loaded with flavor from sauteed onions, peppers, garlic, a splash of Worcestershire and a dash of Tabasco.
Lately I've been working with a lovely food styling assistant – Bebe of Champagne and Cookies. Blogging can be lonely work, so I cherish the days we get to chat and tell bad jokes while preparing cookies, cakes, and pasta for their close-ups. After making this recipe, Bebe took a bite and exclaimed, "Why even bother eating meat?!" This was one of my proudest moments.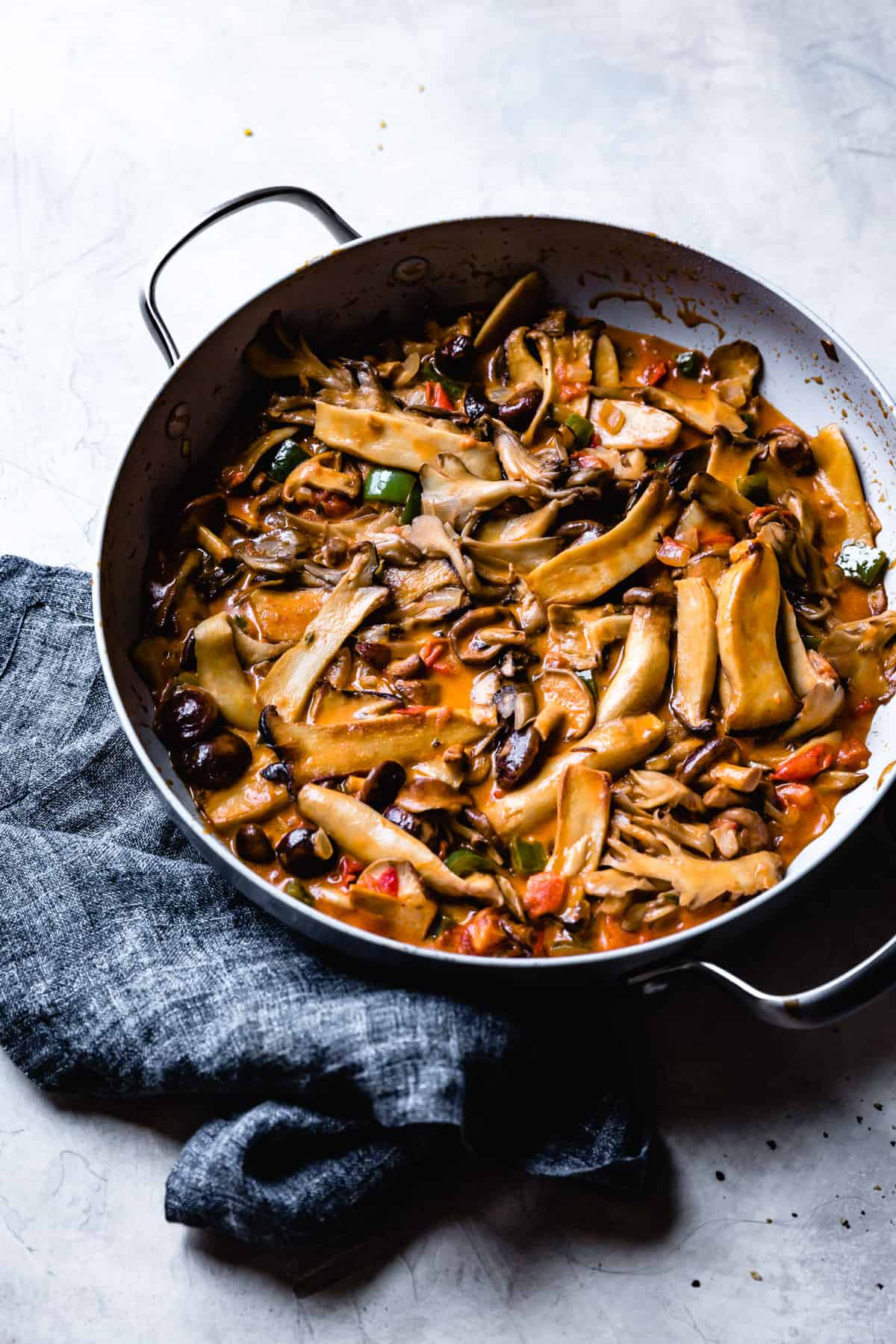 How to Make Grits
Start by bringing a pot of water to a boil. You'll need a ratio of 3 or 4 parts water to 1 part grits. Stir in the grits, reduce the heat to low, and cover the pot. This allows the grits to cook slowly, absorbing the water, with little stirring required. When the grits have softened and thickened to a creamy mass, stir in an unconscionable amount of cheese and butter, and salt to taste.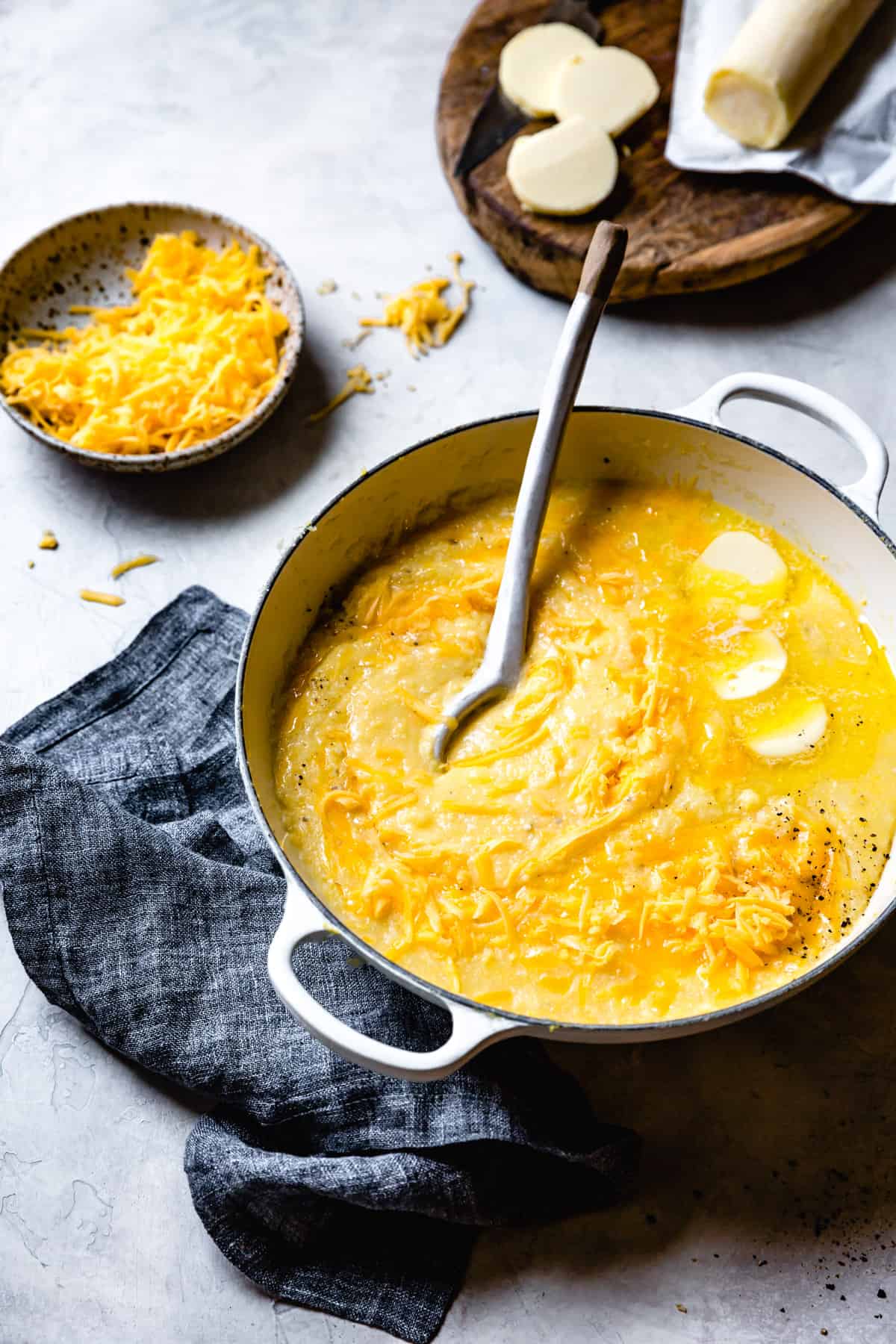 Polenta vs Grits
Grits and polenta are sometimes labeled as the same thing, and both will work in this recipe. Technically, grits produced in the Southern US are made from a type of corn called dent corn which tends to cook up soft and creamy. Polenta from Italy comes from a different type of corn – flint corn – which holds its shape more. Here I used Bob's Red Mill Gluten Free Corn Grits aka Polenta. So whatever type of coarse cornmeal-like substance you start will, these grits will taste completely amazing.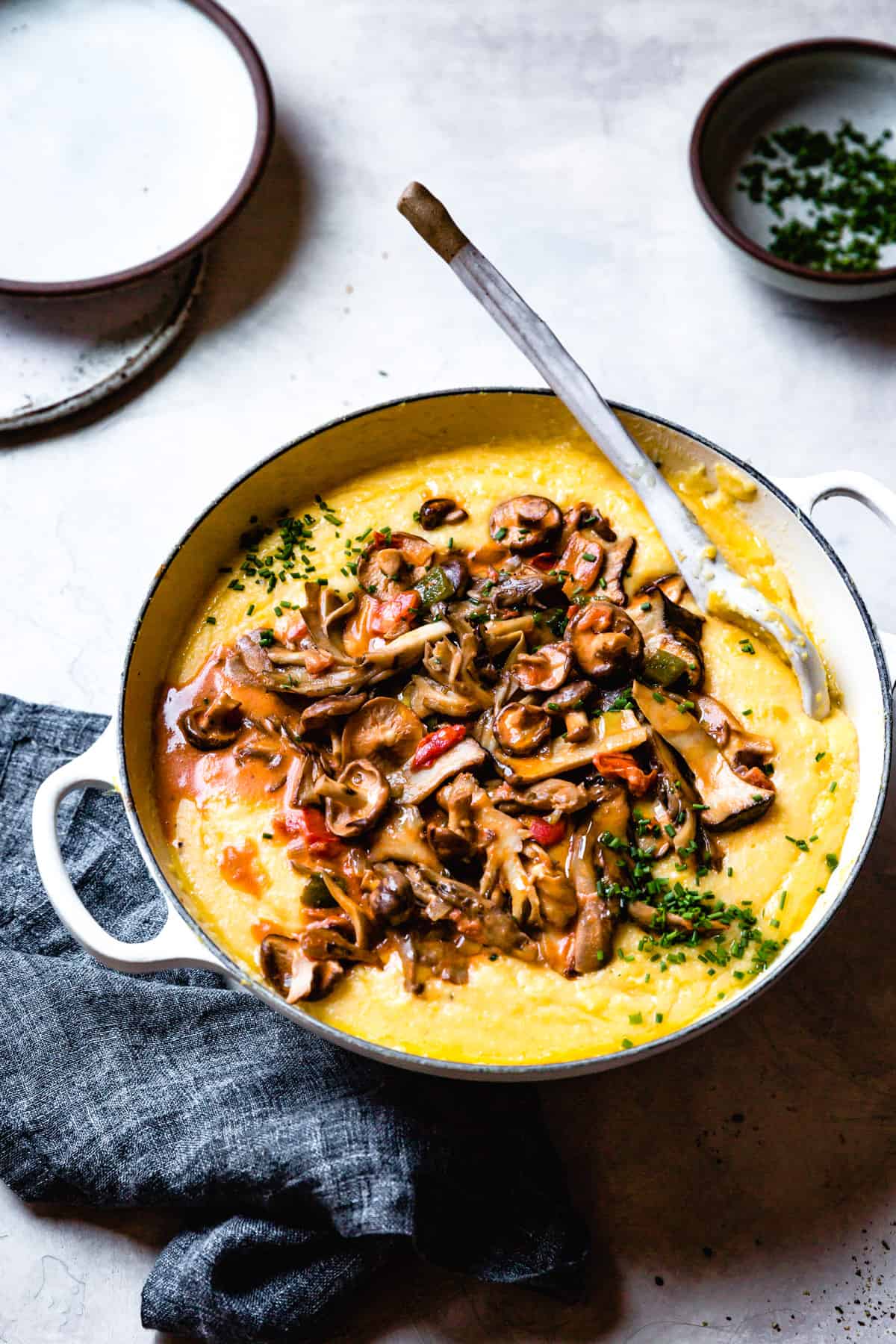 Are Grits Gluten-Free?
Grits are made from corn, which is free of gluten. But some grits are processed on machinery that also processes wheat and can be contaminated with gluten. If you're highly sensitive to gluten, seek out grits that are certified gluten free.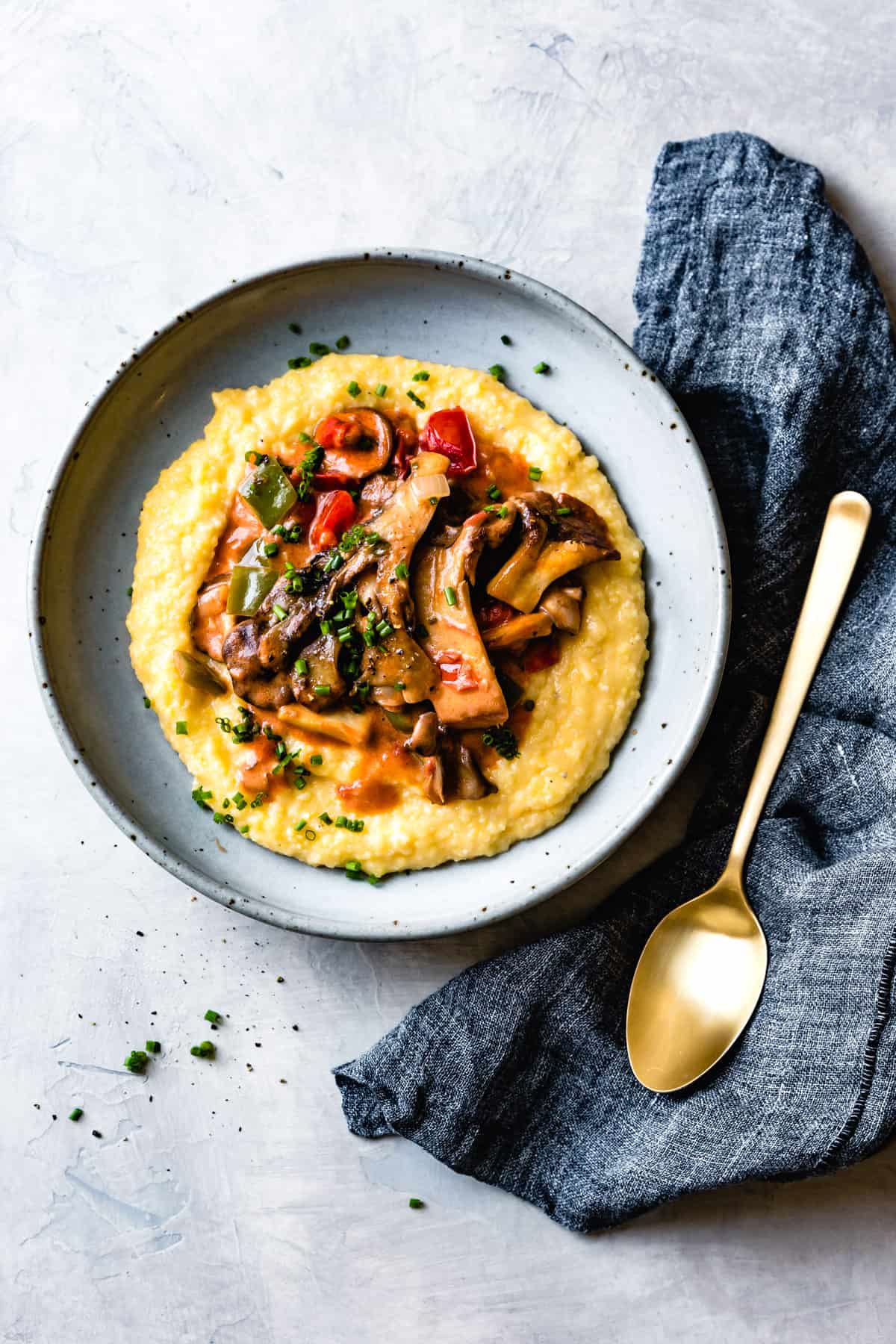 Grits All Day
These creamy corn grits and buttery mushrooms border on the very decadent, so feel free to reduce the butter and cheese in the grits portion if you like. Or try using vegan butter, non-dairy cheese, and coconut cream in place of their dairy counterparts for a vegan variation. Eat a bowl of creamy cheese grits for breakfast topped with a poached egg, or make them a more balanced meal by adding some wilted spinach or other greens to the top.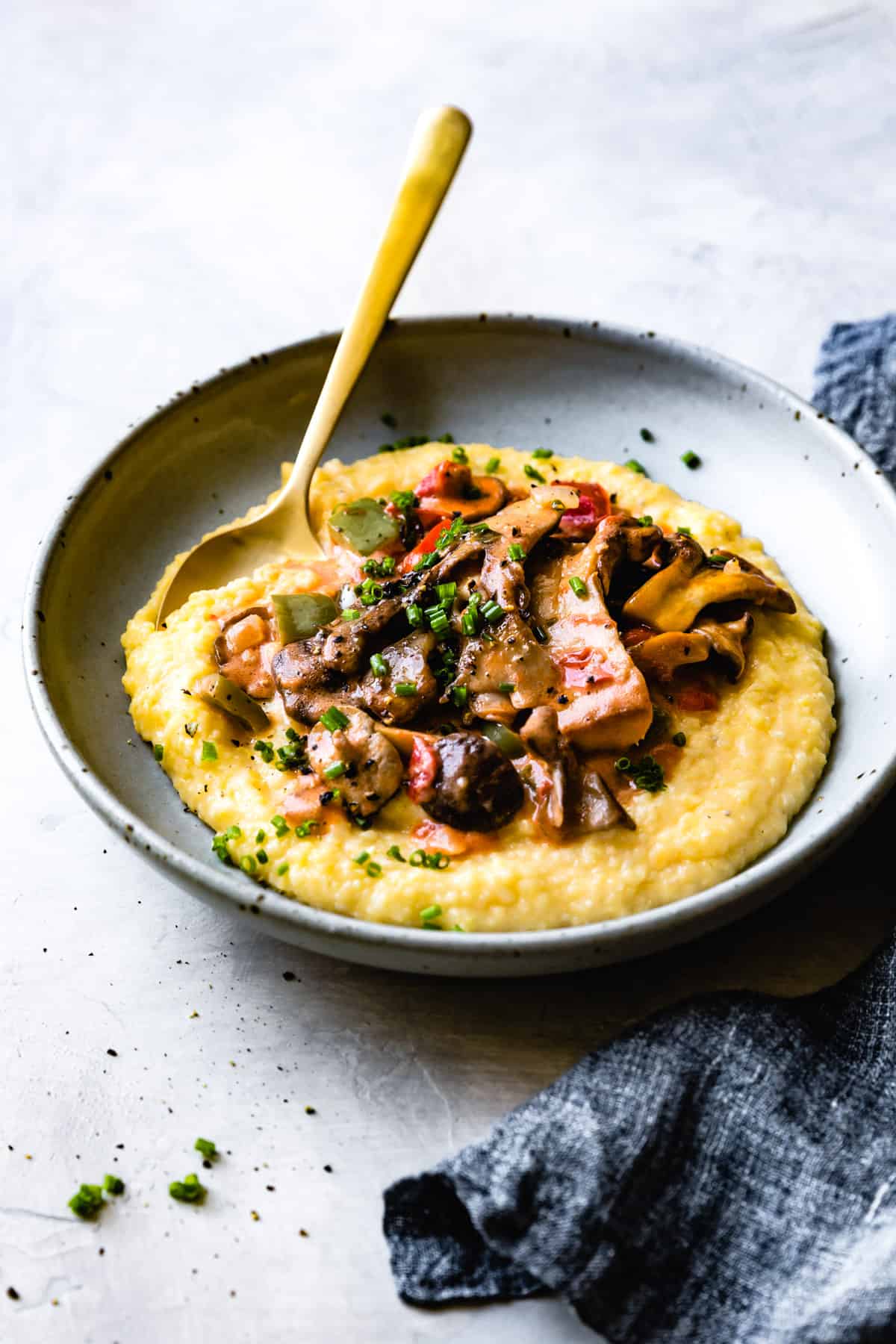 Looking for more ways to cook mushrooms? Try these recipes:
*Bojon appétit! For more Bojon Gourmet in your life, follow along on Instagram,  Facebook, or Pinterest, purchase my gluten-free cookbook Alternative Baker, or subscribe to receive new posts via email. And if you make these Creamy Cheese Grits and Mushrooms, I'd love to see. Tag your Instagram snaps  @The_Bojon_Gourmet  and  #bojongourmet.*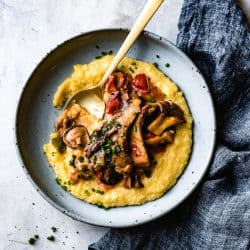 Creamy Cheese Grits and Mushrooms
Print Recipe
Pin Recipe
A vegetarian version of shrimp and grits made with big slices of meaty mushrooms. This dish verges on the decadent side with an abundance of butter, cheese, and cream.
Ingredients
Grits:
7

cups

(1.65 liters) water

1 ½

cups

(250 grams) corn grits or polenta

½

teaspoon

fine sea salt

8-12

ounces

(225 - 340 g) sharp yellow cheddar cheese, shredded (use as much as you like the taste of)

3-6

tablespoons

(42 - 85 g) unsalted butter
Mushrooms:
1 ½

pounds

(680 g) mushrooms (I like a mix of Maitake, King Oyster, and Shiitake), cut into large chunks or slices

4

tablespoons

(56 g) unsalted butter, divided use

1/2

large yellow onion, diced

1/2

large bell pepper, seeded and diced

2

cloves

garlic, minced

1

cup

diced ripe tomatoes and their juices

½

teaspoon

dried thyme (or 1 teaspoon fresh)

2

teaspoons

cornstarch

½ to 1

cup

(120-245 ml) vegetable stock

1

tablespoon

tomato paste

⅓

cup

(80 ml) heavy cream

1

teaspoon

Worcestershire sauce, tamari, or amino acids

2

dashes Tabasco (or more, to taste)

Salt to taste

Snipped chives or chopped parsley, for garnish
Instructions
Grits:
In a large pot or dutch oven, bring the water to a boil. Stir in the grits. Reduce the heat to low, cover the pot, and cook let cook, stirring occasionally to prevent the grits from sticking to the bottom of the pot. Cook until the grits are tender and the liquid has been absorbed, 20-30 minutes. Remove from the heat, add the salt, cheese, and butter and stir until melted. Cover and keep warm.
Mushrooms:
Melt 1 tablespoon of the butter in a large skillet or braising pan over medium heat. Add half of the mushrooms and cook for 5 minutes or until golden on the bottom. Flip the mushrooms over and brown on the second side, about 5 minutes more. Remove the mushrooms to a large plate. Add another tablespoon of butter to the pan and repeat with the remaining mushrooms.

Melt the remaining 2 tablespoons butter in the now empty pan over medium heat and add the onion, bell pepper, and garlic. Cook, stirring occasionally, until softened, 3-5 minutes. Add the seared mushrooms and any juices that have accumulated. Add the tomatoes, their juices, and the thyme and bring to a simmer.

In a small cup, stir together the cornstarch and 1 or 2 tablespoons of cool water to make a slurry. Add this to the pot along with 1/2 cup vegetable stock. Cook for 2 or 3 minutes more. Add the tomato paste and stir until blended. Stir in the cream, Worcestershire, Tabasco, and more stock if needed to make a spoonable sauce that generously coats the mushrooms. Heat thoroughly, being careful not to let it come to a boil. Taste, adding salt if you like.

Serve the grits in shallow bowls topped with the mushrooms, sauce, and a sprinkle of chives.
Notes
I've updated the recipe with a range for the cheese and butter in the grits. Use the maximum amount for the authentically decadent version, or the lesser amount for a lighter dish.
Sometimes I add wilted spinach or other greens or a poached egg to up the nutritional value too.
Adapted from The New York Times Shrimp and Grits.
Nutritional values are based on one of six servings.
Nutrition
Calories:
509
kcal
Carbohydrates:
41
g
Protein:
17
g
Fat:
32
g
Saturated Fat:
20
g
Cholesterol:
93
mg
Sodium:
738
mg
Potassium:
590
mg
Fiber:
3
g
Sugar:
5
g
Vitamin A:
1785
IU
Vitamin C:
20.8
mg
Calcium:
304
mg
Iron:
1.6
mg
More Hearty GF Vegetarian Dishes: