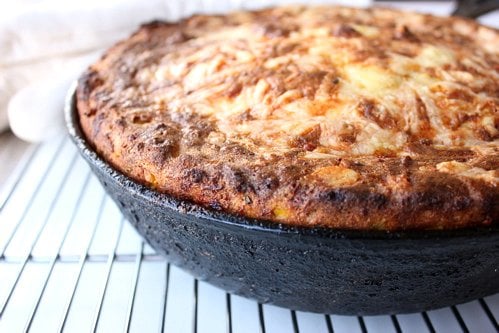 Spoonbread, where have you been all my life?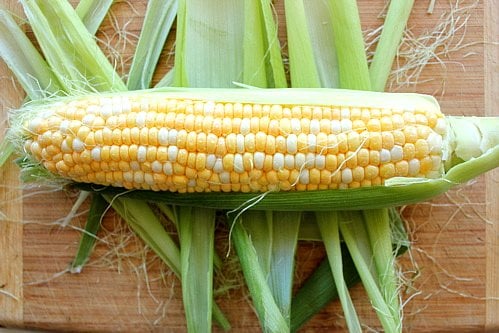 All those times when I wanted a quiche but was too lazy to make a crust, I could have had you. All those brunches with gluten-intolerant company when I laboriously stirred polenta for hours, I could have baked you in the oven. All those summers when I wanted to gussy up corn kernels into a substantial, one-dish meal, I could have suspended them in your cheesy batter.
Indeed, spoonbread is pretty much the answer to everything. Too much sweet corn? Spoonbread. Got a problem with dry cornbread? Spoonbread. Vegetarian, gluten-intolerant guests? Breakfast, lunch or dinner? Spoonbread.
Yes, but what is spoonbread? you may ask. Spoonbread is magic. It's like a cheese souffle meets cornbread meets quiche. Fresh from the oven, you can scoop out servings with a spoon. When cooled, it settles into sliceable wedges.
Spoonbread can be sweet or savory. It can be enjoyed with honey and berries for breakfast or dessert, or (in this case) packed with chives, chiles and cheddar cheese for a savory brunch or supper. This version is adapted from The Enchanted Broccoli Forest, by the mama of vegetarian cooking, Molly Katzen. Every recipe in there is a gem. If you are a hippy, foodie, vegetarian, or lover of cookbooks, you should own this book. Though the base recipe is flawless, I added chives and minced jalapeño for kicks, and increased the cheese a bit, because even with 3 cups of sharp cheddar, this spoonbread still manages to taste light, in a rich sort of way, if that makes any sense. The original recipe says that the egg yolks are optional, which is convenient for avid custard makers who might have extra whites lying around after making, say, a batch of mint chip ice cream.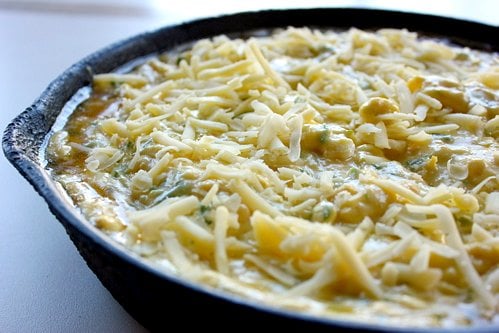 Spoonbread is quick and easy to throw together. Heat the milk, add it to the cornmeal, stir in the flavorings and egg yolks, whip the whites and fold them in, pour the whole thing into a hot skillet and bake. The spoonbread puffs into a sturdier and less snooty souffle of sorts, with a craggy top and crispy edges. Corn kernels burst in your mouth, tasting like sweet sunshine.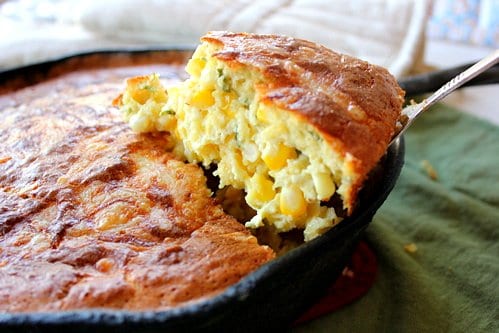 I hope you fall for spoonbread the way we have. Just don't try to physically spoon it; that would be messy.
Corn, sweet and savory:
Corn and Scallion Griddle Cakes
Sweet Corn and Roasted Poblano Chowder
Sweet Corn Grits with Berries and Honey
Sweet Corn Cheddar Spoonbread
Adapted from The Enchanted Broccoli Forest
As I mentioned above, the egg yolks in this recipe are optional – use as few or as many as you like. I've made this with both two and six yolks, and the spoonbreads weren't noticeably different. Other additions that might be tasty are chopped, roasted green chiles, scallions, crispy bits of bacon (omit the butter and use bacon fat to grease the pan), shredded zucchini, or different herbs, such as basil, marjoram, thyme or sage. Many cheeses pair well with corn; you could add or substitute smoked cheddar, goat gouda, gruyere or parmesan, just to name a few. Jalapeños vary in strength, so give yours a tiny lick to determine how much you wish to use. This batter just fit in my 10″ cast iron skillet with 2″ high sides; alternately, use any baking dish with a 2-quart or greater capacity.
Makes 8 servings
3 large ears of corn, shucked
2 cups milk
1 1/2 cups yellow cornmeal
3/4 teaspoon salt
1 bunch chives, snipped into 1/4″ bits
12 ounces sharp cheddar, grated (about 3 cups packed), 1/2 cup reserved for sprinkling on top
1/2 – 1 jalapeño, seeded and minced (optional)
6 large eggs, separated (see headnote)
2 tablespoons butter
Position a rack in the lower third of the oven and preheat to 400ºF.
Stand an ear of corn in a wide, shallow bowl, and use a sharp knife to cut off the kernels. Reverse your knife and scrape the juices from cob into the bowl. Repeat with the remaining cobs and set aside.
Heat the milk in a small saucepan over a medium flame until it comes to a rolling simmer, stirring occasionally to prevent it from burning on the bottom or boiling over. Place the cornmeal and salt in a large bowl. When the milk is near boiling, gradually whisk it into the cornmeal (which will thicken and clump and become difficult to whisk, so you may need to switch to a spoon). Stir in the corn kernels, then the chives, 2 1/2 cups of the cheese, the jalapeño, and (optional) egg yolks.
Place the butter in a 10″ oven-proof skillet (see headnote) and place in the oven to melt. When melted, brush the butter up the sides of the pan.
In a spanking clean, dry bowl (or the bowl of a stand mixer), whip the egg whites until they hold soft peaks. Quickly stir 1/3 of the whites into the batter to lighten it, then quickly but gently fold the rest of the whipped whites into the batter until no white streaks remain.
Scrape the batter into the hot, buttered pan, sprinkle with the remaining 1/2 cup of cheese, and place in the oven. Bake for 35-45 minutes, until the spoonbread is puffed, deeply golden, and set when you give it a wiggle.
Serve immediately with a spoon, or let it settle a bit for cleaner slices. The spoonbread keeps beautifully, refrigerated, for up to a few days. Reheat in an oven or toaster oven.