While working as a barista at Farley's, I noticed a curious cookie begin to turn up in our morning pastry boxes. They were called ANZACs. Nobody understood the name of these cookies, but we did get that they were curiously tasty, packed with oats and shredded coconut. I recall them being soft and chewy, mild in flavor, and pale golden in color.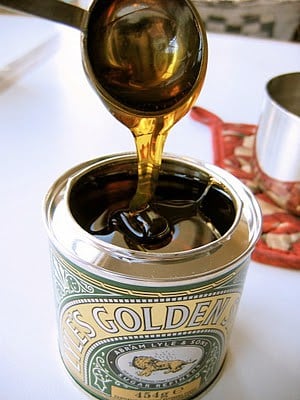 When someone penciled in "Australian New Zealand Army Corps" on their display label, I thought it a Farley's barista prank, like the time one worker wrote "Goetse Danish" on the Cherry Danish label, and snickered when an elderly female customer unwittingly ordered one.

One day a British customer enlightened me: ANZAC really was an acronym for the above, and they were called biscuits rather than cookies, in the British sense of the word, meaning not the fluffy quickbread with which we Americans are familiar, but any small, sweet cookie.

Since I remembered liking the Anzacs at Farley's, I decided to try a recipe I came across in Mani Niall's Sweet!, a book that deliciously explores all manner of sweeteners. The recipe for Anzacs is legally protected by the Australian and New Zealand governments, and Aussies and Kiwis alike seem to go up in arms (hopefully not literally) when their national recipe is tampered with, or when the biscuits are called 'cookies' (by pesky Americans, no doubt).

I did make three teeny, tiny changes to the recipe, though, which I pray will not arouse the wrath of anyone down-under (I hear they can be pretty feisty): I decreased the sugar just a bit, subbed some whole spelt flour for the all-purpose, and added a touch of salt. I kind of have a thing for salt in my cookies, and I'm confidant that the addition caused the biscuits to taste extra-addictive. In fact, Jay dubbed these "ANZ-Cracks."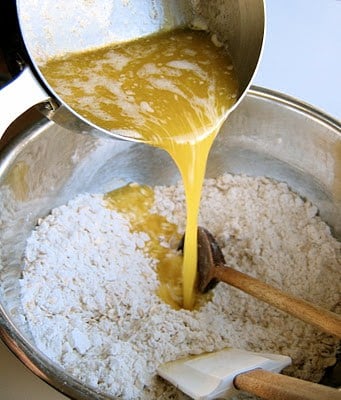 So I mixed up the dough, which happily requires merely melting the butter and syrup together, dissolving the baking soda in a bit of boiling water, and stirring everything up in a big bowl. The cookies get scooped into balls, then flattened into discs and baked. Unlike the Anzacs from Farley's (which I suspect did not contain golden syrup), these biscuits baked up deeply orange-brown, and firmed up to a candy-like crispness when cool. The oats and coconut give the cookies a lightness that reminds me of a cross between the wheaty digestive biscuits I enjoyed in England and a crisp granola bar, only more dessert-like than either.

Purportedly, Anzacs were created for Australian and New Zealand soldiers during the first world war, and their ingredients kept them fresh for long periods of time. Unlike other drop cookies, Anzacs contain no eggs, as there was a shortage of poultry farmers during that time. Another characteristic that sets Anzacs apart is the addition of golden syrup, which caramelizes in the oven, turning the cookies a deep orange-brown. Golden syrup is becoming increasingly easy to find in the states, but you can order it if you need an authentic Anzac fix.

I had never tasted golden syrup on its own before, but I found some at Rainbow recently and snapped it up. A thick sweetener made from boiling cane sugar down until it turns golden and takes on a toffee-like flavor, it has the smooth, mildness of corn syrup, minus the scariness. I'm itching to find out what else I can use it in – ice cream? Pecan pie? Treacle Tart?

(If you have any ideas, let me know.)
Cookie monsters:
Maple Bacon Sugar Cookies
Nibby Chocolate Chip Oatmeal Cookies
Nibby Matcha Wafers
One year ago:
Two years ago:
Anzac Biscuits
Adapted fromSweet!
Makes about 2 dozen 3″ cookies
These cookies bake longer than regular drop cookies; when ready, they will turn an orangey-brown all over, and, when cooled, should firm up to a crisp and crunchy texture. Lyle's Golden Syrup gives these cookies their characteristic color and flavor; I have yet to hear of an adequate substitute.
1/2 cup (2 1/2 ounces) all-purpose flour
1/2 cup (2 1/2 ounces) whole spelt (or whole wheat pastry) flour
1 cup (3 3/4 ounces) old-fashioned rolled oats
1 cup unsweetened shredded coconut
1/2 cup plus 2 tablespoons (4 3/4 ounces) sugar
1/2 teaspoon sea salt
4 ounces (8 tablespoons/1 stick) unsalted butter, in 6 pieces
2 tablespoons Lyle's golden syrup
1 teaspoon baking soda
2 tablespoons boiling water
a few pinches of flaky salt, such as maldon
Position a rack in the upper third of your oven and preheat to 350º. Line 2 baking sheets with parchment paper.
In a large bowl, whisk together the flours, oats, coconut, sugar and salt.
Melt the butter and golden syrup together in a small saucepan, stirring occasionally.
Place the baking soda in a small bowl and stir in the boiling water. Stir the baking soda mixture into the butter mixture, then stir the butter mixture into the flour mixture to combine. You will have a fairly firm dough.
Scoop the dough into walnut-sized balls (about 1 inch in diameter; I use a #40 spring-loaded ice cream scoop with the purple handle) and place them 3-4 inches apart on the baking sheet – you will only be able to fit 8 on each sheet. Use your palm to flatten the cookies to 2″ discs. Sprinkle a tiny pinch of flaky salt over each cookie before baking.
Bake the cookies until they turn an orangey-golden-brown all over, 12-15 minutes, rotating once during the baking time. Use a thin, metal spatula to remove the cookies to racks to cool. The cookies will be firm-soft when warm, but should crisp up when cool. (I like them best crunchy and caramelized.)
Repeat with the remaining dough and cookies.
ANZACs keep well for up to several weeks, stored in an airtight container at room temperature.