These buttery Irish soda scones are filled with American-style Irish soda bread flavors: brown sugar, caraway, currants, and walnuts.
See the recipe notes for a gluten-free option!

Top o' the mornin' to ya!

Despite what my first name may suggest, I'm not Irish. Despite my last name, I'm not English either (though I often wish I were). And despite my Anglophilia, I remain a Jewish, Eastern European mutt (though not a very good one).
My parents went to Ireland before I was born, and there my mom learned the Gaelic word for 'beautiful,' or 'my love,' pronounced something like 'Aulin.' My dad wanted to name me Ariana, but after my mom's umpteenth hour in labor, he gave in and let her have her way. (Smart move, dad!)

Still, my lack of Irish heritage didn't stop me from speaking in a fake brogue for months after seeing The Secret of Roan Inish, which drove my parents crazy. Well, it drove my dad crazy. My mom fecked and top o' the mornin'ed right along to beat the Uilleann pipe band.
So I guess you could call me 'Oyrish.' (If you had a really atrocious sense of humor, that is.)

Being merely 'Oyrish,' I know about as much as St. Paddy as I do about P Diddy: that is, not a whole lot. I do know a lot about scones, however, and a even a little about the Irish soda bread we make here in the US, which is about as 'Irish' as I am. That is to say, not a whole lot.

Here in the US, we think of Irish soda bread as a sweet, scone-like thing full of dried fruit, nuts, and caraway seeds. Genuine soda bread is actually much more plain-Jane (or plain-Sinead, as it were), containing merely flour, salt, baking soda and buttermilk; an everyday bread you might enjoy with a bowl of soup, some sharp cheese, or a pint. I'm not sure where the raisin/caraway thing came from. I could probably find out on this here internet thingy, but I have buckwheat chocolate chip cookies to pig outwork on, so I'll leave it up to the curious. (But please do chime in if you're more knowledgeable than I!)

Scones, on the other hand, are loaded with butter, lightly sweetened, and often contain currants and/or nuts. They make a tasty breakfast with a spot of clotted cream and honey, and of course, a cup of English (or Irish) breakfast tea.

This 'Irish soda scone' recipe comes from one of my favorite baking books, Once Upon a Tart. Created by a Frenchman and an Italian-American at a bakery in New York, these scones are anything but authentic. But what they lack in authenticity, they make up for in deliciousness.

I plumped the currants in a glug of whiskey (also not of the Irish variety), and swapped out some of the white flour for whole spelt. I also used some heavy cream that was just starting to sour for half of the buttermilk (a tip from Jay's mom and a great thing to know - slightly sour cream or milk can be baked into scones or cakes with delectable results). Packed with good-for-you walnuts, a touch of caraway seed, and sweet currants, these scones make a satisfying breakfast. They keep well for several days, toasting up with crispy bottoms and moist middles.

They may not be authentic, but they certainly beat the feck out of green beer.

If you're in need of gluten-free Irish soda scones, make a double batch of my gluten-free scone recipe, using brown sugar instead of white and buttermilk instead of cream, and adding the mix-ins here.
More Irish-Inspired Recipes
More Scone Recipes
*Bojon appétit! For more Bojon Gourmet in your life, follow along on Instagram, Facebook, or Pinterest, purchase my gluten-free cookbook Alternative Baker, or subscribe to receive new posts via email. And if you make this Irish soda scone recipe, I'd love to know. Leave a comment and rating below, and tag your Instagram snaps @The_Bojon_Gourmet and #bojongourmet.*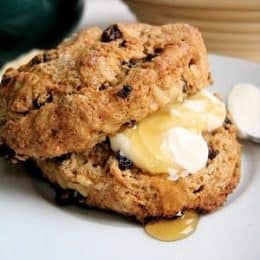 Irish Soda Scones
Print Recipe
Pin Recipe
Flaky, buttery scones filled with American-style Irish soda bread flavors: caraway, brown sugar, currants, and walnuts.
Servings:
15
breakfast-sized scones.
Ingredients
1

cup

currants, raisins, golden raisins

(or a combination)

2-4

tablespoons

whiskey

(Irish, or whatever you've got)

1

cup

walnuts, toasted, skins rubbed off, cooled and coarsely broken up or chopped

2

cups

all-purpose flour

2

cups

whole spelt (or whole wheat pastry) flour

1/2

cup

packed brown sugar

(I used light, but dark would work if that's what you have)

1

tablespoon

baking powder

1

teaspoon

baking soda

1

teaspoon

salt

6

ounces

cold, unsalted butter, in 1/4" dice

(1 1/2 sticks, 12 tablespoons)

2

tablespoons

caraway seeds

2

large, cold eggs

1

cup

cold buttermilk, with the slight chance of needing a bit extra (see headnote)
Instructions
Position two racks in the upper and lower thirds of the oven and preheat to 425ºF. Line two baking sheets with parchment paper.

Place the currants in a small bowl and sprinkle over 2 tablespoons of the whiskey. Let sit, tossing occasionally, while you get on with the rest of the recipe, adding more whiskey if the currants drink it up.

In a large bowl (or in the bowl of a stand mixer fitted with the paddle attachment, or in the bowl of a food processor) combine the flours, sugar, baking powder, baking soda and salt. Add in the butter and rub with you fingers or a pastry blender (or mix on low or pulse) until the mixture resembles a coarse meal with some pea-sized butter bits remaining. (The more butter bits you have, the more craggy and flaky the scones will be; the more homogeneous the mixture, the more refined the scones will look and feel. I like them somewhere in the middle.)

Drain the currants of any excess whiskey, and stir into the butter/flour mixture along with the walnuts and caraway seed. (If you used a food processor, dump the mixture out into a large bowl first. If you used a stand mixer, you can either dump the mixture into a large bowl, or proceed in the mixer.) Whisk together the eggs and buttermilk and drizzle over the flour mixture, stirring and working with a wooden spoon just until the mixture clumps together and no floury bits remain. The dough should be fairly stiff and dry, and at some point, you may decide that your hands are the best tool to use for this. If you still have floury bits left at the bottom of the bowl, drizzle a little more buttermilk right onto the floury bits to moisten everything evenly.

Turn the dough out onto a surface dusted very lightly with flour and use lightly floured hands to pat into an even round that is 1" tall (hint: the center will want to be taller than the sides, so pat this down extra). Use a 2 1/2" round pastry cutter (fluted or not) or a glass to cut out circles close together. You may need to dip the tip of the cutter in a bit of flour if it sticks. Place the rounds on the parchmented pans, spacing them 3" apart. When you've cut out as many rounds as possible, gently squish the scraps together, pat out into another circle, and repeat. Keep doing this until you've used up all the dough, trying to work it as little as possible.

Bake the scones, rotating front to back and top to bottom halfway through baking, until golden on the tops and bottoms and a toothpick inserted into the center of one comes out clean, about 20 minutes. (If the bottoms of the scones on the lower rack are over-browning, place a second baking pan underneath them.) Remove the pans from the oven and let the scones cool on the pans.

Serve the scones warm from the oven, or re-heated in a 350º oven or toaster oven for five minutes or so. Store extras in an airtight container at room temperature for up to 4 days, or double-bagged in the freezer for a month or so.
Notes
Adapted from Once Upon a Tart.
The dough for these scones is on the dry side, thus they hold a nice, straight-sided shaped when baked, like traditional English scones. The trick to flaky, delicate scones is similar to that of pie dough: work quickly as soon as the butter is out of the fridge, keep the butter and the other ingredients cold, and work the dough as little as possible.
These scones are not overly sweet, and they make a nice foil for some clotted cream or crème fraîche and a drizzle of honey, jam or marmalade.
I realize that there are caraway haters out there, and if you are one of them, I won't judge you too much if you decide to omit the seeds; the scones will still be hearty and full-flavored. But know that the small quantity imparts a subtle taste that most people won't readily recognize (and one that I happen to adore).
Though the original recipe calls for buttermilk, I used 1/2 cup of heavy cream that had just begun to turn sour mixed with 1/2 cup of buttermilk. Scones can be made with whole milk, half and half, plain yogurt, crème fraîche, or any combination thereof, so feel free to experiment based on what you have handy. The richer the dairy, the more moist and tender your scones will be, though the amount it takes to moisten the dough may vary.
This makes a rather large batch of scones, so feel free to halve the recipe. Do bear in mind that the scones not only make excellent gifts for a neighbor or yoga teacher, but they also keep well, sealed, at room temperature for several days, or double-bagged and frozen for a month or so; re-heat in a 350º oven until warmed through for freshly-baked flavor.
For gluten-free Irish soda scones, make a double batch of my gluten-free scone recipe, using brown sugar instead of white and buttermilk instead of cream, and adding the mix-ins here.
Nutritional values are based on one of fifteen scones.
Nutrition
Calories:
340
kcal
Carbohydrates:
41
g
Protein:
6
g
Fat:
16
g
Saturated Fat:
6
g
Cholesterol:
47
mg
Sodium:
261
mg
Potassium:
265
mg
Fiber:
4
g
Sugar:
8
g
Vitamin A:
340
IU
Vitamin C:
0.8
mg
Calcium:
84
mg
Iron:
2.4
mg