This stone fruit cucumber salad combines creamy ricotta salata and tart purslane with sweet peaches, juicy plums, crispy cucumbers, and a tangy-sweet vinaigrette.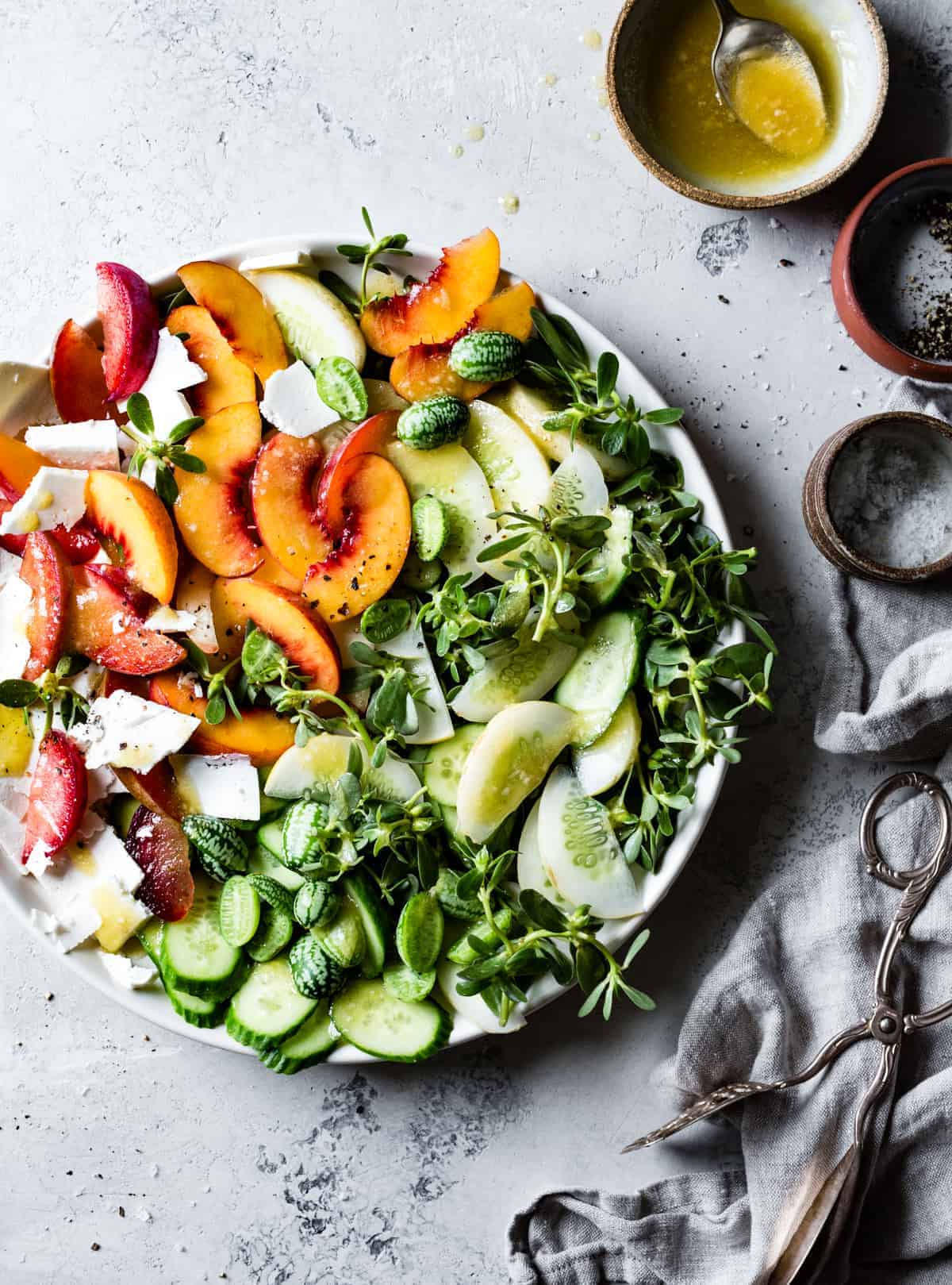 When someone asks me for a San Francisco restaurant recommendation, the first name on my lips is Piccino, an Italian-inspired farm-to-table spot in my next door neighborhood the Dogpatch. The Dogpatch is named for a small park where locals like to walk their canines, and it sits between the bay and Potrero Hill. The neighborhood houses a host of creatives, from food photographers to chocolatiers, communal kitchens, and other local makers. Piccino was one of the first upscale businesses to open up about 10 years ago, along with Yield wine bar (another favorite spot) and now the neighborhood is one of my favorite foodie haunts.
But Piccino is always where we end up for an impromptu dinner, a lunchtime birthday celebration, or for a meal with out-of-town guests. Piccino has the excellent food you'd find at a Mission restaurant but without any of the attitude. You can usually get a reservation within a week of your meal, and two people can often sneak seats at the bar overlooking the open kitchen day-of. Most of the servers have been there for years, including my friend of Zack who I know from elementary school in SoCal. Zack commutes from Alameda but says the community there is too fierce to give up. It's indeed a special place.
Jay and I took our friend Mia to dinner there the other night after an afternoon nerding out on art (or as much as I could remember from my art history days at UCSC) at the Museum of Craft and Design. Our server at Piccino seemed especially attentive, smiling a lot, asking us whether we were celebrating a special occasion, bringing out multiple types of wine to taste until we hit upon the perfect glasses. I spotted Zack across the restaurant and got up to give him a hug, and realized the reason for the exceptional service: Zack had stuck a post-it note to the computer on which was scrawled Table 12: Alanna Taylor-Tobin, Food Writer/Blogger – don't mess up or she'll write mean things about us!
I may never go to a different restaurant again.
The food was amazing as always. We started out with a trio of salads. One combined succulent cooked beets with horseradish crème fraiche, blackberries, and savory granola. Another was a sculpture of crudités – cucumber ribbons, pristine raw green beans, tender carrots, and translucent slivers of radish – with eggplant caponata and housemade seeded crackers. The third was the inspiration for this post.
Though I go gluten-free most of the time for the sake of happy digestion, I don't mind splurging on a little wheat at Piccino in order to sample their housemade pasta and pizza. That night there was eggplant pizza with stracchino, fontina, and oregano mint pesto; sweet corn ravioli with shishito peppers; and the most delicious rendition of puttanesca loaded with boquerones (ultra fresh, tender Spanish anchovies) as well as the usual olive/caper/red sauce suspects. For dessert we ordered big mugs of decaf coffee – it's my favorite anywhere, and the perfect finish to an evening meal.
After all the delicious food, the dish that stuck in my head the most was the stone fruit cucumber salad, which was tossed with purslane and ricotta salata. The fruit – a mix of peaches, plums, and pluots – was impeccably sweet and juicy. A few different varieties of cucumber added clean crunch and color, and the purslane stood up well, its mild flavor letting the stone fruit star. But it was the dressing that got me. It was intensely flavorful – tangy and sweet – and it coated the vegetables in a way that most clear vinaigrettes don't. We grilled our kind server about the invisible magic going on in there, and she divulged the secret: chickpea miso emulsified with golden balsamic and olive oil.
I was able to find all the ingredients for this stone fruit cucumber salad at Rainbow Grocery Co-op, which has the best produce in the city, including a mammoth bunch of locally-grown purslane. There was golden balsamic hiding in my cupboard from when Sarah and I made these garlic olive caprese skewers for Pearls Olives last fall. And the rest was cake. Or salad, as it were.
This is a summer dish for when peaches, plums, and cucumbers are at the height of deliciousness. Revel in as many varieties as you can find: pluots, apriums, peacotums, white nectarines, yellow peaches, plums of any and every color – all are welcome here. If you can find adorable cucamelons – tiny cucumbers that have the appearance of grape-sized watermelons – snap them up. Lemon cucumbers, Persian, Japanese, and Armenian varieties all work well. The purslane, which has a hint of lemon not unlike sour grass, makes a surprising addition, but I've also made this with arugula for a more peppery yet still delectable twist. Creamy ricotta salata tempers the tartness of the plums and purslane, but I bet fresh mozzarella or mild feta would work equally well. Or use a nut-based cheese for a vegan option.
This is a rare instance in which I'm happy to eat salad for lunch or dinner, preferably with a tumbler of rosé and a crust of Arise Bakery gluten-free baguette toasted with garlic oil . We've been making it on repeat and plan to stop only when the stone fruit dwindle in the next month or two. Then we'll have to switch to this cucumber melon caprese, another Piccino inspiration from the archives, for the remainder of this year's warm days.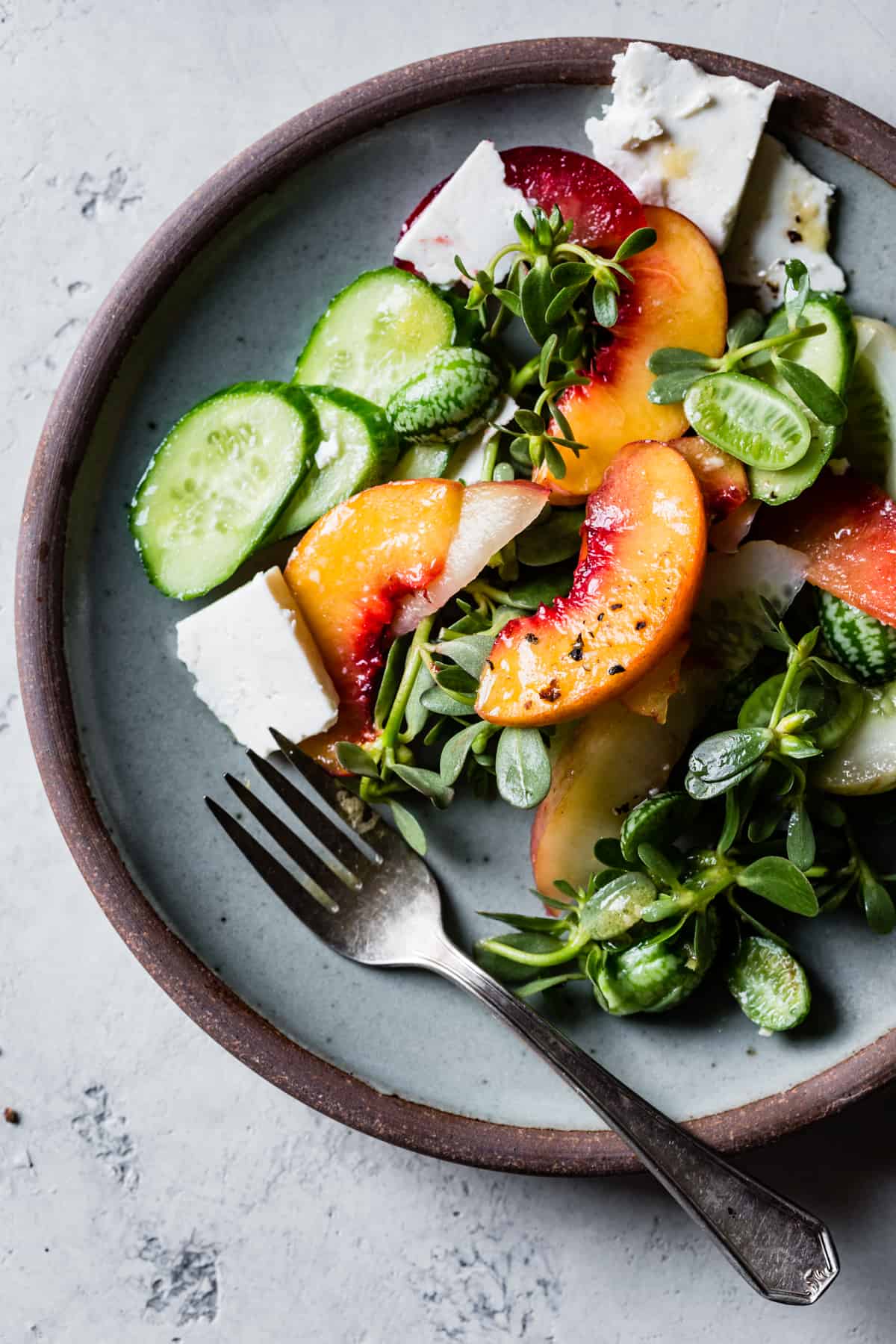 More Salad Recipes:
*Thanks for reading! For more Bojon Gourmet in your life, follow along on Instagram, Facebook, or Pinterest, purchase my gluten-free cookbook Alternative Baker, or subscribe to receive new posts via email. And if you make this cucumber salad, I'd love to see! Tag your Instagram snaps @The_Bojon_Gourmet and #bojongourmet.*
Stone Fruit Cucumber Salad with Ricotta Salata, Purslane, and Golden Balsamic Miso Vinaigrette
Print Recipe
Pin Recipe
This stone fruit cucumber salad combines creamy ricotta salata and tart purslane with sweet peaches, juicy plums, crispy cucumbers, and a tangy-sweet vinaigrette.
Servings:
2
large or 4 smaller servings
Ingredients
Vinaigrette:
1

teaspoon

light (white or yellow) miso

2

tablespoons

golden balsamic vinegar

1/8

teaspoon

fine sea salt

3

tablespoons

extra-virgin olive oil
Salad:
3

small cucumbers (lemon, Persian, a handful of tiny cucumelons, or a combination)

2

cups

lightly packed purslane (or arugula, mizuna, or other greens)

2

medium, firm-ripe peaches or nectarines, pitted and thinly sliced

2

medium, firm-ripe plums or pluots, pitted and thinly sliced

2

ounces

ricotta salata, thinly sliced

flaky salt

cracked black pepper
Instructions
Make the vinaigrette:
In a small jar with a tight-fitting lid, mash the miso with 1 tablespoon of the vinegar to make a smooth paste. Stir in the remaining tablespoon vinegar and the salt. Add the olive oil, place the lid tightly on the jar, and shake vigorously until combined; the miso will help the olive oil emulsify. Store at room temperature for up to 2 days.
Make the salad:
In a large bowl or platter, combine the cucumbers, greens, and stone fruit. Drizzle with a few tablespoons of the vinaigrette and toss gently (I prefer to use my hands so as not to damage the delicate fruit) to combine. Gently toss in the cheese and a few big pinches flaky salt and pepper. Taste for balance, adding more vinaigrette, salt, or pepper if you like. Serve right away or cover and chill for up to an hour or two.
Notes
This recipe was inspired by one I ate at Piccino restaurant in San Francisco.
Salads are quite forgiving, so feel free to switch up the ingredients or ratios here if you like. Fresh mozzarella or feta could stand in for the ricotta salata; figs, grapes, or melon could take the place of stonefruit as we transition into fall; arugula, mizuna, and endive work just as well as purslane.
If you don't have golden balsamic on hand, try apple cider or champagne vinegar mixed with a bit of honey.
Miso helps the dressing emulsify and adds a touch of umami, but when I'm in a hurry, I simply sprinkle on a bit of vinegar, oil, salt, and pepper to taste.
Nutritional values are based on one of two servings.
Nutrition
Calories:
362
kcal
Carbohydrates:
30
g
Protein:
7
g
Fat:
26
g
Saturated Fat:
5
g
Cholesterol:
14
mg
Sodium:
307
mg
Potassium:
634
mg
Fiber:
4
g
Sugar:
24
g
Vitamin A:
1405
IU
Vitamin C:
21.5
mg
Calcium:
113
mg
Iron:
1.4
mg