Italian salad meets Spanish soup in this icy caprese gazpacho filled with the flavors of balsamic vinegar, basil, fresh mozzarella, and loads of tomatoes. A naturally gluten-free recipe.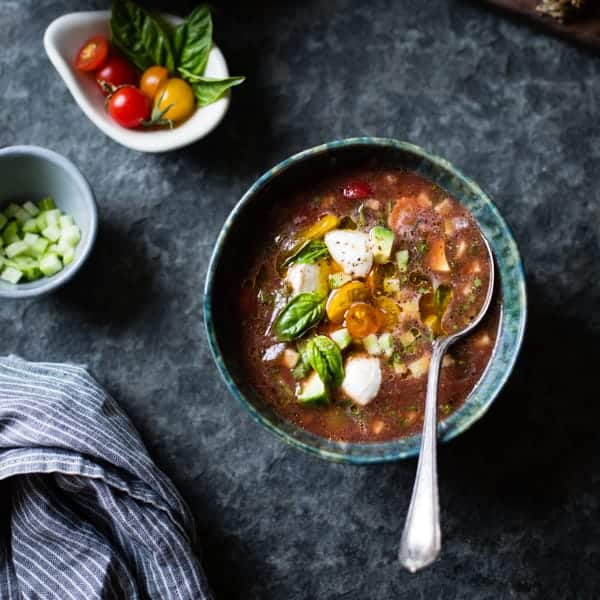 Meet my new favorite soup. At least, it will be for approximately 2 more minutes.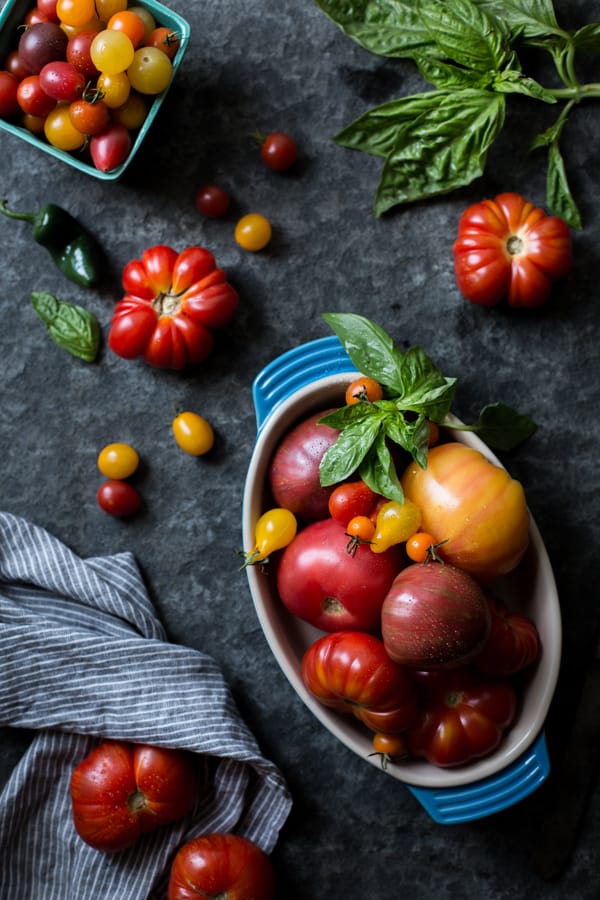 See, gazpacho is a warm weather thing – something that doesn't really happen here in San Francisco. When it does, it lasts precisely long enough for me to buy gazpacho ingredients, lug them home, make gazpacho, and chill gazpacho. The moment I pour myself a bowl of icy tomato soup, kissed with chile, herbs and vinegar, Karl the Fog rolls in, laughing his ass off. "How do you like your pathetic cold soup now?" I hear him mocking. (Actually, I love Karl because he's keeping my kitchen at a sensible temperature for baking recipes for my book. But still. We have our moments.)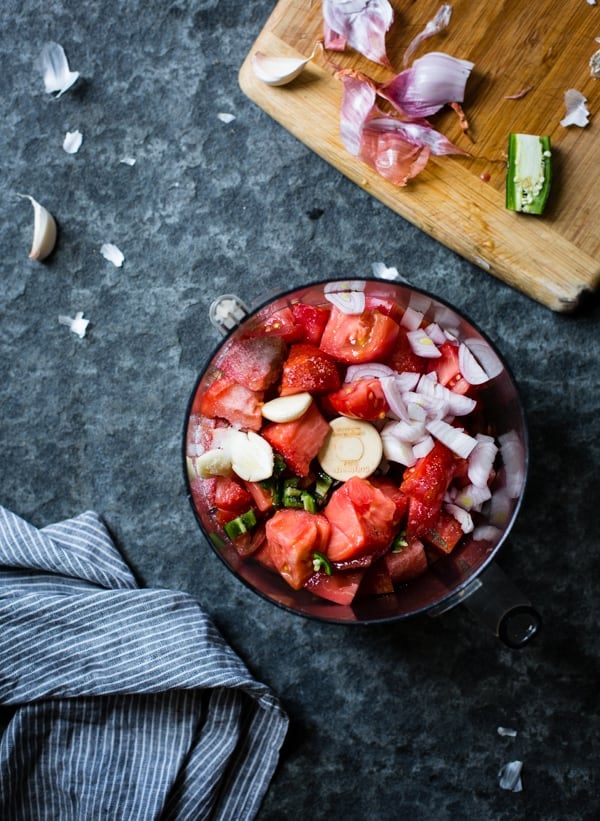 The last time Karl foiled my gazpacho plans was about 8 years ago. By the time he took off again and let the sun shine in, we opened the container to find the gazpacho frothing and fermented. We promptly threw it out. Racked with guilt at wasting so many precious tomatoes, I hadn't gazpachoed since.
This time, gazpacho and I got to spend one day together. Inspired by the juicy leavings in the bottom of a bowl of a chopped up caprese salad that Jay's been making (milky mozzarella whey, syrupy balsamic vinegar, peppery olive oil, salt and pepper, basil bits, and most importantly plenty of fresh heirloom tomato juice) I whipped up some gazpacho with similar ingredients, adding cucumber, chile and avocado for some traditional flavors and crunch. I tested the recipe yesterday, when my personal assistant (a.k.a., my really awesome niece) was over. We sweltered and drank cocktails as she entered expenses into a spreadsheet and researched cute electric fans for my studio (a.k.a., our living room) and I pureed tomatoes in the kitchen. We sat down to a couple of cool caprese gazpacho bowls and inhaled the revivifying contents.
Today I made a second round of caprese gazpacho in order to tweak a couple of things and take pictures. Like clockwork, the sky clouded up as I put the final touches on the bowls.
Suddenly it was drizzling.
Ah well, this caprese gazpacho is too good to be wasted. Plus it's filled with cheese, so it manages to appeal even on a cooler evening like this one. We accompanied bowls with sweet corn polenta topped with sauteed zucchini and basil pesto, and, shivering, reveled in summer's bounty.
Many gazpacho recipes call for peeling and seeding tomatoes, but I found that this method works better and is a zillion times easier: chop the tomatoes, pulse them in a food processor, then press them through a strainer, working as much of the liquid bits though as you can. The skin and seeds get left behind, leaving you with a silky puree. In go some chopped ingredients and flavorings, and voilà: buon appetito.
Or should I say, "disfrute de su comida?"
More Soup Recipes:
More Caprese Recipes:
*Thanks for reading! For more Bojon Gourmet in your life, follow along on Instagram, Facebook, or Pinterest, purchase my gluten-free cookbook Alternative Baker, or subscribe to receive new posts via email. And if you make this Caprese Gazpacho, I'd love to see. Tag your Instagram snaps @The_Bojon_Gourmet and #bojongourmet.*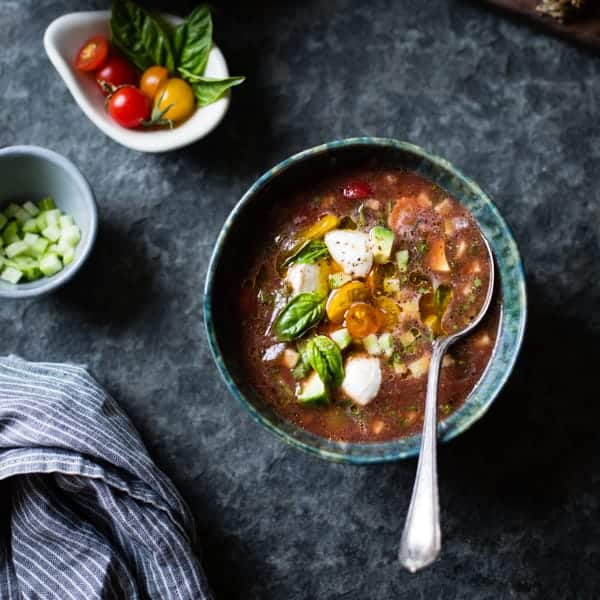 Caprese Gazpacho
Print Recipe
Pin Recipe
Italian salad meets Spanish soup in this icy caprese gazpacho filled with the flavors of balsamic vinegar, basil, fresh mozzarella, and loads of tomatoes. A naturally gluten-free recipe.
Servings:
4
main dish or 6-8 starter servings
Ingredients
2 1/4

pounds

ripe red tomatoes, stem bit removed and cut into large chunks

(1 kg) (5-6 cups)

2

medium garlic cloves, crushed and peeled

2

tablespoons

finely chopped shallot

1 1/4

teaspoons

fine sea salt

1/4 - 1/2

a jalapeño, seeded and minced, or a pinch of cayenne (optional, if you like a bit of heat),

4

ice cubes

2

tablespoons

balsamic vinegar, plus more for drizzling

(30 ml)

1

tablespoon

flavorful olive oil, plus more for drizzling

(15 ml)

1 1/2

teaspoons

red wine vinegar

(9 ml)

2

cups

cherry tomatoes, stemmed and halved (or quartered if large)

(275 g)

3/4

cup

finely diced cucumber

(90 g)

a large handful basil leaves, finely chopped plus more for garnish

(~1/4 cup)

a good grating fresh black pepper

2

containers fresh small mozzarella balls (ciliegine), drained and halved or quartered

(8-ounce / 225 g)

1

large avocado, chilled, peeled, pitted and cubed
Instructions
In the bowl of a food processor, combine the tomatoes, garlic, shallot, jalapeño and salt (you may need to blend this in batches depending on the size of your food processor). Puree smooth. Pour the mixture through a fine mesh (though not super-fine, as that will take forever) sieve set over a large bowl. Use a flexible silicone spatula to work the liquid through, pressing on the solids to extract as much of the good stuff as you can. You should have about 4 cups of liquid. Discard the pulp.

Add the ice cubes to the tomato juice; they will help chill it down quickly and loosen the mixture a bit which you will want once you add all the goodies. Stir in the balsamic vinegar, olive oil, red wine vinegar, sliced cherry tomatoes, diced cucumber, chopped basil leaves and black pepper. Stir until the ice is melted and the soup is cold. Taste, adding more salt or vinegar if you feel the soup needs it. The flavors will continue to emerge as the soup sits. Serve now, or chill for up to 2 days.

When ready to serve, ladle the soup into bowls and top with the mozzarella balls, avocado, and a drizzle of olive oil, and a few torn basil leaves.
Notes
Exact quantities will vary based on how sweet/acidic/juicy your tomatoes are, so don't be afraid to tweak things to your liking as you go. Do use the ripest, juiciest tomatoes you can find; heirlooms, beefsteaks, early girls, or dry farmed tomatoes are all good options. Look for specimens that feel heavy for their size and are uniform in color.
Nutritional values are based on one of four servings.
Nutrition
Calories:
358
kcal
Carbohydrates:
22
g
Protein:
17
g
Fat:
24
g
Saturated Fat:
9
g
Cholesterol:
45
mg
Sodium:
1111
mg
Potassium:
1113
mg
Fiber:
7
g
Sugar:
12
g
Vitamin A:
3070
IU
Vitamin C:
62
mg
Calcium:
335
mg
Iron:
1.9
mg