Everything you need to make a vegetarian gluten-free Thanksgiving or Friendsgiving spread! Plus 40 Thanksgiving-ready recipes from TBG archives.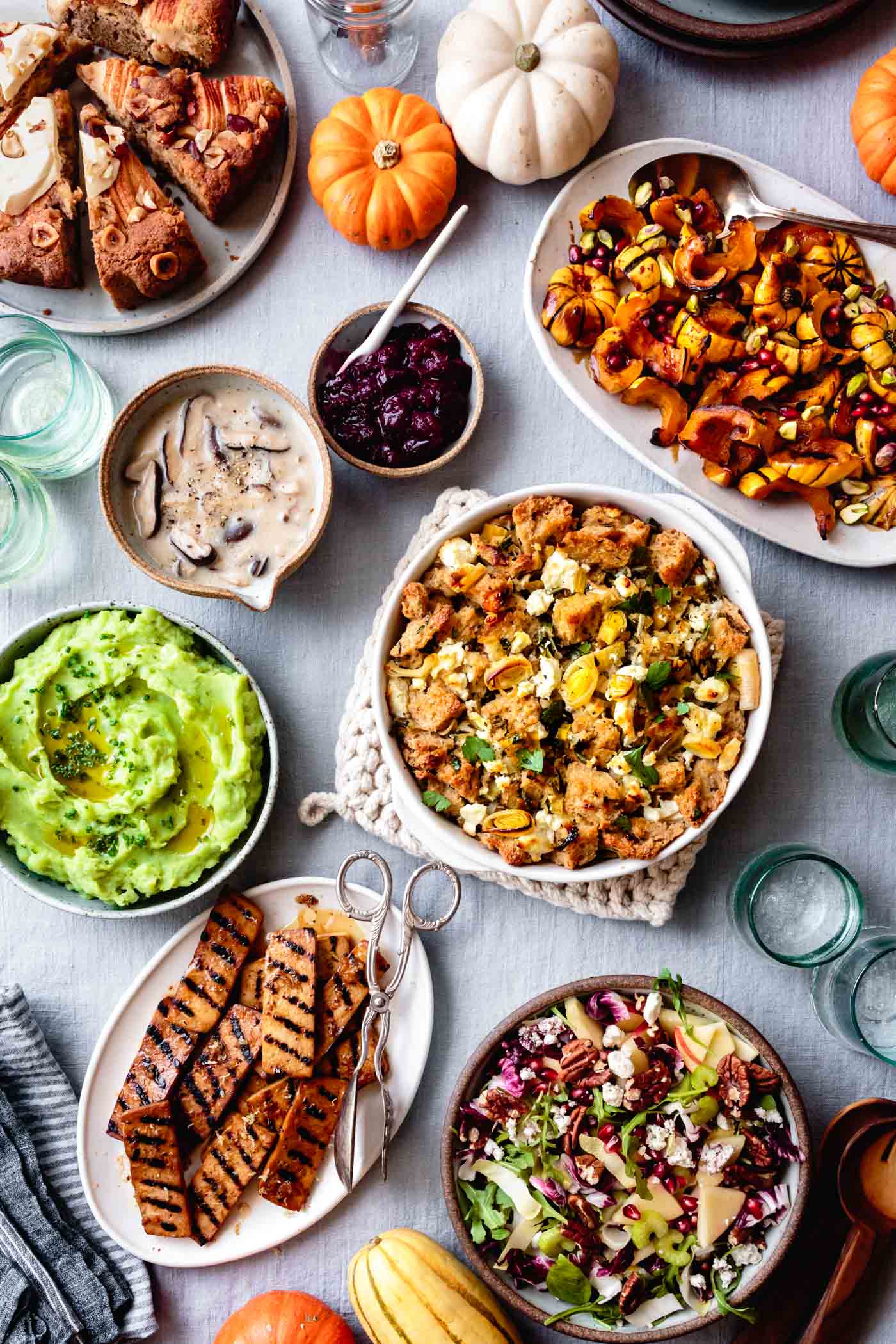 Thanksgiving is coming! Actually though, it's been Thanksgiving in the Bojon kitchen since August. I've been testing out recipes for my favorite meal full of Thanksgiving/Friendsgiving essentials. There's gluten-free stuffing. There are mashed potatoes with an herbaceous twist. There are colorful side dishes. And most importantly: there's dessert.
Jay and I agree that Thanksgiving dishes shouldn't be relegated to just one day out of the year (plus two or three more if you're lucky enough to score leftovers). Mashed potatoes, stuffing, and gravy make a hearty meal any day of the year.
Here I use grilled tofu as a super easy vegetarian stand-in for turkey. An herb-kissed gluten-free stuffing stars alongside roasted squash redolent with brown butter and tart pomegranate. Green goddess mashed potatoes add an unexpected pop of color. So does a crisp chicory salad laced with apples, celery, and arugula.
Mushroom gravy comes together in minutes, no drippings required. Maple-sweetened cranberry sauce makes the whole thing taste like Thanksgiving. And a gluten-free apple cake loaded with hazelnuts and moistened with crème fraîche makes a stunner of a dessert.
I can't wait to share these gems with you over the next couple of weeks! I'll be adding in links below as new recipes are published. Plus, I'm sharing some favorites from the archives. There are plenty of gluten-free & vegetarian Thanksgiving recipes to choose from.
What's your favorite Thanksgiving dish? Let me know in the comments below!
Get the gluten-free vegetarian Thanksgiving recipes pictured here:
Gluten-Free Thanksgiving Side Dishes, Salads & Starters:
Gluten-Free Vegetarian Thanksgiving Main Dishes:
Gluten-Free Thanksgiving Desserts:
Festive Thanksgiving-Ready Drinks:
MORE RECIPE COLLECTIONS:
*Bojon appétit! For more Bojon Gourmet in your life, follow along on Instagram, Facebook, or Pinterest, purchase my gluten-free cookbook Alternative Baker, or subscribe to receive new posts via email. And if you make this gluten-free vegetarian Thanksgiving dinner (or any of the recipes), I'd love to see. Tag your Instagram snaps @The_Bojon_Gourmet and #bojongourmet.*