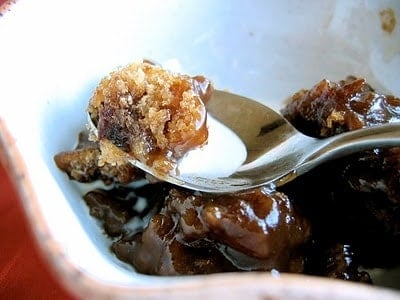 A few years ago, a curious dessert began popping up on restaurant menus around San Francisco: sticky toffee pudding. I'd never heard of it before, and the name, which conjured up visions of syrupy-sweet goop, made my teeth hurt just reading it. I would skip right past it in favor of a nice apple crisp or panna cotta. In time, I learned that this dessert was British and contained dates, two things which put me off even further.

But my prejudice against sticky toffee pudding was overthrown one night when I went to work at Farallon under the talented Terri Wu. The whole pastry team gathered around the plating station for the weekly tasting of each dessert on the menu, and, when notified that sticky toffee pudding was one of them, I thought to myself, 'Oh, that nasty thing.' The puddings were baked individually and turned out onto a large plate, a ladleful of warm, amber sauce poured over the top. A quenelle of vanilla bean-flecked whipped cream sat alongside it, and a shower of butter brickle completed the plate.I timidly took a spoonful of pudding, bracing myself for tooth-aching sweetness, and waited for a sugar high to set in.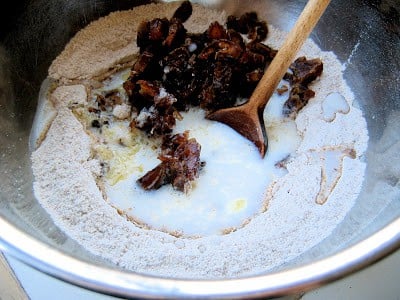 Instead, my mouth hummed with the flavors of vanilla, butter and brown sugar. The whisper-light cake mingled with cool cream and crunchy candy. The level of sweetness was perfectly pitched, as though calculated by a team of food scientists eager to get you hooked.

I tasted my way through more desserts, each a more decadent work of art than the last: a 'candy bar' sundae with peanut butter caramel and chocolate shell; apple-quince pie with spiced walnut ice cream; gooey chocolate cake with coffee-crème fraîche ice cream; roasted pear charlotte with huckleberries and pear beurre blanc; piña colada sorbet with rum granita. But when asked by Terri's assistant, Lauren, which was my favorite, I realized, to my surprise, it was the sticky toffee pudding. Lauren nodded her head knowingly, 'It's an old favorite.'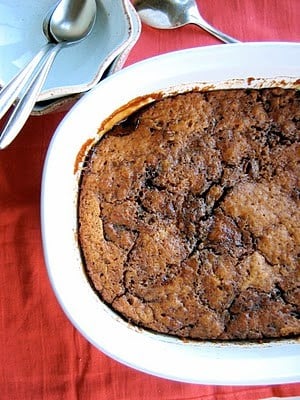 When I came across a recipe in Deborah Madison's Seasonal Fruit Desserts, a thoughtful gift from my brother and sister-in-law, for a 'not-so-sticky date pudding', I was instantly intrigued. By now you know of my deep love and trust of Ms. Madison's recipes. The fact that this pudding contained coffee and dark brown sugar to cut the sweetness of the ubiquitous pudding piqued my curiosity. As I mixed up the batter, which, unlike most sticky pudding recipes I'd researched, contained no eggs and little butter, my trust wavered. As I sloshed a saucepanful of brown sugar-sweetened coffee over the scant amount of batter, I became certain that I'd just wasted half an hour of my time and several dollars worth of ingredients.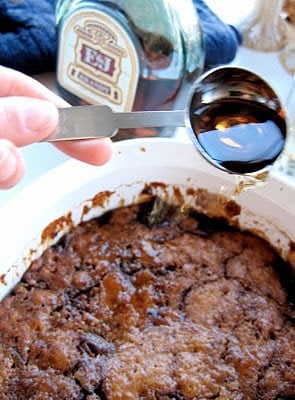 But despite all my fears, the pudding emerged from the oven magically transformed into a layer of moist cake dotted with pockets of soft dates, which gave way to a silky, molten sauce. Topped with a pour of cold cream, the flavors all melded together into one satisfying, homey dessert, making me sorry I'd waited so long to try it.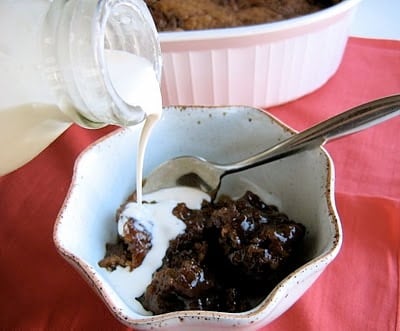 Comparing this pudding to Farallon's would be impossible, as they are completely different beasts; this one is deep and dark from molasses, whole spelt flour and coffee where Farallon's is more light and mild. This has rustic chunks of dates, where Farallon purees the dates into the cake for a smooth texture. I'll keep searching for a Farallon-like sticky pudding recipe, but for the meantime, this one hit the sweet spot quite nicely.While rustic in looks, I wouldn't hesitate to serve it to the most discerning of guests.I hope you'll have fewer trepidations than I did and give it a try!
Pudding it to you:
Butterscotch
Pumpkin Flan
Coconut-Cardamom Rice
One year ago:
Pumpkin Tart
Apple Huckleberry Pie
Sticky Date Pudding
Adapted from Deborah Madison's Seasonal Fruit Desserts
Makes 8 servings
Feel free to add 1 cup of toasted, chopped walnuts along with the dates as per the original recipe; I omitted them this time because I wanted a smooth pudding,but I plan to add them the next time I make it (which, I hope, will be soon!).
Cakey batter:
6 – 8 ounces whole, medjool dates, pitted and coarsely chopped (1 cup lightly packed)
1 cup flour (whole wheat or spelt, or all-purpose)
1/2 cup light or dark brown sugar
2 teaspoons baking powder
1/2 teaspoon salt
1/2 cup buttermilk or milk
2 tablespoons melted butter
Liquidy bit:
1 1/2 cups brewed coffee
2 tablespoons butter
2/3 cup dark brown sugar
For serving:
3 tablespoons brandy, dark or gold rum, or whiskey
cold heavy cream, creme anglaise, or vanilla ice cream
Position a rack in the center of the oven and preheat to 350º. Have a 2-quart baking dish handy.
In a large bowl, whisk together the flour, sugar, baking powder and salt. Stir in the buttermilk, butter and dates to make a thick batter, and spread in the bottom of the baking dish.
In a small saucepan, heat the coffee, butter and brown sugar to a boil, stirring to melt the butter and sugar. Pour over the batter. Bake the pudding for 30 – 40 minutes; the pudding will look dry and cracked on top, and a thick sauce will bubble up around the edges.
Douse the hot pudding with the brandy. Scoop servings of the warm pudding into bowls and top with a pour of heavy cream, crème anglaise or ice cream. The pudding keeps well in the fridge for up to a week; re-warm before serving.