Several years ago, at a gathering for a publication that I wrote for, I struck up a conversation with another writer. The topic turned to ice cream. I told her that I'd just finished making maple bourbon pecan, and she told me that she had developed a perfect recipe for black sesame. "The secret," she said, "is grinding the sesame seeds first." I nodded and tried to look impressed, but the truth was, I didn't even know that black sesame ice cream was a thing. I tried to imagine how it would taste, but I couldn't. From her tone, it sounded difficult to make.
I spent the next two years kicking myself for not requesting the recipe, or even getting the woman's contact information. Meanwhile, pretty pictures of the stuff taunted me all over the internet. But black sesame ice cream remained nonexistent in my local stores and ice cream shops. And I remained too lazy to make any.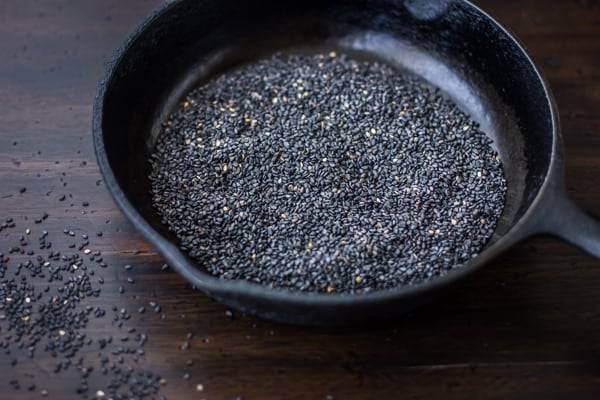 But a few weeks ago, my black sesame dreams began coming true. My friend Amelia and I were shopping for dinner ingredients at a natural foods store near her home in San Mateo when we found a carton of local, organic black sesame ice cream from Tara's. We snapped it up.
Ice cream is never better than when you've arrived home from the grocery store, hungry and tired, to crack open the carton and scrape off and devour the melty top layer. (The one exception is when you've made the ice cream yourself and you're standing over the sink, licking the dasher, hoping that none of your neighbors can see you through the window.) One mouthful of that toasty, charcoal-grey goodness, and it was love at first bite. My mere curiosity peaked to obsession. I needed more.
The following week, Amelia and I found more black sesame dessert love at Namu Gaji, a Korean restaurant in San Francisco with which we are quite obsessed. Their black sesame pudding came in a mason jar topped with chocolate ganache and whipped cream. The combination of chocolate softened with cream against roasty sesame custard was perfection. So I dreamed up a black sesame ice cream studded with flecks of chocolate.
Most recipes that I found called for black sesame paste, an ingredient most commonly found at Japanese and Chinese markets. This product is different from tahini in that the seeds are roasted prior to being ground. Some ice cream recipes additionally ask for black food coloring to create an even darker color. But I remembered the words of my writer friend, and decided to try making mine from scratch. I based the recipe on my preferred ice cream base which has a good balance of fat, eggs, and sugar. I tweaked the ratio of milk to cream in order to compensate for the
richness of the sesame, and I increased the sugar a bit since sesame has
a hint of bitterness.
I roasted a ton of black sesame seeds in a skillet until I could hear them crackle. I let them cool, then ground them to a paste in my food processor. This took a good few minutes of grinding and scraping down the sides of the bowl. The paste tasted so strong, I feared I had burnt the seeds and the ice cream would be ruined. But I steeped the paste with sugar, milk, vanilla bean, and a touch of salt before whisking the mixture into egg yolks and cooking the mixture to a custard. The hot custard gets poured into cold cream, which stops the cooking and cools the mixture – no tricksy ice baths necessary.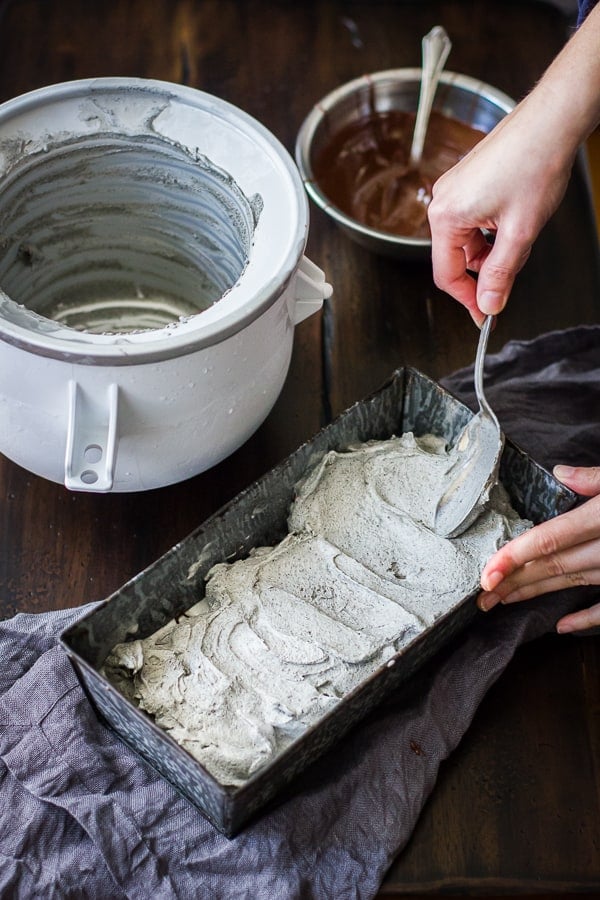 I tried straining the mixture at first, thinking that would make it extra smooth, but this filtered out too much black sesame goodness; in the end I left the mixture as it was. It still tastes perfectly creamy on the palate.
For my first batch, I spun the ice cream and scribbled it with bittersweet chocolate that had a 70% cacao mass. I have David Lebovitz to thank for introducing me to the scribble method, which is not only fun, but it incorporates the chocolate in tiny shards that become one with the ice cream in a way that simply stirring in chocolate chunks doesn't.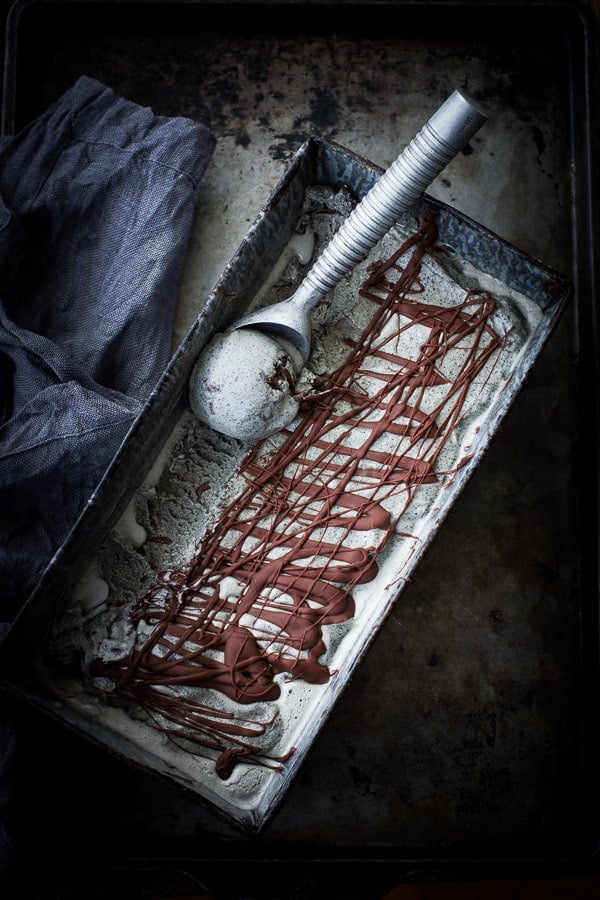 The combination of bittersweet chocolate and black sesame was a happy one, but I noticed that after a few bites, the chocolate began to take over and hide the gorgeous flavor of the sesame seeds, which just wouldn't do. Trading the bittersweet for dark milk chocolate provided the perfect solution; the milder flavor of the dark milk chocolate allowed the sesame to be the star, and its softer texture melted more quickly on the tongue, even a tongue cold from eating ice cream. Dark milk chocolate has a cacao mass of around 40% (as opposed to the super-sweet 10% of commercial milk chocolates). It still has the deep chocolate notes of semi- or bittersweet, but powdered milk and a bit more sugar round out these notes, bringing out the chocolate's fruity qualities and tempering its bitterness. I'm particularly fond of my neighbor Michael Recchiuti's Dark Milk Bar, (and while you're at it, try his restaurant in the Dogpatch), but Scharffen Berger and Tcho also make excellent dark milk chocolates.
When Jay first saw me toasting a skillet full of black sesame seeds and asked after my plans, he gave me quizzical look when I answered, "Black sesame ice cream." I'm sure this was similar to my own expression at that writer's meeting years ago. On his first taste, though, his eyes opened wide and he said, "It tastes just like a Reese's peanut butter cup." I get what he means – the ice cream has the same addictive toasty/nutty/chocolaty thing going on, only in a more exotic, subtle way. It manages to taste familiar and completely new at the same time. Its charcoal-grey coloring adds to my fascination with the stuff. I would happily eat it for the rest of my life. And I'm no longer the only black sesame ice cream addict in the house. When I told Jay that I was writing up this post his words were, "You mean, the best ice cream in the world."
Now when I go to parties, I'll be the weirdo saying proudly to perplexed strangers, "I've discovered the secret to making black sesame ice cream…"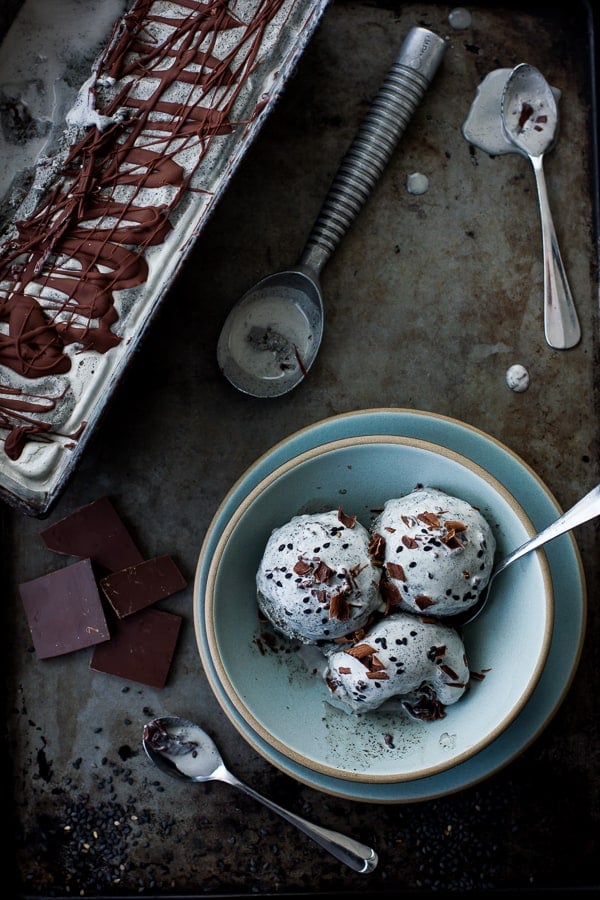 Thanks for reading! For more Bojon Gourmet in your life, follow me on Facebook, Twitter, Bloglovin', Pinterest, or subscribe to receive posts via email.
Screaming for ice cream:</>
Roasted Cherry Vanilla Ice Cream with Chocolate and Bourbon
Smoked Cardamom Ice Cream with Salty Honey Caramel
Boozy Banana Butterscotch Ice Cream
One year ago:
Strawberry Blood Orange Rum Punch
Carrot and Watermelon Radish Pickle
Two years ago:
Rhubarb Buckle
Three years ago:
Lentil Walnut Pate
Four years ago:
Bacon, Beer, Cheddar and Onion Scones
Black Sesame+ Dark Milk Chocolate Chip Ice Cream
I love love love my Kitchen Aid ice cream maker attachment, pictured above. It goes in the freezer for 24 hours, then the bowl and dasher (which "stirs" the ice cream) go right onto the stand mixer. Turn it on low, and it churns the ice cream in about 10-20 minutes.
I found black sesame seeds in the bulk aisle of my co-op. The 10 tablespoons called for here yields about 6 tablespoons of toasted black sesame paste. If you can't find the whole seeds, you can probably substitute an equal amount of Japanese black sesame paste, though you may want to decrease the sugar in the recipe if the paste is sweetened.
I like this ice cream best made with dark milk chocolate that has a 35-40% cacao mass. This has less sugar and dairy than regular milk chocolate, which only needs to have 10% cacao mass to be labeled as such. I'm partial to the dark milk bar from Recchiuti, but Tcho and Scharffen Berger make excellent dark milk chocolates, also. I found bittersweet chocolate a bit too assertive, though still quite tasty, so feel free to use it if you prefer. This recipe can also be made using 2 cups half and half and 1 cup heavy cream in place of the milk and cream.
All ounce measurements are by weight.
Makes 1 generous quart
For the ice cream:
1/2 cup plus 2 tablespoons (2.75 ounces / 80 grams) black sesame seeds
1 1/2 cups (12 ounces / 340 grams) whole milk
1/2 a vanilla bean, split lengthwise and scraped
3/4 cup (5.75 ounces / 165 grams) organic, blonde cane sugar
1/8 teaspoon salt
4 large egg yolks
1 1/2 cups (12 ounces / 340 grams) heavy cream
4 ounces (115 grams) dark milk chocolate (40% cacao mass), roughly chopped (about 3/4 cup)
Make the sesame paste:
Place the sesame seeds in a dry, wide skillet. Shaking the pan frequently, toast the seeds over a medium flame until the seeds start to crackle. This can take anywhere from 2 to 5 minutes, depending on the thickness of your pan. It's a bit hard to tell when they're toasted, since they're black and won't change color, and they don't give off much fragrance, but crackling is a good sign. Let the seeds cool, then whizz them in a food processor until they turn into a paste, scraping down the sides of the bowl occasionally, 2 or 3 minutes.
Make the ice cream base:
Scrape out the black sesame paste into a medium saucepan, and add the milk, vanilla seeds and pod, sugar, and salt. Warm over a medium flame, stirring occasionally, until hot and steamy. Cover the pot and let the mixture steep at least 10 minutes or longer.
Meanwhile, place the egg yolks in a medium bowl. Place the heavy cream in a different medium bowl, or in a large mason jar and set aside. Rewarm the milk if necessary. Very slowly, dribble the hot milk mixture into the egg yolks, whisking constantly, until you've added half the milk. Scrape the yolk mixture back into the pan and return to a medium-low flame. Cook the mixture, stirring constantly with a heatproof silicone spatula, until it thickens just slightly and/or registers 170ºF on an instant-read thermometer. Immediately pour the custard into the cold cream to stop the cooking.
Chill the ice cream base until very cold, at least 4 hours, preferably overnight, or up to 3 days.
Spin and chocolate-ify the ice cream:
Place the ice cream base in the freezer for 30 minutes to get it really cold, giving it a stir once halfway through. Place a loaf pan in the freezer as well.
Meanwhile, melt the chocolate by placing it in a dry, metal bowl set over a saucepan filled with hot water that is barely steaming (not simmering or boiling, or you will scorch the chocolate). Stir the chocolate until it is melted, and let it cool slightly. When the ice cream is churned, the chocolate should be fluid enough to drizzle, but not so hot that it melts the ice cream.
Churn the ice cream in an ice cream maker until it is the consistency of soft-serve. Spread 1/4 of the ice cream in the bottom of the frozen loaf pan, then drizzle 1/4 of the melted chocolate over the ice cream. Repeat until you've used up all the chocolate and ice cream. Freeze the ice cream until firm, at least 2 hours. Once firm, scoop the ice cream into storage containers. It will keep frozen for up to a few months (though good luck making it last that long).