Hangar 1 Vodka, grilled meyer lemon juice, and fresh rosemary add a wintry kick to this celebratory pomegranate vodka cocktail. Thanks to Hangar 1 Vodka for sponsoring this post!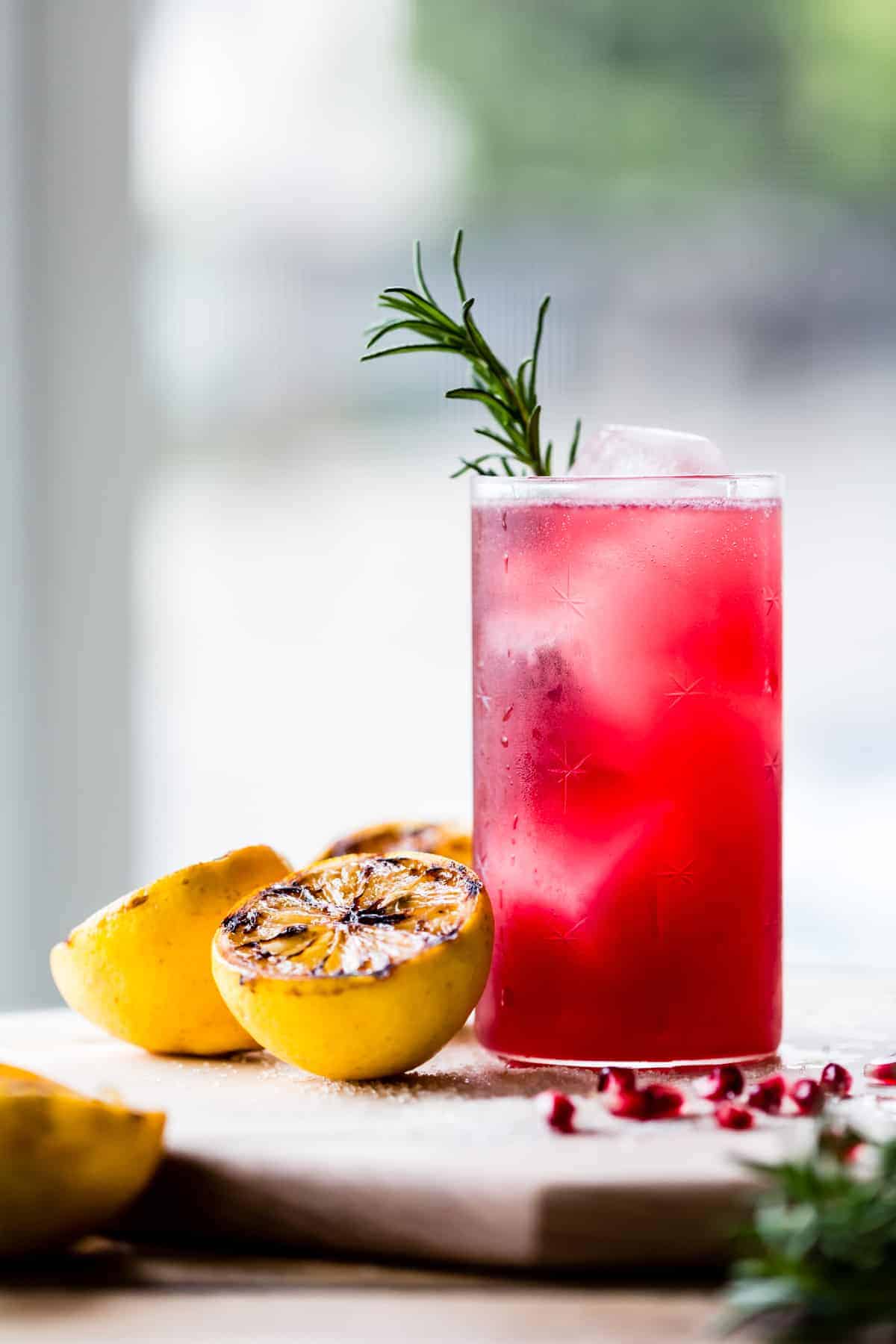 California Christmas
I've never been as glad to live in California as I am today, with its diverse culture, temperate weather, abundant produce all year round, and loads of breweries, vineyards, and distilleries. It's a pretty special place.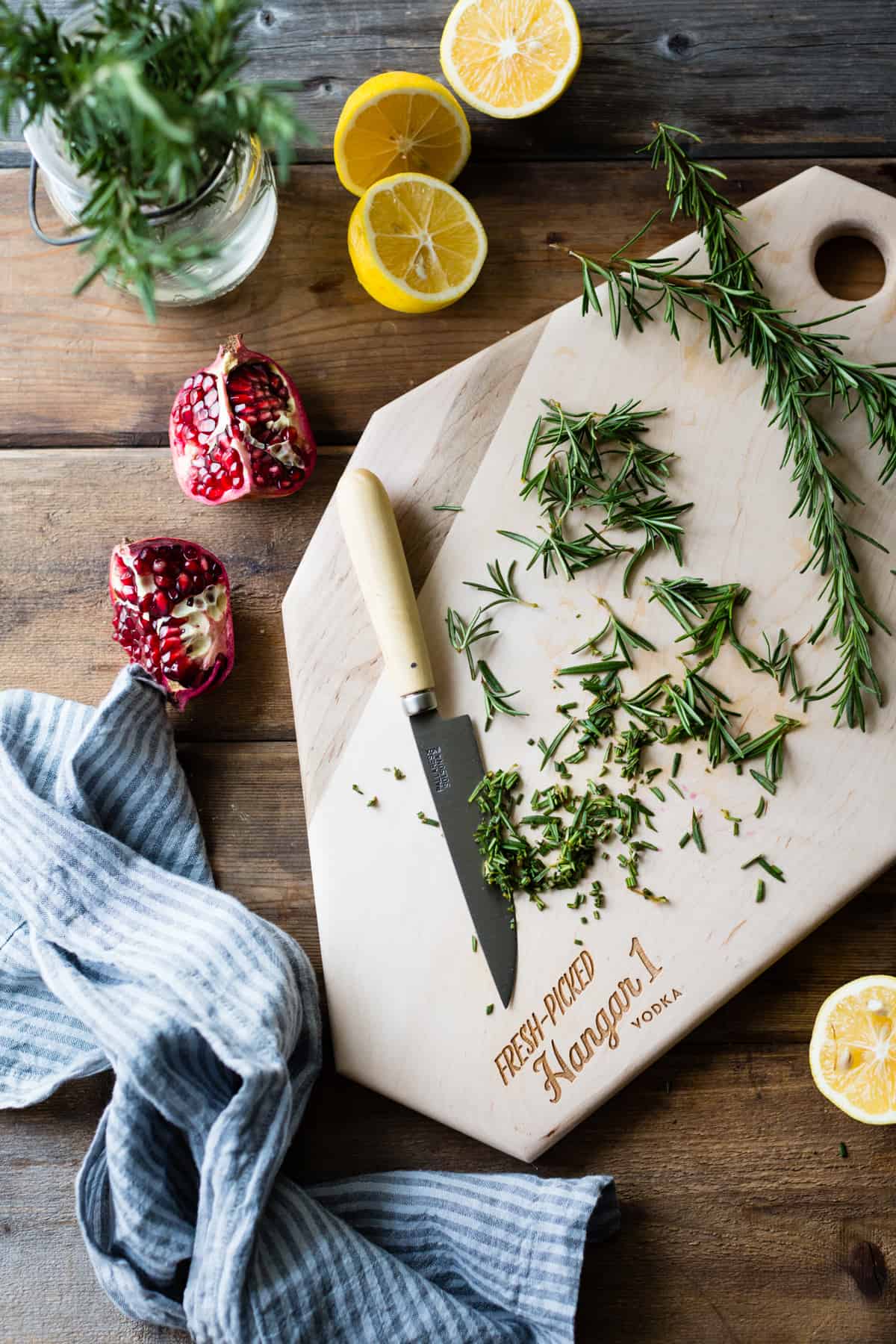 Jay's a proud Californian, too – his family has been in the Santa Cruz area for generations. On Christmas day, we can usually be found with his folks in Corralitos, sipping drinks on the deck in the sun, taking strolls on the beach, eating local artichokes, Dungeness crab, and spiced persimmon pudding topped with billows of whipped cream. It's a low-key holiday tradition we look forward to every year.
Celebrating with Pomegranate Vodka Cocktails
The other day, I hosted a little pre-holiday gathering here in San Francisco. In our apartment on Potrero Hill, the only outdoor space we have is a teeny fire escape, so we packed up a mess of local cheese, fruit, and crackers, and a big jar of hot-pink pomegranate vodka cocktails, and headed to the community garden up the street from us.
The Potrero Community Garden is my happy place. Perched on a hill, with views sweeping the entire city, the garden is home to plot after plot of lovingly-farmed earth teaming with herbs, flowers, fruits, vegetables, and even a few chickens. The wind was fierce and chilly, but we warmed ourselves in the sun, gazed out at the Golden Gate, feeling thankful for having the good fortune to live in this Golden State.
Grilled Lemons for Cocktails
This pomegranate vodka cocktail was inspired by a drink I sipped with my dear friend Amelia at Frances in the Castro. It was made from wine-based aperitifs and a good dose of juice from meyer lemons that had been charred on the grill. The scent of lemons grilling permeated the restaurant and was as intoxicating as the drink itself. I decided to try this technique at home on my stovetop grill pan.
How to Make Pomegranate Vodka Cocktails
The lemons' sweet juices caramelize from the heat of the grill, adding bitter-sweet depth. It pairs beautifully with fresh pomegranate juice, which also has flowery/sweet/tart/bitter tastes. Rosemary simple syrup adds a bit of piney depth, and the drink is punctuated by Hangar 1 Vodka's clean flavor and a bit of fizzy water.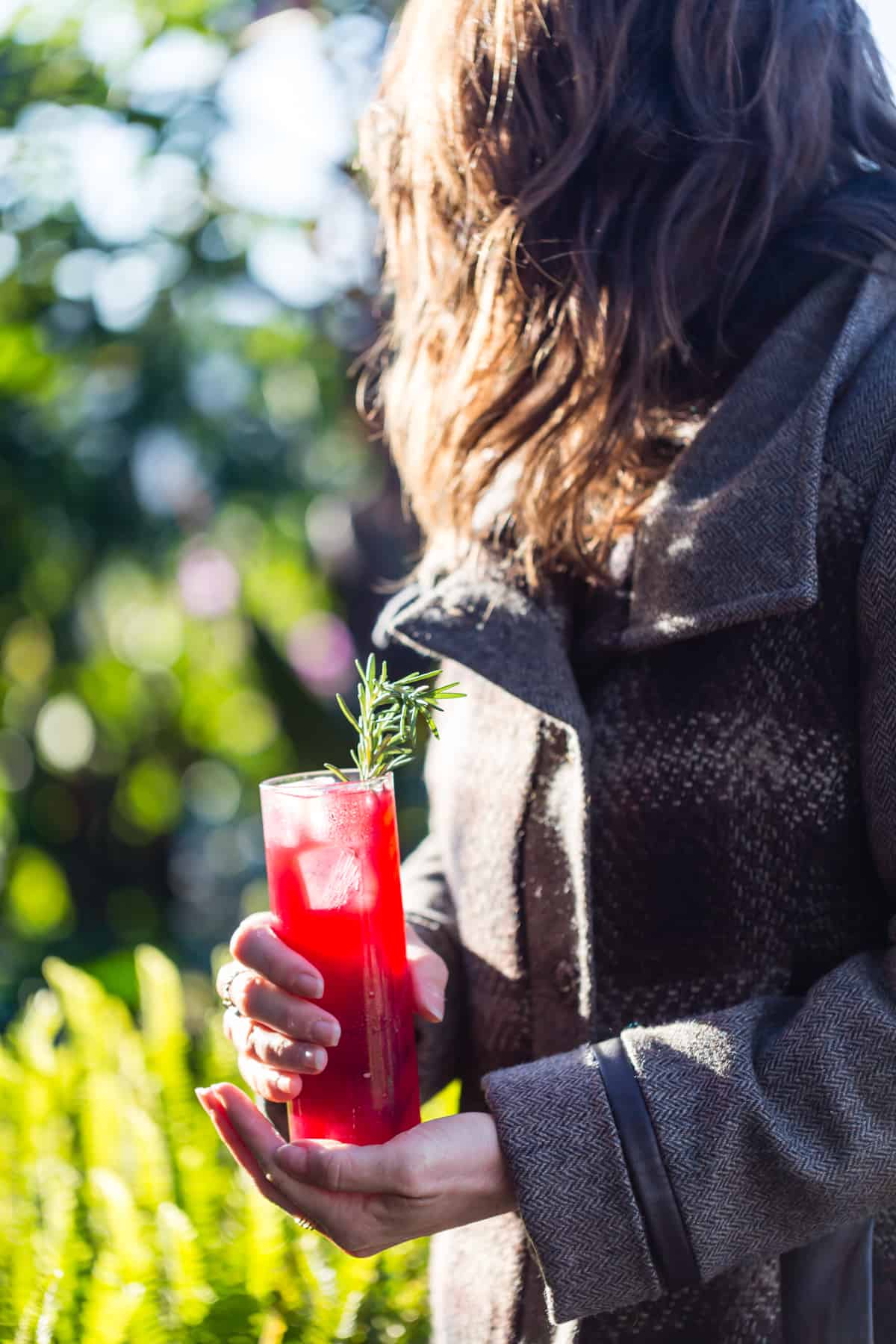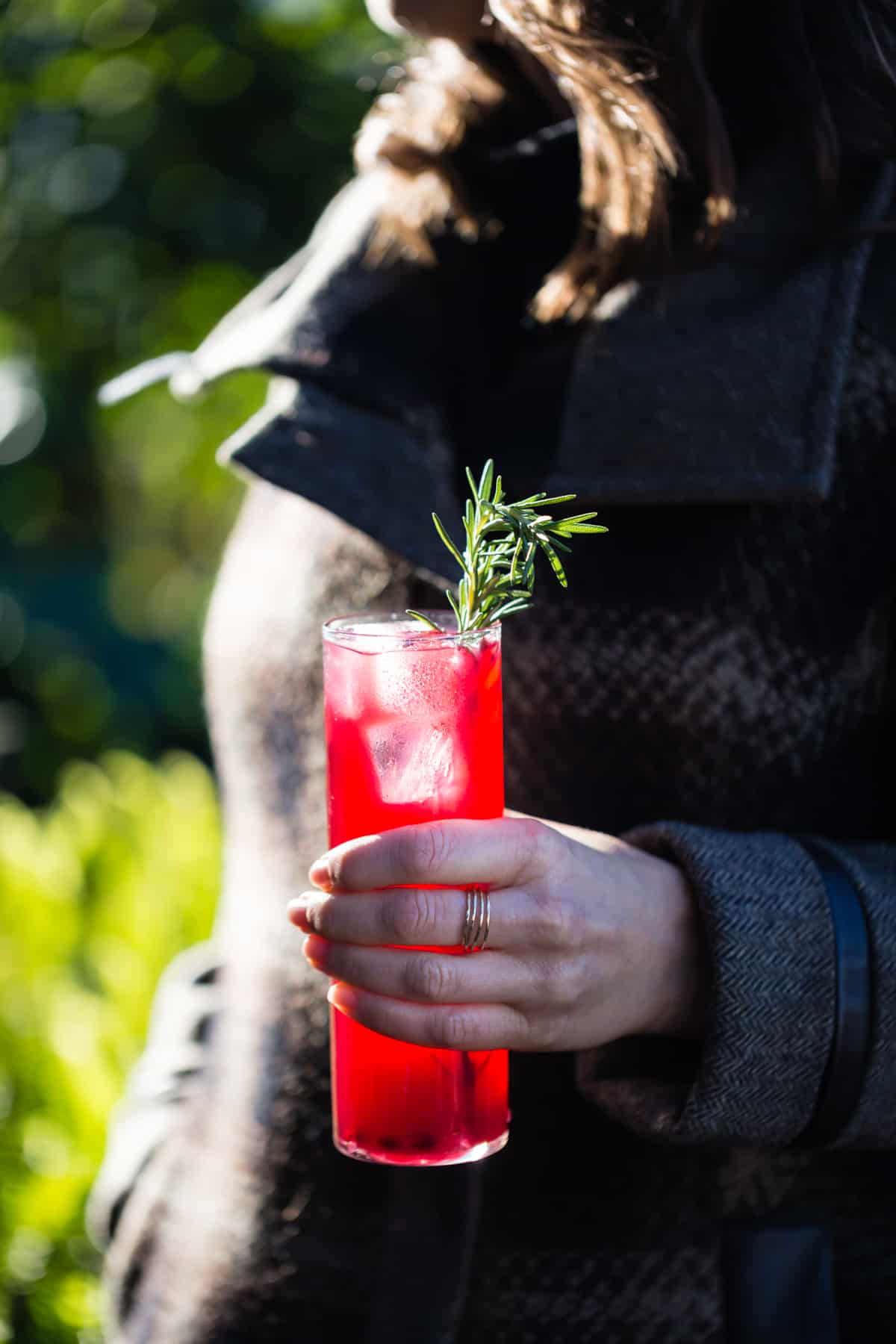 Hangar 1 Vodka
I discovered Hangar 1 Vodka 1 a few years ago through a dear friend who is a connoisseur of fine spirits and only ever drinks vodka martinis with a twist. It's been my go-to ever since. Their Straight vodka is distilled from wine grapes and grain, and it's so flavorful that you can enjoy it neat as you would a good whiskey (in fact, I'm doing that as I type!). In these cocktails, it adds clean, warm, floral notes to the mix.
Wherever you are in the world, I hope you're blessed with a bit of sunshine, good friends, and tasty food and drink this holiday season.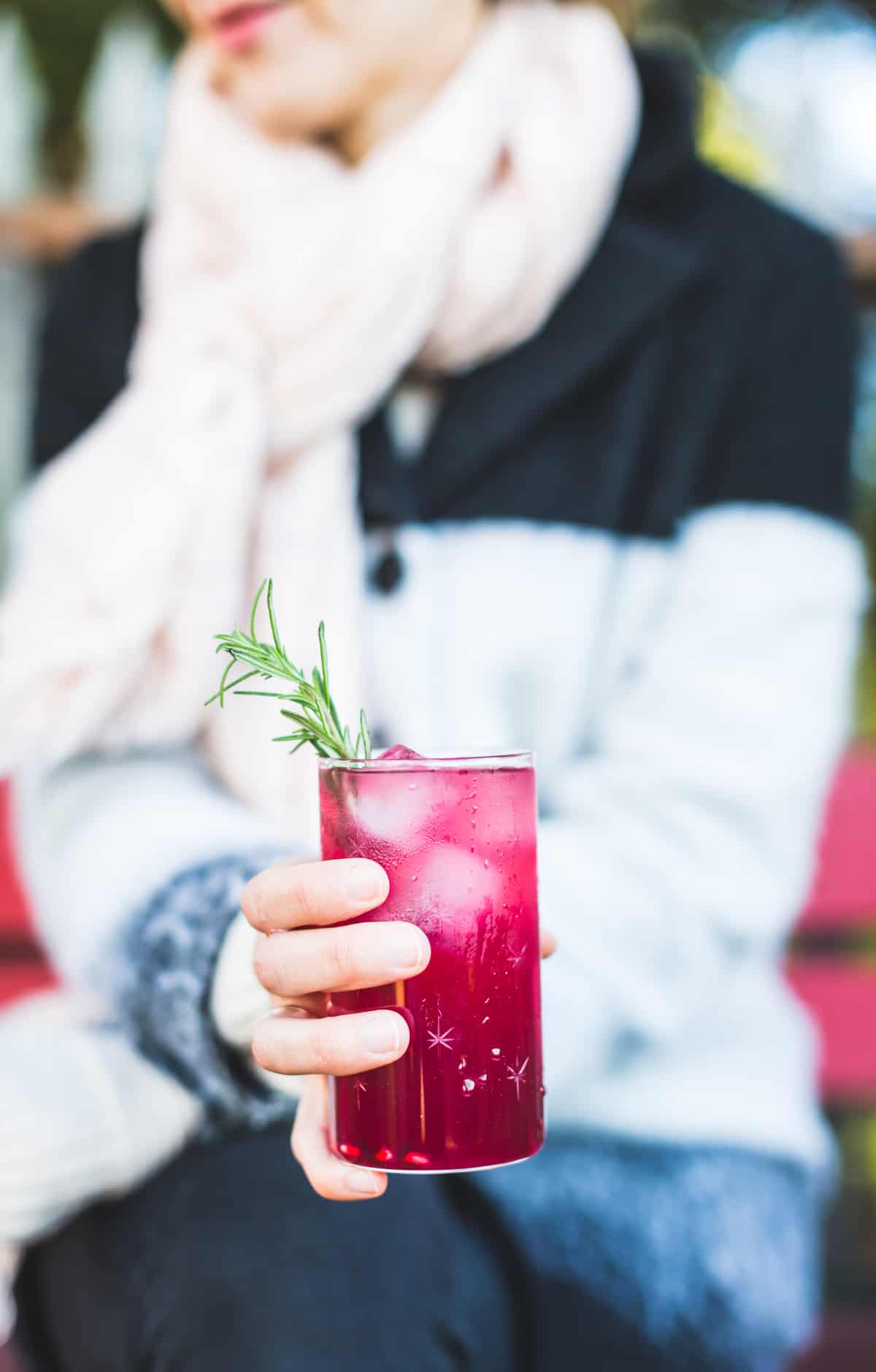 Many thanks to Hangar 1 Vodka for sponsoring this post, and thanks to Ana, Shelley, and Gizella for braving the cold to sip drinks with me! You're the best friends I could hope for.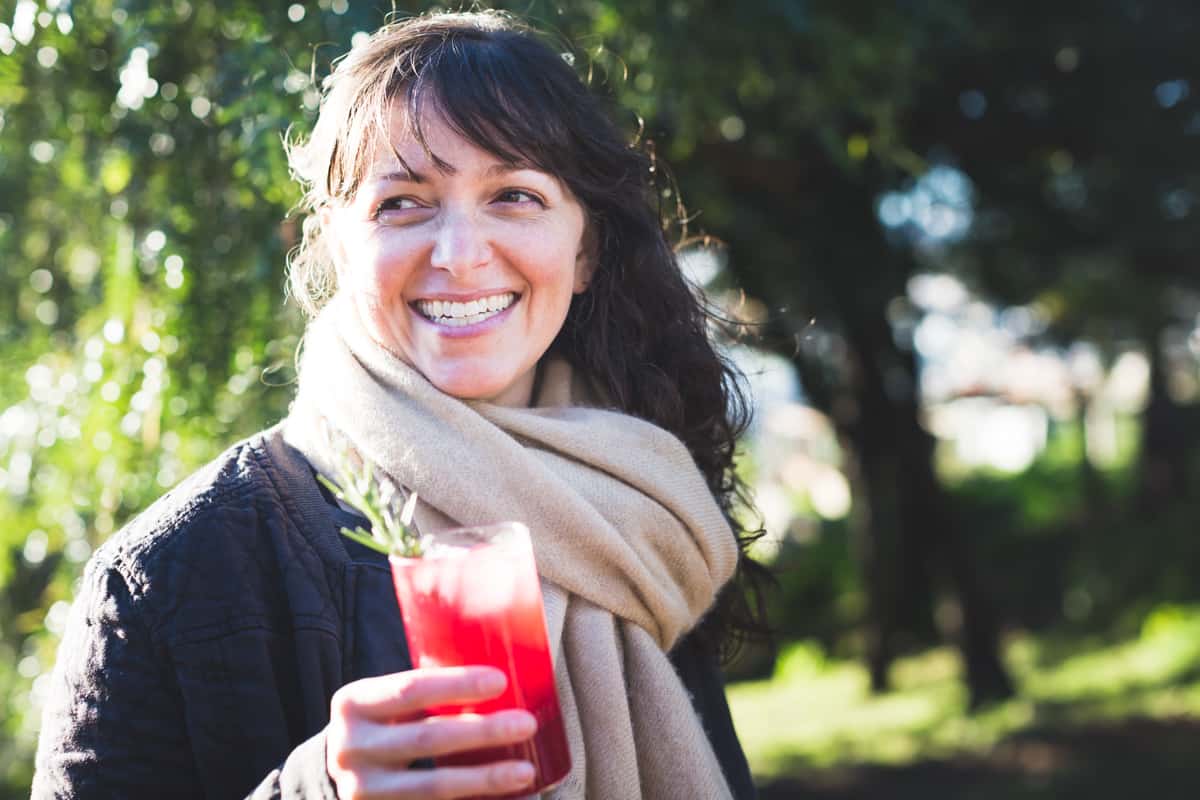 More vodka cocktails:
*Thanks for reading! For more Bojon Gourmet in your life, follow along on Instagram, Facebook, or Pinterest, purchase my gluten-free cookbook Alternative Baker, or subscribe to receive new posts via email. And if you make these Pomegranate Vodka Cocktails, I'd love to see! Tag your Instagram snaps @The_Bojon_Gourmet and #bojongourmet.*
Rosemary, Pomegranate, & Grilled Meyer Lemon Vodka Sparklers
Print Recipe
Pin Recipe
Hangar 1 Vodka
, grilled meyer lemon juice, and fresh rosemary add a wintry kick to these celebratory cocktails.
Ingredients
Rosemary simple syrup:
½

cup

(100 g) organic granulated sugar

½

cup

(120 ml) water

3

tablespoons

lightly packed chopped rosemary leaves
Grilled Meyer Lemon Juice:
1

large Meyer lemon (per 2 drinks)
Per drink:
3

tablespoons

(45 ml) Hangar 1 Straight Vodka

3

tablespoons

(45 ml) pomegranate juice (preferably fresh)

1 ½ - 2

tablespoons

(20 g) grilled meyer lemon juice (to taste)

2-3

teaspoons

rosemary (10 ml) simple syrup (to taste)

ice

~1 cup (245 ml) sparkling water

pomegranate arils and rosemary sprigs, for garnish
Instructions
Simple Syrup:
In a small saucepan, combine the sugar, water, and chopped rosemary. Bring to a boil, swirling to dissolve the sugar, then remove from the heat and steep 5 minutes. Strain and chill until needed, up to 1 week.
Grilled Meyer Lemon Juice:
Cut the lemon in half crosswise. Place cut side-down on a hot grill (a stovetop grill pan works well, too). Grill until the flesh is charred, 2-3 minutes. Remove and let cool. Juice the lemons and strain out any seeds and pulp.
Cocktails:
In a highball glass, combine the vodka and pomegranate juice with the smaller amounts of the grilled lemon juice and and simple syrup, stirring well. Top with plenty of ice and sparkling water, adding more lemon or simple syrup if you feel the drink needs it. Garnish with pomegranate arils and a sprig of rosemary and serve.

If you're making this for a crowd, here's the recipe multiplied to make 8 cocktails. You can make it up to 1 day ahead and store refrigerated airtight until serving time.

½ cups (355 ml) Hangar 1 Straight Vodka

½ cups (355 ml) pomegranate juice

¾ cup (175 ml) grilled meyer lemon juice (more to taste)

tablespoons (90 ml) rosemary simple syrup (more to taste)

ice

about 2 quarts sparkling water

pomegranate arils and rosemary sprigs, for garnish
Notes
Look for fresh-pressed pomegranate juice at farmers markets throughout the fall and early winter months, or make your own by pulsing pomegranate arils in a blender, then straining through a fine-mesh sieve.
A stovetop grill pan works great for the lemons if you don't have an outdoor grill. See below for a larger recipe to serve a crowd.
Nutritional values are based on one drink.
Nutrition
Calories:
181
kcal
Carbohydrates:
21
g
Protein:
1
g
Fat:
1
g
Saturated Fat:
1
g
Sodium:
65
mg
Potassium:
149
mg
Sugar:
18
g
Vitamin C:
20.3
mg
Calcium:
12
mg
Iron:
0.5
mg