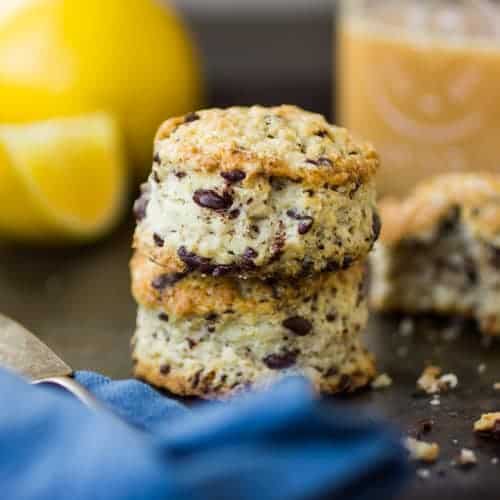 I've long enjoyed the aroma of a pot of flowery Earl Grey tea, but it wasn't until pastry school that I learned that the flavoring, bergamot, actually comes from the zest of a citrus fruit.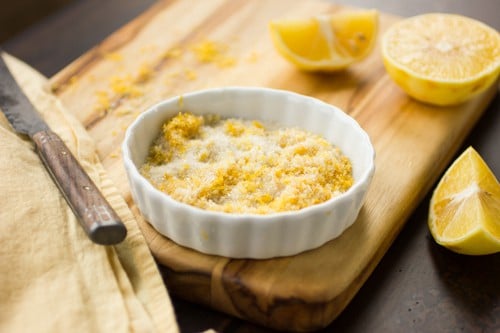 Much like grapefruit, bergamot zest has bitter, sweet, and floral notes, as well as deep, musky undertones akin to champagne or roses. The flesh and juice are sour, like a cross between lemon and grapefruit, but it is the aromatic zest that gets distilled into an oil to flavor tea and scent perfume.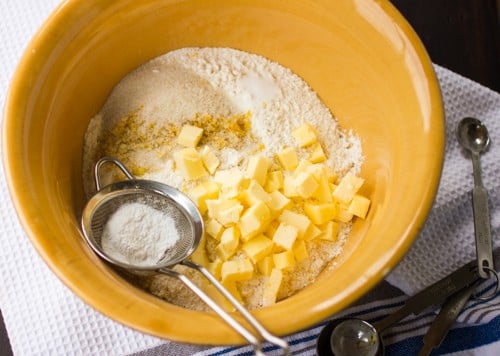 I was thrilled to find some fresh bergamots at Berkeley Bowl the other day, and have been enjoying experiencing the flavor of the fruit in its own right.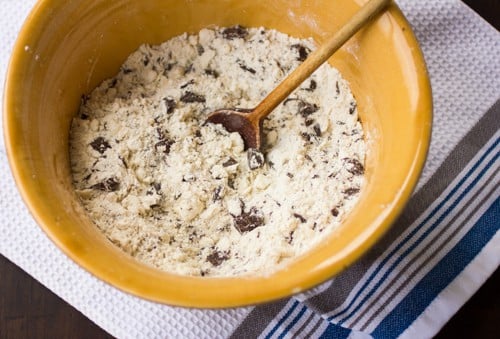 After sipping some bergamojitos, I grated some zest into these cream scones flecked with chunks of bittersweet chocolate.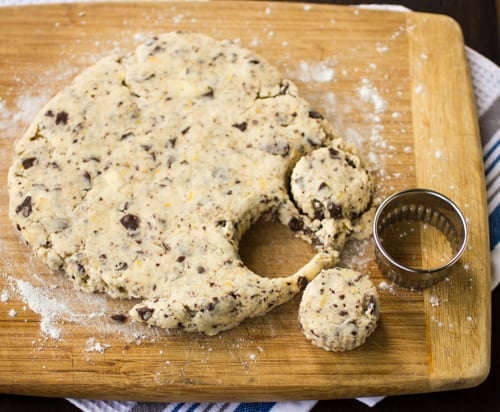 I made these dessert-like morsels tiny as they are more suited to an afternoon sweet than a hearty breakfast; though their sweetness is subdued, as scones ought to be. They are sublime when fresh from the oven, with crusty tops, crisp bottoms, and tender middles studded with pockets of melted chocolate. The combination of bergamot and chocolate is at once familiar and new, hinting at chocolate-coated orangettes and earl grey tea, but tasting exotic and different at the same time.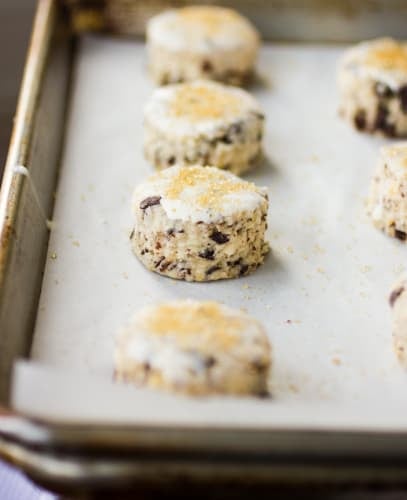 The key to delicate scones lies in keeping the butter cold and handling the dough as little as possible to prevent the development of bready glutens in the flour. Heavy cream makes the most meltingly tender scones, but you can use lighter dairy if the thought of pouring in a cup of cream makes you blench. Freezing the scones prior to baking helps them hold their shape while keeping them light and tender, but you can bake them straight away if you need to get your scone on, stat.
Look for bergamots at farmers markets in the winter, or order them here. I've seen them popping up on menus around San Francisco (including a bergamot pasta at Rich Table that is out of this world) so I'm hoping that they become increasingly available. Bergamot olive oil, available at some fancy grocery stores, is another way to get your bergamot fix (and is good on chocolate ice cream with sea salt, alla Bi Rite Creamery). You could also stir in a tablespoon of earl grey tea, finely ground, in place of the fresh bergamot.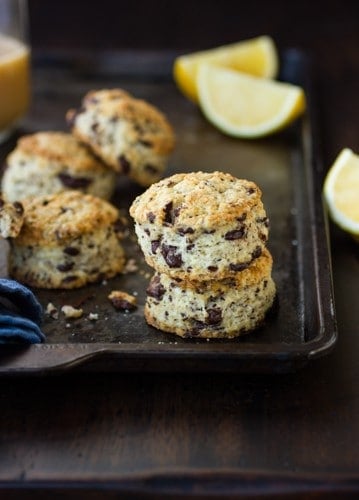 Here are some more bergamot-centric recipes from around the web:
Vanilla Bergamot Ice Cream, a variation on my favorite base recipe
Bergamot Madeleines, from Chez Pim
Bergamot, Thyme and Semolina Olive Oil Cake, from Eat the Love
Creamy Meyer Lemon, Bergamot and Fresh Ricotta Tart, from Fresh New England
Bergamot Vanilla Bean Marmalade, from Chez Us
DIY Earl Grey, from The Kitchn
Bergamot Curd, from Yum in Tum
Bergamot Marmalade, from David Lebovitz
Chocolate Macarons with Bergamot Buttercream, from Chez Us
Bergamot Bitters (with green cardamom), from Purple House Dirt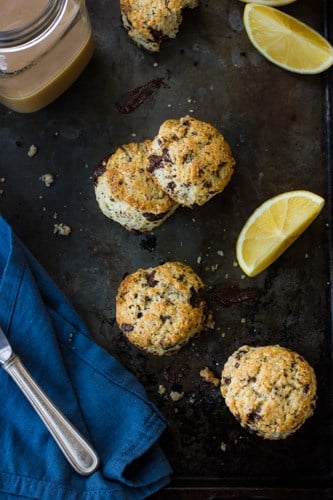 Sweet on citrus:
Meyer Lemon Buttermilk Pie
Meyer Lemon Semolina Squares
Blood Orange Upside-Down Cake
One year ago:
Buckwheat Hazelnut Brown Butter Cake, Cider-Glazed Apples
Two years ago:
Pear, Blue Cheese and Hazelnut Tart
Three years ago:
Pumpkin Challah
Oven-Roasted Potatoes and Parsnips
Chocolate Bergamot Scones
Heavy cream makes the most meltingly tender scones. But if you're trying to save on calories, or simply don't have any, you can substitute yogurt, buttermilk, half and half, whole milk, crème fraîche, or any combination thereof. The amount you need to bring the dough together will vary.
The scones hold their shapes best when frozen prior to baking. Frozen scones can be double-bagged and stored until ready to bake, up to a couple of months. If you want scones in a jiffy, though, you can bake them as soon as they have been cut. I like to bake scones on a double layer of baking sheets as it prevents their bottoms from over-browning.
These are best the day they have been baked, particularly when fresh from the oven, but they'll keep for a few days at room temperature. Re-warm for best results.
Makes about 18 mini (2″ round) scones
2 teaspoons lightly packed, finely grated zest from 1 medium (orange-sized) bergamot
1/4 cup sugar (preferably organic cane sugar)
2 cups (10 ounces) all-purpose flour
2 1/2 teaspoons baking powder
1/4 teaspoon salt
5 tablespoons (2 1/2 ounces) cold, unsalted butter, in 1/4″ dice
4 ounces (about 3/4 cup) semisweet or bittersweet chocolate, chopped into roughly 1/4″ chunks (I use Scharffen Berger's 70% bittersweet)
3/4-1 cup cold heavy cream, as needed (or other dairy – see headnote), plus 2 tablespoons for brushing the scones
1 tablespoon coarse (turbinado) sugar, for sprinkling
Combine the bergamot zest and sugar in a large mixing bowl (or the bowl of a stand mixer fitted with the paddle attachment) and rub with your fingertips (or with the mixer on low) until the sugar is moistened. This helps to draw out the oils and flavor of the bergamot.
Add the flour, baking powder (sifted, if lumpy), salt and butter to the sugar mixture, and work with a pastry blender or your fingertips (or with the mixer on low) until the butter is mostly blended in with some pea-sized bits remaining. Stir in the chocolate, then slowly add the cream, tossing with a rubber spatula (or mixing on low), adding enough to just make the dough begin to clump together and no floury bits remain. Gently knead and press the dough into a ball (you can do this right in the bowl) then turn it out onto a lightly floured surface and press it into a round that is 3/4″ thick and about 8″ in diameter.
Use a lightly floured 1 1/2″ biscuit cutter to cut out rounds of dough as close together as possible, placing the cut scones on a small baking sheet in preparation for freezing. Gently press together the remaining dough scraps, and cut out more scones. Repeat until all the dough is used up. Freeze the scones until firm, 30-60 minutes.
Meanwhile, position a rack in the upper third of the oven and preheat to 425º.
Place the frozen scones two inches apart on a baking sheet lined with parchment paper, and stack it atop a second sheet pan to prevent the bottoms from scorching. Brush the tops with cream and sprinkle with coarse sugar.
Bake the scones until the tops and bottoms are golden, 15-20 minutes. Remove and let cool slightly. Serve the scones warm or at room temperature. They are best the day they are baked, but will keep for a few days at room temperature in an air-tight container. Re-warm in a toaster oven for best results.