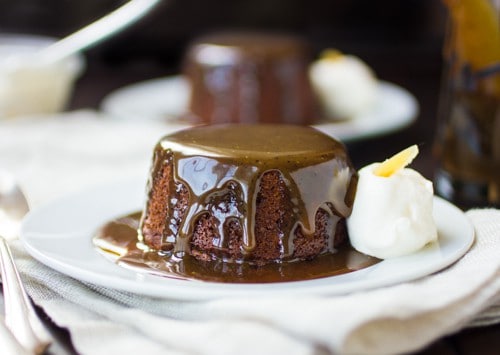 While thousands of obsessed fans hunkered down in front of their tellies to holler at men in tight pants on Super Bowl Sunday, Jay and I spent an idyllic day hiking in Muir Woods. We took a beer break at the Tourist Club, and marvelled at the lack of obnoxious frat boy-types on the mountain that day. It wasn't until we were back in the city, sitting down to dinner in an uncharacteristically half-empty Pizzetta 211 that it dawned on us: all the jocks were busy watching TV. Never before had I felt so grateful for American football.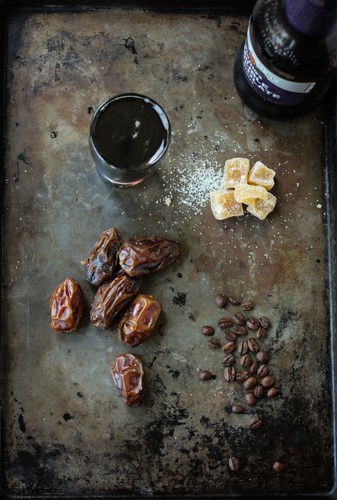 I wouldn't mind eating dinner at Pizzetta 211 every night for the rest of my life. The food is superb, the atmosphere comfortably hip, and because it's way out in the Richmond, it's not packed with annoying hipsters (presumably too far to ride a fixie from the Mission). Our meal that night was nothing short of spectacular: a salad of plump cranberry beans and artichokes; thin-crust pizza topped with gruyère, chard, and crispy potatoes; fabulous wine and beer; and for dessert, almond-studded saffron biscotti, and sticky toffee pudding with a few surprises.
Sticky toffee puddings can be unbearably sweet, but this one, flecked with spicy ginger and coated in a coffee toffee sauce, was perfect. I've been wanting to make a sticky pudding using stout in place of the water which usually hydrates the dates, so I combined all of those lovely flavorings into these puddings. The result is a warm cake studded with pockets of creamy dates and finely chopped candied ginger, all coated in a nap of gooey coffee and brown sugar toffee sauce. A hefty dollop of unsweetened whipped cream helps to further temper the sweetness and round out the flavors. Like the original from Pizzetta 211, it tastes richly satisfying, yet not overly sweet.
Toffee sauce is the lazy girl's caramel – just as good, but way easier to make. The molasses in the brown sugar provides complex flavor and a rich, golden hue. Golden syrup (or molasses, honey or corn syrup) adds body while preventing crystallization. A hit of salt makes it extra addictive. Finely ground coffee beans lend a deep smokiness (though you could probably omit the coffee and add a splash of stout in its place). All of these ingredients are simmered with heavy cream until the sauce bubbles thickly, and has the consistency of warm caramel.
I should clarify that this is "pudding" in the British sense of the word meaning simply "dessert." The cake part is rather like a moist and tender muffin, with the accoutrements elevating it to ooey, gooey dessert status. The cakes dome a bit in the oven; you can either slice off the tops and invert the cakes onto plates, or leave them on and serve them right-side up.
I adapted this recipe from Sweet!, a favorite cookbook of mine that details baking with different sorts of sweeteners. (See David Lebovitz's hilarious post about the original recipe here.) I reduced the sugar to make up for the extra sweetness in the candied ginger, and converted the mixing method to being one-pot-style, in which everything gets stirred into the warm date/stout mixture rather than creaming the butter and sugar together separately. This makes them dangerously simple to mix up; in fact, we're on our third round.
Now if only I could successfully replicate that pizza…
Pudding on the Ritz:
Warm Pumpkin Pudding Cakes
Chocolate Bourbon Bread Pudding (with homemade chocolate buns)
Salty Butterscotch Pudding
One year ago:
Two years ago:
A very different Sticky Date Pudding
Three years ago:
Apple Huckleberry Pie with Sourdough Pâte Brisée
Stout Sticky Puddings with Ginger and Coffee Toffee
Adapted generously from the Sticky Toffee Pudding in Mani Niall's Sweet!
You can either bake these in four 8-ounce ramekins, lop off their domed tops and invert them onto plates, or bake them in six 4-6 ounce muffin cups or oven-safe cappuccino cups and serve them right side up. The puddings and toffee can both be made a day or two in advance and re-heated when ready to serve. I use Young's Double Chocolate Stout here, but use any dark beer that you like the taste of. All ounce measurements here are by weight.
Makes 4 – 6 servings
Puddings:
softened butter, for greasing the ramekins
1/2 cup pitted, chopped (1/2″) dates (3 1/2 ounces)
1/2 cup plus 1 tablespoon stout beer
1/2 teaspoon baking soda
2 tablespoons (1 ounce) unsalted butter
1/4 cup (1 3/4 ounces) sugar
1 large egg
1/2 teaspoon vanilla extract
1/4 teaspoon sea salt
1/2 cup plus 2 tablespoons (3 ounces) all-purpose flour
1/2 teaspoon baking powder
2 tablespoons (1 ounce) finely diced candied ginger
unsweetened whipped cream, for serving
slivered candied ginger, for serving
Coffee Toffee Sauce:
1 cup heavy cream
1 1/2 teaspoons very finely ground coffee or espresso
1/4 cup dark brown sugar (preferably organic, which contains extra molasses)
1 generous tablespoon Lyle's golden syrup (or light molasses, honey or corn syrup)
1/8 teaspoon sea salt
Make the puddings:
Position a rack in the center of the oven and preheat to 350ºF. Coat four 8-ounce ramekins (or six 4-6 ounce ramekins, muffin cups, or oven-proof cappuccino cups) with softened butter and place on a small baking sheet.
Place the chopped dates and stout in a medium saucepan and bring to simmer over a medium flame, shuffling the pan occasionally. Remove from the heat, and stir in the baking soda – the mixture will foam up a bit. Stir in the butter and when it has melted, stir in the sugar. Stir in the egg, vanilla and salt, then gently stir in the flour, baking powder, and chopped ginger until combined.
Divide the mixture evenly among the prepared ramekins, filling them 1/2-2/3 full. Bake the puddings until a toothpick inserted in the center of a pudding comes out clean, 20-30 minutes (depending on the size and material of the baking vessel), rotating the puddings once halfway through for even baking.
Meanwhile, make the toffee sauce:
In a small, heavy-bottomed saucepan, combine the heavy cream, ground coffee, brown sugar, golden syrup and salt. Bring the mixture to a simmer over a medium flame, stirring to dissolve the sugar, then simmer until the mixture bubbles thickly, another 5 minutes. Let cool slightly to thicken.
To serve the puddings, loosen the sides of the puddings with a thin knife. Turn the warm puddings out onto plates or bowls (either cutting off the rounded tops and inverting, or serving them right-side-up). Top with warm toffee sauce, and dollop generously with whipped cream and a few slivers of ginger.
The cakes keep well, wrapped, in the fridge for up to 4 days. Reheat in a 350º oven or toaster oven for 5 to 10 minutes, and re-warm the sauce in a small saucepan, prior to serving.