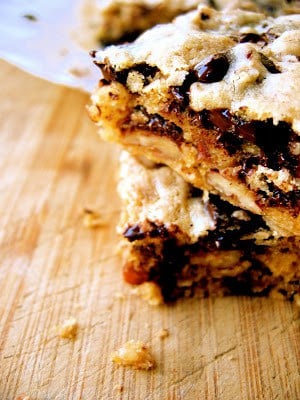 My big sister is amazing. She can do anything, and does, from trail running marathons to singing, dancing and playing the cello. She also has three jobs, four if you count having a teenaged daughter (though maybe that's more like 10 jobs..) and is one of the kindest, most caring and comforting people I know.
If there are two things my gluten-intolerant sister likes best, it's booze and chocolate. I like to make her happy, so I created these gluten-free congo bars full of melty chocolate and a splash of dark rum just for her. (Not for me of course; no, this endeavor was completely selfless.)
Congo bars are blondies with the addition of shredded coconut. I normally don't care for coconut in this form, but something special happens in these bars - the butter, sugar and coconut form a pleasing 'gunginess;' a gooey, chewy, moist, stickiness that makes them extra addictive.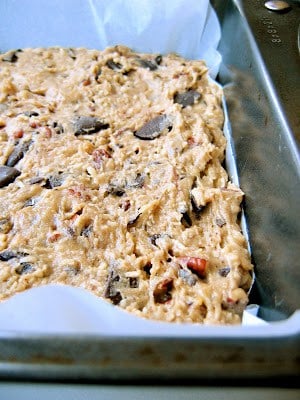 The dark rum adds a mysterious layer of flavor, cutting the sweetness a bit, enhancing the bitterness of the chocolate and the toasty nuts somehow, and elevating the humble blondie to sophisticated new heights.
The fine folks at Cook's developed a killer recipe that creates a bar cookie neither too thick nor too thin, chewy without being heavy, packed full of vanilla and toffee flavors, laden with toasty nuts and oozing chocolate in every bite. I've been making these bars for several years, and have come to tweak almost every ingredient to make these just to my taste - not too sweet or coconutty, packed with chocolate and full of flavor.
Best of all (for my sister), these blondies are unobtrusively gluten-free, though you would never guess that their tender, chewy texture was due to a suave combination of sticky rice and tapioca flours.
These pack well for a picnic or on-the-go snack. Or you could gild the lily by serving them warm with a scoop of ice cream (brown sugar, rum, coffee, vanilla or dulce de leche would all be exquisite). And some rum-flambeed banana slices wouldn't be amiss, either.
At least, I know my sister wouldn't object.
More gluten-free goodies:
*Bojon appétit! For more Bojon Gourmet in your life, follow along on Instagram, Facebook, or Pinterest, purchase my gluten-free cookbook Alternative Baker, or subscribe to receive new posts via email. And if you make this congo bar recipe, I'd love to know. Leave a comment and rating below, and tag your Instagram snaps @The_Bojon_Gourmet and #bojongourmet.*
(Gluten-Free!) Congo Bars
Print Recipe
Pin Recipe
These gluten-free bars are the perfect grab and go snack!
Ingredients
3/4

cup

pecans

1/2

cup

shredded, unsweetened coconut

3

ounces

butter, melted and warm

(6 tablespoons, 3/4 stick)

1/2

cup

plus 2 tablespoons light or dark brown sugar

1

large egg

(2 ounces)

1

tablespoon

dark rum

2

teaspoons

vanilla extract

1/2

cup

plus 2 tablespoons sticky (sweet/glutinous) white rice flour

(3 1/2 ounces)

2

tablespoons

tapioca flour

(1 ounce)

1/2

teaspoon

xanthan gum

1/2

teaspoon

baking powder

1/2

teaspoon

salt

1

cup

bittersweet (70% cacao mass) chocolate, coarsely chopped

(6 ounces)
Instructions
Position a rack in the center of the oven and preheat to 350º. Put sling of parchment paper or heavy aluminum foil in an 8x8" square baking pan, or grease the pan.

Spread the pecans on a small sheet pan and roast in the oven until golden and fragrant, 10 - 12 minutes. Remove and let cool, then break or chop into coarse pieces.

Meanwhile, spread the coconut on another small baking pan and bake for 5 minutes until golden, stirring once or twice. Set aside to cool.

In a large bowl, whisk together the sugar and egg. Slowly pour in the melted butter, whisking to combine, and add the rum and vanilla.

In a small bowl, whisk or sift together the flours, xanthan gum, baking powder and salt. Stir the dries into the wets. Stir in the cooled pecans, coconut, and chocolate chunks.

Spread the dough evenly into the parchmented pan. (It will look like not enough, but don't worry, it will rise in the oven.)

Bake until puffed, shiny and slightly cracked on top, and a toothpick inserted comes out with a few large, wet crumbs clinging (don't overbake), 15 - 20 minutes. Let cool at least 20 minutes before cutting (longer for cleaner-looking bars). Trim away the outer 1/2", then cut into 16 bars.

The bars are best the day they are made, but will keep, in an airtight container, for several days.
Notes
Adapted from Cook's Illustrated.
If gluten isn't an issue for you, you can substitute 3/4 cup all purpose, whole wheat, or whole or white spelt flour for the rice and tapioca flours and omit the xanthan gum.
Sticky rice flour, sometimes called "sweet" or "glutinous," is available at most well-stocked grocers. I usually use Mochiko brand. Regular rice flour may make for crumbly congo bars that don't hold together. If that's all you've got, try doubling the xanthan gum.
Nutritional values are based on one of sixteen bars.
Nutrition
Calories:
206
kcal
Carbohydrates:
18
g
Protein:
1
g
Fat:
13
g
Saturated Fat:
7
g
Cholesterol:
22
mg
Sodium:
121
mg
Potassium:
124
mg
Fiber:
1
g
Sugar:
11
g
Vitamin A:
155
IU
Calcium:
25
mg
Iron:
1
mg