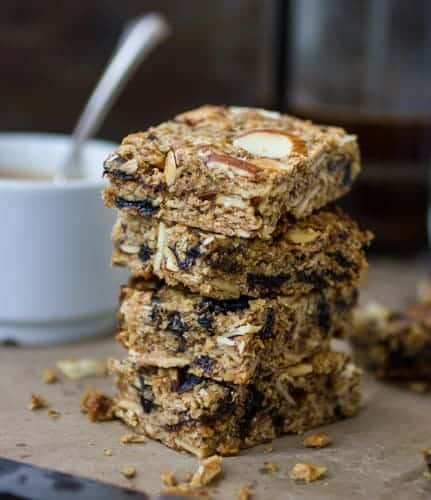 When I was laid up with a nasty cold three Decembers ago, I spent several days doing little other than reading though Deb's archives. This year, I was thrilled to get my mitts on The Smitten Kitchen Cookbook, which my dad sent me on my mid-December birthday (thanks, Dad!). Since I am almost always sick on my birthday*, I spent the next three days in bed, reading the book from cover to cover.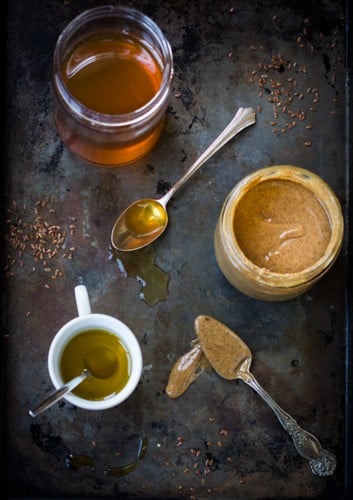 You clearly like food, and blogs, so you almost certainly know that with Deb's superb writing and photographs, this was entirely possible. You probably did the same thing and ended up with a severe craving for that chicken roasted over marble potatoes, too.
Now that I'm well, I've been cooking my way through the breakfast section – first the gingerbread dutch baby, then the baked ranchero eggs. The sweet potato blintzes are as amazing as they look, and they're fun to make, too. I knew these breakfast bars would be perfect for my health-conscious cousin, a new mom who needs lots of easy and energy-efficient snacks.
Since my cousin is allergic to the dates called for in the original recipe, I experimented with different dried fruit. Since both plums and apricots get on famously with almonds, they were a natural choice, and I like that they both contain a bit of tartness. These fruits turned out chewier than the dates in the baked bars, since they contain fewer moisture-retaining sugars, so I plumped them in a bit of warm orange juice, which fixed them right up.
I also made them gluten-free since it was so easy. I traded the wheat flour for oat flour, the wheat germ for ground flaxseed to help stick things together, and I upped the almond butter to further help them adhere, and because I loved its presence so that I wanted even more of it.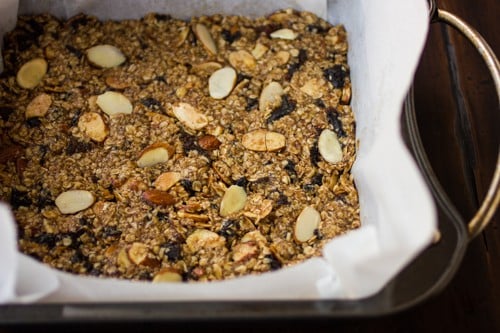 The bars are parsimoniously flavored with a whisper of cinnamon and orange zest and a drop of almond extract. These, combined with honey and olive oil, give the bars a distinctly Mediterranean flair that allows the other ingredients to shine. As Deb aptly puts it, they still taste like a treat.
It's a good thing they are so healthy, because I've developed a sort of psychological dependence on them. I so appreciate having them on hand for those moments in the day when I suddenly find myself hungry enough to gnaw off my own hand and, blind with hunger, reach for the first thing I see. It's a happy coincidence when that thing is a container full of these nourishing bars.
It goes without saying that these make an ideal snack for a hike, a camping trip, or an early morning at work. And it's hard to resist packaging them up to give to friends and family.
If you do, I guarantee you will not be the only one smitten with these heavenly bars.
*You can listen to my thoughts on this topic in a song I wrote (and performed with my band) here.
Desserts for breakfast:
Gluten-Free Banana Buckwheat Pancakes
Cardamom Pear Oven Pancake
Breakfast Bars with Tart Cherries, Chocolate and Pecans
Almond, Prune and Apricot Breakfast Bars
Adapted from The Smitten Kitchen Cookbook
Since there is such a small amount of flour here, you could probably substitute a gluten-free all-purpose blend if you preferred. And you could swap out the apricots and prunes for just about any dried fruit that is soft and moist – I think figs would be nice, too. If you or your bar-eaters are very sensitive to gluten, be sure to seek out gluten-free oats and oat flour. A good, flavorful honey will make these extra-delicious (I use an amazing blackberry honey that we get in bulk at our co-op). All ounce measurements are by weight.
Makes twelve 2×3″ bars (an 8×8″ pan)
scant 1/2 teaspoon zest from 1/4 of a large orange
2-3 tablespoons orange juice from half a large orange
1/2 cup (3 1/4 ounces) dried apricots, chopped
1/2 cup (3 1/4 ounces) prunes, chopped
2/3 cup (2 3/4 ounces) sliced almonds, plus a few extra for the top
1 1/2 cups (5 ounces) quick (baby) oats
2 tablespoons (3/4 ounce) flax seed, ground in a coffee or spice grinder
2 tablespoons (1/2 ounce) oat flour
1/2 teaspoon fine sea salt
1/4 teaspoon cinnamon
1/4 cup plus 2 tablespoons (3 ounces) almond butter
1/4 cup (1 3/4 ounces) olive oil
1/4 cup (2 3/4 ounces) honey
1/4 teaspoon almond extract
Position a rack in the center of the oven and preheat to 325º. Line the bottom and sides of an 8×8″ square baking pan with parchment paper and set aside.
Zest the 1/4 of orange into a medium bowl and set aside. Place the chopped apricots and prunes in another medium bowl and set aside. Juice half of the orange into a small saucepan and bring to a bare simmer over a medium flame, swirling occasionally. Pour the hot juice over the dried fruit and let sit to absorb, tossing once or twice, while you get on with the recipe.
Spread the almonds on a small baking sheet and toast in the oven until fragrant, 4-5 minutes. In a large bowl, stir together the toasted almonds, oats, ground flax, oat flour, salt and cinnamon.
To the bowl with the orange zest, add the almond butter, olive oil, honey and almond extract and whisk to combine.
Add the almond butter mixture and the dried fruit mixture to the oat mixture and stir until well combined.
Scrape the mixture into the lined baking pan and use moistened fingers to press it firmly and evenly into the pan. Press a few extra sliced almonds into the top if you like. Bake the bars until the top is golden, 25-30 minutes. Let cool completely, then use the parchment paper "handles" to remove the bar to a cutting board. Use a large, sharp chef's knife to cut the bar into 12 rectangles.
The bars keep well in an airtight container at room temperature for up to a week.