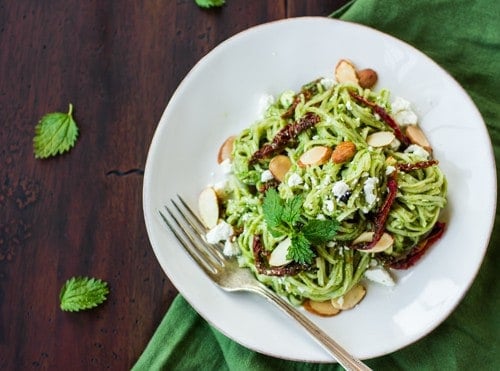 Nettles don't seem like the friendliest of vegetables, especially when you're stumbling into one in the forest and small, burning welts rise across your skin. (Though I do have one masochistic friend who seeks them out in order to punch them with her bare fist.)
I found this behavior odd until I read in this article from Vegetarian Living that nettle stings can help to wake up the mind via neurotransmitters, and also provide relief from stiff joints. Luckily for my friend, nettles aren't nearly as evil as poison oak, since the unpleasant sensation that they cause only lasts about 10 minutes, you know immediately if you've touched them, and when you cook them, their spines deactivate, making them edible.
Since I'm generally a big wimp, I stayed far away from the so-called stingers for years before my curiosity finally got the better of me. I picked up a package of the scary greens from Knoll Farms via my co-op, and beat the nettles into submission, using a pair of tongs to drown them in boiling water. I then froze them in an ice water bath, and finally wrung the little buggers dry.
Once cooked, nettles lose their sting entirely. They taste like spinach, only more so – rich with iron and with a deeper, woodsy flavor. Blanched and blended into a pesto of sliced almonds, lemon zest, garlic, olive oil and parmesan, they make a mild, green-hued backdrop to the other ingredients.
I've been thinking a lot about tomatoes lately; mostly how I miss them, how long it will be until they're in season again, and how canned tomatoes don't really do the trick. Packing sun-dried tomatoes in oil does a good job of preserving their flavor, so I added some to the pasta for a splash of color and whisper-of-summer flavor.
I loosen the pesto with a bit of hot water, then toss it with fresh pasta, which in addition to cooking in just over a minute, manages to make any meal feel special. Then I add the slivered sun-dried tomatoes, crumbled ricotta salata, oil-cured olives and toasted sliced almonds. The whole dish tastes fresh and bright, with lots of sweet, happy flavors bouncing about and babbling about spring. It's one of those dishes that feels light and satisfying at the same time.
Look for nettles at farmer's markets in the winter and spring, or forage for them (carefully) in forests. Though if you can't find nettles, or prefer a green that doesn't fight back, broccoli rabe makes a fine substitute.
Do use tongs when handling the raw nettles. And don't actually garnish the plates with raw nettle leaves, unless your guests are into that kind of sting.
Pesto is the best-o:
Zucchini Pesto Lasagna
Asparagus Pesto Pizza
Cilantro Pepito Pesto
One year ago:
Two years ago:
Butterscotch Pudding (I just made this again last night – we still love it as much as ever)
Three years ago:
Nettle Pesto Pasta with Sun-Dried Tomatoes and Ricotta Salata
Be sure to only handle raw nettles with tongs or rubber gloves so as not to get their tiny, welt-raising spines stuck in your skin. (Once the nettles are cooked, touching or eating them is completely safe.) This recipe makes enough pesto for 2-3 rounds of pasta, each serving 3-4. Alternately, extra pesto is great on sandwiches, with eggs, swirled into a bean-based soup, or on pizza. It will stay green in a jar in the fridge for at least a week. If you lack fresh pasta, use 6 ounces of dry pasta, adjusting the cooking time (and the other ingredients if needed).
Makes 3-4 main-course-sized servings
Nettle Pesto:
3-4 ounces (4-5 cups, packed) young stinging nettles
6 tablespoons sliced almonds (plus 4 tablespoons for topping the pasta), lightly toasted and cooled
2 medium cloves of garlic, smashed and peeled
zest of 1 small lemon
2 ounces parmesan cheese, grated (3/4 cup)
1/4 teaspoon salt
3/4 cup extra-virgin olive oil
Pasta and such:
1/2 cup of pesto (from above)
8 ounces fresh pasta (such as linguine)
8 sun-dried tomatoes packed in oil, squeezed of excess oil and slivered
8 oil-cured olives, smashed, pitted and chopped fairly fine
1/2 cup crumbled ricotta salata (about 2 ounces)
4 tablespoons sliced almonds, lightly toasted (from above)
Make the pesto:
Bring a large saucepan of water to a boil. Prepare an ice bath and set it aside. Rinse the nettles, touching them only with tongs or gloved hands, then plunge them into the boiling water until they wilt and turn bright green, about 30 seconds. Drain the nettles, then dump them into the ice bath. When they have cooled, drain them again and squeeze out the excess water (their spines will not be stingy anymore, so you can use your bare hands).
Place the blanched and drained nettles in a food processor with the 6 tablespoons of almonds, garlic, lemon zest, parmesan and salt. Blend until smooth-ish, then slowly pour in the olive oil with the motor running until you have a homogenous, green paste. You will have about 1 1/4 to 1 1/2 cups. Store the pesto in the fridge until needed; it will stay green for about a week.
Make the pasta:
Bring a large pot of lightly salted water to a boil. Add 1/4 cup of the hot water to the 1/2 cup of pesto and stir to combine (this will warm and loosen the pesto, helping it coat the pasta). Have the other ingredients ready to go.
Boil the fresh pasta for 1-2 minutes (or as the package instructs). Reserve 1/2 cup of pasta water (in case you need to moisten the pasta some more), then drain the pasta and place it in a large bowl. Toss with the pesto, tomatoes, olives, cheese and almonds (reserving some for garnish if you like), moistening it with more pasta water if the pasta seems dry. Serve immediately.