This sweet potato breakfast bowl goes savory with toasted sesame oil, sautéed spinach and scallions, crunchy vegan coconut bacon, and poached eggs. A healthy, vegetarian, grain-free, optionally vegan breakfast for cooler months. Thanks to La Tourangelle for sponsoring this post!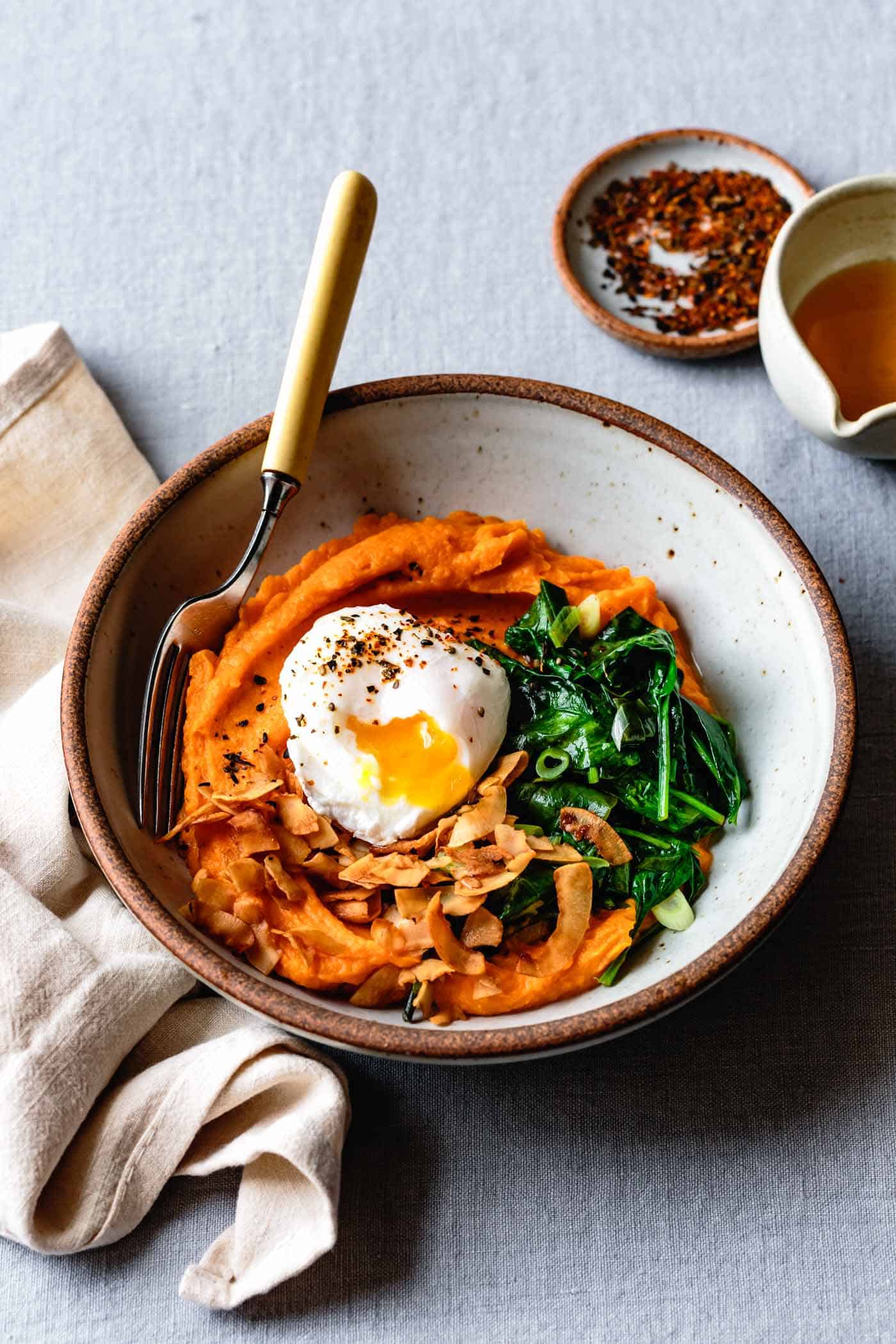 I went to a nutritionist last year for the first (and only) time because I wanted to make sure I was getting the required nutrients from my vegetarian diet. The nutritionist turned out to be a fan of the keto diet – a high fat, high protein diet allowing few carbs. As a baker who specializes in desserts made with interesting flours, this was clearly not the right fit for my carb-loving self!
But I did take one gem away from my appointment: eat more vegetables, especially for breakfast.
Sweet Potatoes and Eggs for Breakfast (or lunch, or dinner)
My favorite breakfast at the time was a bowl of savory oats topped with greens and eggs. So I came up with this savory sweet potato breakfast bowl as a grain-free, veggie-ful alternative.
This healthy sweet potato breakfast bowl starts with silky smooth pureed sweet potatoes flavored with veggie broth and vegan butter. No need to turn on the oven, these are made quickly on the stovetop with a saucepan and immersion blender. Next comes a jammy poached egg (or fried, or soft cooked – chef's choice!) on a nest of wilted spinach seasoned with scallions and toasted sesame oil for a Japanese vibe. A flurry of vegan coconut bacon adds umami and crunch, and the whole mess is finished with more toasted sesame oil and togarashi.
While this dish works beautifully for breakfast, it also makes a fine brunch, lunch, or dinner.
Ingredients & Substitutions for Breakfast Sweet Potato Bowls
Sweet potatoes star in this dish. I prefer garnet sweet potatoes, but I've also made these with jewel and Japanese sweet potatoes (and combinations thereof) to good effect.
Vegetable broth or bouillon adds savory notes to the sweet potatoes. I prefer this Not Chik'n bouillon, which is quite salty. You can add a bit of salt to the cooking liquid if using low-sodium broth. If you don't have either on hand, just boil the sweet potatoes in salted water and all will be well.
Butter (dairy or plant) adds richness. I always make this with Miyoko's vegan butter which adds loads of flavor.
Spinach and scallions add savory flavor and so much nourishment. You can use any greens here that you like – kale, chard, or the greens from turnips or radishes. If using these heartier greens, remove the stems and cook for 10 minutes or so until tender, adding splashes of water to keep the pan moist. Or swap out the scallions and cook chopped shallots or onion until tender and starting to color before you add the greens.
I use La Tourangelle Toasted Sesame Oil to cook the veggies and I also drizzle a little extra on top. Its gently roasted, nutty flavor gives this dish a Japanese vibe that brings the flavors together without overpowering. Their method of pressing lightly toasted sesame seeds ensures a fresh and delicate flavor. Other brands of toasted sesame oil can taste harsh, so be sure to seek out La Tourangelle brand for this dish!
I like to top these bowls with poached eggs, but you could also fry, scramble, or soft-boil your eggs. For a vegan version, used roasted tofu or sautéed shiitake mushrooms instead of the egg. Or you can use Just Egg.
A sprinkle of vegan coconut bacon adds salty/smoky/crunchy notes to this sweet potato breakfast bowl. Make a batch ahead of time with just 4 ingredients and enjoy it throughout the week on salads, grain bowls, or out of hand for a snack.
A sprinkle of togarashi adds a bit of kick. If you don't have any on hand, you can use gomashio or toasted sesame seeds instead.
How to Make Sweet Potato Breakfast Bowls
These breakfast bowls take a few different steps, but all are quick and easy to execute and use few ingredients.
First, have your coconut bacon made and stored airtight at room temperature.
Next, peel three sweet potatoes, cut them into cubes, and boil them until tender with a bit of vegetable bouillon. Drain the sweet potatoes, add some vegan or dairy butter, and puree with an immersion blender until smooth. Lacking an immersion blender, you can cool the sweet potatoes a bit and run them in a food processor. Or for a more rustic dish, simply mash with a potato masher or the back of a wooden spoon.
While the sweet potatoes boil, cook your eggs. I've included my favorite poaching method below, but feel free to use whatever cooking technique you like. Or if you're going vegan, prepare your tofu or mushrooms.
Now sauté your spinach and scallions in sesame oil until wilted and tender.
Put the sweet potato breakfast bowl together with a helping of pureed sweet potatoes, a nest of greens, the egg or vegan alternative, and a handful of coconut bacon. Drizzle with sesame oil and togarashi, and enjoy!
Sweet Potato Breakfast Bowl Meal Prep
To make this sweet potato breakfast recipe weekday-friendly, you can prepare the sweet potatoes, scallion-spinach mixture, and coconut bacon ahead of time. When you're ready to eat, just heat the components in a toaster oven, skillet, or microwave and cook the egg. You'll have a quick, healthy, hearty breakfast that will sustain you throughout your morning in no time.
Healthy Sweet Potato Breakfast All Winter Long
This sweet potato breakfast bowl is loaded with good stuff. Sweet potatoes provide a wealth of fiber, vitamins, and potassium. Spinach is high in iron and calcium. There's protein from the egg (or tofu or mushrooms) and healthy fats from sesame oil, vegan butter (if using), and coconut bacon.
All in all, sweet potatoes with eggs for breakfast are a nourishing way to start the day. I especially enjoy this colorful sweet potato breakfast bowl during the winter months when I'm craving bright colors and vibrant flavors.
I hope it becomes a favorite in your kitchen as well!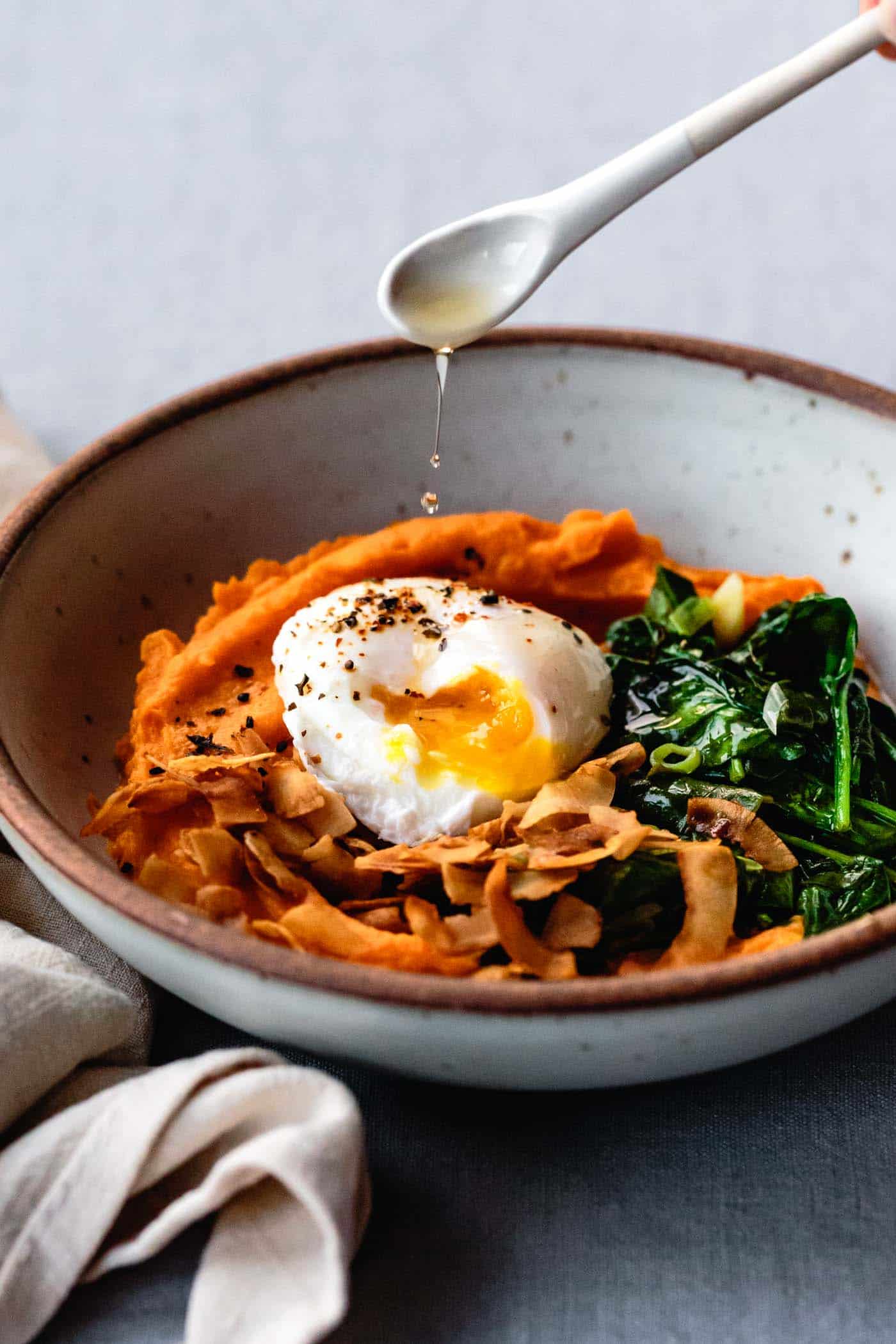 *Bojon appétit! For more Bojon Gourmet in your life, follow along on Instagram, Facebook, or Pinterest, purchase my gluten-free cookbook Alternative Baker, or subscribe to receive new posts via email. And if you make this sweet potato breakfast bowl recipe, I'd love to see. Tag your Instagram snaps @The_Bojon_Gourmet and #bojongourmet.*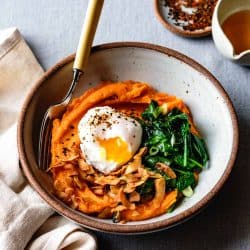 Whipped Sweet Potato Breakfast Bowls with Spinach, Eggs, and Coconut Bacon
Print Recipe
Pin Recipe
This savory sweet potato breakfast bowl makes a nourishing breakfast (or brunch, lunch, or dinner!) It brims with goodness from creamy sweet potato puree, toasted sesame oil, sautéed spinach and scallions, crunchy vegan coconut bacon, and poached eggs. See notes for make-ahead, vegan, and egg prep options!
Ingredients
1

cup

coconut bacon

3

medium garnet or jewel sweet potatoes (about 2 pounds total weight, or 7 cups peeled and cubed)

1

vegetable bouillon cube (or use 2 cups vegetable broth in place of some of the water)

2

tablespoons

salted or unsalted butter or plant butter

Salt, as needed

Splash rice vinegar

3-4

large eggs (or 2 eggs per bowl if you like)

3

medium scallions, washed and thinly sliced

6-8

cups

lightly packed washed baby spinach

Togarashi, for sprinkling
Instructions
Peel the sweet potatoes, cut into large cubes, and place in large saucepan. Add the bouillon cube and cover with 1 inch of water (and vegetable broth if using instead of bouillon). Bring to a boil, then reduce the heat and simmer until the potatoes are very tender, about 10 minutes. Reserve ½ cup of the cooking liquid and drain the sweet potatoes.

Return the cooked sweet potatoes to the pot, add the butter, and blend with an immersion blender until creamy, adding as much of the cooking liquid as you need to make a thick puree. Taste, adding salt or butter if you like. Cover and keep warm.

Fill a skillet with high sides with water, add a bit of salt, and bring to a bare simmer. Crack each egg into a small bowl or ramekin. Add a splash of vinegar to the simmering water and carefully add each egg to the water, holding the bowl close to the surface of the water. Cook the eggs for 4 minutes for a medium poach. Remove with a slotted spoon to paper towels and trim away any wonky whites. Drain the skillet and wipe dry.

Heat the toasted sesame oil in the now empty skillet over medium heat. Add the scallions and spinach and cook, tossing, until wilted. Season with a few pinches of salt to taste.

Spoon the whipped sweet potatoes into bowls, divide the spinach among them, top with the poached eggs, coconut bacon, a sprinkle of togarashi, and a drizzle of toasted sesame oil.
Notes
Vegan option:
Omit the egg and use scrambled vegan egg such as Just Egg, or sriracha roasted tofu, or sautéed shiitake mushrooms.
Make ahead:
The sweet potato puree can be made in advance and chilled for up to 5 days. Reheat in a microwave, or small skillet with a splash of water set over low heat.
Egg variations:
If you prefer, you can top your bowls with eggs prepared however you like – soft boiled, fried, or scrambled.
Nutrition
Calories:
348
kcal
Carbohydrates:
32
g
Protein:
10
g
Fat:
21
g
Saturated Fat:
10
g
Cholesterol:
184
mg
Sodium:
518
mg
Potassium:
915
mg
Fiber:
7
g
Sugar:
6
g
Vitamin A:
24857
IU
Vitamin C:
22
mg
Calcium:
135
mg
Iron:
4
mg
More Hearty & Healthy Vegetarian Breakfast & Brunch Dishes: