This gluten-free vegan coconut flake bacon (AKA Flakin' Bacon!) is made with just a few minutes of active time and 4 pantry ingredients: coconut flakes, tamari, maple syrup, and liquid smoke.
With its salty/sweet/smoky flavor, it tastes just like crispy bacon bits but it's vegetarian. Find more delicious vegan recipes here!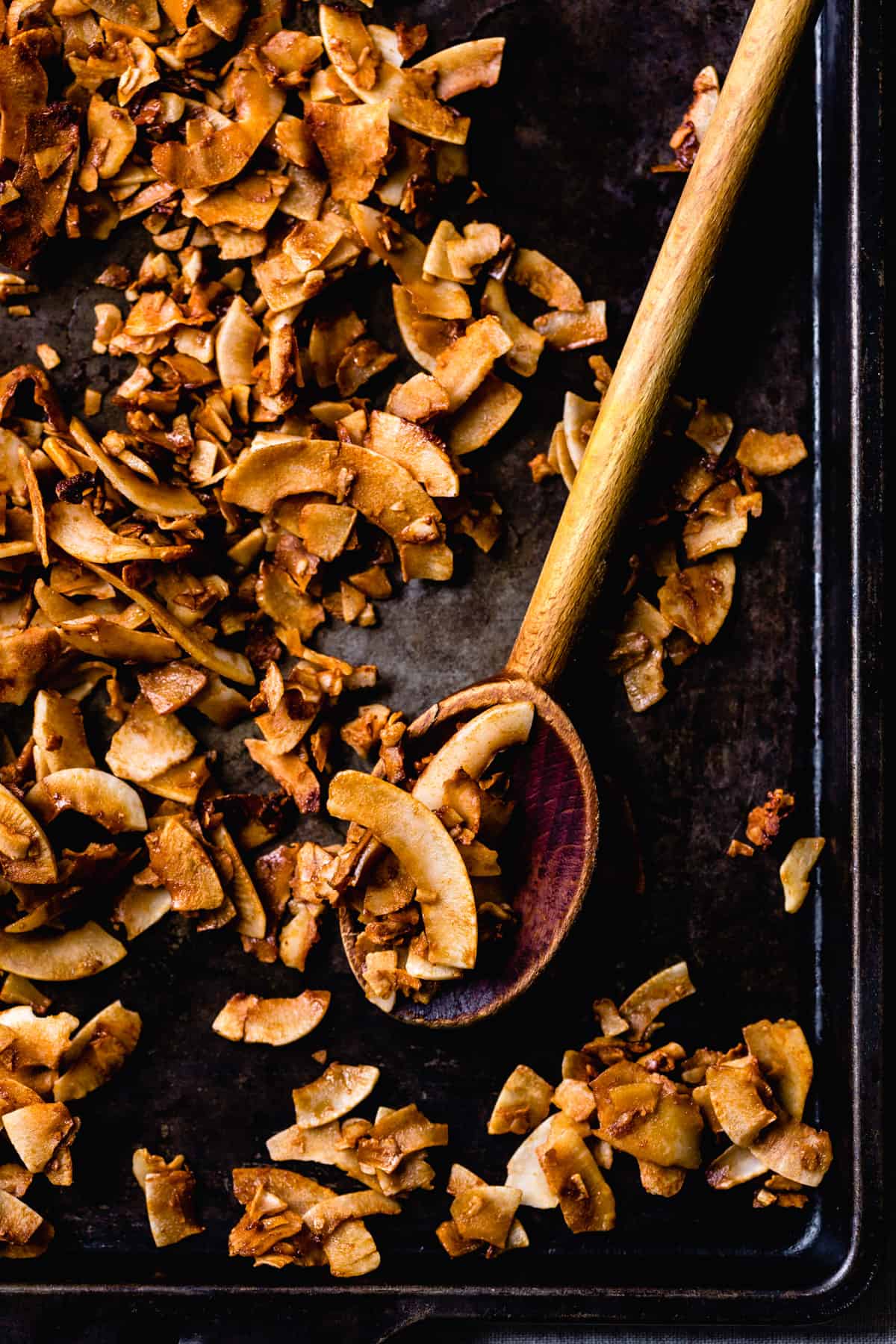 The first time I tried coconut bacon was at a vegan restaurant in Sebastopol, California with some blogger friends. We ordered gluten-free pizza and vegan caesar salad topped with said coconut bacon. I was skeptical of this fake bacon and I had questions. What is coconut bacon? How is it made? How could coconut possibly taste anything like bacon? How??
But then I took a bite, and all my questions (and many prayers I didn't realize I had) were answered. Fat flakes of coconut were infused with the flavor of wood smoke, sweetness, and a deep umami. It tasted just like super crispy bits of bacon. I was hooked.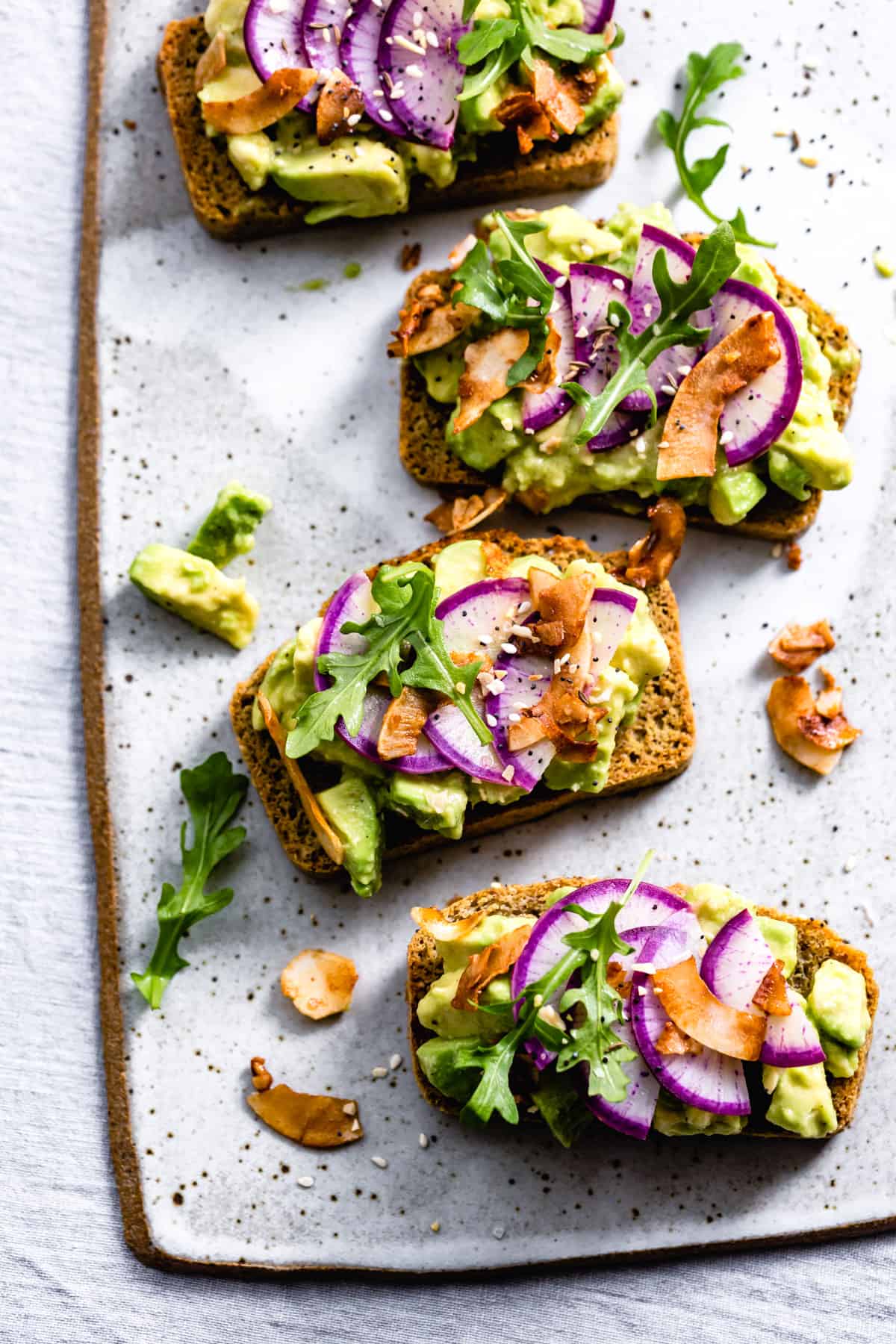 I now make coconut bacon on the regular and have tweaked the method and ratios to my taste and oven over time.
This coconut flake bacon is:
crispy & crunchy
salty, smoky & sweet
very umami
super addicting
tastes more similar to bacon than it has any right to!
Ingredients & Substitution Suggestions
Coconut flake bacon can be yours with just 4 pantry ingredients that can be found at any health food store.
Unsweetened coconut flakes form the base of this recipe. I like Let's Do Organic brand, which has a good mix of large, curvaceous flakes and smaller bacon bit-sized pieces.
Gluten-free tamari adds salt, umami, and a rich, golden hue. Feel free to use soy sauce if gluten isn't an issue for you, or try coconut aminos for a soy-free / paleo-friendly option.
Maple syrup adds sweetness and a bit of earthy, woodsy flavor. Agave nectar can be subbed, or try coconut nectar. But stay away from honey which will prevent the bacon from staying crisp.
Liquid smoke gives it that quintessential smokey flavor and is worth seeking out! However, if you don't have any on hand, try adding 1/2 teaspoon or so of smoked paprika instead.
How to Make Coconut Flake Bacon
This yummy topping takes less than 5 minutes to mix up, plus 20 minutes of baking time. This batch makes about 3 cups of flakin' bacon, for about 12 servings.
Combine the coconut flakes, tamari, maple syrup, and liquid smoke in a large bowl and stir until the coconut flakes are evenly coated.
Spread the mixture on a baking sheet.
Bake until golden and crisp.
Use it to top salads, soups, bowls, and for nomming straight out of the jar!
Coconut bacon will stay crispy for up to several weeks if stored airtight at room temperature.
Liquid Smoke = bacon flavor without the meat!
The key to the earthy bacon flavor in this vegan bacon recipe is liquid smoke. I found a bottle at my co-op near Worcestershire and BBQ sauces, and it can also be ordered here. It's totally worth seeking out for this recipe!
I'm guessing liquid smoke varies in strength from brand to brand – mine is super strong – so start with less than recipes call for and add more accordingly.
Now that you have a bottle of liquid smoke, you may find yourself doing like my friend Emma and splashing it into baked beans, chili, baba ganouj, soups, stews, mac and cheese, or anywhere else you crave fire-roasted flavor.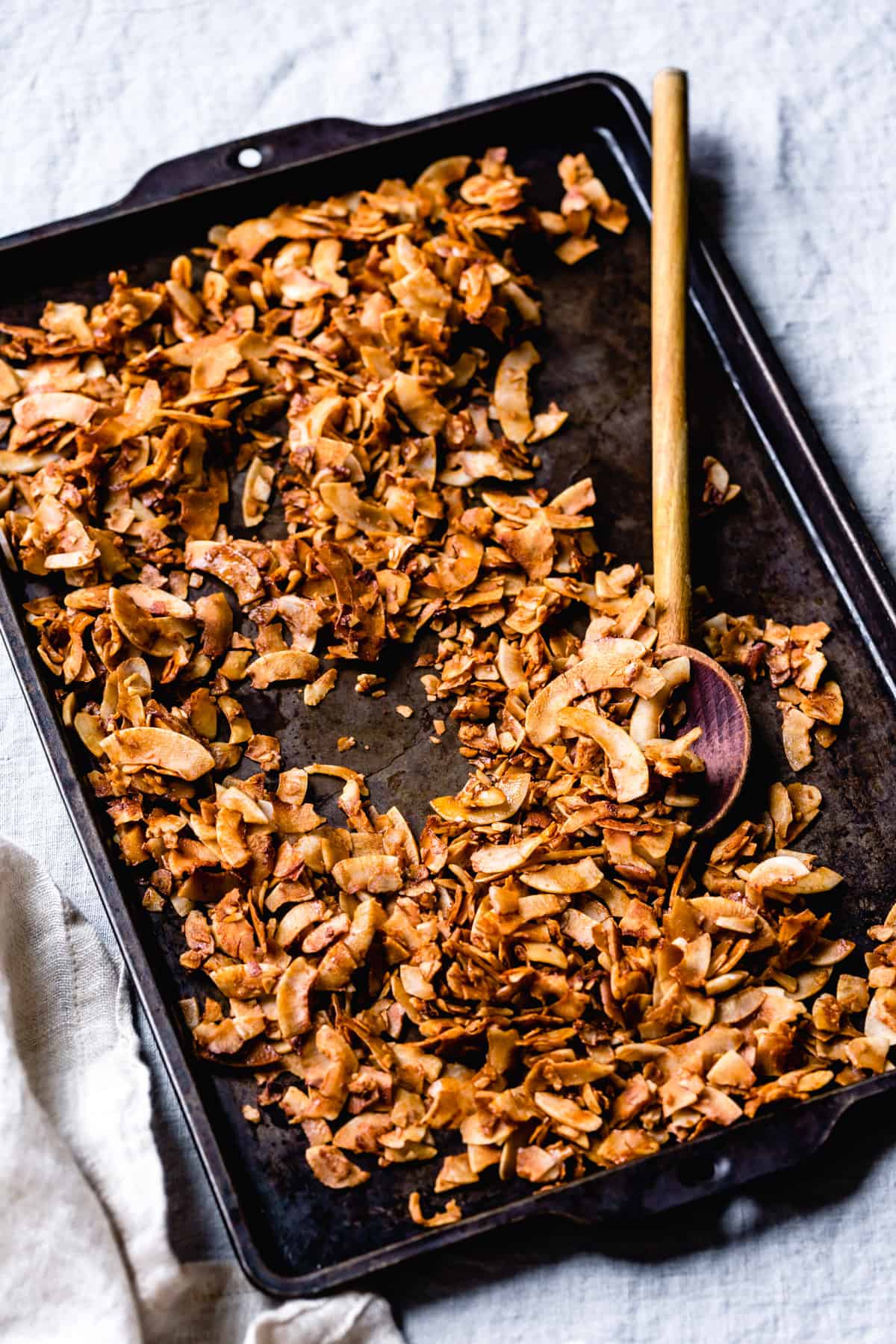 Is Coconut Bacon Healthy?
It is in my book! Flaked coconut, which makes up the bulk of this recipe, is full of healthy fats and fiber. It's gluten-free (as long as you make it with tamari), vegan, and free of refined sugar. It does contain saturated fat and sodium, so of course go easy on it if you're avoiding those things. It doesn't take much to add a big burst of flavor.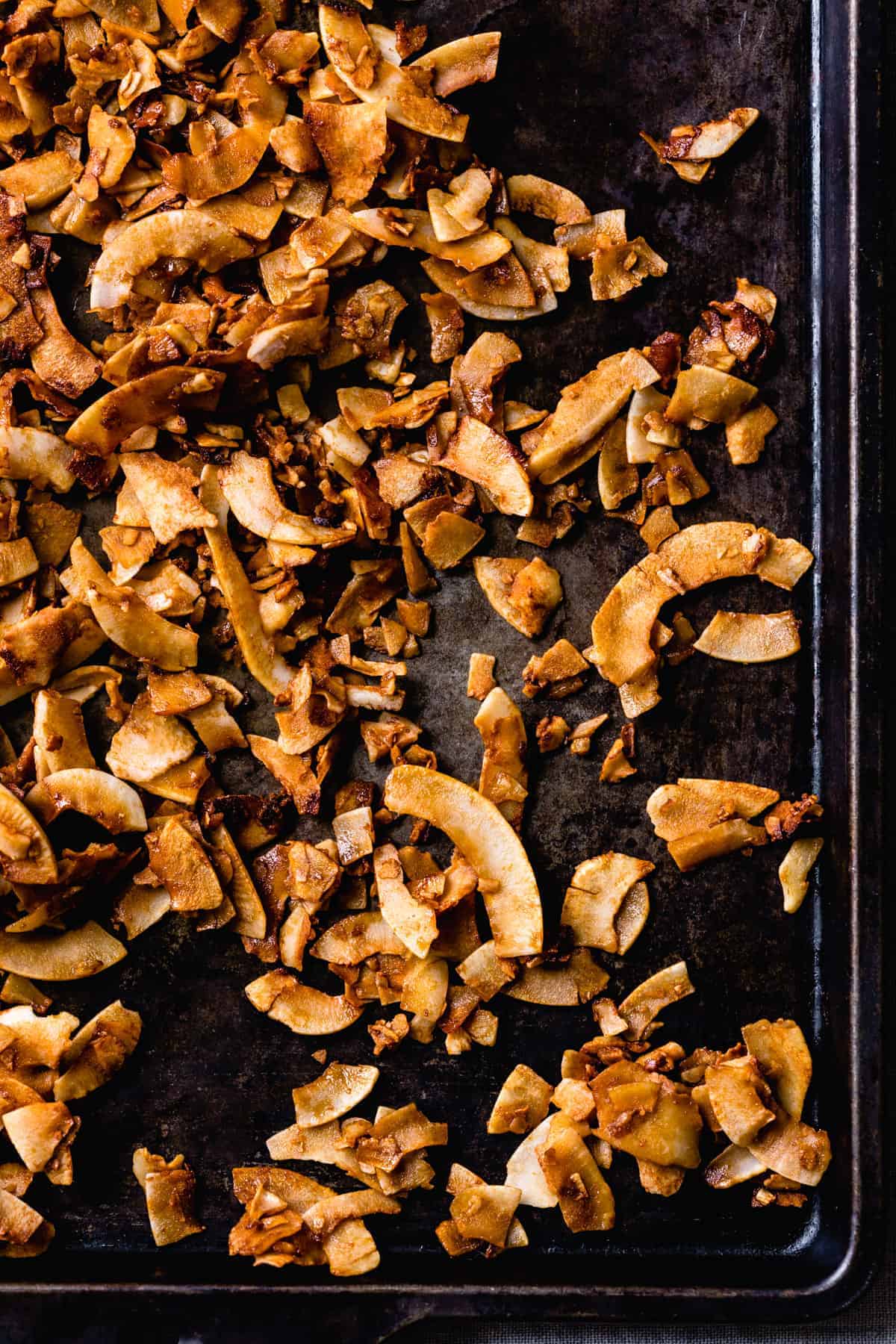 Does coconut bacon taste like coconut?
I personally don't find this recipe to have a coconut flavor because the other flavors of the maple, tamari, and liquid smoke come through more clearly than the floral-sweet coconut flavor. But if you're a die-hard coconut hater, this recipe may not be for you!
Are coconut flakes vegan?
Coconut flakes contain just one ingredient: coconut! And yes, they are very much vegan.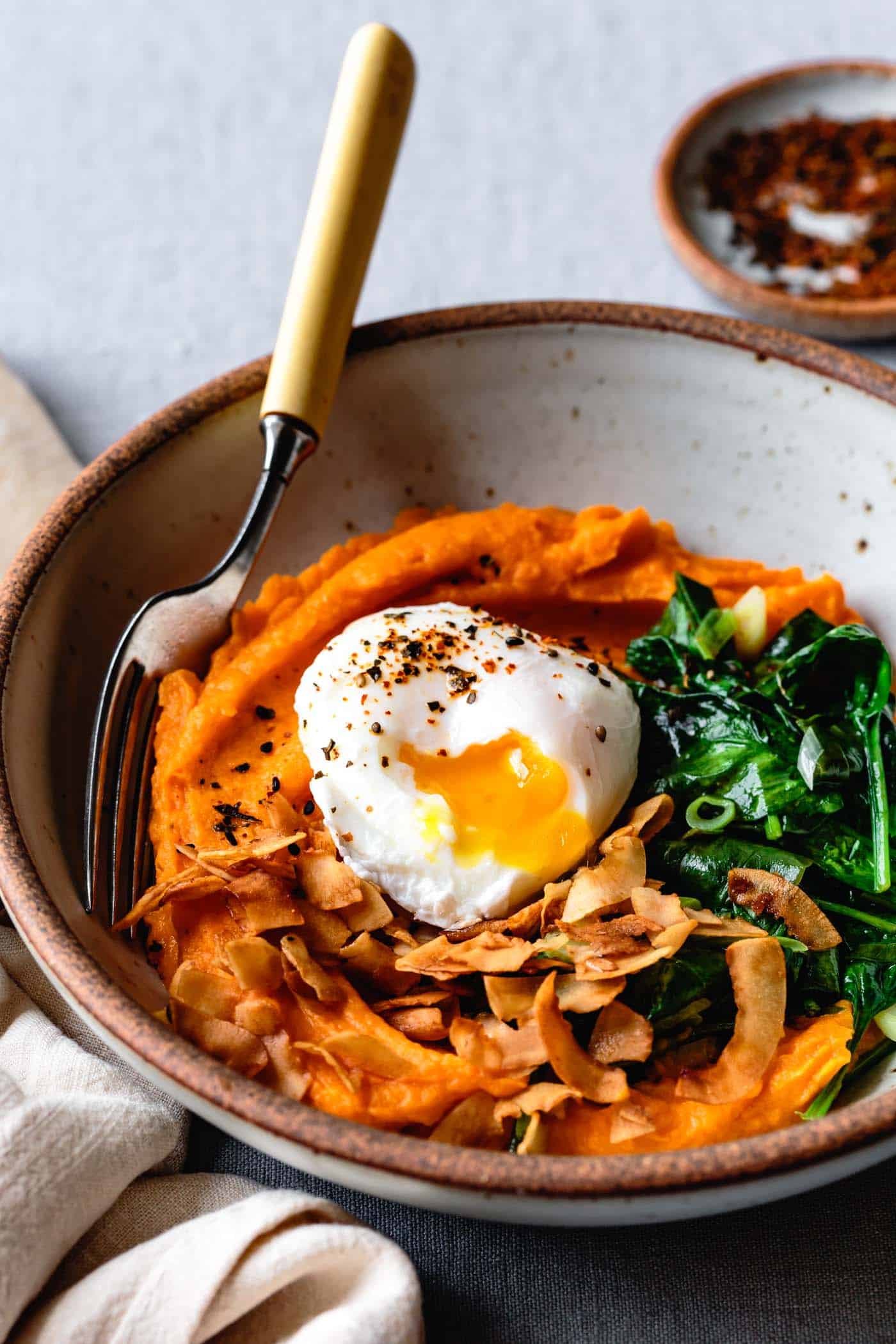 How to Use Coconut Bacon
This crispy goodness is heaven anywhere you'd use regular bacon: on salads, soups, baked potatoes, roasted vegetables, grain bowls, veggie breakfast bowls, polenta, pasta, pizza, or avocado toast, among others. It adds big flavor, crunch, and a dose of healthy, satiating fats too.
Here are a few favorite recipes to top with the crunchy stuff:
Do you make or eat coconut bacon? How do you like to use it? Let me know in the comments below!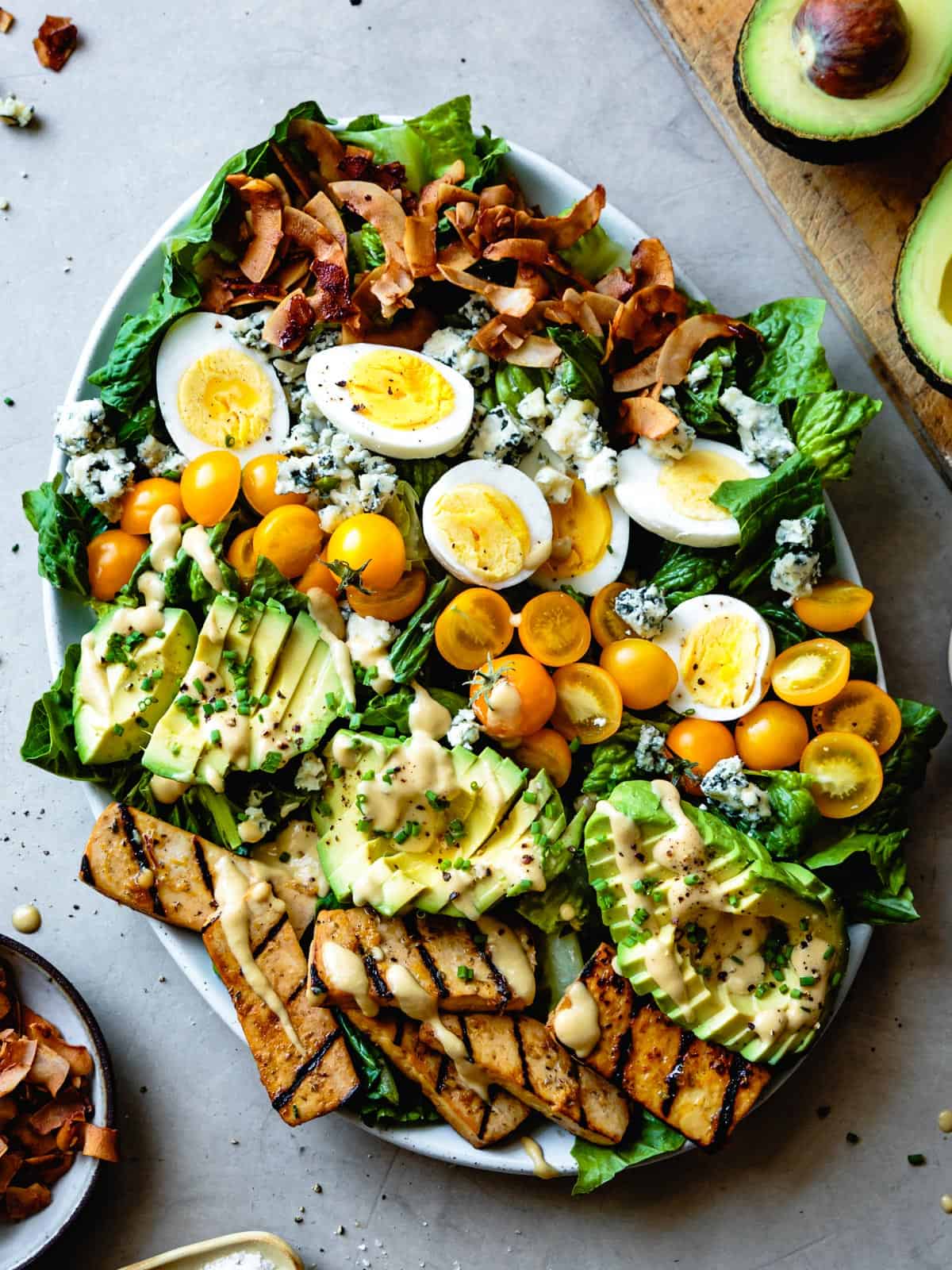 *Bojon appétit! For more Bojon Gourmet in your life, follow along on Instagram, Facebook, or Pinterest, purchase my gluten-free cookbook Alternative Baker, or subscribe to receive new posts via email. And if you make this coconut flake bacon, I'd love to see. Tag your Instagram snaps @The_Bojon_Gourmet and #bojongourmet.*
4-Ingredient Vegan Coconut Flake Bacon
Print Recipe
Pin Recipe
This homemade coconut bacon recipe tastes just like super crispy bits of bacon, but it's made with fat flakes of coconut, infused with salty, sweet, smoky flavor. Sprinkle vegan coconut bacon bits over salads, soup, baked potatoes –anywhere you want a little burst of umami crunch!
Servings:
12
servings; 3 cups
Ingredients
7

ounces

(200 g) large, unsweetened coconut flakes (generous 3 cups)

3

tablespoons

(45 ml) gluten-free tamari

(or try coconut aminos for paleo-friendly)

2

tablespoons

(30 ml) maple syrup

2

teaspoons

(10 ml) hickory liquid smoke
Instructions
Position a rack in the upper third of the oven and preheat to 300ºF. Line a rimmed baking sheet with parchment paper.

In a large bowl, toss together the coconut flakes, tamari, maple syrup, and liquid smoke until the coconut is evenly coated.

Spread the coconut bacon on the baking sheet in an even layer and place in the oven. Bake until deep golden brown, 14-20 minutes, tossing the bacon gently once or twice during the baking process. This helps it cook evenly and keeps it from sticking, but take care not to crush up the coconut as you toss.

The coconut bacon will be soft at first but will firm up when cool. To test whether it's done, place a few pieces on the counter to cool quickly. If it's still soft after cooling, return to the oven for a few minutes and test it again.

Let cool completely, then store airtight at room temperature for up to 1 month. If the coconut bacon becomes soft, return it to the oven to crisp it up again.
Notes
Nutritional values are based on one of twelve servings.
Nutrition
Calories:
121
kcal
Carbohydrates:
6
g
Protein:
2
g
Fat:
11
g
Saturated Fat:
9
g
Sodium:
260
mg
Potassium:
107
mg
Fiber:
3
g
Sugar:
3
g
Vitamin C:
0.2
mg
Calcium:
9
mg
Iron:
0.6
mg