Ever since living with a bunch of health nuts in Santa Cruz many years ago, I've held up miso soup as the pinnacle of wholesome meals. Fermented miso paste is full of good bacteria, brothy soups keep you sated longer, and, if you add whole grains, protein, and vegetables, it becomes a meal.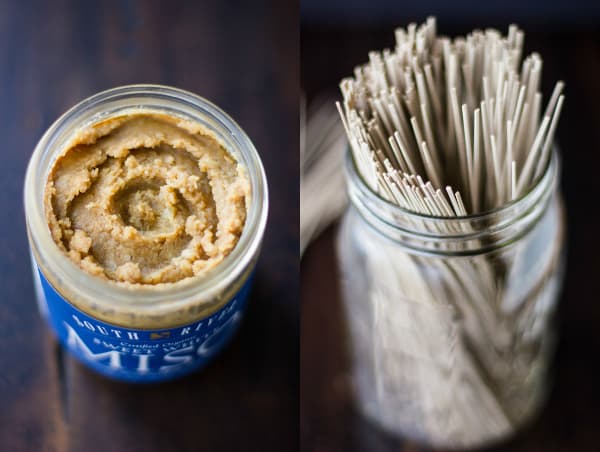 My housemate Debra used to make the tastiest bowls of the stuff. When I moved to San Francisco, I decided to take a bit of Santa Cruz with me by instituting "Miso Mondays." The idea was to start the week with a big bowl of soup for dinner in order to counteract the fact that I worked at a bakery where I spent the whole day cramming brownie pieces into my maw.
But Miso Mondays lasted exactly one Monday. The reason? I couldn't get miso soup to stop tasting like punishment.
At its most basic, miso soup can be simply hot water stirred into miso paste and studded with cubes of tofu and a few rings of scallion. For a more substantial soup, I would try simmering vegetables in the broth, but the resulting pot always lacked the oomph I was looking for. I relegated miso soup to something I ate only when under the weather, and I got my miso fix in salads and pâtés, instead.
But that all changed last week. Jay had a cold and I wanted to make him something light and brothy to sip on, so I decided to rethink miso soup. I borrowed the broth method from The Real Food Daily Cookbook. I borrowed the fixings from 101 Cookbooks, and I added some tweaks of my own.
I decided to roast the tofu along with some shiitake mushrooms in a mixture of toasted sesame oil, tamari, and sriracha for the tofu. This gives them a bit of caramelization and a whole lot of flavor which does a lot to enhance the finished soup (assuming you can keep yourself from eating them all straight from the baking sheet).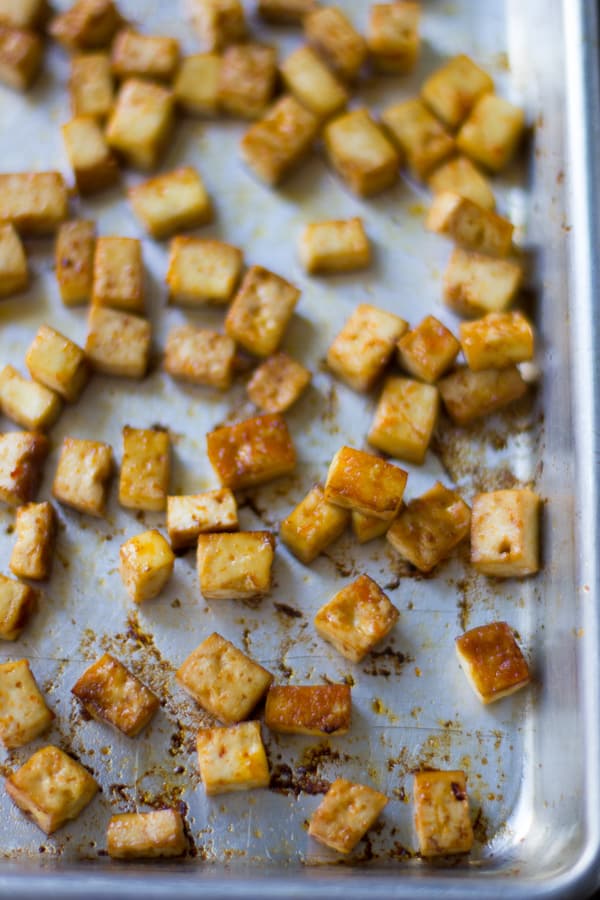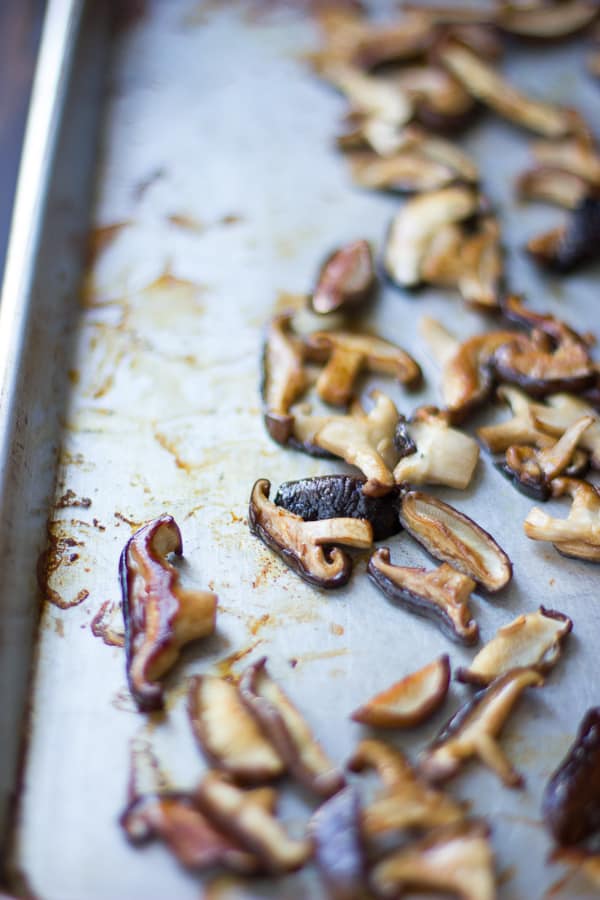 The "stock" is a simple infusion of kombu (a hefty type of seaweed), a few dried shiitake mushrooms, and several slices of ginger. This gets strained and whisked into a whole lot of miso paste. I usually use South River white or yellow miso; both have a salty-sweet flavor with a bit of funk from fermentation in wooden vessels. Miso can vary in saltiness, so I add tamari until the stock tastes just right, and a squeeze of lime to brighten the flavors. Cooking the soba noodles in salted water (contrary to the package directions) helps to give it a flavor boost, too.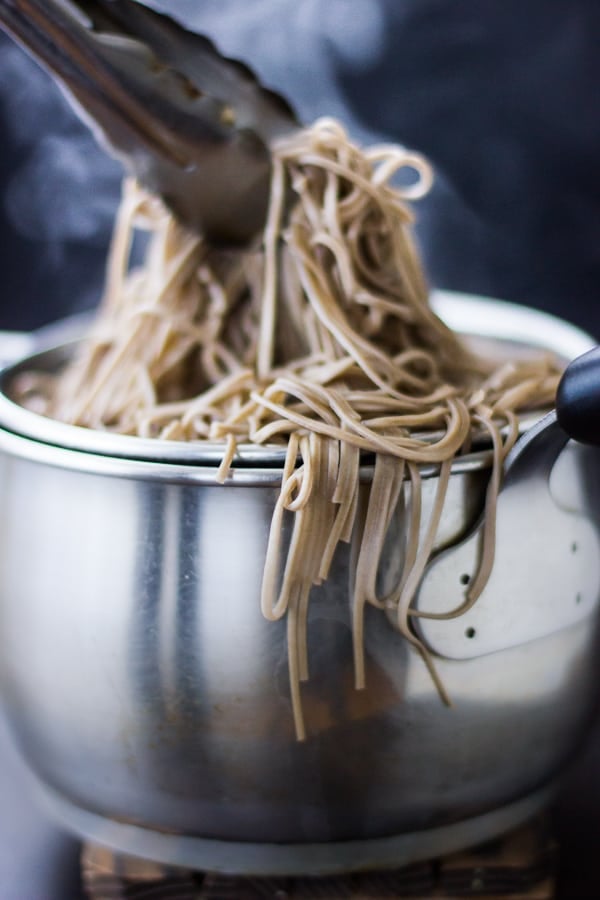 I wanted some dark, leafy greens in there, as well. Our co-op has been carrying "motly kale" – a pretty bouquet with several different varieties of leaves. Some are deep purple with ruffled leaves, some have spiky green leaves, and some are the lacinato variety that I usually spring for.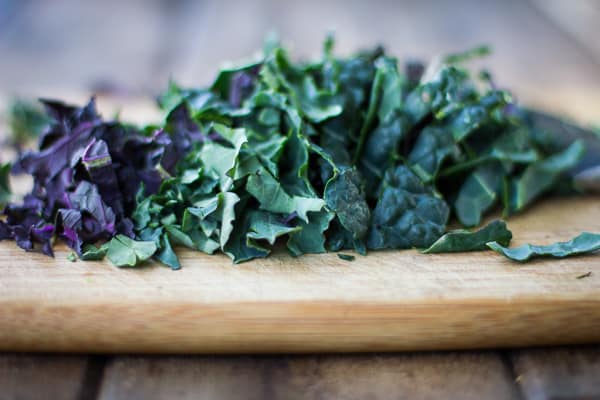 To assemble the soup, a tangle of soba noodles goes into a large bowl (I use these, handmade by my über-talented friend, Amelia). The noodles are topped with the roasted tofu and shiitakes, the kale-y miso broth, and finished with thinly sliced scallion, sesame seeds, and togarashi, a Japanese chile powder. The noodles make the soup feel filling and a little decadent; plus it's fun to slurp them from the brothy bowl. Noodles made from 100% buckwheat tend to fall apart more than the ones made with some wheat flour (pictured here), but they can be used for a gluten-free option.
I'm pretty thrilled with this miso soba soup, but I can imagine all kinds of variations and additions, too: roasted sweet potato, kabocha squash, or cauliflower in the fall; fava beans, asparagus, peas or pea shoots in the spring; roasted summer squash or Japanese eggplant in the summer; edamame, hijiki or wakame anytime. You can top a bowl with bonito flakes, smoked trout or steamed salmon. And the other night we nestled a poached egg into each bowl.
Miso Mondays are suddenly sounding a little more fun.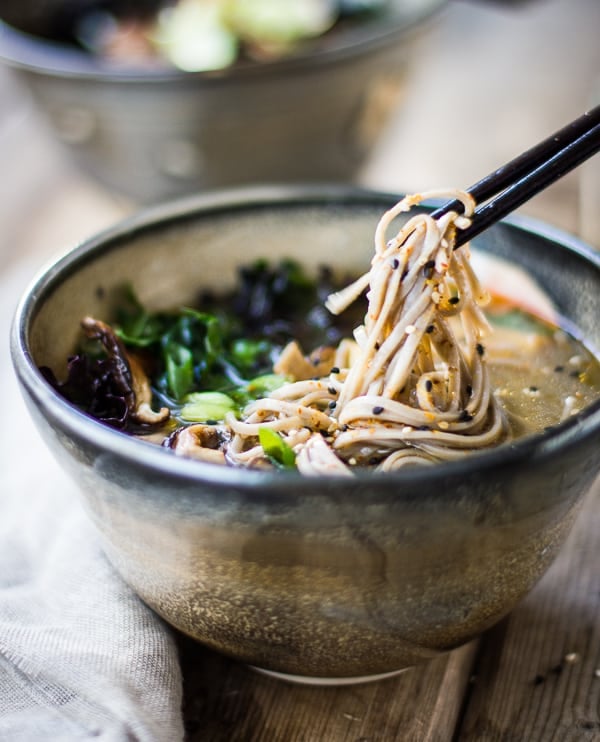 More Soup Recipes:
*Bojon appétit! For more Bojon Gourmet in your life, follow along on Instagram, Facebook, or Pinterest, purchase my gluten-free cookbook Alternative Baker, or subscribe to receive new posts via email. And if you make this soba noodle soup recipe, I'd love to know. Leave a comment and rating below, and tag your Instagram snaps @The_Bojon_Gourmet and #bojongourmet.*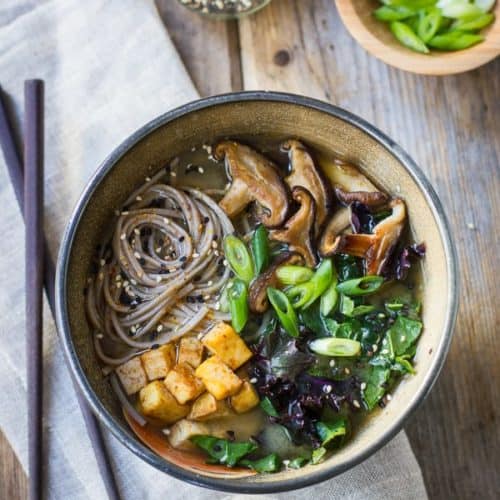 Miso and Soba Noodle Soup with Roasted Sriracha Tofu and Shiitake Mushrooms
Print Recipe
Pin Recipe
Time for a warming and comforting bowl of miso soup!
Ingredients
Broth:
2

inches

ginger root, sliced into coins

4-6

(4" square) sheets kombu

6

dried shiitake mushrooms

8

cups

water

1/2

cup

sweet white or yellow miso

2

tablespoons

tamari

(optional, depending on saltiness of miso)

juice of 1 lime or lemon, to taste
Fixings:
8

ounces

firm or extra-firm tofu, in 1/2" cubes

8-12

ounces

shiitake mushrooms, ends trimmed, sliced (about 6 cups)

3

tablespoons

toasted sesame oil (divided use)

3

tablespoons

tamari (divided use)

1 - 2

teaspoons

Sriracha

(depending on how spicy you like it)

12-16

ounces

soba noodles

(depending how noodley you like it)

1

bunch kale, stemmed and slivered

2

large or 3 small scallions, washed, trimmed, slivered

toasted sesame seeds or gomashio

(optional)

togarashi

(optional)
Instructions
Make the miso broth:
In a large, heat-proof bowl or pot, combine the ginger, kombu, dried mushrooms, and boiling water. Let steep while you prepare the rest of the ingredients, 20-30 minutes. Carefully strain the stock, leaving behind any sand that may be hanging out on the bottom of the pan (or pour through a coffee filter if you prefer). Add half a cup of stock to the miso paste and stir it to loosen. Add the miso to the stock, and taste for salt, adding tamari and lime juice until you like the flavor.
Make the fixings:
While the stock is doing its thing, position a rack in the center of the oven and preheat to 400ºPlace the tofu on a smallish, rimmed baking sheet and drizzle with 1 tablespoon each of the sesame oil and tamari. Add the Sriracha and toss to coat. Roast in the oven until hot and slightly crisp on the outside, tossing once or twice, about 10 minutes.

Meanwhile, place the shiitakes on a smallish, rimmed baking sheet and toss with the remaining 2 tablespoons each sesame oil and tamari. Roast until tender and shrunken, tossing once or twice, about 10 minutes.

Bring a large saucepan of lightly salted water to a boil. Add the noodles and cook, stirring frequently to prevent sticking, until the noodles are tender but not falling apart (see the package for cooking time). Drain the noodles and rinse them in cool running water. If not using immediately, toss with a bit of oil to prevent sticking. Otherwise, divide the noodles between 4 large bowls and keep warm.
Serve the soup:
Re-warm the stock until steamy-hot but not simmering. Add the kale and cook just below a simmer until wilted and bright green.

Divide the noodles among 4 large bowls. Add the shiitakes, tofu, and scallions. Pour the hot broth and kale over the fixings. Top with sesame seeds, gomashio, and/or togarashi, if you like.
Notes
With inspiration from 101 Cookbooks and The Real Food Daily Cookbook.
As I mention above, feel free to experiment here. Udon, ramen, or rice noodles can stand in for the soba. Noodles made entirely from buckwheat tend to be more fragile, but they make a flavorful gluten-free option nonetheless.
Other seasonal vegetables can take the place of the kale and shiitakes. I usually use white or yellow miso, but feel free to experiment with different types.
This soup welcomes a poached egg on top, or fish in place of the tofu, too.
If not serving it all right away, store the components separately in the fridge until you're ready to put it all together.
Nutritional values are based on one of four bowls.
Nutrition
Calories:
543
kcal
Carbohydrates:
85
g
Protein:
26
g
Fat:
15
g
Saturated Fat:
2
g
Sodium:
3379
mg
Potassium:
832
mg
Fiber:
4
g
Sugar:
5
g
Vitamin A:
3835
IU
Vitamin C:
49.1
mg
Calcium:
154
mg
Iron:
5.4
mg