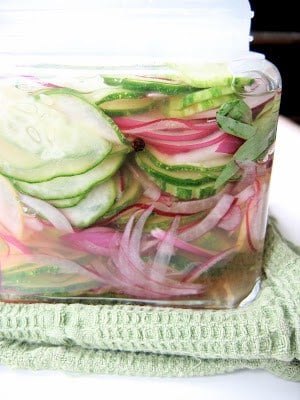 I was always a dill girl. Kosher, preferably. Whole. I scoffed at bread-and-butters, those thinly sliced, unnaturally sweet, pathetic excuses for pickles.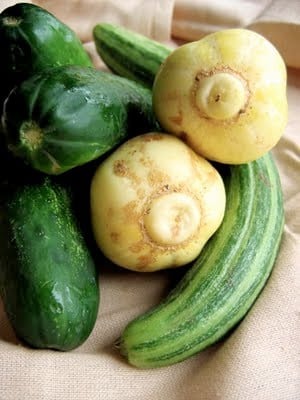 But one day, I found myself with an over-abundance of cucumbers. As per usual, I consulted Deborah Madison to ask her what to do, and this recipe from Local Flavors intrigued me. The sugar in the recipe caused me a moment of consternation, but since she has yet to lead me astray, I decided to go with it.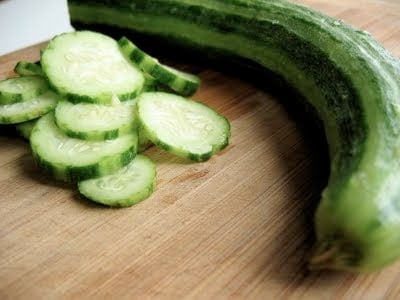 I sliced up the cucumbers, stirred together the sugar and vinegar, added peppercorns, olive oil and herb sprigs, and combined everything in a mason jar.

And that was when I learned that I didn't have to pledge my loyalty to just one pickle. I can love all sorts of pickles; even, yes, okra pickles. I can be pickle-poly.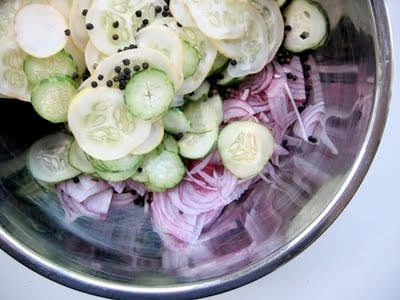 I hope you'll love these pickles as much as I do. They make a sublime addition to a sandwich or burger, but they are also lovely as an hors d'oeuvre with crackers and cheese. I'd wager they would be nice in this potato salad, too.

I found that the olive oil congeals in the fridge, so I left it out. But an àla minute drizzle of olive oil over the pickles would be welcome. Do feel free to double the recipe, as I have – these pickles go fast, especially among pickle fiends.
Eat your cucurbitaceae:
Chève-Stuffed Squash Blossoms
Zucchini Pesto Lasagna
Zucchini Tomato Tart
One Year Ago:
Banana Rum Upside-Down Cakelets
Quick Cucumber Onion Pickles
Adapted from Local Flavors
Makes about 3 cups
These pickles are at their best between the first 1 – 24 hours of marinating. They will lose their bright color after a few days, but will still taste great up to a few weeks later. The original recipe called for a few tablespoons of olive oil, but the oil congeals in the fridge, so I've left it out. The oil rounds out the flavors nicely, though, so a drizzle is welcome when you're ready to eat them. Use any variety of cucumber here, such as lemon, Japanese, Armenian, English, or a combination.
2/3 cup white wine vinegar
1/3 cup sugar
1/4 teaspoon salt
1 red onion
3 cups cucumbers, thinly sliced (peeled if the skins are tough)
1 teaspoon black peppercorns
a few sprigs of tarragon
Combine the vinegar, sugar and salt in a measuring cup. Give it a stir every now and then while you prepare the vegetables to dissolve the sugar.
Peel and quarter the onion, then slice it thinly. Toss the onion in a large bowl with the cucumbers and peppercorns. Pack the vegetables and tarragon sprigs into a quart-sized glass jar and pour the vinegar mixture over them, pressing down on the vegetables until the vinegar rises above them. (It may not seem like enough liquid at first, but as the vegetables break down from the acidity of the vinegar, they will compact more.)
Chill for at least an hour, or up to a few weeks.