Some people dream of tropical vacations on sunny beaches, but not me. I dream about the Loire Valley.

The closest to paradise that I have ever experienced (aside from Boundary Bay Brewery in Bellingham, Washington) was a B and B that my dad took me to many years ago. A British husband and French wife ran the establishment, a converted mill with only four or five quaint rooms. Their backyard consisted of a stream, complete with the original watermill, which burbled into a small lake. Every evening, the 8 or 10 guests would gather by the lake with our aperitifs of choice. I was nineteen at the time, and thrilled to be included in this ritual. Martini blanche in hand, I daydreamed I could spend the rest of my life drinking white vermouth and schmoozing by the lake.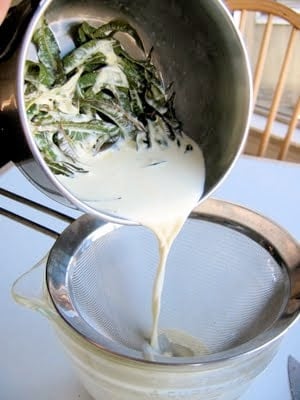 Until dinner time, that is. Then I was eager to head to the long, outdoor table set among the flowers.
The wife, with the help of one assistant, cooked breakfast and dinner each day. Breakfast consisted of fresh scones and baguettes with a trio of homemade jams, fresh fruit, and steamy mugs of cafe au lait.
Dinners were three or four courses of bliss, and there is one that I remember with particular vividness. It began with a salad – garden lettuces, simply dressed, roasted cherry tomatoes, their sweetness concentrated into tiny bursts of juice, and small bocconcini of mozzarella. For the entree: delicate lamb chops, grilled to perfection. But dessert was the coup de grace.

Three small scoops of ice cream nestled tiny, just-picked strawberries in a shallow bowl. But the ice cream wasn't just any ice cream: it was lemon verbena ice cream. It was perfectly smooth, dense and rich, perfumed with herbaceous lemony essence, the richness offset by the berries, still warm from the sun. I had never tasted lemon verbena before, and it started an obsession.
The husband showed me their giant lemon verbena shrub, the size of a five-foot-tall tree, which grew along the fence. He instructed me to rub a leaf. I did so, and it released the most tantalizing aroma.

I didn't experience lemon verbena again until several years ago, when I was ecstatic to find a plant at Rainbow. I put it on our two square feet of fire escape and watered it dutifully. It stood about 8 inches high, with tiny leaves, and I imagined it growing big and strong some day, like the person-sized tree in the Loire Valley, forever perfuming ice creams.I imagined all the treats I would make from its fragrant leaves: lemon verbena liqueur, panna cottas, pound cakes, sorbets, butter cookies, fools, trifles, jams, cockails, lemonade, sodas…

But, despite my best efforts, my 'tree' remained miniscule. It half-heartedly sprouted a few new leaves in the 6 months that I coddled it, but that was it.
In the winter, the leaves dropped off, and all that remained was a barren twig sticking up from the dirt. Somebody may or may not have thought it was dead and threw it away. My verbena dreams never came to fruition. (Leaf-ition?)

But now the lovely folks at Eatwell Farm are making my dreams come true. Every summer, they send us a few large bunches of the awesome herb. Some of it gets hung upside-down to dry, to provide us with tisane for the remainder of the year.
And some of it gets turned into ice cream.

After a few trials throughout the years, I've found that the delicate flavor of lemon verbena doesn't like to be heated much. Jerry Traunfeld gives a recipein The Herbfarm Cookbookfor an uncooked ice cream made by grinding the leaves with sugar and mixing it with cream and crème fraîche. This is delicious, but not quite the rich, smooth, french-style ice cream I recall from the Loire. So I steep the verbena in warm cream, then make a custard with half and half, sugar and egg yolks, and combine the two. The flavor is bright and herbaceous, like the ice cream of my memory.

When I blended some of the ice cream with fresh raspberries and strawberries the other day, I experienced paradise in a cup. I could drink this for every meal of the day and be perfectly happy.
If you see lemon verbena for sale at a farmer's market, snap it up; it dries beautifully if you can't get to it right away.
But if you can get to it right away, make a batch of ice cream, get some berries, and make yourself the most beguiling shake around for a cool-down during the remaining days of summer. (As I write, in fuzzy slippers, a sweater and scarf, it is a foggy 58º outside.)

And if you have a bit of outdoor space, plant some lemon verbena. Then give me a call in 10 years and I'll come make you ice cream. And a martini blanche, too.
Herbal Helpers:
Lemon Mascarpone Tart
Lemon Balm Ice Cream
Chocolate Mint Chip Ice Cream
One Year Ago:
Lemon Verbena Ice Cream
Makes about 1 quart
I love this ice cream blended into berry shakes, below, but it could also accompany roasted peaches or apricots. If you have extra lemon verbena, hang it upside-down to dry in a cool, dark place, then store in a jar and use it to make tisane.
If you prefer, you can make this ice cream with 1 cup of whole milk and 1 1/2 cups of heavy cream. Save the egg whites for makingbrown-butter financier cakes; they will keep in the fridge for up to a week, or in the freezer for several months. For more information on making ice cream, see my post on Dreamy Vanilla Ice Cream.
2/3 cup lightly packed fresh lemon verbena leaves
1 cup heavy cream
1 1/2 cups half and half
4 egg yolks
1/2 cup sugar
pinch salt
In a small saucepan, heat the cream, swirling occasionally, until small bubbles appear around the sides of the pan. Remove from the heat, add the lemon verbena leaves and submerge them under the cream. Cover and steep for 20 minutes. Strain the cream through a fine-mesh sieve and into a quart-sized mason jar or other heat-proof container. Cover and set aside with the sieve handy.
Heat the half and half in a medium saucepan, swirling occasionally, until small bubbles appear around the sides of the pan. If you have an instant-read thermometer, have it handy.
Place the egg yolks in a medium bowl set on a damp towel to stabilize it. Add the sugar and salt, whisking to combine. Whisking constantly with one hand, pour the hot half and half very slowly into the yolks. (This is called tempering, and prevents the yolks from scrambling.) Pour the mixture back into the pot and set over a medium-low flame. Cook, stirring constantly with a heat-proof rubber spatula, scraping the sides and bottom of the pot, until the custard just begins to 'stick' (or form a thickened film) on the bottom of the pot (you may have to tilt the pan to see it), or registers 170º on an instant-read thermometer, about 5 minutes.
Immediately pour the custard through the strainer and into the container of infused cream, stir to combine, and chill in the fridge for at least 4 hours, preferably overnight.
Place the ice cream base in the freezer for 30 minutes to get it really cold, stirring it once or twice, then process in an ice cream maker. Scrape into a storage container, cover and 'cure' in the freezer for at least 2 hours for a firmer consistency.
Homemade ice cream is best eaten within the first few days of being made, but will keep for a month or two in the freezer.
Lemon Verbena Berry Shakes
Makes 2 dainty shakes
1 cup lemon verbena ice cream
1/2 cup each raspberries and strawberries
1/4 cup half and half
Blend all until smooth. Top with an extra berry or two. Drink right away.