My mom used to say that she wished the French hadn't squandered the Louisiana Purchase because then we Americans might all be eating better. Judging by culinary trends, my mom is not the only fou who wishes to dine like a European.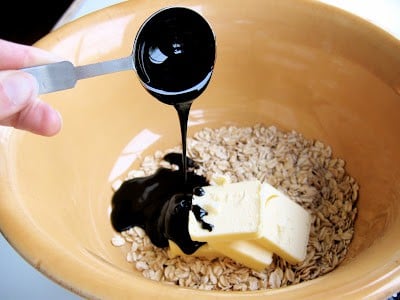 Dainty tarts have taken the place of pies in many a chic bakery window. Gelaterias have become à la mode, kicking ice cream to the curb. And crusty boules, batards, and baguettes seem to be beating out squishy pan breads this way and that.
But, just as our stereotypically un-hip gastronomic predecessors have been making a comeback with talented cooks like Jamie and Nigella and embracing traditional British cuisine, classic American fare seems to be on the rise as well. Pies are getting all the love at MissionPie, Chile Pies, and Three Babes Bakeshop. Ice cream shops like Bi-Rite, Mr. and Mrs. Miscellaneous, Smitten, andPenny in Santa Cruz can hardly keep up with the demands.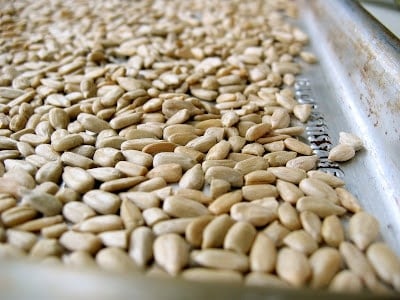 Where then have all the pan breads gone?
It seems that if one wants a soft, whole-grain loaf for slicing, toasting and sandwiching, one must either brave the mob at the Ferry building on Saturday and wait in line for half an hour at Acme, or make it oneself.
I have no qualms with crusty, European-style boules; I quite enjoy making and eating them, and appreciate the love that goes into those wild-leavened works of artistry. But there is something unequal to the smell of a butter-laced, American-style loaf pulled from the oven, sliced while still slightly warm (but fully cooked from residual heat, mind), smeared with more butter and a flutter of salt. The hunger-inducing aroma is up there with frying bacon or grinding coffee.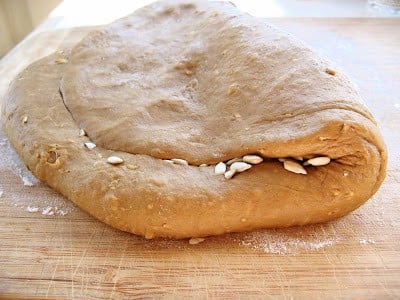 Pan breads also tend to be easier to make than sticky-wet boules, and are a great place to start if you've never baked bread before. Unlike rustic loaves, whose lean dough must remain very wet in order to achieve those coveted, irregular holes, a pan bread dough lets you add enough flour to keep the dough from sticking as a tighter, more regular crumb is desirable here. With a pan bread, you needn't mess around with preheating baking stones in super-hot ovens, misting, or slashing loaves. And we Americans are all about doing things the easy way, right?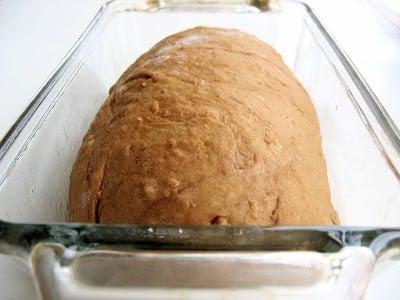 I love baking bread in the fall and winter when the chilly weather inspires staying indoors with the oven on, and this oatmeal molasses bread has been about all I want to eat these days. It's packed with earthy oats softened in hot water and butter, bittersweet dark molasses, and a generous dose of toasted sunflower seeds. It is slightly crumbly, and flavorful enough to stand on its own in the form of crispy-chewy toast smeared with sweet butter and salt, dipped in a bowl of soup, or, naturally, made into a sandwich. It's full-flavored and slightly hearty, and adapted from one of my favorite books, Williams Sonoma's Essentials of Baking. I've been baking this bread for many years, and while the original recipe is fabulous as is, I've made a few tweaks in the form of more oats, molasses and salt, swapping out the all-purpose flour for a combination of white and whole wheat bread flours, and adding a generous scoop of sunflower seeds for texture and all the healthy things these seeds are full of.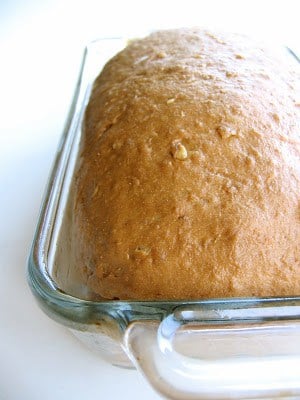 It's just a matter of time before a rustic-chic bakery opens up in San Francisco, in the Mission/Dogpatch, proudly specializing in American-style pan breads softened with Strauss butter, flecked with various (organic, heirloom) grains, nuts and seeds, baked and sold by cute men and ladies sporting vintage aprons and haircuts.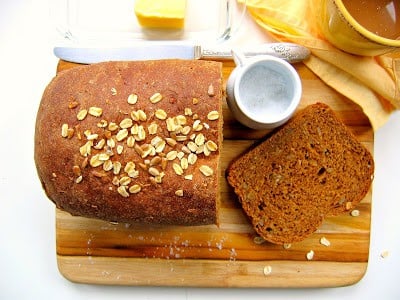 At least, I hope.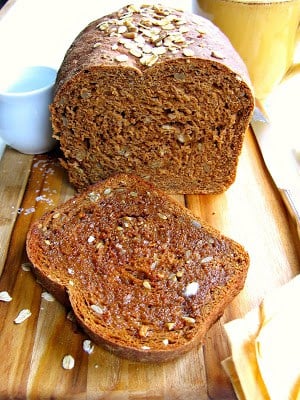 Buttery breads:
Multi-Grain Sandwich Bread
Pumpkin Cinnamon Buns
Pumpkin Challah
One year ago:
Triple Chocolate Chile Cookies
Two years ago:
Winter Squash and Sage Gougeres
Arroz Con Leche with Coconut, Cardamom, and Cinnamon
Oatmeal Molasses Bread
Adapted from Williams Sonoma's Essentials of Baking
Makes one 9×5″ loaf
This bread takes about 5 hours to make, from start to finish, but most of the time is inactive, i.e., waiting patiently for the yeast to do its thing. I highly recommend using white and whole wheat bread flours here (as opposed to all-purpose) as the abundance of whole grains and seeds makes for a slightly crumbly loaf, the texture of which is aided by the extra gluten in the bread flour. For a sturdier, springier bread, reduce the amount of whole wheat flour and use more white flour in its place. You can also omit the sunflower seeds for a more traditional oatmeal molasses bread. If I wished to make this bread vegan, I would use sunflower oil in place of the butter.
Since this bread contains sweetener and plenty of whole grains, it can easily be overproofed if left to ferment too long. Overproofing happens when the dough ferments so much that the little balloons of gluten fill up with too much air and pop. If your dough has risen and then begins to deflate, it has probably been overproofed. To prevent this, mark your bowl with a piece of tape where the dough will be when it doubles in size. You can always retard your dough by placing it in the fridge if you don't want to bake it right away; let it come back to room temperature before working with it. If you do overproof your dough, it is best to press it down and let it rise again in order to re-form the glutens.
To toast the sunflower seeds, spread them on a small baking sheet and place in a 300º oven or toaster oven for about 10 minutes, until golden and fragrant. Cool completely before incorporating into the dough.
3/4 cup old-fashioned rolled oats
3 tablespoons (2 1/4 ounces) molasses (I use dark, unsulphured)
2 ounces (4 tablespoons/half a stick) unsalted butter
1 1/4 cups (10 ounces) boiling water
1 packet (1/4 ounce/2 1/2 teaspoons) active dry yeast (or 1 packet instant yeast, or 2 tablespoons fresh cake yeast)
1 cup whole wheat bread flour
1 1/2 teaspoons fine sea salt
1 – 2 cups white bread flour
1/2 cup toasted sunflower seeds
Place the oats, molasses and butter in a large, heatproof bowl. Pour the boiling water over and let the mixture cool to warm (100-110ºF; you should be able to comfortably hold a finger in it for at least 10 seconds), stirring occasionally to melt the butter and combine the molasses.
Sprinkle the yeast over the mixture, and stir for about 30 seconds to incorporate it (mine never seems to dissolve here). Let the mixture sit for 5-10 minutes. (Mine never bubbles; I think the butter might prevent it from doing so, but it always comes out fine. Just make sure your yeast is fresh.)
Stir the whole wheat flour and salt into the yeast/oat mixture. Add 1 cup of the white flour, 1/4 cup at a time, stirring to incorporate after each addition. Continue adding more flour until a shaggy dough forms.
Scrape the dough out onto a well-floured surface (a plastic scraper works wonders here). (Optionally, cover the dough with the bowl and let it rest for 15-20 minutes. This is called autolyse, and allows the starches to absorb some of the moisture in the dough, and the glutens to begin unfurling, letting you knead the dough less and add less flour. If you are anxious for fresh-baked oatmeal molasses bread and every second counts, you can skip this step.)
In either case, knead the dough vigorously for 10 minutes by pressing it away from you with the heels of your hands, then folding the far edge over the dough (towards you), turning the dough 1/4, and repeating for 10 minutes. As you knead, dust the surface and your hands with just enough flour to keep the dough from sticking.The finished dough should have a slight sheen and be fairly smooth. It will be slightly tacky to the touch.
Now, add in the sunflower seeds: pat the dough out into a flat slab about 1 inch thick. Spread 1/3 of the sunflower seeds over the dough, and fold the dough in half, encasing the seeds in the center. Pat the dough out again into a slab, and spread another 1/3 of the seeds on top. Repeat this one more time, using the rest of the seeds. Gather up the dough, and knead it for 30 seconds or so to distribute the seeds evenly throughout the dough.
Place the dough in a lightly oiled bowl at least twice the size of the dough (or in a large, plastic container), turn the dough to coat it lightly in oil and cover the bowl with plastic wrap (or the lid). Allow the dough to rise in a warm place until doubled in bulk, 1 1/2 to 2 hours. (Try not to overproof the dough – see headnote.) At this point, you can let the dough rise again if you wish, or stick it in the fridge for up to 24 hours; if you do, let it come up to room temperature before working with it.
When the dough has finished its first rise, gently scrape it out of the bowl and onto a lightly floured surface. Press the dough into an oval about 1 inch thick, with a skinny end facing you. Roll up the dough from this end and into a tight cylinder. Pinch the seam closed, tuck the ends under, and roll the seam-side of the loaf on the counter a few times to secure it closed.
Place the loaf seam-side down in a lightly-oiled 9×5″ loaf pan. Place the pan in a large, clean, plastic bag, inflate it with air, and clip or twist tie it closed so that the loaf has room to rise. Let the loaf rise until the tallest part sits 1 1/2 inches above the rim of the pan (it should be roughly doubled in bulk). Mist the loaf lightly with water and sprinkle with a handful of oats.
Meanwhile, position a rack in the center of the oven and preheat to 350º.
Bake the loaf until the top is deeply browned and the loaf sounds hollow when thumped, 45-55 minutes, rotating the loaf halfway through baking. An instant-read thermometer inserted into the center should read 210º.
Let the loaf cool 10 minutes, then remove it from the pan and let it cool completely on a rack at room temperature, 1 – 2 hours. The bread is still baking from residual heat, so do try to resist the urge to cut into it before it has cooled completely.
Store in a plastic bag at room temperature. The bread keeps well for up to 4 or 5 days.