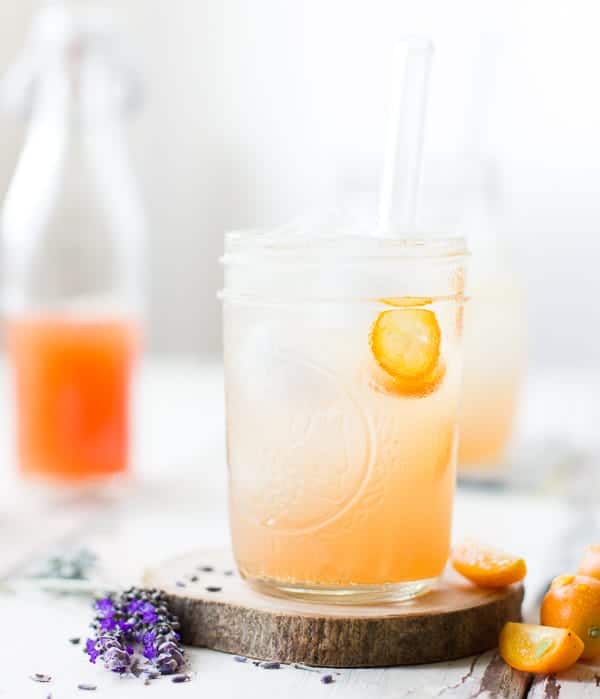 I can say in all honesty that I've been drinking vinegar since before it was cool. When I was little, I would down spoonfuls of the stuff straight. I doused salads with buckets of vinaigrette, which I would surreptitiously quaff after my bowl was emptied. And the only thing I loved more than super-sour cornichons pickles was the leftover brine, which I would guzzle. (Ok, maybe I still do that sometimes.)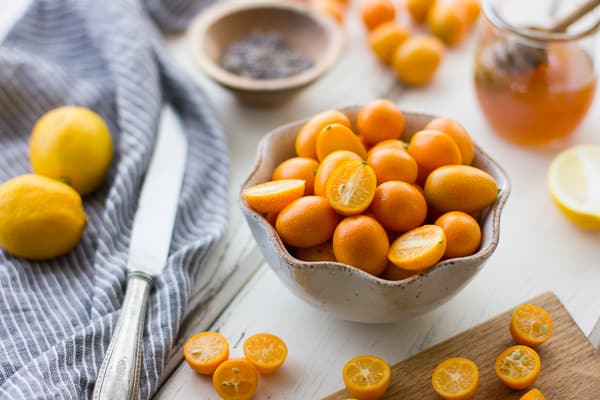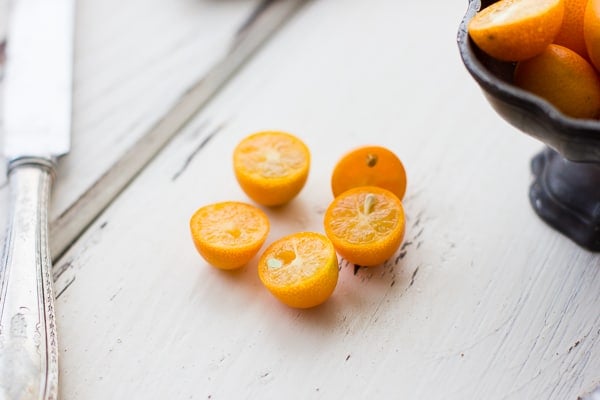 I assumed that, like all foods I loved, vinegar must be unhealthy, but my dad assured me that it wasn't. In fact, he told me, some people even drank vinegar for health purposes.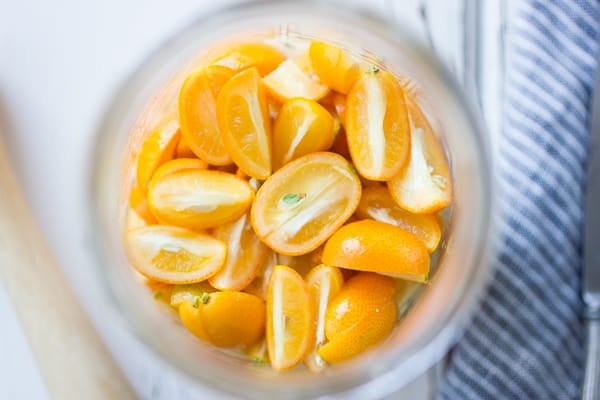 But deep down, I still felt like a freak, and I hid my love of vinegar from all but my immediate family.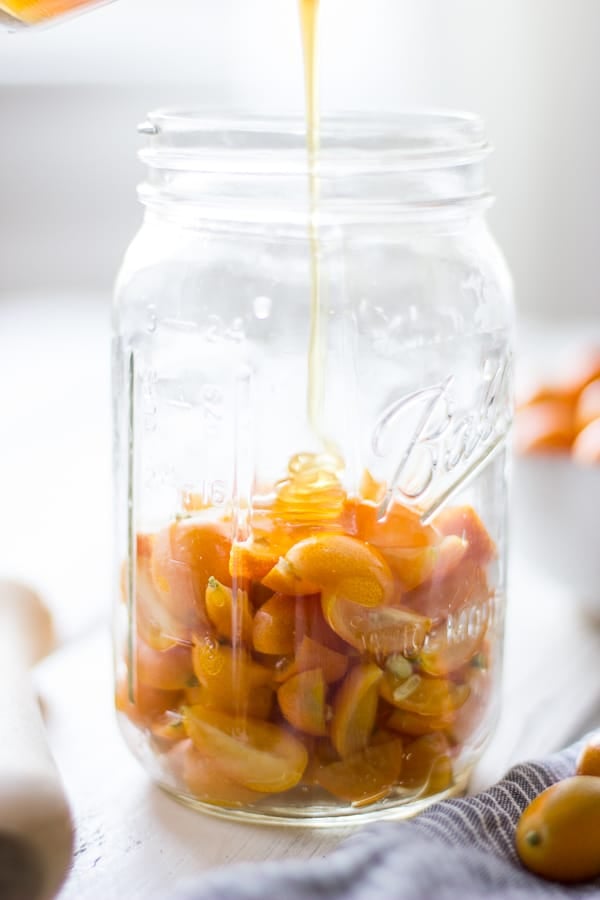 So it was a happy day when I discovered that drinking vinegar, or shrub, is a thing. A thing that non-freaky people enjoy, out in the open. A thing that is even considered to be rather hip. Shrubs are an old-fashioned way of preserving various kinds of fruit by combining them with vinegar and sugar or honey, letting the mixture sit for several days, then straining out the solids. Just as my dad said, shrubs were considered a kind of health tonic. Today, they get mixed with ice and sparkling water for a kicky soda for grown-ups, and added to cocktails at hipster bars everywhere.
Indeed, all the cool kids are drinking shrubs. You won't catch anyone singing, "I don't want no shrub. A shrub is a drink that can't get no love from me." No. Instead they sing, "Can't get enough of your shrub." (On second thought, they probably don't sing at all because that would be weird.)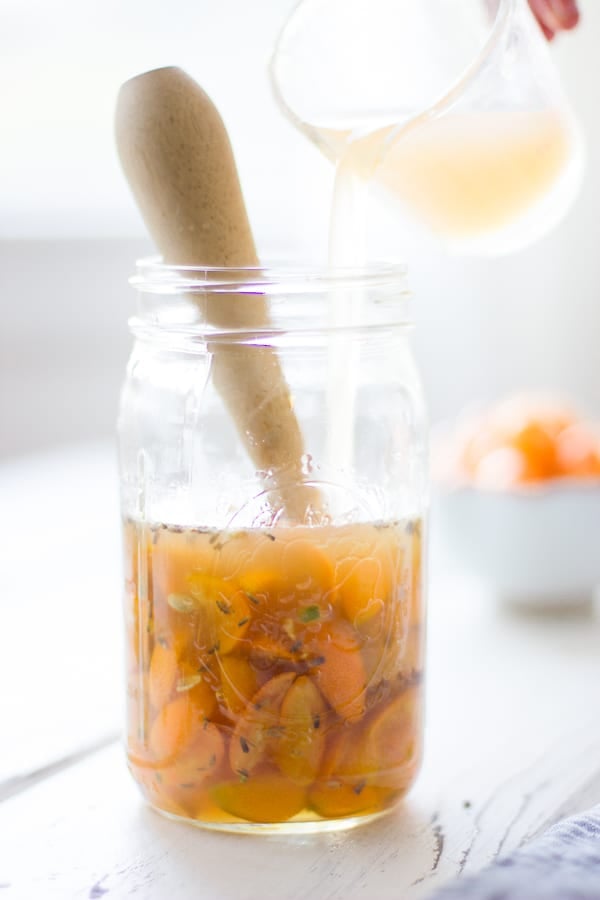 In any case, I have Carey to thank for bringing me out of my vinegar-swilling closet and introducing me to the wonder of shrubs. Her recipes include such exquisite combinations as strawberry-rhubarb-balsamic (which is delicious!), fennel-apple-rhubarb, and blueberry-peach-basil, among many others.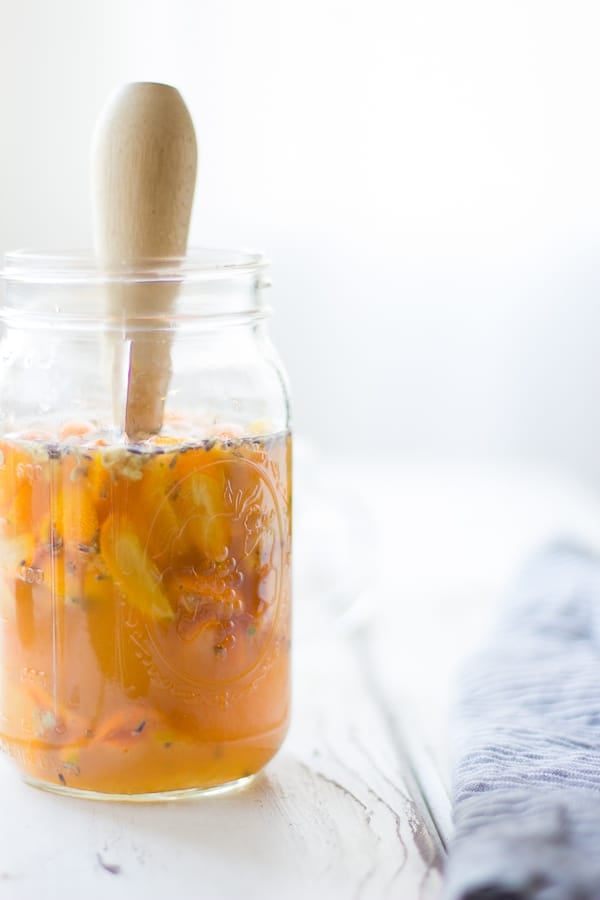 When I overzealously bought a bunch of expensive, first-of-the-season kumquats that turned out to be inedibly sour (and that says a lot coming from someone who drinks pickle juice), I thought they might make a tasty shrub. I tried two different test batches: one with lemon wedges, sugar, and cracked cardamom pods, and a second with honey, lavender, and meyer lemon juice. I added apple cider vinegar to both and let them steep for a day. We tasted the cardamom one first, which was good. But the lavender honey took the cake. Each flavor blended together so seamlessly it was impossible to tell kumquat from lemon from lavender from honey from cider vinegar. It all just tasted like flowers and Spring – a little sweet, a little zippy, and very refreshing with ice and fizzy water.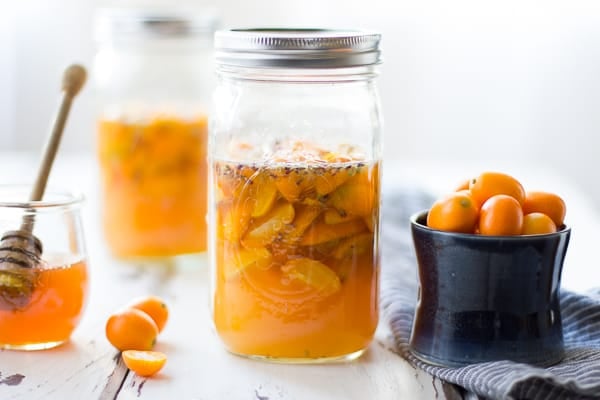 I tinkered with the recipe a few times to get the right balance of ingredients. This version has some soft, floral tones from the lavender, which also lends the drink a pretty, reddish hue. The citrus blends with the apple cider vinegar, which gives the drink a gentle tartness laced with just a touch of funk, kind of like kombucha. The honey smooths away any rough edges. Raw honey and cider vinegar are also both full of nutrients (as are citrus fruits), making this drink into a sort of healthy tonic that tastes like damn fine soda.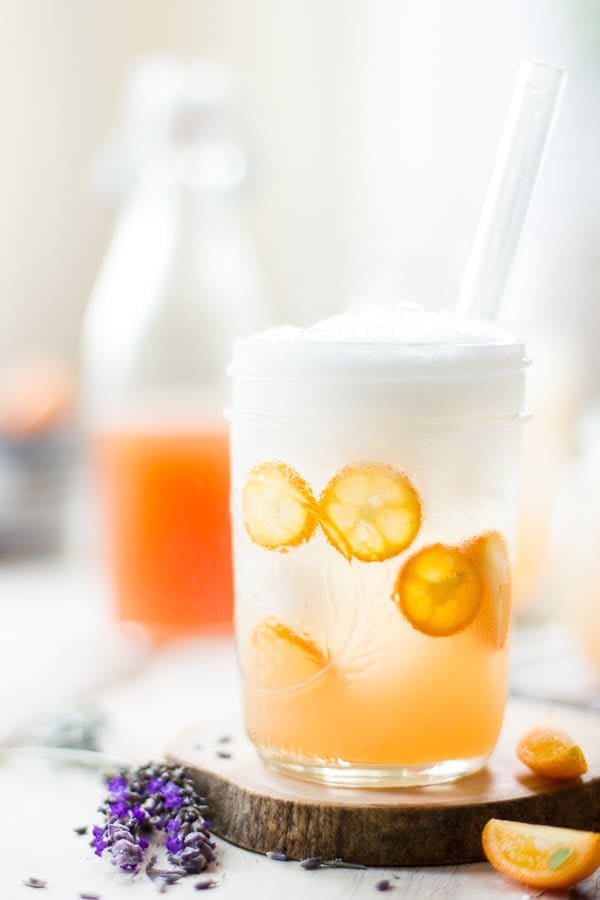 But I knew I'd fully succeeded when I gave a jar to Jay to take to band practice at his friend's hipster bar where fancy, free beer flows from the taps like water, and each band member is a connoisseur. When he returned, he reported that not one drop of beer had been drunk; instead, everyone drank four glasses of shrub each.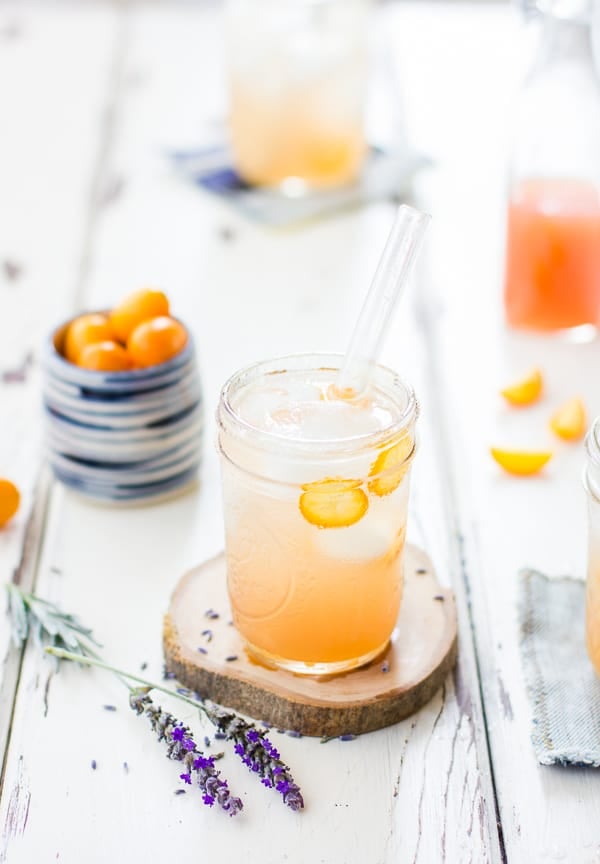 Lest you think us teetotalers, we did try mixing this with several kinds of alcohol: gin, rye, white rum, vodka, and tequila. We liked the tequila best, though truth be told, we think the shrub shines brightest on its own.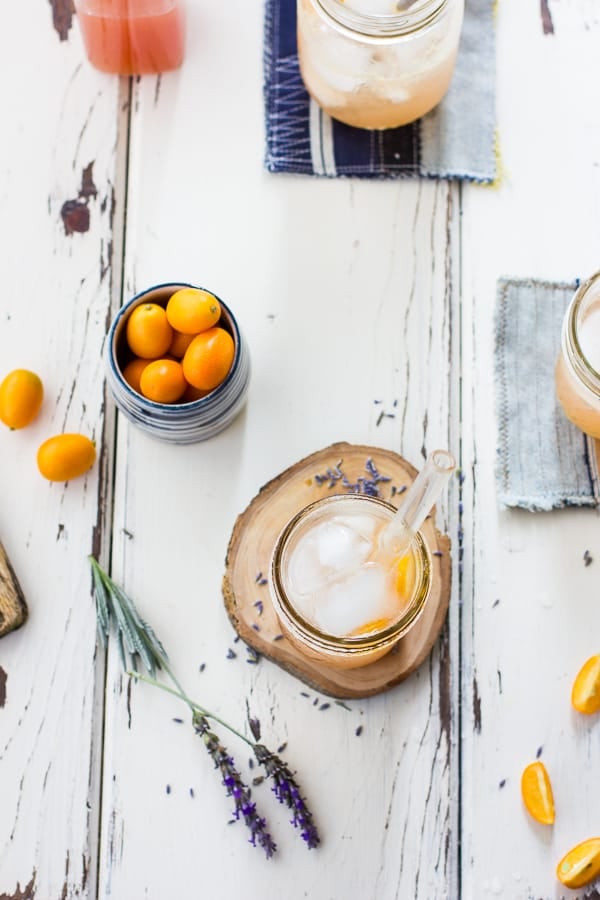 Also, the strained-out kumquats needn't go to waste. I chopped mine up and ate them on toast with fromage blanc, honey, salt and pepper.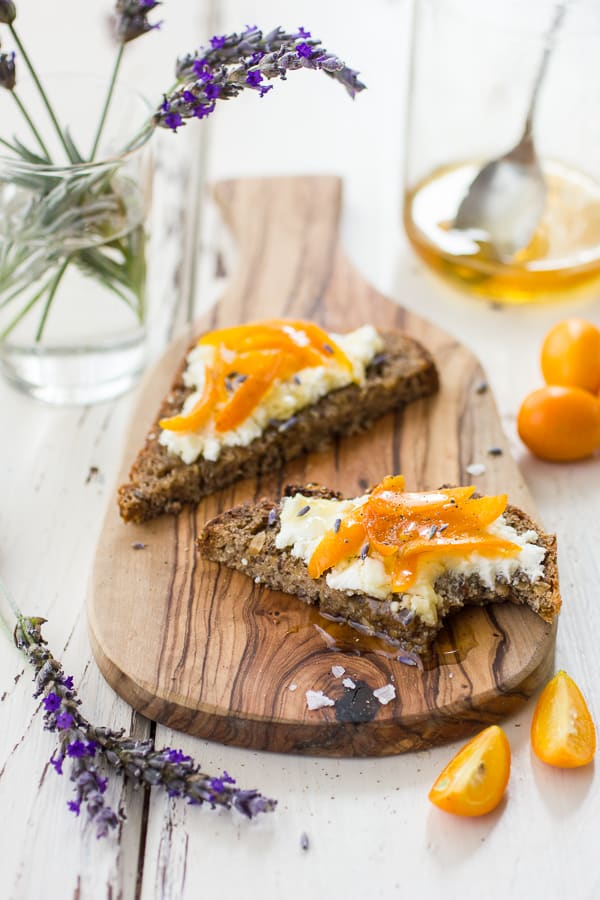 So I guess I'm not such a freak after all...at least, not for my love of drinking vinegar. I'll leave you with words from a wise man (Jay) who keeps repeating over and over while downing glasses of drinking vinegar, "Shrub-a-dub-dub."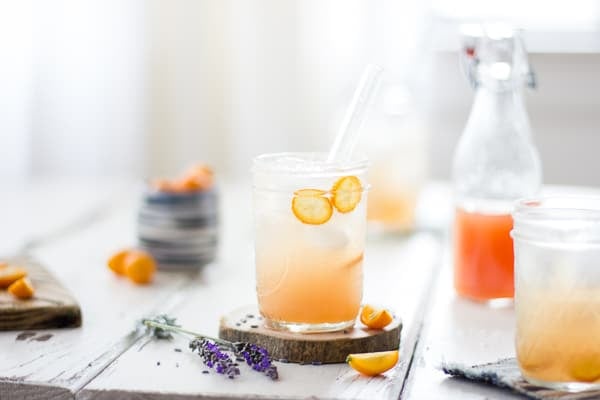 More Drinks Recipes:
More Shrub Recipes:
*Bojon appétit! For more Bojon Gourmet in your life, follow along on Instagram, Facebook, or Pinterest, purchase my gluten-free cookbook Alternative Baker, or subscribe to receive new posts via email. And if you make this lavender kumquat shrub recipe, I'd love to know. Leave a comment and rating below, and tag your Instagram snaps @The_Bojon_Gourmet and #bojongourmet.*
Lavender Kumquat Shrub
Print Recipe
Pin Recipe
Lavender, kumquats, honey, and apple cider vinegar blend seamlessly into a refreshing and nourishing drink for spring. Just add ice and sparkling water!
Servings:
20
drinks (about 3 cups)
Ingredients
For the shrub:
1

pound

whole kumquats, quartered

(about 3 cups / 450 grams)

1

cup

mild honey

(12 ounces by weight / 340 grams)

3

tablespoons

lavender buds

1/2

cup

fresh Meyer lemon juice

(4 ounces / 120 mL)

1

cup

apple cider vinegar

(8 ounces / 240 mL)
Instructions
Make the shrub:
Place the kumquats, honey, and lavender in a glass bowl or large jar and muddle to draw out the juices and oils from the citrus. Stir in the lemon juice and vinegar. Cover the shrub and let it sit at room temperature for 2 full days. After two days, strain the shrub, pressing on the solids to extract as much liquid as possible. (The kumquats can be saved – see headnote for suggestions.)

Store the shrub in the refrigerator for up to a month. To serve, pour a few tablespoons into a glass. Add ice and fizzy water until you like the way it tastes; 1 part shrub to 3 or 4 parts fizzy water is usually about right. Enjoy.
Notes
This shrub is a well-balanced dance of sweet, citrusy, and floral. Shrubs are often used as mixers, but we like this one best on its own with ice and fizzy water. If you must mix, tequila was our preferred spirit over gin, rye, vodka and white rum. Different apple cider vinegars can vary in flavor, so feel free to tweak the finished shrub to your taste; the raw kind is full of beneficial bacteria, though either raw or pasteurized cider vinegar will work fine. Be sure to use organic lavender buds that are intended for culinary purposes. With 3 tablespoons, the flavor was strong after the first day of steeping, but it mellowed to be very mild after the full 2 days. Save the kumquat segments to eat on toast with creamy cheese and honey.
Nutritional values are based on one of twenty drinks.
Nutrition
Calories:
73
kcal
Carbohydrates:
18
g
Protein:
1
g
Fat:
1
g
Saturated Fat:
1
g
Sodium:
4
mg
Potassium:
66
mg
Fiber:
2
g
Sugar:
16
g
Vitamin A:
75
IU
Vitamin C:
12.7
mg
Calcium:
21
mg
Iron:
0.3
mg