I've been afraid of gnocchi for a long time. Before studying Italian, I was afraid to pronounce them. After studying Italian, I was afraid to ask for them by name, lest I got the gender wrong and requested a kilo of "gnocche" by mistake. (This would be even worse than the time I accidentally asked a cheesemonger for a bit of "pecorina" instead of the pungent sheep's cheese I was after.)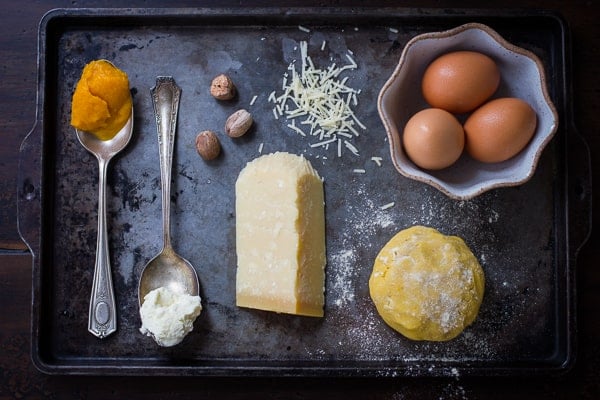 I then became afraid to make gnocchi when I learned about the tricky fork maneuver needed to get the characteristic crease and ridges. I could never get that dang fork move right. Plus, you needed a potato ricer to break up the potatoes while keeping them light and fluffy, and I wasn't about to invest in an appliance for the sole purpose of making a stupid pasta that I couldn't even shape right.
Thus I lived a gnocchiless existence for many years. Sure, there are commercial gnocchi, but those are largely made from potato flakes rather than fresh vegetables, which I consider to be a deal-breaker. I once broke down and bought a package of gluten-free gnocchi, but the texture was so abysmal that it further prevented me from trying my hand at the little dumplings.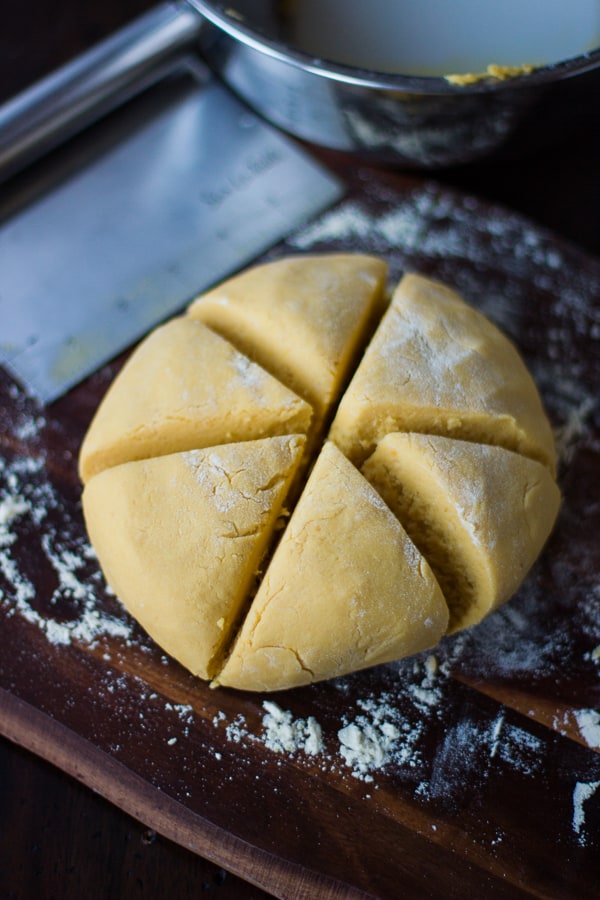 Luckily, there's Deb. She got me over my truffle trauma last year, and the gnocchi recipe in her book encouraged me to try my fork maneuverless hand at her potato gnocchi. She grates baked potatoes on a box grater, and forgoes the fork for ridge-free dumplings. I gave her recipe a shot and lo, no mafiosi kicked down the door to arrest me for making inauthentic pasta. Finally feeling safe, I began making potato gnocchi over the summer, which I would boil, pan fry, and toss with pesto, kale, and cherry tomatoes.
Then late one night, I found myself hungry and snackless. A search of the nearly empty fridge revealed winter squash puree and a bit of ricotta. I'd had gnocchi on the brain after reading Carey's beautiful post on curry-spiced kabocha squash gnocchi with cauliflower and sriracha-coconut crème fraîche (wouldn't you?), so I wondered if pumpkin ricotta gnocchi could be a thing. A quick Googling brought up a recipe from renowned forager and cook Hank Shaw on Simply Recipes. I needed no more credentials than those, and so I got to work.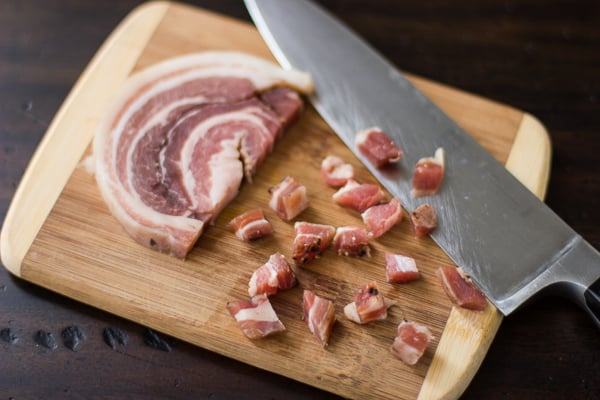 I tweaked the recipe a bit to make the dough gluten-free, using a combination of millet, sweet rice, and potato flours, and I upped the egg to help them hold together better. Hank demystified the fork thing, and, like he says, it does improve the texture and help them cook more evenly. Pan frying the gnocchi after they've boiled is key to good texture; they form a golden crust on the outside, and the flours seem to like the extra cooking time, becoming sweeter and more smooth. The grating of fresh nutmeg may seem like an odd addition to a savory dish, but it really amplifies the flavor of the gnocchi.
I decided to conquer another fear, too – that of bitter radicchio. I've had a few chicory salads out and about lately in which sweeter ingredients tempered their bitterness, so I reckoned it might work here to add dimension to the dish. Another search found a beautiful recipe adapted from Deborah Madison, my culinary hero.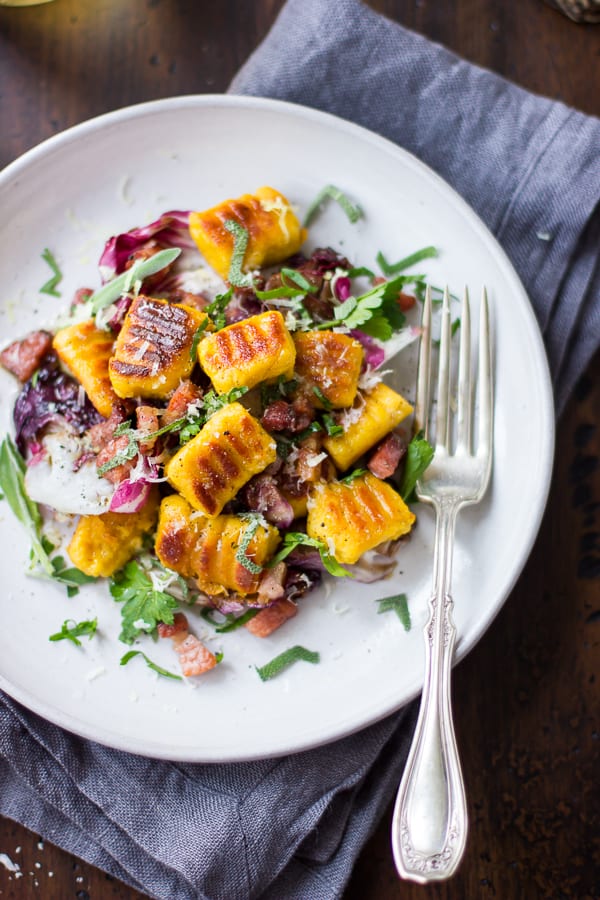 I add chewy bits of pancetta to the mix, and use the rendered fat to fry the gnocchi and wilt the radicchio, which gives the dish big flavor. I love the way the sweet and crispy gnocchi play against bitter hits of tender chicory and chewy bacon. Parsley, sage and a squeeze of lemon juice make the dish taste as bright as it looks, and an extra drizzle of olive oil, black pepper, and Parmesan complete the plate.
All in all, a delicious – and decidedly non-scary – winter meal.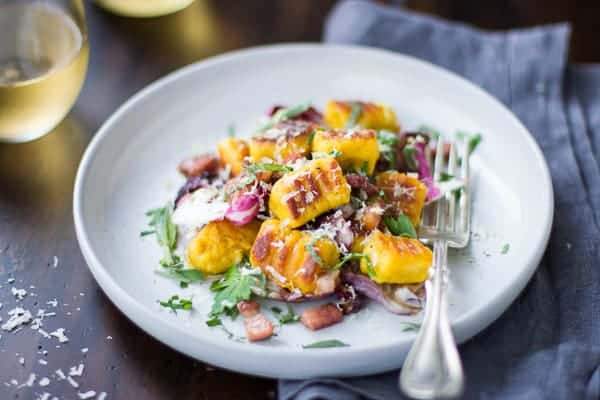 Oodles of noodles:
Pasta alla Carbonara with Brussels Sprouts, Kale, and Bacon
Baked Pumpkin Mac and Cheese with Kale and Cauliflower
Nettle Pesto Pasta with Sun Dried Tomatoes
One year ago:
Masala Chai Snickerdoodles
Honey Oat Beer Buns
Two years ago:
Quinoa, Kale and Sweet Potato Salad
Three years ago:
Spiced Sweet Potato Oven Fries
Four years ago:
Gluten-Free Pumpkin Ricotta Gnocchi with Pancetta and Seared Radicchio
Serves 6 as a modest main course
Gnocchi adapted from Hank Shaw and Simply Recipes; with radicchio inspiration from Deborah Madison via Joanne Eats Well With Others
Since radicchio can vary greatly in bitterness, taste a leaf before committing yourself and your guests to its sometimes toe-curling flavor. Extra gnocchi can be stored, dusted with millet flour, airtight in the fridge for up to a few days. Resting the dough at room temperature for an hour or two (or chilled for one or two days) makes it less sticky and easier to work with, but you can skip the rest if you're in a rush. Gnocchi novices and hurried cooks can skip the fork shaping step; the gnocchi will be a bit thicker and heavier on the palate, but they'll still be tasty. If I were making this dish for vegetarians, I'd trade in the pancetta and its fat for shiitake or chanterelle mushrooms and a couple tablespoons of butter. If gluten isn't an issue for you, use all-purpose flour in place of the potato, millet, and sweet rice. Do seek out high-quality, whole-milk ricotta (or make your own) – it will make a big difference in the finished product. I'm a fan of Bellwether Farm's whole milk, basket-dipped ricotta.
I always make this with homemade winter squash puree; my favorite is equal parts butternut and kabocha. Slice the squash in half and place cut-side-down on a lightly oiled, rimmed baking sheet. Roast at 350ºF until soft and collapsing, 45-60 minutes. Let cool. Scrape out and discard the seeds and strings, scoop the flesh into a food processor, and blend smooth.
For the gnocchi:
1 cup (8 ounces / 225 grams) roasted winter squash puree
1 cup (8 ounces / 225 grams) whole-milk ricotta
3 large eggs
1/4 cup (1.25 ounces / 35 grams) grated Parmesan
1 1/2 teaspoons fine sea or kosher salt
1/8 teaspoon freshly grated nutmeg
1/2 cup (3 ounces / 85 grams) potato flour (not starch)
1/2 cup (2 ounces / 55 grams) millet flour, plus more for rolling
1/2 cup (2.75 ounces / 80 grams) sweet rice flour, more as needed
To finish the gnocchi (makes 2 servings):
1/3 of the pumpkin ricotta gnocchi
olive oil, as needed
3 ounces (85 grams) pancetta, diced
1/3 small head red radicchio, leaves torn into 1-2″ pieces
1- 2 tablespoons chopped parsley, plus a few pretty leaves for garnish
a few large sage leaves, sliced
1 tablespoon lemon juice
black pepper
parmesan
Make the gnocchi:
In a large bowl, whisk together the squash puree, ricotta, eggs, Parmesan, salt, and nutmeg. Stir in the potato flour and millet flour, then add the rice flour a little at a time until the dough starts to come together. It should be slightly sticky, but firm enough to come away from the sides of the bowl and hold a shape. Scrape the dough out onto a surface dusted with millet flour, invert the bowl over the dough, and let rest 15-30 minutes (this gives the dough a chance to absorb moisture which will make it easier to work with).
When the dough has rested, knead it for a minute or two, dusting the surface and your hands with just enough flour to keep it from sticking. The dough should feel smoother and clay-like, but still be a bit soft/sticky.
Shape the gnocchi:
Divide the dough into 6 portions. Squeeze, press, and roll one portion into a long, 3/4″-wide rope, dusting the surface and your hands with just enough millet flour to keep it from sticking. Use a knife or metal bench scraper to cut the rope into 1″ lengths.
Dip the tines of a fork in millet flour, tap off the excess, and press a gnocco into the back of the fork, using the side of your finger to make a lengthwise indentation in the gnocco. Remove your finger, and fold the gnocco over itself with the back of the fork to form a crease on the back and ridges on the front. As you work, place the gnocchi on a sheet pan dusted with millet flour.
Finish the gnocchi:
Bring a medium saucepan half filled with water to a boil. Carefully drop in one third of the gnocchi (they will be soft, so I like to live on the edge and use my fingers to drop them in one by one, trying not to burn myself). When all the gnocchi have floated to the top, let them boil for 1 minute, then scoop them out with a slotted spoon and drain. Set aside.
Coat the bottom of a wide skillet (10″ or larger, preferably cast iron, or heavy stainless steel) with a thin film of olive oil. Warm over medium heat until the oil shimmers. Add the pancetta and cook, stirring occasionally, until the pancetta has taken on some color, 3-5 minutes. Remove the pancetta to a bowl, leaving the fat in the pan. Add the gnocchi in a single layer, and don't move them until they have a golden sear on the first side, 4 minutes or so. Use a pair of tongs to rotate each gnocco to the second side, and cook until crusty on that side, another few minutes. Remove the gnocchi to a platter or bowl.
Add the radicchio to the pan and cook until just wilted, tossing with the tongs, a minute or so. Add the gnocchi and pancetta back to the pan, scatter the herbs over the top, and toss to combine. Drizzle with olive oil and a bit of lemon juice, then taste for balance and seasoning.
Divide the gnocchi between two plates, and top with freshly ground black pepper and grated Parmesan. Garnish with a few pretty leaves of parsley if you like, and serve immediately.