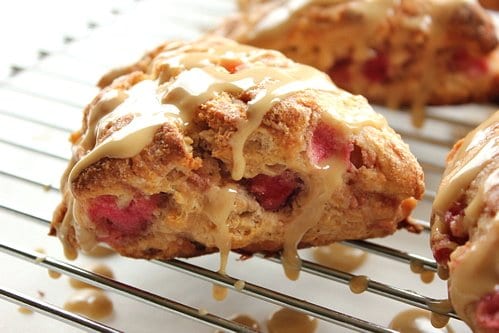 Some days you just need a scone.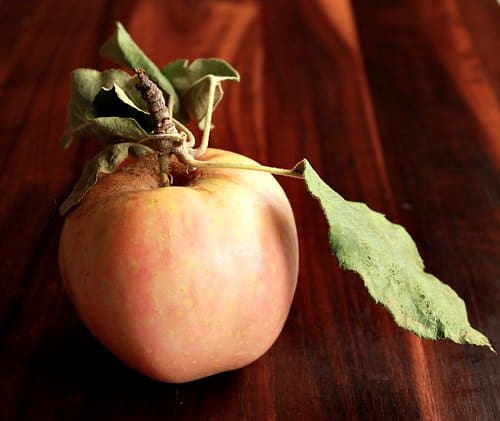 Some days you need 12 scones.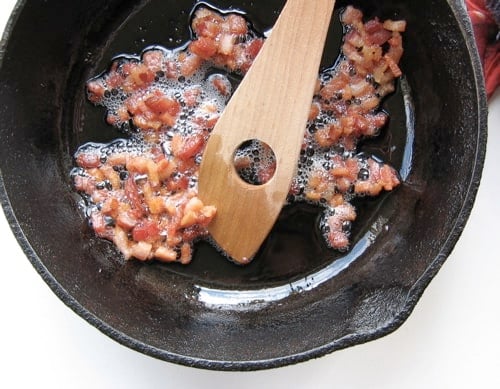 Some days you need scones and bacon.
Some days you need bacon scones.
Scones are one of my very favorite things to make (in addition to bizarre Dr. Seuss-esque food poetry, apparently). My avid scone-making springs partly from necessity as it can be hard to find a satisfying scone out in the wild, unless you stop by Sandbox Bakery in Bernal Heights. (For the record, Samovar also makes a killer cherry oat scone.) Unfortunately for all of us San Franciscans, Sandbox no longer makes their signature maple bacon apple scones – tragedy! So I was forced to take matters into my own, scone-making hands.
I cubed up some thick-cut, smoky bacon from the Corralitos Market and Sausage Company(a.k.a. the best bacon ever) and fried it until crisp. I removed the bacon bits to cool, poured most of the rendered fat into a bowl to chill, and sauteed apple chunks (the last of Kelly's pretty pink pearls) in the remaining bacon fat. I then mixed up a maple syrup-sweetened dough with the chilled bacon fat and cold butter, added the cold apples and bacon bits, and moistened the dough with milk and cream. Since these were sure to be rich and intense, I cut them into 12 small triangles. After they had baked, I veered from Sandbox and drizzled them with a sticky maple syrup glaze.
These scones are crumbly, flaky, creamy, tender, sweeter than a biscuit but more stark than a muffin. They bake up light and fluffy (if you can call something made with bacon, butter and cream "light"), with moist pockets of sweet apple and a distinctly smokey flavor from the bacon that blends beautifully with the earthy maple and whole grain flour. The glaze adds a sweet counterpoint.
These scones are sublime when fresh from the oven, with crispy edges giving way to tender centers. They can be assembled in advance and frozen until ready to bake, whisked effortlessly from the oven, coated in maple goodness, and shared with friends who are sure to swoon and/or propose.
Or you can hoard them all to yourself, if it's one of those days.
Scones for all seasons:
Bacon Beer Cheddar Onion Scones
Irish Soda Scones
Poppyseed and Lemon Curd Mega Scone
Taken with bacon:
Bacon, Leek and Fennel Quiche
Mac and Cheese with Bacon, Winter Squash and Collard Greens(Best fall meal, ever!)
Smoky Tomato Butterbean Soup
One year ago:
Roasted Quince and Apple Turnovers and
Quicker Whole Wheat Puff Pastry
Two years ago:
Roasted Summer Vegetable Caponata
Almond Plum Tart, Cardamom Ice Cream
Three year ago:
Sourdough Boule
Chocolate Granola
Maple-Glazed Bacon Apple Scones
Inspired by Sandbox Bakery
Counter-intuitively, grade B maple syrup is darker and more flavorful than grade A, and recommended here. I used pink pearl apples here, which were soft, gooey and delicious. If you use a firmer baking apple, like Granny Smith, Fuji or Pink Lady, let them caramelize and soften in the bacon fat – yum! Do make sure to let the apples, bacon and bacon fat chill completely before mixing the scones; this will keep them tender and flaky. You can use half and half in place of the milk and cream; or, for a lighter scone with a bit of tang, buttermilk. If you like, top the scones with a touch of flaky salt or extra bacon bits while the glaze is still wet.
Makes 12 small scones
Scones:
3 ounces bacon, cut into small cubes
2 medium baking apples, peeled and cubed
1 1/2 cups (7 1/2 ounces) all purpose flour
1/2 cup (2 1/4 ounces) whole spelt (or whole wheat pastry) flour
1 tablespoon baking powder
1/4 teaspoon fine sea salt
1/8 teaspoon freshly grated nutmeg
2 tablespoons reserved, chilled bacon fat (see directions)
about 3 tablespoons cold, unsalted butter
1/4 cup maple syrup (preferably grade B)
1/4 cup whole milk
1/4 cup heavy cream, more as needed, plus 2 tablespoons for brushing the scones
Glaze:
1/3 cup powdered sugar, sifted
about 2 tablespoons maple syrup
Make the scone dough:
In a medium skillet, cook the bacon over medium heat, stirring occasionally, until golden and crisp, about 5 minutes. Remove the bacon with a slotted spoon and transfer to a small, heat-proof bowl. Pour all but 1 tablespoon of the rendered fat into another small, heat-proof bowl – you should have around 2 tablespoons. Cool both the bacon and 2 tablespoons of fat to room temperature, then place both in the refrigerator to chill until very cold, about 30 minutes.
Meanwhile, saute the apples in the bacon fatty skillet until tender and golden, stirring occasionally, 5-10 minutes. Tip the apples out onto a plate, let cool to room temperature, then chill until completely cold, about 20 minutes.
In a large bowl, whisk or sift together the flours, baking powder, salt and nutmeg. Measure the bacon fat, then add enough butter to make 5 tablespoons of fat, total. Cube the butter, and use a pastry blender or your fingers to work in the cold fats until the mixture resembles sandy gravel, with some pea-sized butter chunks.Stir the chilled bacon bits and apples into the flour mixture until evenly distributed.
In a measuring pitcher, stir together the maple syrup, milk and cream. Slowly drizzle the maple mixture into the flour mixture, tossing gently with a rubber spatula, adding more liquid directly to the dry bits, until the mixture clumps together and no floury bits remain. If the mixture is dry, add a bit more cream until it comes together.
Shape the scones:
Turn the dough out onto a lightly floured surface and divide into two equal pieces. Press each piece into a 1″ high round, about 5 inches in diameter. Cut each round into 6 wedges. Separate the wedges, place them on a small baking sheet, and freeze for 30-60 minutes or until firm. (At this point, the frozen scones can be stored in a freezer-safe zip-lock bag and baked from frozen.)
Bake the scones:
Position a rack in the upper third of the oven and preheat to 425ºF. Stack two rimmed baking sheets (to prevent the bottoms from over-browning) and line with parchment paper.
Remove the scones from the freezer and space them evenly on the lined baking sheet. Brush the tops lightly with cream. Bake the scones until golden all over, craggy and puffed, 15-20 minutes. Remove the scones to a wire rack and let cool slightly.
Glaze the scones:
Meanwhile, sift the powdered sugar into a medium bowl and whisk in enough maple syrup to make a drizzle-able glaze. Drizzle the glaze over the warm scones.
The scones are best shortly out of the oven when their edges are crisp and their middles are moist. But extras can be stored at room temperature for up to 2 days; reheat in a warm oven or toaster oven before serving.