When you're bojon, sometimes you may wonder what to do with those extra forty hours a week not taken up by work. There are few rules as to what constitutes an ideal bojon activity, but generally speaking, unless you just sold your new start-up to Google or developed a brilliant iPhone app, it should be cheap, or, ideally, free. A walk on the beach, a picnic in the woods, free day at your local art museum, people watching at a cafe or park are all excellent options.

But here on Potrero Hill exists, arguably, the best bojon activity of them all: the free tour of the Anchor Brewery.

I happen to live five blocks away from this hoppy oasis; mere stumbling, or should I say, staggering distance. The tours take place twice a day, but only on weekdays. So while you don't have to be bojon to take the tour, it doesn't hurt.
Free beer + bojon = happiness. Photo by Michael San Felipe
But you do have to take the tour to get to the free beer. Which isn't a problem, as it is both fun and educational, especially if you're the type of person who likes to know how things are made. The facility is easy on the eyes, the guides are informant and entertaining (a plus when they're easy on the eyes, too!), and everyone there wears the coolest white coveralls. I've been on this tour at least half a dozen times by now, and, though I keep expecting to be barred entry or to have to give a fake name and show up in disguise, I manage to learn something new with each visit.

But the best part of the tour, better than the giant copper kettles, and the smell of the mash, er, mashing, and the huge vats of frothy lager and deep tubs of ale; better than the complex series of pasturization tubes and the loud clanging of the bottling room, is the post tour beer tasting.
By tasting, let me explain that each guest is poured six 7-ounce glasses of each beer that Anchor makes: summer beer, small beer, bock, lager, porter, and last but not least, barleywine. That's about 2 1/2 pints of beer which, if you're a cheap date like me, is enough to get you quite scuttered.

Did I mention the tour starts at 11:00 am?

Definitely a great bojon activity.

I never liked beer that much until Jay came along and tempted me with Belgian doubles and triples, but now I most appreciate a nice lager, which goes well with just about anything. And there's no lager I enjoy more than Anchor's best-known Steam beer. (Though you'll have to take the tour if you want to find out why they call it that. No spoilers.)

I wanted to bake something with said beer the other day, and settled on these scones. I based the recipe on the cheddar-dill ones from Once Upon a Tart. With three eggs, ample leavening, and a hefty amount of cheese, these scones bake up light, crisp and airy; sort of like if a gougere and a biscuit got it together. I threw in some crispy bacon, caramelized diced onion in the rendered fat, and used smoked cheddar cheese for extra umami. I imagine a teaspoon or so of smoked paprika wouldn't be out of place, here, to up the smoky factor.

And of course, nothing washes these down quite like a nice crisp glass of Anchor Steam beer.

Which, unless you pack some to take on your Anchor tour, you will likely have to pay for.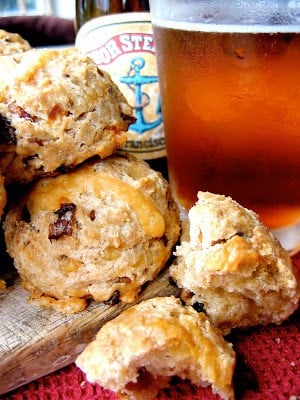 Bacon Beer Scones with Smoked Cheddar and Caramelized Onions
Adapted from Once Upon a Tart
Makes twenty 3″ scones
6 strips bacon, preferably cured and smoked
1 medium yellow onion, diced (about 2 cups)
3/4 teaspoon salt, divided
8 ounces smoked cheddar cheese, grated
2 cups all purpose flour
3/4 cup whole wheat flour
1 tablespoon baking powder
4 ounces (1 stick) unsalted butter, cold, cut into 1/2″ cubes
1/2 cup beer (a lager, such as Anchor Steam)
1/4 cup half and half, or milk
3 large eggs
Position a rack in the center of the oven and preheat to 400º. Line two baking sheets with parchment paper.
Heat a skillet over medium heat for a minute, then lay the bacon strips in a single layer. Cook, turning occasionally, until browned and crispy, 5-10 minutes. Remove to a plate to cool, leaving the drippings in the pan. Crumble the bacon into 1/2″ pieces.
Add the onions to the drippings and saute over medium-low heat, stirring occasionally, until deep brown in places, sweet and tender, 15-20 minutes. Stir in 1/4 teaspoon of the salt. Let cool to room temperature. (To speed this up, spread the onions out on a plate and stick in the fridge.)
Meanwhile, whisk together the flours, 1/2 teaspoon salt and baking powder in a large bowl. Rub the butter in with your fingertips until the mixture looks sandy, with some pea-sized chunks of butter remaining. Toss in all but 1/2 cup of the cheese, and all of the bacon and onions, stirring to distribute somewhat evenly.
In a large measuring cup, whisk together the beer, milk and eggs to combine. Pour the wets into the flour mixture and stir to form a sticky dough. Use a big spoon or a spring loaded ice cream scoop (with the red handle) to drop 1/4 cup mounds onto the baking sheets, spacing the scones 2″ apart. Top the scones with the 1/2 cup of cheese.
Bake until the scones are golden, the cheese is melty, and your kitchen smells unbearably delicious, 25-30 minutes. Let cool a bit before eating.
The scones are best served warm from the oven, but will keep for a couple of days at room temperature. They'll taste best re-warmed in a toaster oven.