Jay is a recovering vegetarian. For years, the only meat that he would eat was a semi-reluctant bite of turkey on Thanksgiving.
So several Thanksgivings ago I embarked on a journey inspired by Fran Gage's search for a turkey-substitute to serve her newly vegetarian kids. She wanted an entree that felt special and ceremonial, and looked grand the way a bronzed turkey does when it emerges from the oven.
Fran's solution was indeed a delicious one: a large bowl lined with puff pastry and filled with vegetables, bechamel, cheese, and chestnuts. When baked and turned out, it resembled a bronzed, rounded turkey breast. It was called a Timpano.
The Timpano required days worth of work, a lengthy shopping list, bechamel-making, vegetable-cooking, the agonizing peeling of fresh chestnuts (which I will never do again), and the making of puff pastry from scratch (ok, I have no one to blame for this but my overachieving self).
I unveiled the Timpano at Thanksgiving, and my family dutifully oohed and aahed. The Timpano was devoured. It was worth every aching foot and back muscle. Jay was especially thrilled (though he still may have had a bite or two of turkey – understandable, as my brother makes it the best). But I wasn't sure I was up to the task of making another Timpano anytime soon.
So when I came across Ruth Reichl's recipe for Swiss Pumpkin–a pumpkin hollowed of its seeds and strings and stuffed with bread, cheese, cream and eggs–in her memoir Comfort me with Apples, I thought, aha!
Unfortunately, the cholesterol-bomb of a filling put me off making it for several years. I wanted some vegetable matter in there too (though certainly not chestnuts).
While paging through my well-loved copy of Molly Katzen's Moosewood Cookbook the other day, I learned that the answer had been right under my nose the whole time. Molly calls her stuffed pumpkin "Pumpkin Tureen," and uses less bread, less cheese, and more vegetables, herbs and broth to make a sort of hearty pumpkin soup.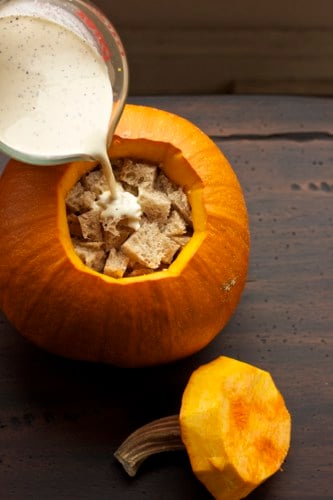 So I mashed up the two recipes, and came up with this, a savory bread pudding seasoned with leeks and sage and baked in a giant pumpkin.
Ridding the pumpkin of its stubborn strings was the hardest part of making this recipe (though nowhere near as dreadful as peeling chestnuts). Once that onerous task is finished, the rest of the recipe comes together quickly. After an hour and a half in the oven, a handsome pumpkin emerges, brimming with oozy, gooey bread pudding. The pumpkin releases liquid that further moistens the bread, and the pudding infuses the pumpkin's flesh with sage, leeks, and earthy gruyère. To serve, scoop portions of the cheesy bread pudding out along with some creamy, roasted pumpkin.
This being weeks before Thanksgiving, we didn't have our whole extended families to feed (yet), so Jay and I got to eat this entire 6 1/2 pound pumpkin (and I don't want to think about how much cheese) by ourselves. Leftovers have been reheating beautifully in an oven or toaster oven. A bowl of pumpkin goop, a salad with some bitter greens mixed in, and a glass of white wine make an excellent meal that feels both nourishing and surprisingly light due to a high pumpkin-to-cholestorol ratio.
So if you're on the prowl for a grand vegetarian entree for Thanksgiving, I hope you look no further. (Though vegans will want to stick with Tofurky…)
Pumped up:
Roasted Winter Squash and Sage Tart
Mac and Cheese with Winter Squash, Bacon and Collards
Winter Squash and Sage Gougères
One year ago:
Two years ago:
Three years ago:
Leek and Gruyère Bread Pudding Baked in a Pumpkin
Adapted from Ruth Reichl's Swiss Pumpkin and Moosewood Cookbook's Pumpkin Tureen
Be sure to get a pumpkin that's designed for eating, such as Sugar Pie. If you like, save the seeds in a large bowl, let them soak in cool water for an hour or so, then lift them out with your fingers and into a strainer – the strings and goo should sink to the bottom. Drain them well, toss them to coat in olive oil, and roast them in a low oven, around 250º, until golden and crisp, about 30 minutes. Toss with a bit of salt, smoked paprika, curry powder, cayenne or whatever else you like. See this article for more on pumpkin seed roasting.
Makes about 10 servings
1 sincere pumpkin, 6-7 pounds (8″ in diameter)
3 medium leeks
1 tablespoon butter
1 tablespoon olive oil
salt
splash white wine (or vegetable stock)
2 tablespoons slivered sage leaves
5 cups sturdy rustic bread cubes (such as levain or sourdough, crusts removed, cut into 1″ cubes)
2 cups grated gruyère cheese (7-8 ounces)
1 1/2 cups half and half (or whole milk)
2 eggs
1 teaspoon freshly ground black pepper
about 1 cup vegetable stock, as needed
Position a rack in the lower third of the oven, remove all other racks, and preheat to 350º.
Prepare the veg:
Cut the top off the pumpkin, leaving a large enough opening to get your hands in there and remove the gunk. Scrape out the strings and seeds – this can take a bit of effort, but it doesn't have to be perfect. (Reserve the seeds if you like; see headnote.) Set the pumpkin on a rimmed baking sheet or roasting pan.
Slice the white and light green parts of the leeks into 1/4″ rounds, place the rounds in a large bowl, and fill with cool water. Swish the leeks around, separating the rounds, letting any dirt sink to the bottom.
In a large skillet, melt the butter and oil together over medium heat. Lift the leeks out of the water, shaking off excess water, and add them to the pan. Saute until wilted and tender, 10 minutes. Deglaze the pan with a splash of wine or stock, and season the leeks with a big pinch of salt.
Layer the components inside the pumpkin in the following order:
-1/3 of the bread cubes
-half the cheese
-half the leeks
-half the sage
-1/3 of the bread cubes
-rest of cheese, leeks and sage
-remaining 1/3 of bread cubes
In a large measuring pitcher, whisk together the half and half, eggs, black pepper, and 1 teaspoon of salt until thoroughly combined. Pour this mixture into the pumpkin. Add enough vegetable stock, if needed, to bring the liquid to 1 1/2 inches below the rim of the pumpkin (the liquid will bubble up, and the pumpkin will also release some moisture as it bakes).
Cover the hole with aluminum foil and cover with the pumpkin lid.
Bake the pumpkin until the flesh is tender (test this by poking the inside with the tines of a fork – they should slide in easily), about 1 1/2 – 2 hours. Remove the pumpkin. To serve, scoop portions of pudding and pumpkin out together. Garnish with a few small sage leaves if you like. Leftovers keep well in the fridge for up to 5 days. Reheat in an oven or toaster oven before serving.