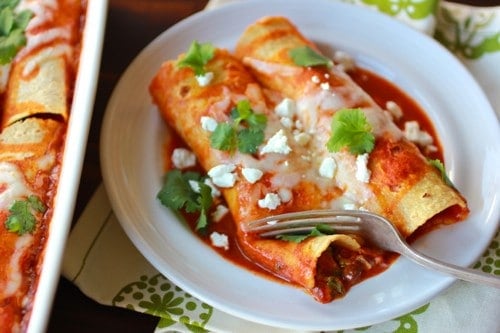 I love enchiladas, but unless I'm dining at Gracias Madre in the Mission district of San Francisco, the standard choices tend to be limited to sketchy meat or a triple bypass surgery's worth of cheese. I've come to accept that when I want an enchilada with nutritional value, I have to make it myself.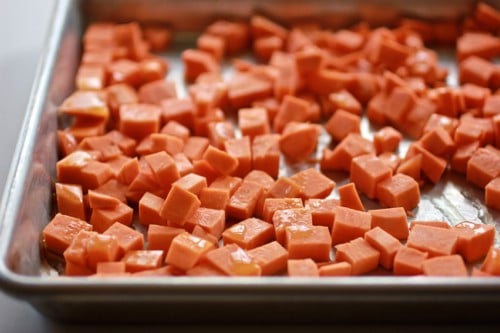 This version combines soft nubs of roasted sweet potato with caramelized onion, wilted chard leaves, creamy black beans and tangy goat cheese. Jack cheese adds melty goo, and a piquant, tomato- and chile-based sauce bathes the tender tortillas. I dare any omnivore to claim hunger after a serving of this satisfying vegetarian meal.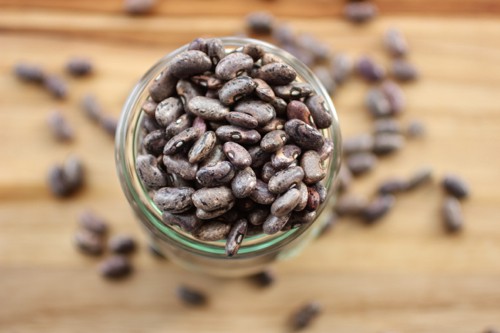 The sauce is the aspect of enchilada-making that usually puts me off, as it turns the project into a more time-consuming endeavor than I usually have the stamina for. Enter my enchilada savior: Sara of Sprouted Kitchen, one of the most stunning food blogs on the interwebs. Until I read her post, I never realized that you can buy enchilada sauce. Our local co-op carries an excellent, organic version made by Sweet Creek that rivals any taqueria with its smoky tomatoey-ness. I no longer hesitate to make them for company, or when I want a filling and easily-re-heatable dinner for a few nights.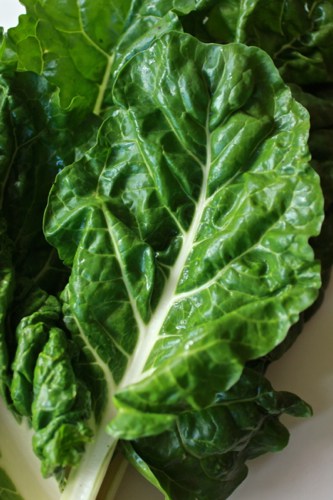 I do like to cook my own beans, however. This time around, I used purple-flecked Moros from Rancho Gordo (which look suspiciously like Mixed Berry Smoothie Jelly Bellys). Rancho Gordo's beans are fresher than the usual suspects, and they cook up plump and creamy, seasoned with salt and bay. The beans simmer in the time it takes to roast the sweet potato cubes, caramelize the onions, wilt the chard, and grate the cheese. Soaking helps them cook faster, but it isn't vital to their success.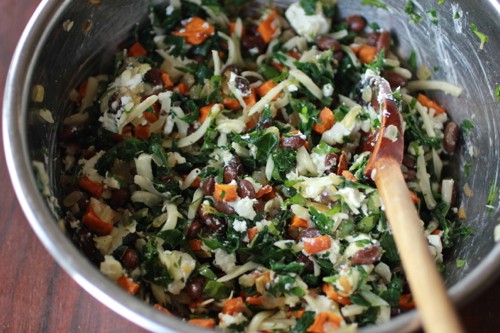 I wrap the heavenly filling (which, minus the jack, makes a tasty dish on its own) in pliant corn tortillas and lay them in a saucy baking dish. I especially like blended corn-wheat tortillas here, which bake up with a dumpling-like chew, but pure corn tortillas work well, too. More sauce tops the rolls, the dish is covered, and into the oven it goes to heat through. Extra cheese on top makes them pretty and delicious.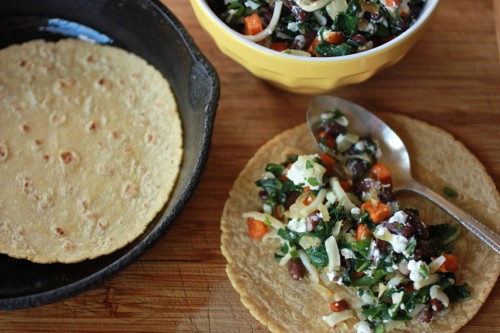 The flavors in these enchiladas make them equally appropriate for an Indian summer lunch or for dinner on a chilly fall evening. I plan to make them year-round, but particularly during the dead of winter, when bright flavors will be especially welcome.
If you do have the time and energy, feel free to make your own enchilada sauce (this one from Simply Recipes looks fabulous and easy) and/or your own tortillas.
Sweet on Sweet Potatoes:
Quinoa, Kale and Sweet Potato Salad
Spiced Sweet Potato Oven Fries
Pecan-Topped Sweet Potato Pie
One year ago:
ANZAC Biscuits (which are actually cookies)
Two years ago:
Three years ago:
Sweet Potato, Chard and Black Bean Enchiladas
Beans cook faster if you have the foresight to soak them overnight; if not, just simmer them until they're tender. They'll take a bit longer than if you had soaked them. The bay leaf supposedly helps make beans more easily digestible, and it adds a lovely depth of flavor. You can use 1 1/2 cups (1 can) of cooked black beans in place of cooking your own. Drain them and rinse off the goo before combining them with the other ingredients.
Avocado and sour cream make nice garnishes to serve with your enchiladas, especially leftovers which dry out when the tortilla absorbs the sauce. If you happen to make Avocado Tomatillo Salsa with your extra cilantro, that goes well, too. These keep well in the fridge for up to 5 days, but are best when fresh from the oven the first time around.
Makes 12 enchiladas; 6 main-course servings
1/2 cup dried beans (such as Moro or Black)(or 1 1/2 cups cooked beans from 1 can)
1 bay leaf
salt
1 large (12 ounce) sweet potato, peeled and cut into 1/4″ dice (2 cups)
light olive oil or sunflower oil
1 large yellow onion, peeled and diced (1 generous cup)
leaves from 1 bunch chard, washed and torn coarsely
1 cup crumbled fresh goat cheese (4 ounces), plus extra for garnish
2 cups loosely packed grated jack cheese (7 ounces), divided use
12 corn tortillas
2 cups enchilada sauce (homemade or storebought; I like Sweet Creek's mild sauce)
handful cilantro leaves, chopped, plus extra for garnish
Make the filling:
If you can, soak the beans overnight. Drain the beans and place them in a medium saucepan, cover with 2-3 inches of water and add the bay leaf. Bring the beans to a boil, then reduce to a simmer and cook until the beans are quite tender, but not falling apart. This can take anywhere from 45 minutes to 2 hours, so check the beans frequently and add more water to keep them submerged. When the beans are mostly tender, add 1/2 teaspoon of salt to the pan.
Meanwhile, position a rack in the center of the oven and preheat to 400º. Toss the cubed sweet potato with 1 tablespoon of oil and a few pinches of salt and spread it out on a baking sheet in a single layer. Roast the sweet potato until tender and golden in places, flipping the cubes halfway through, about 20 minutes. Remove from the oven and let cool slightly.
Meanwhile, heat 1 tablespoon oil in a wide skillet over medium heat until shimmering. Add the onion and cook, stirring occasionally, until the onion is golden and tender, about 10 minutes. Season with a big pinch of salt. Scrape the onion into a large mixing bowl and wipe out the pan with a paper towel.
Add the chard leaves and a splash of water to the pan. Cover the pan and let the chard steam until wilted and bright green, 3-5 minutes, tossing the chard once or twice for even cooking. Drain the chard, rinse with cool water, then squeeze all the moisture out of it and chop it coarsely. Add it to the bowl with the onion, then add the sweet potato.
Drain the beans well. Add them to the vegetables and toss everything together. Taste for seasoning, adding salt if needed, then toss in the goat cheese and all but 1/2 cup of the jack cheese. Add the cilantro and taste again for seasoning.
Assemble the enchiladas:
Pour 1/2 cup of enchilada sauce into the bottom of a 9×13″ baking dish (lasagna pan). Position a rack in the center of the oven and decrease the temperature to 350º.
Coat a medium skillet with a thin layer of oil and place it over a medium flame. Add a tortilla and heat for 10 seconds on each side until heated through and pliable. Place the tortilla on a cutting board, and place 1/4-1/3 cup of filling on the lower third of the tortilla, squishing the filling into an oblong shape. Roll up the tortilla and place the roll seamside-down in the baking dish.
Repeat with the remaining tortillas and filling until all the filling is used up. Pour 1 cup of the sauce all over the enchiladas, and cover the pan tightly with foil.
Bake the enchiladas until the sauce is bubbling and the enchiladas are heated through, 30 minutes. Remove from the oven, top with the remaining sauce, and sprinkle the remaining jack cheese over the tops. Bake until the cheese is melted, 5 more minutes.
Serve the enchiladas garnished with cilantro leaves and goat cheese. They are best when freshly baked, but extras keep well in the fridge for up to 5 days; reheat in an oven or toaster oven until heated through.