Jay and I have been in huckleberry heaven. Huckle heaven is not the place where pious huckleberries go after being sacrificed to a bojon gourmet's belly, but rather the euphoric state in which one finds oneself after a successful huckle hunt. Jay and I stumbled on a ginormous (I can't believe my spell check is ok with that word) patch of huckleberry bushes in Marin. A few trips resulted in quarts and quarts of the sweet, woodsy little berries.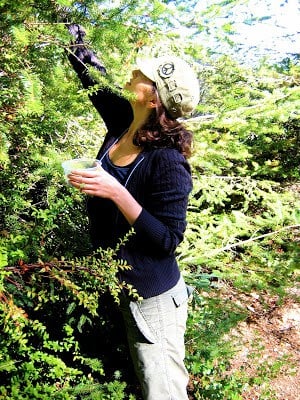 As mentioned in the previous post, I made this to go with my Mugolio ice cream. Actually, it started out in my head as a huckleberry-fig galette, as we had just scored 10 plus pounds of brown turkey figs from our friends, Michael and Sarah. But the days passed, and the figs got eaten for breakfast with yogurt, granola and huckleberries, and zealously turned into a huge vat of Deborah Madison's savory-sweet fig and ginger jam, and the remainder sliced and frozen to be used later on.
I suddenly realized that the pears from Jay's mom's tree were just about ripe. Pears are sneaky that way, as Eddie Izzard so adroitly pointed out. They sit there, rock hard, until you leave the room and suddenly they're perfect for about two seconds, until you come back into the room to find them rotted from the inside out. I worried that our pears would meet the same fate in the tremendous heat wave of last week, and decided that action was needed. I sliced the pears, sauteed them in vanilla brown butter, tossed them with some sugar, lemon juice and huckles, and laid them in a sourdough pate brisee crust.
As for this crazy crust to which I keep alluding, I got the idea here, as I am always looking for ways to use up more starter. But I didn't like the baking soda and shortening in the original recipe, so I decided to make up my own. I usually use Martha's pate brisee recipe, which is buttery-tender and flaky. I based my recipe upon hers, substituting sourdough starter for the water, and reducing the amount of flour. The results were surprisingly fabulous. The acidity of the starter has the effect of tenderizing the glutens in the dough, as would lemon juice or vinegar called for in some pie dough recipes, resulting in an even more tender, flaky dough than usual. It also enhances the flavor, tasting not sour but just more full, the way a preferment does in a bread recipe.
The gallette is excellent served warm, with a scoop of Mugolio ice cream melting alongside.
For more huckleberry recipes:
*Bojon appétit! For more Bojon Gourmet in your life, follow along on Instagram, Facebook, or Pinterest, purchase my gluten-free cookbook Alternative Baker, or subscribe to receive new posts via email. And if you make this huckleberry pear galette recipe, I'd love to know. Leave a comment and rating below, and tag your Instagram snaps @The_Bojon_Gourmet and #bojongourmet.*
Huckle-Pear Galette with Sourdough Pate Brisee
Print Recipe
Pin Recipe
A delicious galette packed full of fresh fruit.
Servings:
8
servings (9 inch galette).
Ingredients
Sourdough pate brisee
1

cup

flour (I use whole spelt, but all purpose or whole wheat are fine, too)

1/2

teaspoon

salt

1

teaspoon

sugar

1

stick

unsalted butter, cold, cut into 1/2" cubes

(4 oz.)

1/2

cup

liquid sourdough starter (mine was at room temperature, but chilled starter would probably be even better)

(4 oz.)
Huckle-pear galette
1 1/4

lbs.

firm-ripe pears, cored, in 1/4 slices (ok to leave the skin on)

2

tablespoons

unsalted butter

1/4

vanilla bean, split and scraped

2 - 4

tablespoons

sugar (depending on sweetness of fruit)

1/4

teaspoon

salt

juice of half a lemon

(about 1 tablespoon)

2

cups

fresh or frozen huckleberries

1

tablespoon

coarse turbinado sugar, for sprinkling
Instructions
Sourdough pate brisee
In a medium bowl, stir together the flour, salt and sugar. Add the butter and work with your fingertips or a pastry blender until the mixture resembles coarse meal with some larger, pea-sized chunks remaining. Gradually add the starter tossing the mixture with a rubber spatula or your hands, pressing it against the sides of the bowl, until the dough barely holds together when squeezed. You may not need all the starter, or you may need to add more.

Gather the dough into a ball, put it in a plastic bag, and squash it into a 6" disc. Chill at least 1 hour, or up to a couple days, or freeze for up to two months.
Huckle-pear galette
Preheat the oven to 400º, with only the bottom rack in place. If you have a baking stone, place it on the rack to heat. Line a sheet pan with parchment, and (optionally) set a 9" cake ring or springform pan, with the bottom removed, on top. Set aside.

In a 10" skillet over medium heat, cook the butter with the vanilla bean until it browns and smells nutty, about 5 minutes. Add the pears and saute until firm-tender, a few minutes. Remove from the heat and toss in the sugar, salt and lemon juice to your taste. Set aside.

Remove the dough from the fridge, and let soften at room temp for about 10 minutes.

On a lightly floured surface, roll out into a 12" round; it will be fairly thin. Lay it in the cake ring, lifting to settle the dough into the corners, letting the edges drape over the sides. Place the pears and their juices on top of the pastry and add the berries. Gently toss with your hands to distribute evenly. Fold the edges of the dough loosely over the galette. Sprinkle the whole galette with the coarse sugar. Place in the oven, on the baking stone, and bake until the crust browns and the juices bubble thickly. Remove the ring and let cool slightly.
Notes
My pastry teacher at Tante Marie's, Claire Legas, taught us a handy technique to make a galette perfectly round and a bit less flat using a cake ring or springform pan with the bottom removed. Lacking one of those, you can make the galette free-form. It will still kick ass.
If you are lucky enough to have perfectly ripe pears, skip the sauteing step and just toss the pears with the vanilla brown butter and so forth. If you are without huckles, try this combination with all pears, or use apples and blackberries.
Nutritional values are based on one serving
Nutrition
Calories:
279
kcal
Carbohydrates:
36
g
Protein:
2
g
Fat:
14
g
Saturated Fat:
9
g
Cholesterol:
37
mg
Sodium:
227
mg
Potassium:
98
mg
Fiber:
2
g
Sugar:
12
g
Vitamin A:
505
IU
Vitamin C:
5.4
mg
Calcium:
21
mg
Iron:
1
mg