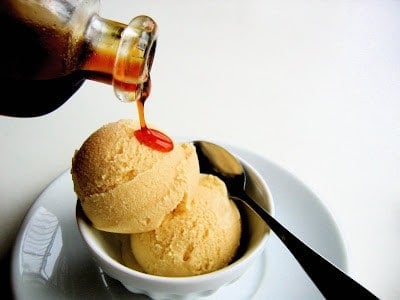 I purchased a tiny bottle of Mugolio, or pine cone bud extract, over a year ago at Avedano's meat market in Bernal Heights. Imagine licking fresh maple syrup while standing in the middle of a fragrant pine forest, and you have a vague notion of what Mugolio tastes like. But trying to describe Mugolio's ambrosial flavor is like trying to dance about a huckleberry-pear gallette. The curious can order it through Amazon, but I got my bottle for a lower price at Avedano's, plus they let me taste it first, and gave me a sample of house-made beef stew to boot. Suck on that, Amazon.
Mugolio is heavenly with fresh goat cheese and ripe figs or pears, or drizzled sparingly over buckwheat crepes or huckleberry sourdough pancakes. But the Mugolio wanted to get more out of life.
Mugolio: Make me into ice cream.
Me: No way, you're too expensive. What am I, made of money?
Mugolio (sweetly): Come on, I'm so strong. You wouldn't need much of me.
Me: I don't know. I'll think about it.
Mugolio (accusatory): You said that last year. I'm not getting any fresher. Besides, it would go perfectly with all those huckleberry desserts you've been dreaming about.
Me: Agh, get out of my head, Mugolio!
Mugolio (wheedling): If you really loved me...
So I caved. I made a plain ice cream base and added the mugolio teaspoonful by teaspoonful until it tasted assertive, but not overly strong, four teaspoons in total. Then I made a huckleberry-pear gallette to eat it with, using my recipe for sourdough pate brisée. I'm happy, Jay's happy, and the Mugolio is happy, for now. We'll see what it askes me to do next, like standing on my head, or making a goat's milk and Mugolio panna cotta, or some such nonsense. Here's the ice cream recipe.
For more ice cream recipes:
*Bojon appétit! For more Bojon Gourmet in your life, follow along on Instagram, Facebook, or Pinterest, purchase my gluten-free cookbook Alternative Baker, or subscribe to receive new posts via email. And if you make this mugolio ice cream recipe, I'd love to know. Leave a comment and rating below, and tag your Instagram snaps @The_Bojon_Gourmet and #bojongourmet.*
Mugolio Ice Cream
Print Recipe
Pin Recipe
This makes a deliciously dense, rich ice cream, my favorite base recipe for any flavor.
Servings:
8
servings (3 cups).
Ingredients
1 1/2

cups

heavy cream

3/4

cup

milk

4

or 5 egg yolks

1/2

cup

sugar

pinch

of salt

1

Tablespoon

plus 1 teaspoon Mugolio (pine cone bud extract; see above)
Instructions
Place the cold cream in a quart sized container and place a fine mesh strainer over it.

In a small saucepan, heat the milk over medium heat until small it is hot and gently steaming.

Meanwhile, in a medium bowl, whisk together the yolks, sugar and salt. Secure the bowl with a damp towel, and gradually temper in the hot milk. Return the mixture to the saucepan and cook over medium low heat, stirring constantly with a heatproof rubber spatula, until the mixture just starts to coat the bottom of the pan with a thin film, 170º. Immediately pour the mixture through the strainer into the cream. Whisk in the Mugolio until thoroughly combined.

Chill the mixture at least four hours, or up to a couple of days. Churn in an ice cream maker.
Notes
Serve Mugolio ice cream plain, drizzled with more Mugolio, or with warm, fruited desserts, such as apple, pear, quince, fig, huckleberry or blackberry, or any combination thereof.
This makes a deliciously dense, rich ice cream, my favorite base recipe for any flavor. For vanilla, omit the Mugolio, and add 1/2 a vanilla bean to the milk while you heat it. Let it steep 20 minutes or more, then proceed with the recipe, leaving the bean in the mixture while it chills.
Nutritional values are based on one cup.
Nutrition
Calories:
654
kcal
Carbohydrates:
40
g
Protein:
8
g
Fat:
52
g
Saturated Fat:
30
g
Cholesterol:
429
mg
Sodium:
92
mg
Potassium:
195
mg
Sugar:
36
g
Vitamin A:
2195
IU
Vitamin C:
0.7
mg
Calcium:
177
mg
Iron:
0.6
mg