Walking home from work through the Mission District of San Francisco, I see many odd sights. One day it was a man casually walking his pot-bellied pig on a leash down the street.
Yesterday, I noticed some caution tape cordoning off the corner of Valencia and 15th street in the Mission, and a parked police car blocking traffic. Bracing myself for some grisly crime scene, I peered around the corner. In the middle of the sidewalk sat only a medium-sized cardboard box, being circled by flying insects. A closer inspection showed the insects in question to be bees. I overheard a police officer tell another woman that the bees were being moved to a place with thousands of hives, and that the man who owned them loaned them out to pollinate crops.

I didn't stick around long enough to find out why the bees were hanging out on the corner, and what all the hoopla was about.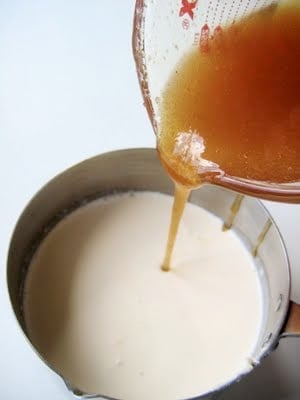 But I did whip up this stupid-easy ice cream, from Deborah Madison's Seasonal Fruit Desserts, and served it atop an apple rhubarb pandowdy.

Containing just three ingredients, this couldn't be simpler to make. Honey and cream are warmed together in a saucepan, then whisked into plain, whole milk yogurt. The mixture chills until cold, then gets spun in an ice cream maker. The result is rich and creamy, with a crisp tang from the yogurt and the complexity of a million flowers from the honey. The honey keeps this ice cream from freezing too hard, as homemade frozen yogurts tend to do. It is just the thing to serve with some fresh fruit, or drizzled with more warm honey and toasted nuts or granola, for an easy and fairly healthful dessert.
I had to try really hard not to throw any lavender, vanilla, orange flower water, ginger, cinnamon or cardamom into this frozen dessert, but I'm fairly certain that any of them would be welcome additions.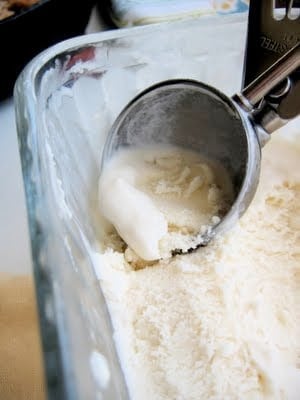 I scream:
Lemon Balm Crème Fraîche
Sour Cream
Dreamy Vanilla
Vanilla Black Pepper
Honey Yogurt Ice Cream
Adapted from Deborah Madison's Seasonal Fruit Desserts
Makes about 5 cups
Since the honey is the main affair here, choose one of high quality that has had as little done to it as possible; ditto for the cream and yogurt. DM says you can substitute maple syrup for a different flavor, but you may need to add a bit more as it is less sweet than honey.
3/4 cup honey (see headnote)
1 cup heavy cream
3 cups plain, whole milk yogurt
In a medium saucepan over a low flame, heat the honey and cream until just warm, stirring frequently to avoid scorching and to combine. Place the yogurt in a large bowl, and slowly whisk in the honey mixture. Chill the ice cream base until cold, a couple hours or up to 3 days, then churn in an ice cream maker. Let the ice cream 'cure' in the freezer for a couple of hours to firm to a scoopable consistency.
This ice cream is best within a couple days of being made, as it forms some ice crystals after that, but will keep for up to several months in the freezer.