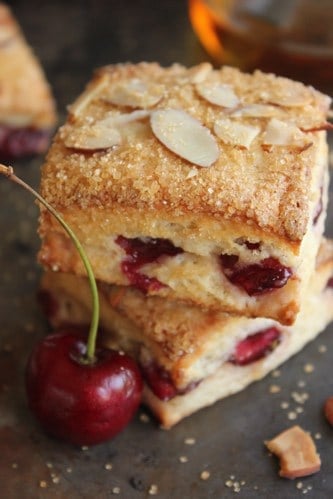 I inherited a rather large quantity of almond paste last week and, inspired by some late-season cherries, baked some of it into a batch of these dainty scones.
All scones are classy because they'reBritish,and these tidy squares feel even more so, with a pretty finish of sliced almonds and a flavor reminiscent of petit four cakes.They make me want to sip darjeeling in the drawing room with Hugh Grant and Colin Firth.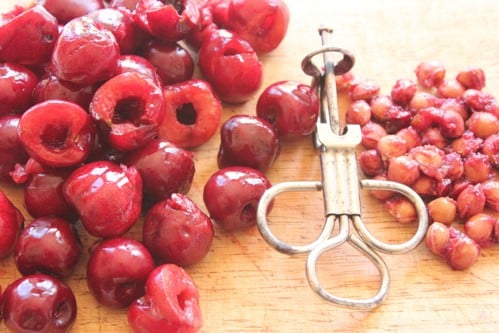 (Admittedly, it doesn't take a batch of scones to make me want that.)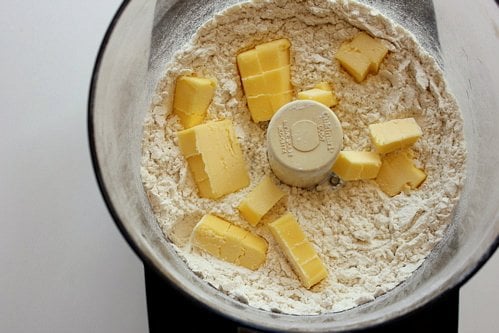 In any case, these are more the sort of treat to be found on an afternoon tea platter of sweets rather than at the breakfast table (though certainly no one would object if they wound up there somehow). They inhabit the opposite end of the scone spectrum as blueberry buckwheat and Irish soda scones, which are a bit more hearty (though still classy, bien sûr).
These cake-like pillows, redolent with almond flavor, retain a bit of dense chewiness from the almond paste. Almond's perfume is perfectly pitched with the sweet cherries that get chopped and sandwiched between two layers of dough. When baked, they soften a bit, but retain their shape and jammy flavor, glistening like rubies as they peer out from the center of each scone. Sliced almonds on top toast in the heat of the oven, and, along with coarse sugar, add a bit of crunch.When served warm and topped with a spot of extra yogurt, they remind me of strawberry shortcake.
These scones are gently sweetened, and the dough is moistened with Greek yogurt. I used low-fat, and the scones stayed plenty rich from the almond paste. The dough comes together quickly in the food processor, and the almond paste makes the dough supple beneath one's fingers, and a pleasure to work with.
To be clear, marzipan is almond paste's sweeter relative, and is mostly used for modeling into tiny replicas of fruit or wrapping cakes a là fondant. But the term "paste" is rarely an appealing way to title a recipe, so please forgive this inconsistency.
In place of cherries, you could use any sturdy stone fruit, such as chopped peaches or apricots. Raspberries or blackberries would be tasty, too.
~ Thanks to my talented sister-in-law Sheila Metcalf-Tobin, whose exquisite line drawings are featured on the placemats above and down below ~
Cheering for cherries:
Cherry-Apricot Fold-over Pie
Cherry Frangipane Tart
Apricot Cherry Clafoutis
Scores of scones:
Fig and Ginger Scones
Poppy Seed and Lemon Curd Mega Scone
Banana Brown Sugar Pecan Scones
One year ago:
Two years ago:
Cherry Marzipan Scones
I used low-fat greek yogurt here, but any fat content will likely work just fine. Have some extra yogurt on hand for eating with the scones. Tea is the ideal accompaniment, but I won't tell if you have aSweet Cherry Manhattaninstead. These scones tend to darken excessively on their bottoms; to avoid this, double-pan them by stacking two rimmed baking sheets, and bake the scones on an upper rack in the oven. Since ovens often vary in temperature, I highly recommend using an oven thermometer, especially for high-temperature recipes like this one.
Makes 12 dainty scones
For the scones:
1/2 cup (4 3/4 ounces) fresh, moist almond paste, crumbled
2 tablespoons sugar
2 cups all-purpose flour
1 tablespoon baking powder
1/2 teaspoon salt
5 tablespoons cold, unsalted butter, in 1/2″ cubes
3/4 cup plus 2 tablespoons greek yogurt (I used low-fat), plus extra for serving
1/2 teaspoon almond extract
1 1/2 cups fresh sweet cherries, stemmed, pitted and quartered (to equal 1 cup)
For the top:
1-2 tablespoons milk or cream
a small handful of sliced almonds (preferably unblanched)
1 tablespoon coarse sugar
In the body of a food processor, combine the almond paste, sugar, flour, baking powder and salt. Pulse to combine and break up the almond paste. Add the butter, and pulse until the mixture resembles gravel, with a few pea-sized butter chunks throughout. Dollop the yogurt over the top, sprinkle with the almond extract, and pulse until the mixture begins to form large clumps and looks somewhat homogeneous.
Dump the dough out onto a lightly floured surface, dust the top lightly with flour, and roll into a 12 by 8″ rectangle, turning and flipping the dough, dusting with flour as needed to prevent sticking.
Lay the prepared cherries over half the dough. Fold the other half of the dough over the cherries, and press down gently but firmly (this will help the cherries stay in place when you slice and move the scones).Freeze the mega-scone until fairly firm, but not frozen, 20 minutes.
Position a rack in the upper center of the oven and preheat to 425ºF. Line a heavy baking sheet with parchment paper, and stack it on top of a second heavy baking sheet.
Use a sharp chef's knife to trim away the outer 1/4″ from each side of the scone, then cut into 12 squares. Brush the tops with cream, sprinkle with the almonds, pressing them lightly into the scones, then sprinkle with the coarse sugar.
Carefully transfer the scones to the parchmented sheet pan, spacing them at least 2 inches apart. Bake the scones until they are golden brown on top, 18-20 minutes.
Let the scones cool to warm. They are best served shortly after baking (with more greek yogurt!) but will keep for up to 3 days at room temperature. Reheat in an oven or toaster oven for best results.