These adorable fig scones feature buttery, ginger-flecked scone dough with fig halves baked into the dough. Make these GF by using my gluten-free scone dough!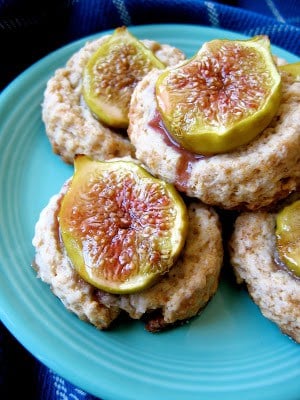 My first job out of pastry school was at a renowned San Francisco restaurant in the dessert kitchen. Everyone who worked there had a dour demeanor, including a fellow pastry cook. One day, in an attempt at camaraderie, I asked her if her friends and family thought she had the coolest job ever. I certainly thought we did.
She frowned, (actually, her facial expression probably didn't change as she was likely already frowning) and told me that, on the contrary, her people were all 'intellectuals' and looked down on her chosen profession as lowly, manual labor.
This struck me as very sad. I, on the other hand, take a probably indecent amount of pride at what I do. But I've practiced lowering my eyes demurely and murmuring 'Pastry chef' when asked. I've never had someone not respond in an excited manner when they find out that fact, including my entire post-doc holding family. (Even my raw-foodist mother is very supportive.)
People sometimes go on to inquire after my favorite thing to bake, or my 'specialty.' I am always at a loss for a good answer, as I really like baking pretty much everything. If it goes into an oven, you can bet I like making (and eating) it. As for my specialty, this somehow implies that I am better at making some things and suck at making others. I like to think that everything I bake turns out perfectly all the time, so how could I possibly have a specialty? (Kidding!) The reality, though, is that I am quite flighty, and very rarely make the same thing twice, which I think is a requisite to having a 'specialty.'
After several dead-end attempts at answering this question, I decided to start telling people that scones are my specialty. Which isn't a complete lie. Scones are one of my favorite things to bake, the sort of thing I can throw together even when half asleep, early (ok, at 10am) on a Sunday morning. I have two basic scone recipes taped to my refrigerator: buttermilk-oat scones (by Romney Steele via Heidi Swanson) and Cook's Illustrated's cream scones. From these two recipes I have made many variations over the years: apricot sage, blueberry buckwheat, maple bacon apple, huckleberry, poppyseed lemon curd, cherry-marzipan, Irish soda scones with currants and caraway, orange-coriander, bacon beer cheddar scones, strawberry basil..
Did I mention I like scones?
When I woke up this morning I couldn't stop thinking about baked figs, so sweet and jammy, but I didn't want to hide the pretty pink and green of the Calimyrnas I impulse-bought the other day.After a bit of obsessive pondering, I decided to perch the fig halves atop the scones and bake them that way, almost like really easy mini tarts.
I worried that the scones would puff in the oven and throw off the figs into dejected heaps, but was pleased, after much hovering around the oven, to find them resolutely intact. With a dollop of creme fraiche and a drizzle of local honey, they made a tasty breakfast.
Were I the sort of bojon gourmet to keep pretty teapots, fine china and frilly tablecloths, these little scones would be just the thing to serve to my upper-crust friends while discussing philosophy and high society during teatime.
Sadly though, most of my friends are just manual laborers (or computer programmers) so we settled for faux fiestaware and gawking at funny dogs out the window.
More fig recipes:
*Bojon appétit! For more Bojon Gourmet in your life, follow along on Instagram, Facebook, or Pinterest, purchase my gluten-free cookbook Alternative Baker, or subscribe to receive new posts via email. And if you make this fig and ginger scone recipe, I'd love to know. Leave a comment and rating below, and tag your Instagram snaps @The_Bojon_Gourmet and #bojongourmet.*
Fig and Ginger Scones
Print Recipe
Pin Recipe
These adorable fig scones feature buttery, ginger-flecked scone dough with fig halves baked into the dough. Make them GF by using my gluten-free scone dough recipe!
Ingredients
3/4

cup

whole spelt (or whole wheat pastry) flour

1 1/4

cups

all purpose flour

3

tablespoons

sugar, plus extra for sprinkling

1

tablespoon

baking powder

1/2

teaspoon

salt

2.5

ounces

cold butter, diced

(5 tablespoons)

1/4

cup

candied ginger chunks, finely chopped

3/4 - 1

cup

heavy cream, plus extra for brushing

1 to 1 1/2

baskets ripe figs, halved lengthwise
Instructions
Position a rack in the upper third of the oven and preheat to 450º.Line 2 baking sheets with parchment paper.

In a large bowl, whisk together the flours, sugar, baking powder and salt to combine. Work the butter in with your fingertips, rubbing it between your hands, until it has a sandy texture with some pea-sized buttery bits remaining. Stir in the ginger. Slowly drizzle in the heavy cream, tossing the mixture with your free hand or a rubber spatula, until it begins to clump together and no dry, floury bits remain.

Gently press the dough into a ball and plunk it down onto a lightly floured surface. Pat it into a round 3/4" thick (about 10 inches in diameter). Using a biscuit cutter (or glass) about 1 1/2 - 2" in diameter, dip the cutter in flour and tap off the excess, then cut out rounds as close together as possible until you've used up all the dough, placing the rounds on the parchmented sheet pan, 2" apart, as you go. Press the scraps together and repeat until you've used up all the dough.

Use your thumb or the back of a teaspoon to make a fig-sized indentation in the dough rounds. Brush the tops with a bit of cream, and place a fig, cut-side-up, on top of each, pressing the fig in gently. Sprinkle the tops with a bit of sugar.

Bake the scones one pan at a time on the upper rack of the oven (so as not to burn their bottoms) for 15 - 20 minutes, until the scone part is golden and juices run from the figs. Cool 10 minutes. Serve with creme fraiche and a drizzle of honey.
Notes
The trick to tender, craggy scones is leaving some pea-sized butter bits in the dough, and handling it minimally once the cream is added. There is really no comparison to the rich creaminess of scones made with heavy cream, but scones made with whole milk yogurt or buttermilk are still better than no scones at all.
Small apricot halves could stand in for the figs in the springtime.
Nutritional values are based on one of thirty scones.
Nutrition
Calories:
183
kcal
Carbohydrates:
10
g
Protein:
1
g
Fat:
4
g
Saturated Fat:
2
g
Cholesterol:
13
mg
Sodium:
58
mg
Potassium:
69
mg
Sugar:
3
g
Vitamin A:
160
IU
Vitamin C:
0.2
mg
Calcium:
25
mg
Iron:
0.5
mg